360° Photos are not true virtual reality, but they're incredibly fun to play around with. And they give viewers a close to VR experience of the scene you photographed. Below are two 360° Photos of the blizzard in NYC today – Times Square and the West Village. With the ban on transportation, the City was eerily quiet, populated only with stranded tourists and those of us foolish enough to go for a walk in the middle of one of the worst snowstorms in years.
To take 360° Photos, we generally use the 360 Panorama app on the iPhone but Google's 360 Photosphere App is equally good and links to Google Maps. The RoundMe app is another 360 Photo option with a cool map pinpointing user contributions.
360 Photos of the East Coast Blizzard
Clicking on one of the images below will open it up as a 360° in your browser. you'll be able to pan through the scene horizontally. But it's better on your mobile device. Open it on your Smartphone, and then click on the circular icon on the lower left of your screen. That will give you the full 360, close to virtual reality experience.
Times Square:
The West Village:
360 Photos – A gimmick or the future?
From one perspective, 360° Photos can seem gimmicky, making you wonder if it's worth the extra effort. On the other hand, their immersive quality parallels virtual reality and makes you feel like you're actually there. I find myself taking fewer and fewer standard photographs when I travel as I can always find better ones on Google. But 360° Photos situate you a place, perhaps where few have stood before, letting you capture a scene in a unique way.
Both 360 Panorama and the Google Photosphere apps have improved significantly since they came out. They're easy to use – especially if you do a couple of practice shots first. Some aspects could be better – adding audio and faster image processing. And they may never gain a foothold in the market with the VR cameras on the way. Or perhaps our phones will become virtual reality capture devices. That is, until our eyewear takes over.
But for now, they offer the convenience of your Smartphone, and the connectivity of social media. That can be a powerful combination as we know.
The apps are definitely useful when strolling through a nearly empty Times Square in a blizzard. On a Saturday night in the City that never sleeps. In a word, it was surreal.
Stay warm and safe if you're in the path of the storm.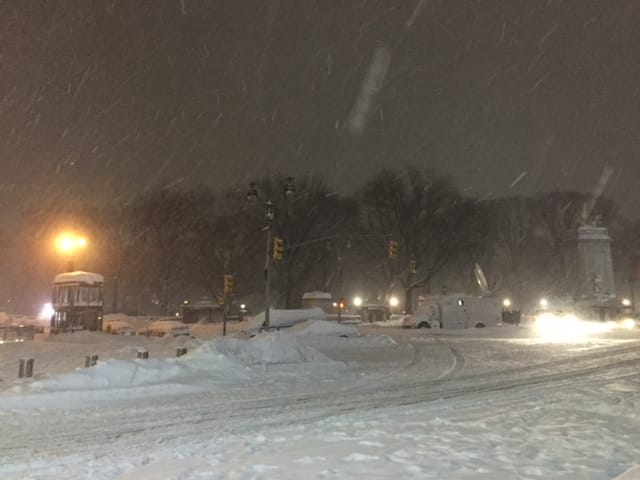 Emory Craig is a VR consultant, writer, and speaker with years of experience in art, new media, and higher education. He is actively engaged in innovative developments for AR and VR at the intersection of learning, games, and immersive storytelling. He is fascinated by virtual worlds, AI-driven avatars, and the ethical implications of blurring the boundaries between the real and the virtual.