The Sundance 2021 VR projects in the New Frontiers program will be available this week (January 28 – February 3) in the Festival's first attempt at a virtual world. Like every other festival and conference, Sundance has seen its physical gathering blocked by the ongoing pandemic. In the past, being at Sundance meant braving the cold, standing in long lines, and coming up with an expensive hotel room (if you find one) in Park City. It was all very challenging though many of us do it nearly every year. For 2021, all you'll need is a $25 Explorer Pass and your internet connection. But you'll get a lot more if you happen to have a VR headset to use.
So, will Sundance work inside a virtual world? To be honest, it will be a mixed bag as far as the experience itself goes. But one thing is clear: Sundance will always have a virtual space from now on. There are just too many advantages in terms of cost and access not to go this route.
While Sundance has been exceptional in breaking down barriers for new artists and filmmakers, they haven't been as good at reaching out to a global audience. To the Festival's credit, they've always brought in an army of young volunteers to work at the event each year. But that doesn't begin to reach the large number of creators around the world who would benefit from the Sundance experience.
As Shari Frilot, Sundance's New Frontier curator and senior programmer explained to Engadget.
This is the exciting part. This is a life raft that ended up being the Cadillac we'll be driving into the future.
First, the trailer for the event, and then we'll get into the details.
The Sundance 2021 VR Program
Your $25 Explorer Pass won't give you access to the full Sundance program, but you'll be able to experience all of the VR projects and events in the New Frontier program. Indiewire describes the process of getting set up:
. . . all you really need to get started is the $25 Explorer pass, and those won't sell out, so there's still time to join in. The Explorer pass includes access to the Indies Series and Shorts program, as well as New Frontier. Once you buy it, you'll receive a customized link to the "Space Garden," a private 3D area where you can build an avatar and access the three main Sundance virtual spaces. Sundance recommends that you use Google Chrome. . .

. . . Once you create your avatar in the Space Garden, you can get situated by using your keyboard to move around. You'll find three gleaming portals that will take you to public areas. The first of these is "Film Party," a giant, pink-hued circular room surrounded by six screens, each of which leads to smaller, more specific parties.

To interact with other people at Film Party, simply walk up to another avatar and their face will appear in a small box above their head; it vanishes when you move away. (Anyone who has toyed with the pixelated party platform Gather has seen a lo-fi version of this). On the right side of your screen, you'll see a list of everyone in the room, so you can easily find people you know.
No Proscenium has a full description of the three areas where the Sundance 2021 VR program will take place:
The New Frontier Gallery where the complete slate of live performances, AR, VR, and other emerging media works from New Frontier can be experienced. Most projects can be viewed 24 hours a day. Audio and video proximity chat functions 11:00 a.m. to 11:59 p.m. MT.

Cinema House, the Festival's social, fully immersive cinema. Schedule of screenings (all MT):

Cinema House Short Films — 1/29 8 p.m.
Station to Station— 1/31 3 p.m.
Users (2021 US Doc Competition)— 2/1 7 p.m.
Mother of George — 2/2 5 p.m.

Film Party, an interactive bar with 6 screens and more intimate rooms available to all Festival passholders. Here you can safely gather together with others in their avatar form, hang out and connect via proximity audio and video chat. Audio and Video proximity chat functions which you use to party are active 11:00 a.m. to 11:59 p.m. MT
You can check out our descriptions of the VR projects or see the summaries on the Sundance website. Note that there are fewer projects this year (only 14), with some creators possibly deciding to forego a debut in a virtual world.
An Interactive Virtual Festival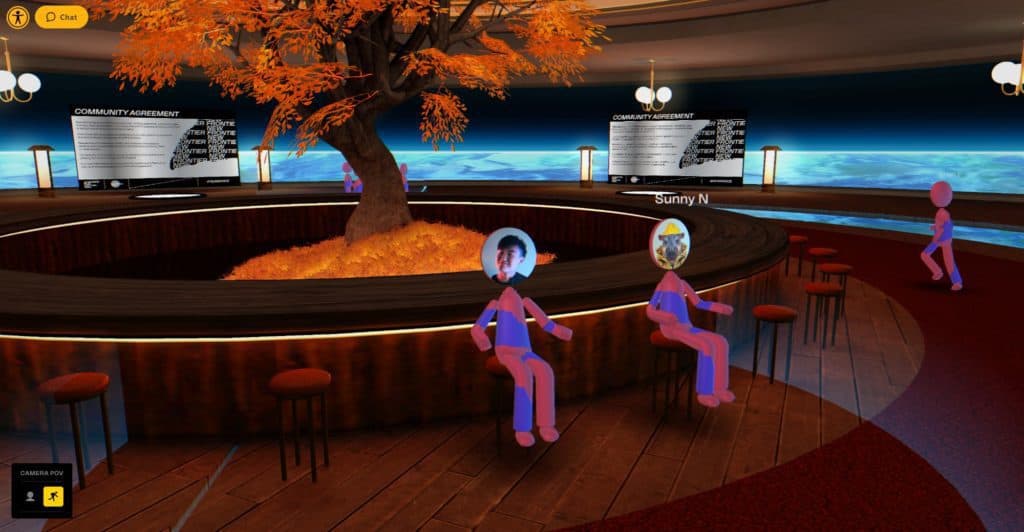 The Sundance 2021 VR program will be accessed through a platform developed by Active Theory using WebXR. As UploadVR notes,
The event represents a very notable test of WebXR as a technology and a potential preview of how more conferences and festivals will look in the future.
Developing the event with WebXR brings several benefits, including:
Cross-platform capability
Future-proof experiences – no need to release new code
No app stores or large downloads
The rendering is handled by WebGL, which has a large developer community
However, benefits mean compromises, with blocky avatars and limited details in the virtual environment. The real test will be in how the interaction between participants plays out. In real life, we pick up a lot from body language, which isn't well-represented in virtual worlds. One of the benefits of the real-world version of Sundance is the chance conversations you strike up with strangers while waiting in lines or at restaurants. That will be hard to replicate in a virtual festival, though we've gotten better at it after a year of living with the Coronavirus. The approach taken by Sundance with images of real faces on the avatars may help foster interaction. Turn on your webcam while using a PC, and you have the virtual world version of Zoom – a live stream emanating from your avatar.
As strange as this is the first time you try it, it's definitely better than the security camera style experience we all live with on Zoom. It's seriously cool – though you know the ultimate goal is to implement it in 3D – something that is still years down the road.
The irony of doing the Sundance 2021 VR program in a virtual world is that many early experiments in the New Frontier segment of the festival laid the groundwork for a festival in a virtual world. Creators and artists have been pushing the boundaries of the technology for a decade in Park City, and now we'll get to see – in Frilot's words – if the life raft is a Cadillac or only the promise of one in the future.
We'll keep you updated as the Festival gets underway.
Emory Craig is a writer, speaker, and consultant specializing in virtual reality (VR) and artificial intelligence (AI) with a rich background in art, new media, and higher education. A sought-after speaker at international conferences, he shares his unique insights on innovation and collaborates with universities, nonprofits, businesses, and international organizations to develop transformative initiatives in XR, AI, and digital ethics. Passionate about harnessing the potential of cutting-edge technologies, he explores the ethical ramifications of blending the real with the virtual, sparking meaningful conversations about the future of human experience in an increasingly interconnected world.