The 2020 Thanksgiving Day parade will be one like no other. In the midst of a raging pandemic with increasing infection rates and deaths (over 2,000 today), the well-known holiday celebration has been drastically curtailed. In any other year, we'd expect to see some 8,000 people winding their way through Manhattan with balloons and marching bands in a tradition that began in 1924.
Since we'll all be watching the remotely, this should be the year for a full virtual reality experience of the event, but it looks like we'll have to settle for some 360 video from Verizon. And with the already discounted price on the Oculus Quest 2, there's not even all that many Black Friday sales on VR headsets. No matter, the world is facing much more serious challenges as this surreal year draws to a close.
The 2020 Thanksgiving Day Parade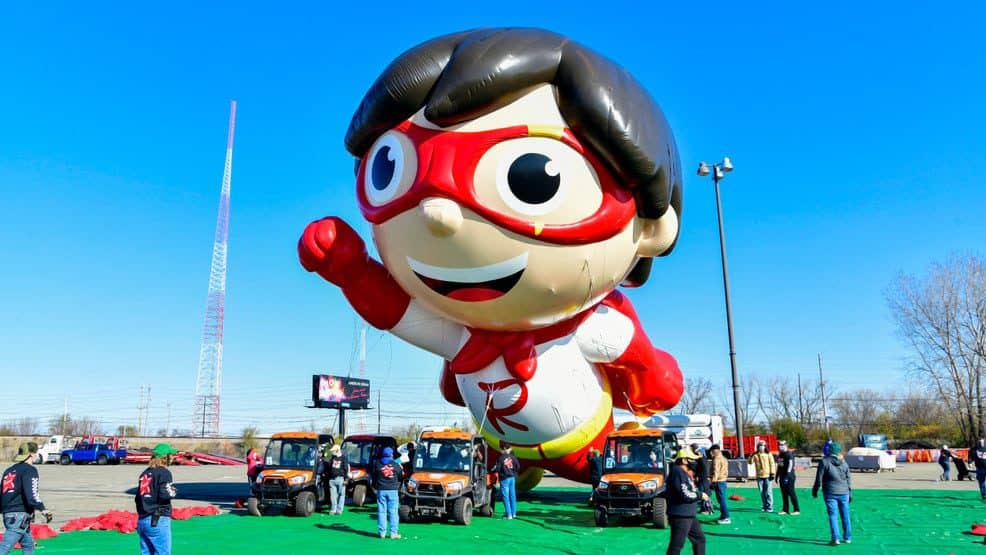 The reimagined 2020 Thanksgiving Day parade abandons the traditional 2.5-mile parade route for a much shorter segment near Macy's. How short? One block long. This is mainly being done to keep the usual crowds at home.
Your options for viewing the event will be via a broadcast channel or online. A limited display of balloons will be afloat, tethered to special vehicles to help keep Macy's employees safe.
360 Video Broadcast
[Updated:] The Parade is over, however, you can still see highlights in 360 video by following the instructions below.
As in prior years, there will be a live 360 video broadcast, part of Verizon's continuing efforts to hype its 5G network. The only way to view this will be through a mobile device. You can scan a QR code on Verizon's Parade Portal if you access it through your desktop. If you're on your phone, just click on the link in the portal.
As the event is now over, you'll need to click on the highlight button once you enter the scene. This will give you access to selected portions shot in 360 video. Overall, it was well done – there just should have been the opportunity to access it through a VR headset
Here are the steps: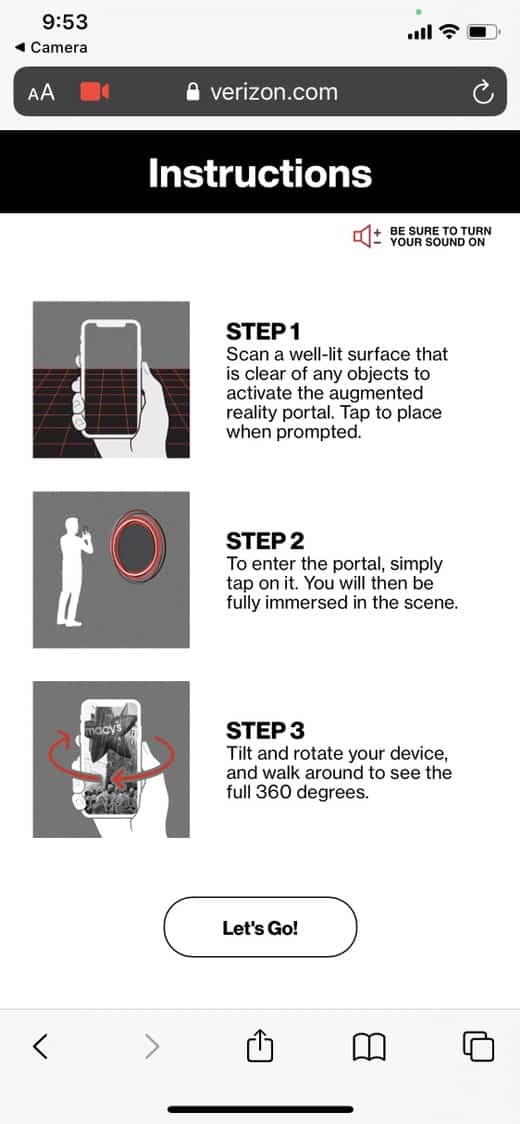 Last year's immersive experiences included celebrity holographic appearances and virtual balloons that appeared and disappeared based on viewer feedback. However, any innovative features planned for this year were likely canceled due to the last minute planning.
You can find more details on the event from Macy's and Verizon on the 2020 Thanksgiving Day Parade website. 
Macy's Parade Studio in 360 Video
If you're longing for additional immersive experiences, check out the 360 videos from Macy's Parade Studio in New Jersey. This four-part immersive tour was shot way back in 2016 but it still holds up well. Given the understandably cluttered nature of the ballon design studio, 360 video captures it much more effectively than traditional flat-screen video could ever do.
Performances
The sadly shuttered Broadway shows will lend the casts of Ain't Too Proud – The Life and Times of The Temptations, Hamilton, Jagged Little Pill, and Mean Girls to the event. Musical acts will include Lauren Alaina, Ally Brooke, Sofia Carson, CNCO, Karol G, Tori Kelly, Patti LaBelle, Matthew Morrison, the cast and Muppets of Sesame Street. Leslie Odom Jr., Keke Palmer, Dolly Parton, Pentatonix, Bebe Rexha, Jordin Sparks, Sebastián Yatra, and Brett Young.
And for the first time, there will be greater diversity in the Parade makeup. According to Newsweek, there will be
. . . representatives from the West Indian American Day Carnival, Coney Island's outrageous Mermaid Parade, and the National Puerto Rican Day Parade.
A Moment for Reflection
Thanksgiving is always a time for reflection and we appreciate all that the rapidly growing community of augmented and virtual reality users and creators have shared with us and the world. Despite the ongoing tragedy of the pandemic, it's been a year of astonishing creativity in immersive storytelling and technology. And we are grateful that you have chosen to spend a small part of your time with us.
We hope you have a peaceful 2020 Thanksgiving Day. Please stay safe.
Emory Craig is a writer, speaker, and consultant specializing in virtual reality (VR) and artificial intelligence (AI) with a rich background in art, new media, and higher education. A sought-after speaker at international conferences, he shares his unique insights on innovation and collaborates with universities, nonprofits, businesses, and international organizations to develop transformative initiatives in XR, AI, and digital ethics. Passionate about harnessing the potential of cutting-edge technologies, he explores the ethical ramifications of blending the real with the virtual, sparking meaningful conversations about the future of human experience in an increasingly interconnected world.