After a scaled-down parade last year due to the pandemic, the 2021 Thanksgiving Day Parade returns in full force this year. The 95th Macy's parade will be packed with new balloons, rolling stages, augmented reality, and 360 experiences. If you don't have the chance to be there in person, there will be plenty of opportunities to step into the parade with immersive technology. And new for the parade this year is an NFT auction to raise money for charity.
We'll quickly unpack the details as we don't want to stand in the way of that Thanksgiving Dinner and time with friends and family.
Watching The 2021 Thanksgiving Day Parade
As always, the 2021 Thanksgiving Day Parade will have its usual televised broadcast from 9 a.m. ET on Nov. 25 in New York to noon ET (other time zones will have a delayed broadcast fitting the local time). The Hollywood Reporter has a list of non-cable options for streaming the event on your smartphone, tablet, or other devices.
If you plan on seeing it in person, we recommend staying away from midtown in the 30s as it gets too crowded. There will only be limited viewing areas this year, and your best bet will be around Columbus Circle and further north on the West Side. Note that in-person viewing requires proof of COVID-19 vaccination and a matching photo ID. On its own, proof of a negative test won't get you access to the parade route.
Experiencing the 2021 Parade in 360 Video and AR
But unless you are determined to wait for hours in the wind and cold (not us), then it's time to look to immersive technology to help you out. In addition to the parade-side 360 video options, there will be opportunities to explore AR apps using your smartphone. We'll update you with more information as these become available.
We've Got NFT's for This Year's Parade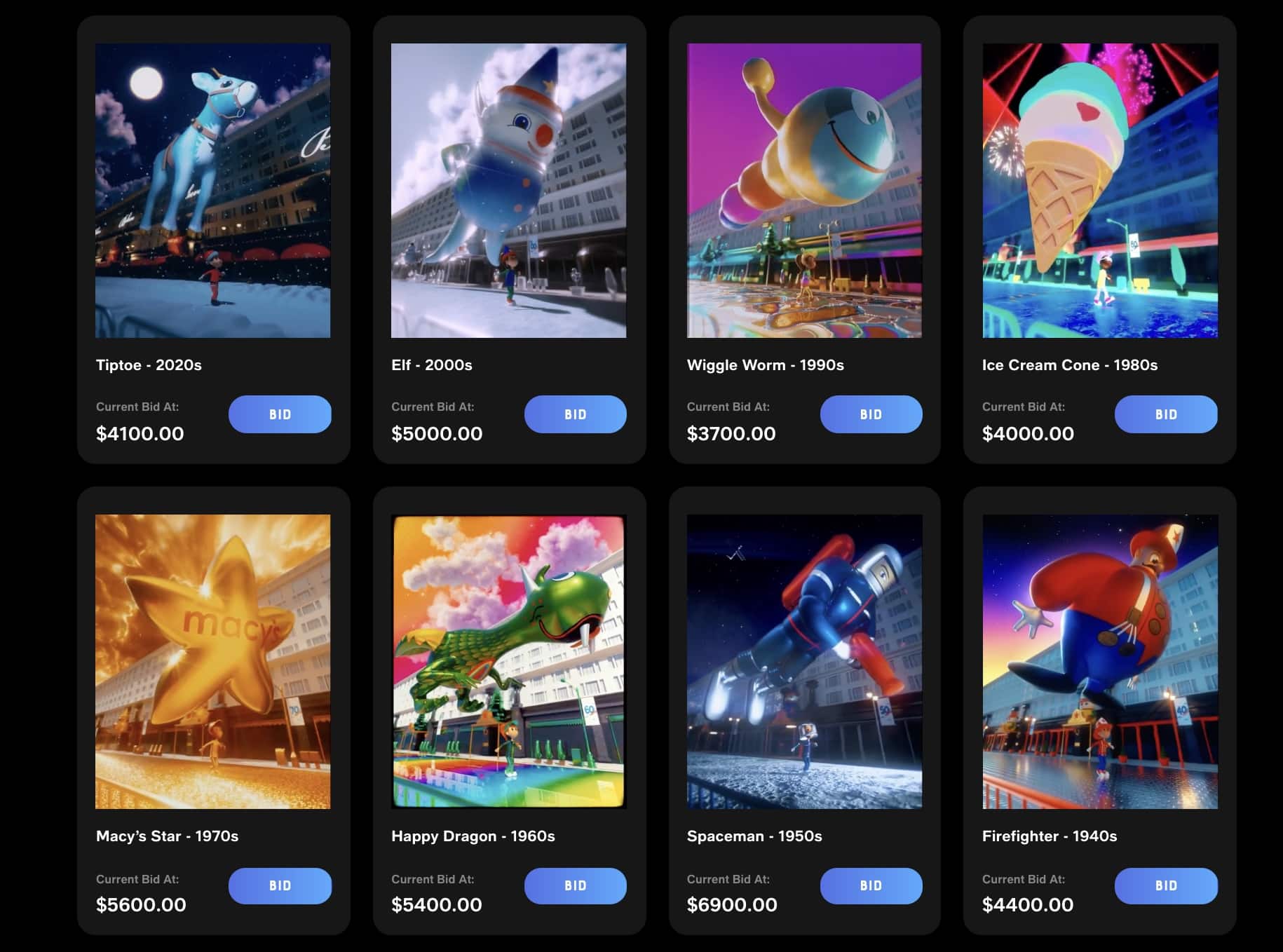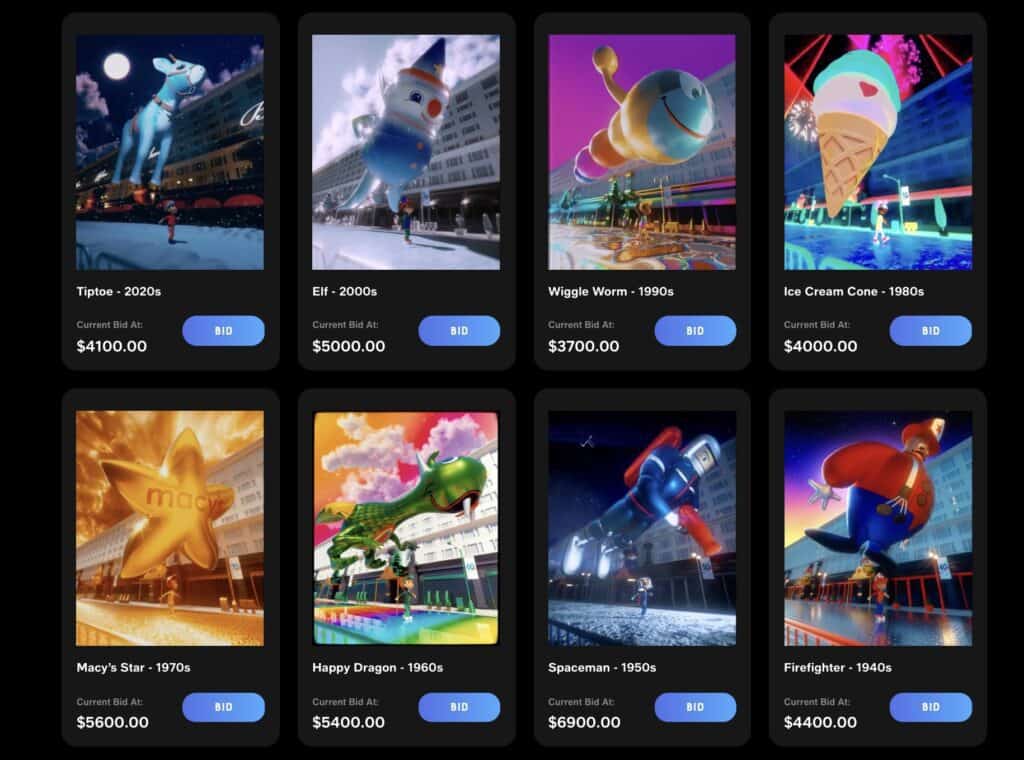 For the first time this year, NFTs of the balloons will be part of the 2021 Thanksgiving Day Parade. You can bid on any (or all) of ten "Epic NFTs" in an auction that will support the Make a Wish Foundation. The auction is already underway and runs through Tuesday, November 30 at 11:59 PM ET.  The NFT of the Happy Dragon is already over $210,000 (as of Thanksgiving Day). So if you have money to burn, or are simply curious, head over to the Parade site to see how the NFT bidding is going.
Keep in mind that an NFT, or non-fungible token, is a digital certificate of ownership for the purchase of a digital asset (which is traceable on the blockchain). Sorry, but you are not buying an actual Macy's Day Parade balloon. That's probably for the best, as storage would be a bit of a challenge.
A Moment for Reflection
Thanksgiving is always a time to take stock of where we are in life, and we have much to be thankful for. It has been a surreal year, often connecting with clients, colleagues, friends, and family through rectangular boxes on Zoom. We've seen people's digital backgrounds, offices, living rooms, kitchens, and sometimes, unexpectedly met family members and pets when they suddenly appeared on the screen.
We're excited by the developments we have seen in the XR community this year – the most recent being Dreamscape Immersive's opening in New Jersey. AR/VR creators and users continue to amaze us with their creativity and concern for the field as a whole. The ethical issues around the use of AR/VR and questions over the role of the Metaverse in our lives have dominated the past month – and we expect it to be a significant focus of the coming year. As always, we are deeply grateful that you have chosen to spend some of your time with us.
We hope you have a peaceful 2021 Thanksgiving Day. With the pandemic still a reality, please stay safe if you're getting together with family and friends.
Emory Craig is a writer, speaker, and consultant specializing in virtual reality (VR) and artificial intelligence (AI) with a rich background in art, new media, and higher education. A sought-after speaker at international conferences, he shares his unique insights on innovation and collaborates with universities, nonprofits, businesses, and international organizations to develop transformative initiatives in XR, AI, and digital ethics. Passionate about harnessing the potential of cutting-edge technologies, he explores the ethical ramifications of blending the real with the virtual, sparking meaningful conversations about the future of human experience in an increasingly interconnected world.