This year's AWE conference (Augmented World Expo) offered a range of new devices, software, and experiences. Returning to an in-person event (so good to see people not boxed in by Zoom rectangles and actually touch some hardware), AWE 2021 showcased the full range of VR, AR, and mixed reality developments. Here are some of the highlights from three jam-packed days in Santa Clara.
AWE 2021
The most frequent comment we heard was how the AR devices had gone from the back of the exhibition hall years ago to front row displays this year. We're still not at the point of having consumer AR replace our smartphones, but the glasses and enterprise headsets no longer need to be relegated to the corner.
The software developments were even more striking – everyone is thinking about cross-platform and device compatibility, and how we'll connect in social XR environments. In many ways, XR is where the web was two decades ago when smartphones and tablets arrived. Developers were creating multiple versions of websites for different devices until responsive web design came along. Now we're tackling the same issues in XR – how can we share virtual objects and interact with others using desktops, tablets, AR glasses, and VR headsets simultaneously? The developments in software and SDKs are essential to achieve the dream of a parallel – and accessible – metaverse.
But put the technology aside for a moment. As Alan Smithson, co-founder of MetaVrse in Toronto was quoted in Forbes,
People keep asking me, what was the best thing you saw, and I said 'the people.' All the rest of it is technology.
And that says something about where XR is today. We see rapid progress and groundbreaking developments, but it still cannot replace face-to-face interaction.
Some Highlights
Here are some of the main highlights of last week's AWE 2021 conference:
HTC Vive Flow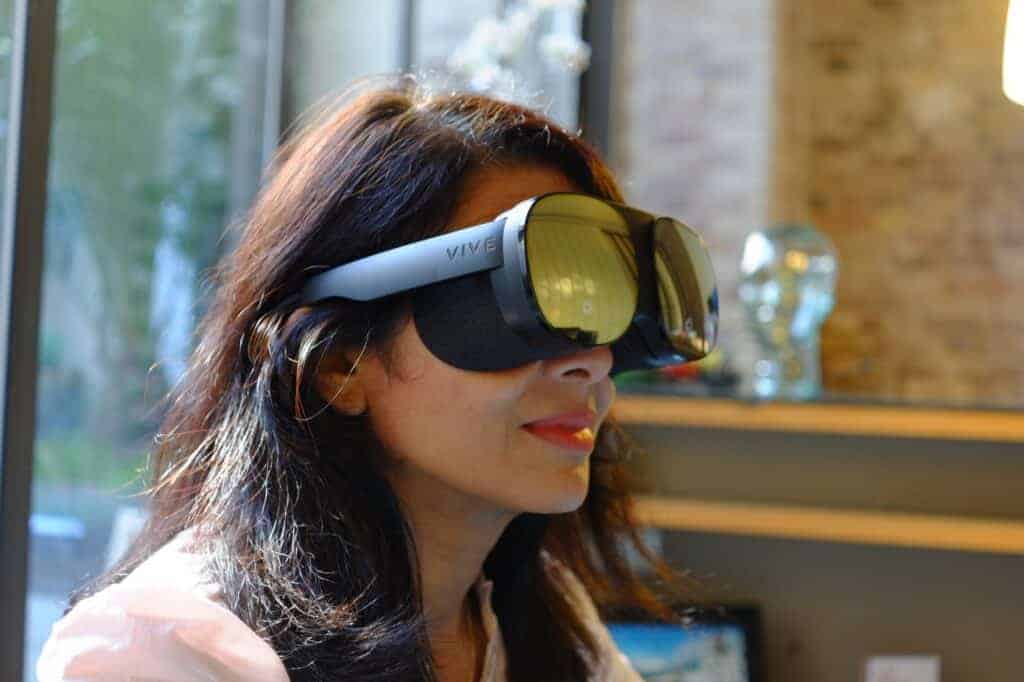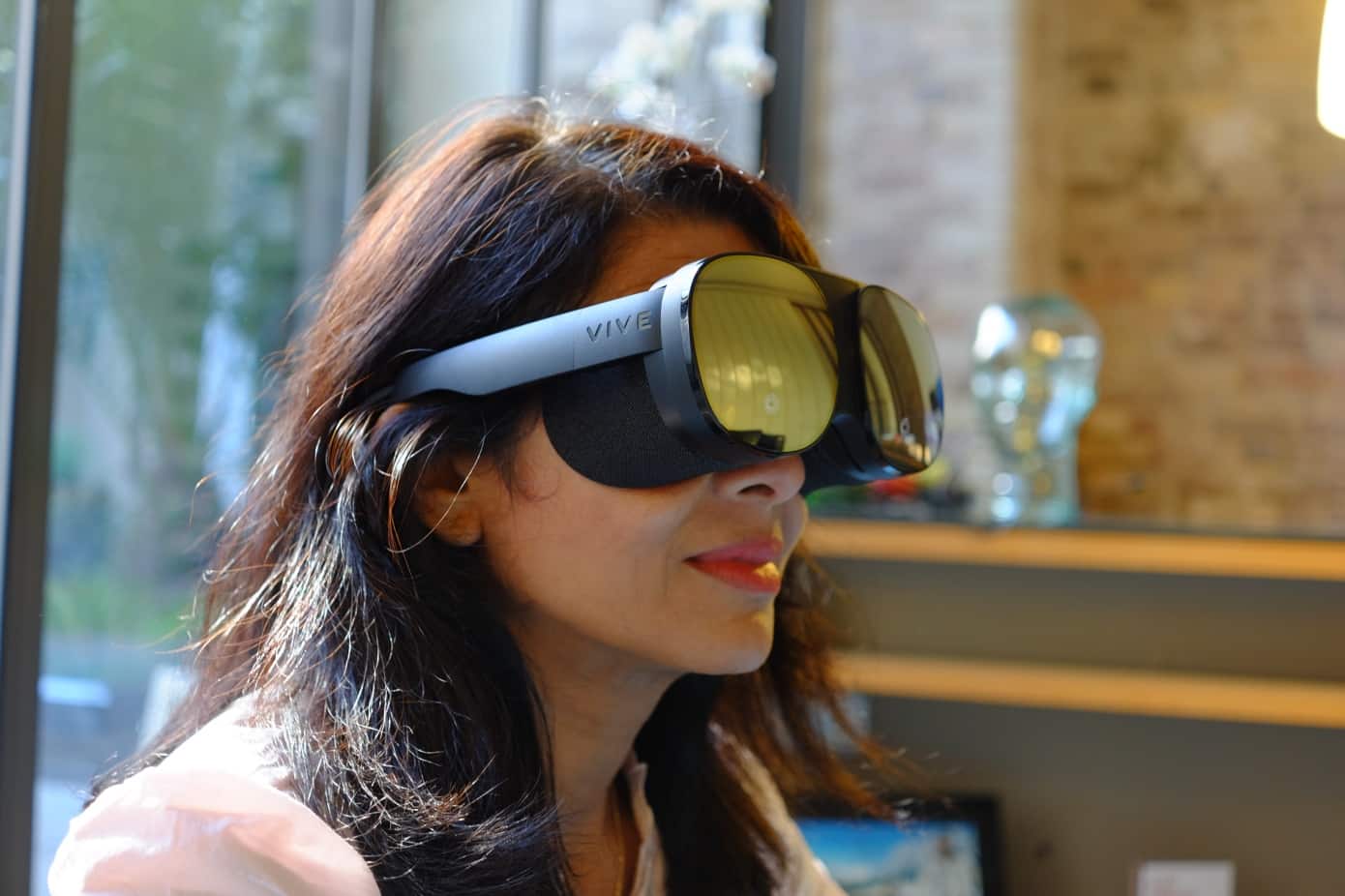 HTC's new lightweight HMD offers portable VR immersion in a way that you've never experienced before. It's a small form factor, six degrees of freedom (6DoF) VR device that you can wear for hours without feeling tired. The innovative design with dual-hinge arms and built-in speakers finally removes the irritating top-of-the-head strap that heavier HMDs require to secure a device to your face. It's the first VR headset where I could easily adjust the lenses (actually like turning dials) so that I didn't have to wear my eyeglasses.
Immersive meditation experiences finally become an option when you're wearing a device that only weighs 189 grams instead of Quest's 503 grams. Whether consumers are ready for a VR HMD that's not primarily a gaming device like the Quest remains to be seen. But there's much more to VR than first-person shooter experiences, and HTC is banking on that untapped market. And we even saw possibilities for education and other applications if the range of content expands.
HTC and Agora
In one of the most remarkable partnerships seen at AWE 2021, Agora demoed the pre-integration of its Video Software Developer Kit (SDK) with the HTC VIVE Sync App, a remote collaboration and meeting application. Essentially, it allows seamless "remote collaboration between HTC VIVE users and non-VR users within the same virtual environment." Users can share the same immersive experience on any device, and Agora's SDK allows for collaborative file and screen sharing in virtual meetings. HTC and Agora's partnership wasn't a device demo – but a demo of an essential foundation our devices will need for the metaverse to be used for collaborative applications in education and enterprise environments.
Niantic's Lightship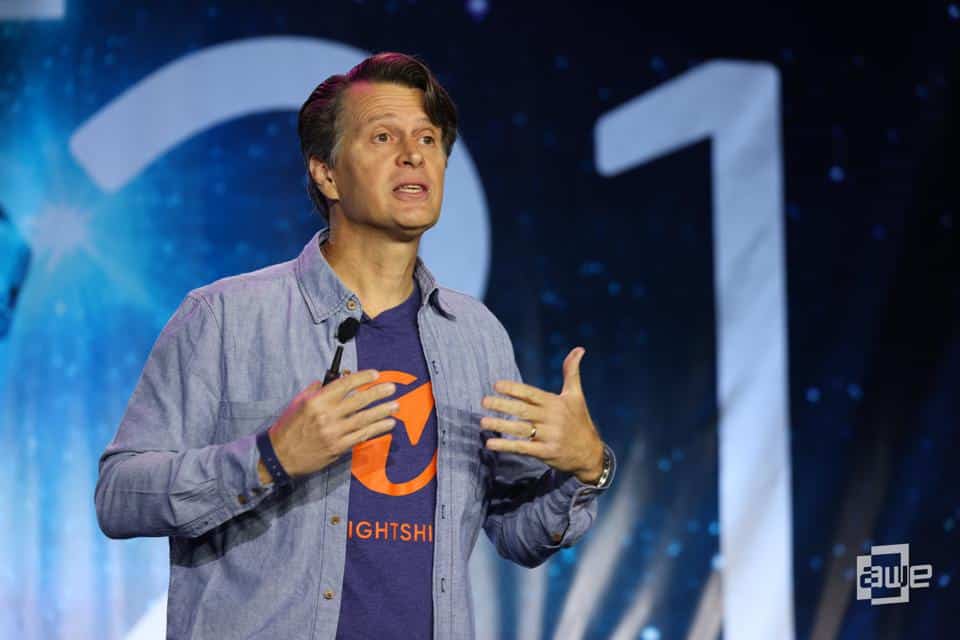 Let's build a world we want to live in, not escape from.
That was the best line from the best keynote at AWE 2021. Frankly, it's the best line we've heard the entire year. John Hancke of Niantic struck a tone that resonated with our concerns about the role of a future metaverse in our lives. Will we design it to enhance a human world, or does it only become an escape from a dystopian real-life world in the future?
John Hanke also announced Niantic's Lightship, an AR Developer Kit (ARDK) that takes a significant step beyond the current features of ARkit's plane detection.
The new Software Development Kit plugs in to popular game engines where it enables occlusion, real time mapping, precise geolocation, sharing of content in real time, object recognition, scene understanding, meaning a semantic understanding of the world. [Forbes]
Here's a quick 36-second demo of building a 3D mesh map of a physical scene to create geospatial AR experiences. 
With the power to make "physics" possible for virtual objects using only a smartphone, Niantic's Lightship was an obvious choice for the Auggie Award for Best in Show AR.
8th Wall's Reality Engine
8th Wall's new Reality Engine was a major announcement at AWE 2021. It's a WebAR tool that lets you build once, run anywhere immersive applications. Erik Murphy-Chutorian, CEO and Founder of 8th Wall, describes it,
Just like 2D websites needed to adapt from desktop to mobile, immersive websites need to react to the different devices that are used to experience them. With the launch of our Reality Engine, developers can for the first time build a WebAR experience that's instantly compatible across the most popular mobile, desktop and headworn devices.
Given the range of devices we currently use to access virtual content, this could be a groundbreaking development. You can check it out and get a 14-day free trial over at 8th Wall.
Campfire at AWE 2021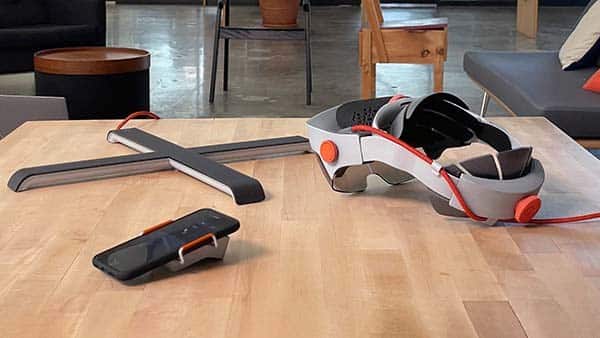 Coming across Campfire at AWE 2021 was a surprise. Campfire is a dramatic evolution of an earlier AR visor HMD known as Meta Glasses (before Facebook appropriated the Meta name). That early – and fascinating – HMD has been reborn as an incredibly comfortable AR headset for holographic remote collaboration in a mixed reality environment. You can see other users' faces and your own external devices. The Campfire Console is a large plastic X that looks like a simple monitor stand and anchors the holographic experience.
The Campfire Pack, a sensor attachment that fits on the back of your phone, is the most innovative design we've seen for using smartphones as hand controllers for virtual experiences. Keep an eye out for the Campfire AR headset which arrives in 2022. 
Virtual Surgery with FundamentalVR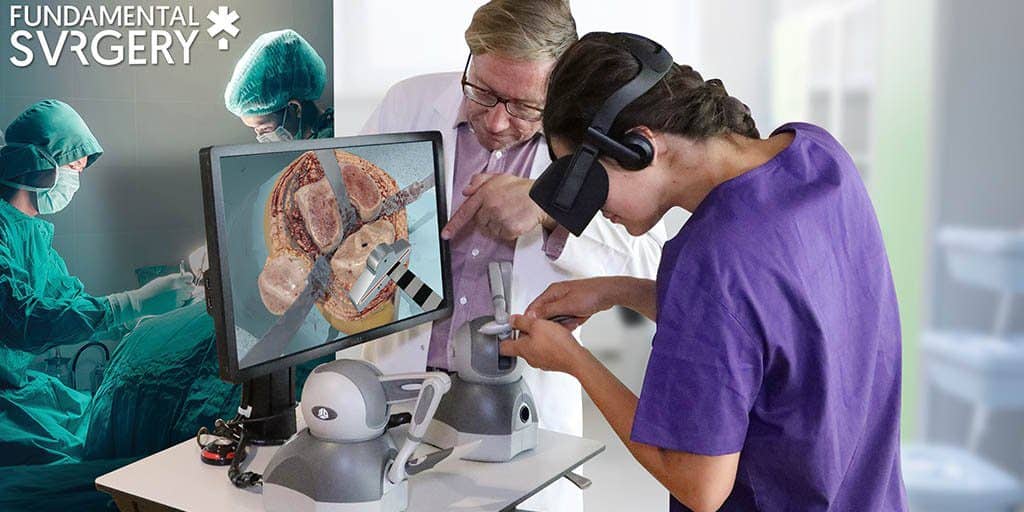 I finally had a chance to practice my surgical skills (you don't want to know) with FundamentalVR's demo of bone surgery. This haptic virtual experience overcomes a primary obstacle in VR medical simulations where you have a visual experience but not the sense of touch essential in medical procedures. I ground down a bone (a bit too far – apologies to my virtual patient), but it was intensely realistic due to FundamentalVR's approach of using physical implements instead of haptic gloves. Skin feels soft like skin, and bones feel hard and brittle like bones.
I also had a chance to briefly work with someone remotely in London, learning about various devices I would use if I were training for the profession. It was a remarkable demonstration of the power of XR to transform teaching and learning in healthcare.
OVR Technology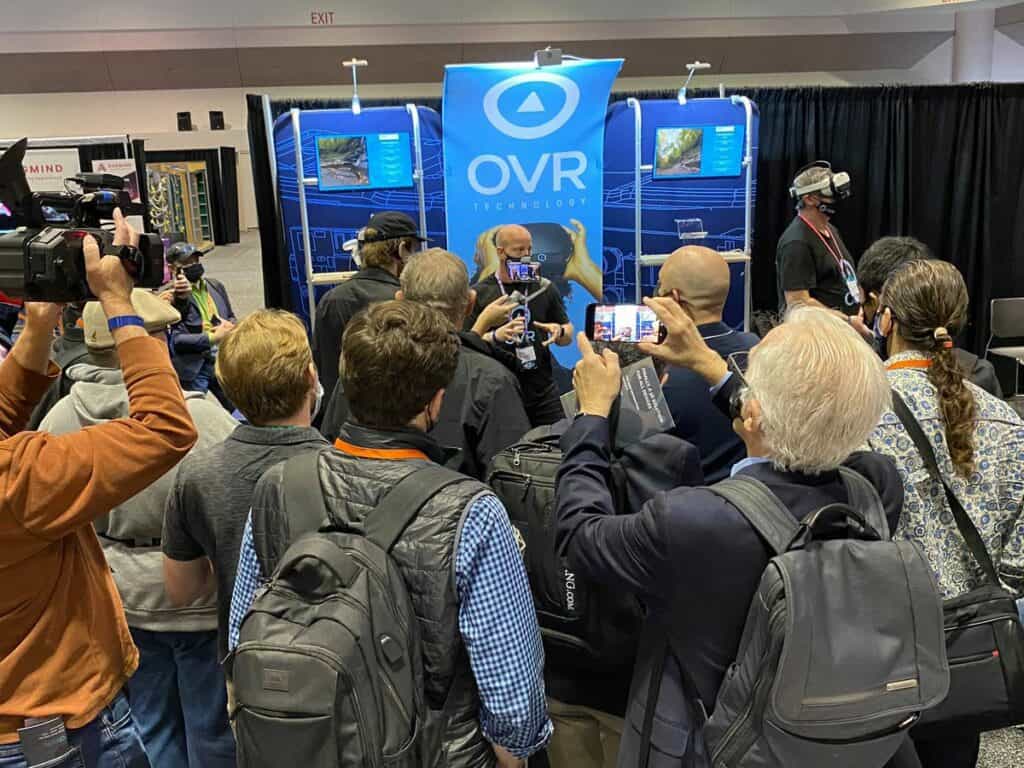 OVR Technology, the developer of scents in virtual experiences, demoed its innovative technology at AWE 2021. Their presence at the conference spoke volumes about the current limitations of our virtual experiences and what is missing in the discussion about the future metaverse. Up to now, immersive tech has focused on the visual and auditory aspects of human experience. But as powerful as those elements are, they miss the way scent shapes our experience of an environment. As Aaron Wisniewski, CEO and co-founder of OVR Technology, put it,
Scent is powerful, critical, and complex. It's the only one of our senses directly linked to the limbic system of the brain, which is responsible for memory and emotion.
Scent grounds how we understand and relate to the world, and incorporating it into XR opens new possibilities in virtual meditation and relaxation (see OVR's INHALE wellness platform), and workforce training (the smell of hardware, fluids, chemicals, smoke, etc.). As Aaron Wisniewski notes, "It's an imperative aspect of an effective VR experience" – and equally imperative if the metaverse is to ultimately mirror our real-life experience.
AWE 2021 Wrap Up
Overall, AWE stands out as one of the best XR conferences you can attend. Born out of early Meetups in New York City, we remember the days when there were only 20-30 of us gathering monthly for demos of primitive AR devices. It's a thoughtfully curated blend of demos and talks, and the chance to network with people on the cutting edge of AR/VR developments. We've only touched upon some of the highlights here and will revisit them – and others – in the weeks to come.
If you have the opportunity, mark your calendars for next year's AWE on June 1-3 in Santa Clara, CA.
Emory Craig is a writer, speaker, and consultant specializing in virtual reality (VR) and artificial intelligence (AI) with a rich background in art, new media, and higher education. A sought-after speaker at international conferences, he shares his unique insights on innovation and collaborates with universities, nonprofits, businesses, and international organizations to develop transformative initiatives in XR, AI, and digital ethics. Passionate about harnessing the potential of cutting-edge technologies, he explores the ethical ramifications of blending the real with the virtual, sparking meaningful conversations about the future of human experience in an increasingly interconnected world.