In partnership with AMC Theatres®, Dreamscape Immersive opens its latest location at the New Jersey Westfield Garden State Plaza. Combining state-of-the-art virtual reality with a cinematic focus on storytelling, it marks the welcome return of location-based VR to the East Coast. The long-awaited opening came on Friday, November 19th, and tickets are available at dreamscapeimmersive.com.
It's no surprise that location-based VR took a hit during the pandemic, but as we emerge from a global health crisis, the New York City metropolitan area is an ideal setting for a new location. Dreamscape has been hard at work over the past two years, refining its experiences and exploring new opportunities. Its most remarkable initiative has been the innovative Dreamscape Learn project with Arizona State University to create a new virtual reality immersive biology curriculum.
Dreamscape's Immersive Storytelling Approach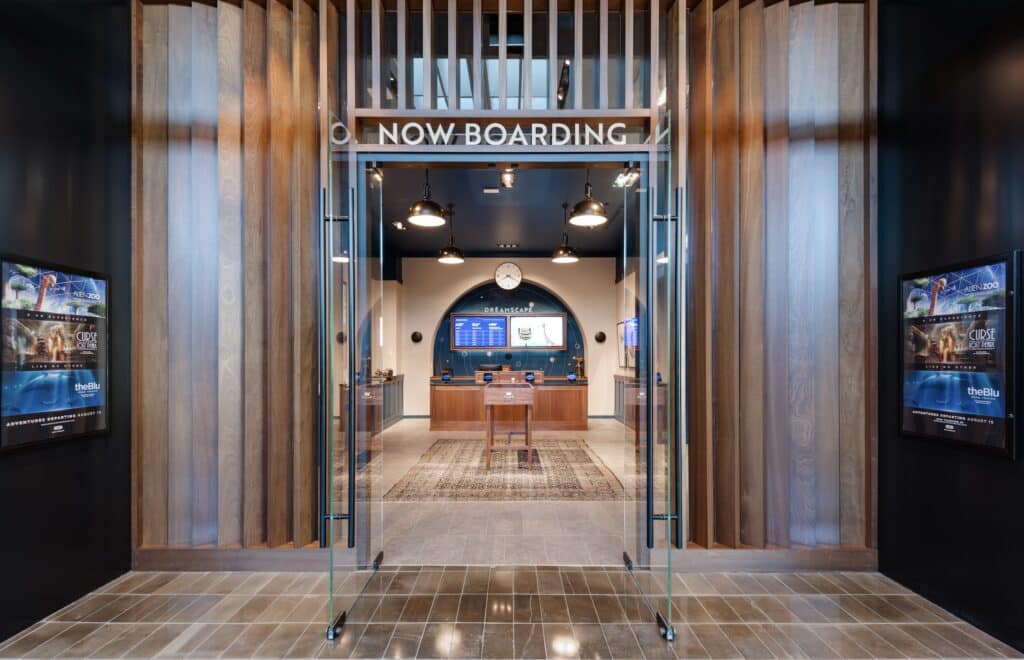 Arriving at the new Dreamscape Immersive space at AMC Theatres® in Westfield Garden State Plaza, it's hard not to think of The Void, an early location-based VR company that closed back in March 2020. While The Void leaned heavily on a gaming sensibility, Dreamscape's focus is on immersive storytelling. The difference is immediately apparent the moment you check in. The walls and display cases in the waiting area hold artifacts of the experiences. As Russell Holly pointed out in CNet, the story begins before you even strap on a VR headset.
There's no talk about the hardware in this space and no VR headsets are visible. This room is just story. It's clear Dreamscape is focusing on the narrative for these worlds, helping you feel like you're going somewhere else and then taking you there.
From there, you enter the room that is calming with its wood paneling but simultaneously builds the anticipation that you are embarking upon a journey. It's so different from The Void's tech-centric design that put the entire focus on virtual reality.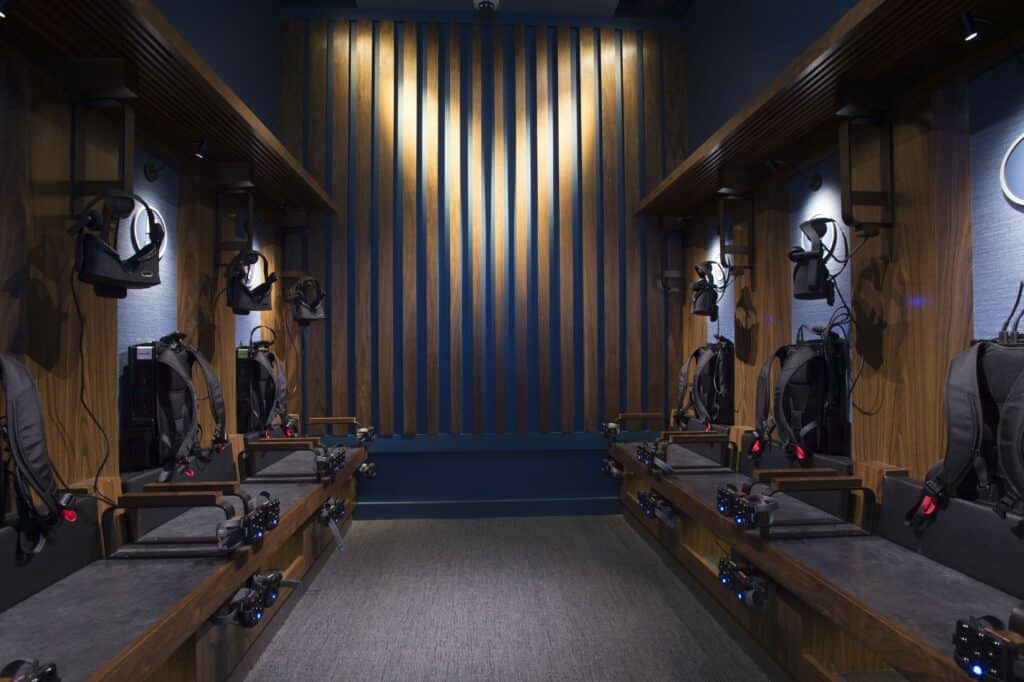 Dreamscape's Technology
Of course, Dreamscape has benefited from the ongoing developments on the hardware front. You'll still wear a backpack, but it's significantly lighter than previous versions. And the foot and hand trackers have shrunk down in size. They haven't yet reached the size of large bracelets, but we're getting close. The suiting up process was simple, and with well-designed gear (HP hardware and Dreamscape sensors) and clear instructions from the staff, few will need any additional assistance (no one in my groups did).
Dreamscape Immersive's Three Experiences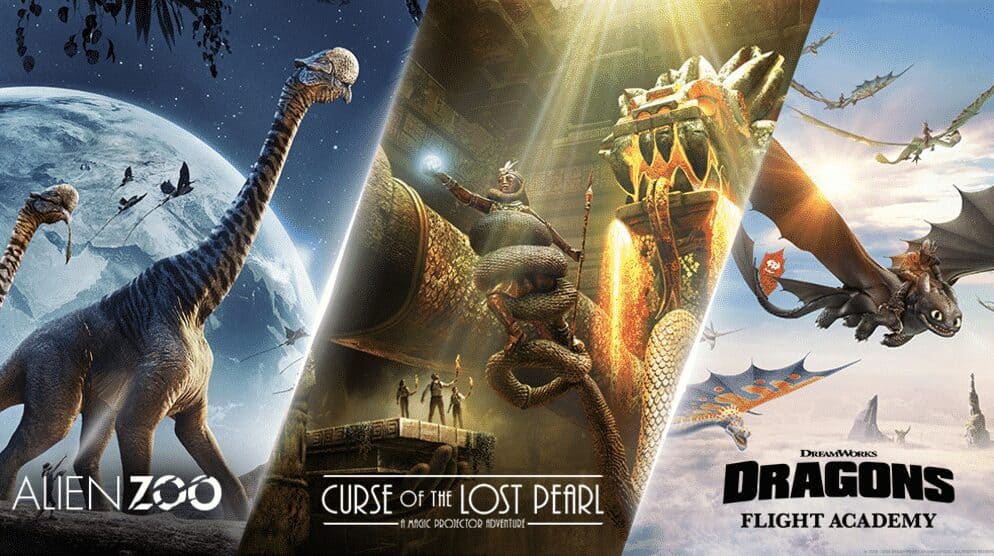 The newly opened New Jersey location currently features three immersive experiences:
DreamWorks Dragons: Flight Academy – "Enlist in the dragons' flight academy and help Hiccup and Astrid rescue the village from invaders."
Alien Zoo – "For the first time ever, the Intergalactic Wildlife Federation is allowing humans to visit the Alien Zoo – an intergalactic refuge containing all kinds of extraordinary and wonderous creatures, some dangerous, but all endangered. "
Curse of the Lost Pearl: A Magic Projector Adventure – "Deep in the jungles of Mesoamerica, the Temple of the Snake God rumbles with anger. You're on a quest to find the lost pearl, but intruders are not welcome here."
Of the three, Dreamworks Dragons: Flight Academy, with its tie-in to the movie, How to Tame Your Dragon, is the most game-like. And it may be the easiest one for children (they need to be ten or above) to enjoy as you're sitting on a stationary device that becomes a dragon in the VR experience.
Alien Zoo is a compelling tale of an endangered natural environment and how all of life is interconnected into a larger whole. It's hard to walk out of it and not think about how our own environment can self-destruct through neglect or willful wrong actions.
Finally, Curse of the Lost Pearl: A Magic Projector Adventure pits you against various challenges where you work with your teammates to achieve the goal. At the beginning of this experience, you step through a projection screen as the storyline unfolds. It crystallizes – in ways that words cannot convey – the compelling power of VR and the magic of cinema in one single moment.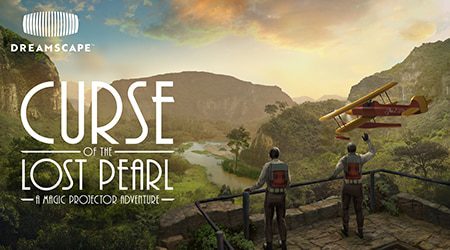 Besides the sensation of wind and vibrations when you're on moving platforms, Dreamscape has done an excellent job of linking the virtual and the real in the experiences. See a handrail, and you can reach out and grab it to steady yourself. As mysterious creatures bend down toward you, you'll be able to touch and interact with them. And you'll occasionally feel sprays of water at the right moments – getting just wet enough to heighten the sense of realism.
Education and Workforce Training
While the Dreamscape Immersive location in New Jersey focuses on entertainment, there's much more going on behind the scenes. As we noted, the company has already partnered with Arizona State University to create Dreamscape Learn to transform the teaching of biology. And you can envision – as Dreamscape is doing – other applications as well. There are workforce training experiences where a standalone consumer headset will suffice. But there are many jobs (cell phone tower repair, industrial machinery work, and even soft skills development, etc.) where Dreamscape could provide a Holodeck-like experience to revolutionize training programs. You may be searching for a lost pearl today, but the possibilities are endless with Dreamscape Immersive's technology and storytelling sensibility.
Why You Should Go
Dreamscape is unique in that its founders come to virtual reality from other areas including cinema, live events experts, and gaming. If you've never experienced VR, it's an excellent introduction to the technology. But even if you're comfortable at work or home with your tethered HMD or standalone Quest, there's good reason to drop by the AMC Theatres® location in New Jersey. This is VR at its most compelling – it's not simply a platform for gaming but a new medium for storytelling.
Dreamscape has also partnered with the recently opened Harry Potter Wizarding World Store in the Madison Square area of New York City. That provides another opportunity to try out different high-end multiplayer VR experiences.
If you want to experience the future of VR, check out Dreamscape Immersive's new home at the Westfield Garden State Plaza mall in New Jersey. It's about the story, not the technology.
Emory Craig is a writer, speaker, and consultant specializing in virtual reality (VR) and artificial intelligence (AI) with a rich background in art, new media, and higher education. A sought-after speaker at international conferences, he shares his unique insights on innovation and collaborates with universities, nonprofits, businesses, and international organizations to develop transformative initiatives in XR, AI, and digital ethics. Passionate about harnessing the potential of cutting-edge technologies, he explores the ethical ramifications of blending the real with the virtual, sparking meaningful conversations about the future of human experience in an increasingly interconnected world.