The massive SXSW 2021 festival is almost here, and its vast sweep of talks, films, music, games, and VR/AR projects will be entirely online due to the pandemic. If you have a festival pass – or can get one – be sure to check out the Online XR Program, which will run from March 16 – 20th. The SXSWedu event has been underway this week from March 9 – 11th.
We were originally planning to attend both the 2020 event and this year in person but will be there through our screens and in our headsets. Much as we love Austin, Texas, there are advantages to the virtual version – you miss the insane crowds and the challenge of finding affordable hotel rooms.  
But we will miss those on-site moments a few years back of walking around Austin demoing Bose's Audio AR Glasses. It was a project that we always thought had so much potential for addressing accessibility issues and integrating augmented reality into our lives.
You can check out the full program for the festival and how to get a festival pass. If you already had a full pass for SXSW 2021, you'll be able to pick up a free pass for this year's event and save your in-person festival credentials for next year. Access for some of the films will be limited and require an RSVP; others will not be available outside of North America due to distribution rights. The Festival has a complete guide on How to Watch Films at SXSW Online 2021.
Realism and Social Interaction in a Virtual Festival
The entire Online XR program will take place in a virtual downtown Austin. The organizers worked with VRrOOm studio to recreate the venues used each year in the festival. You'll be able to stroll through the Paramount Theatre, the Mohawk, Empire Control Room & Garage, and the Cedar Street Courtyard as virtual environments.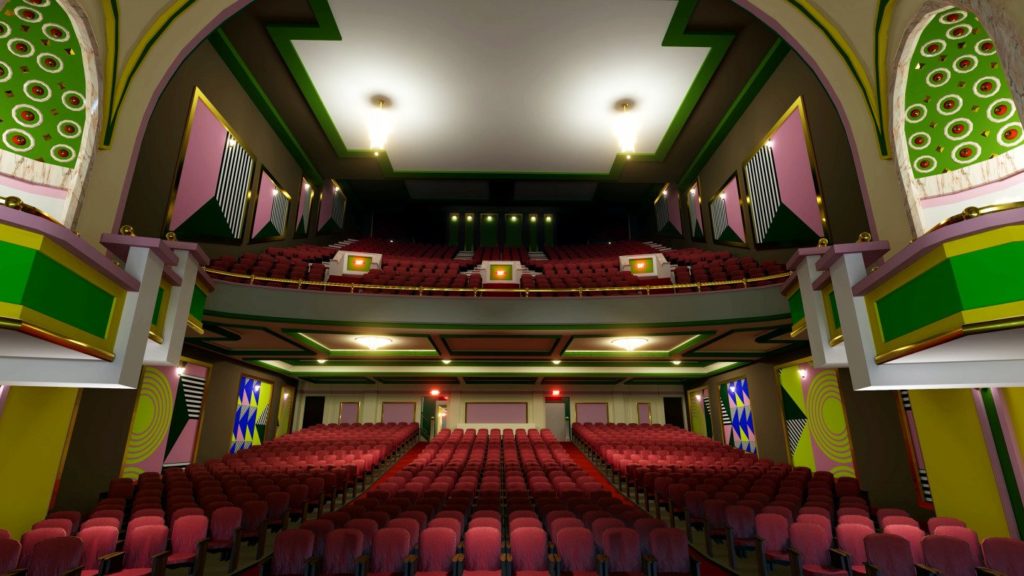 As we've seen with other virtual conferences, SXSW 2021 will have to balance the realism of the virtual environment with the complexity and interactive capabilities of the avatars. As much as we'd like to have it all – deeply immersive spaces and fully realistic avatars – there's always a tradeoff with the current state of our bandwidth and hardware. Every virtual event during COVID-19 has had to grapple with the limitations of working in the XR space. Sundance opted for minimal avatars to highlight the virtual spaces and foster interaction. It will be interesting to see how SXSW 2021 balances these issues.
Chief programming officer Hugh Forrest acknowledges the limits of serendipitous connections in a virtual event: 
"You're not going to have that traditional SXSW moment where the person you always wanted to meet is in line in front of you at the Iron Works [BBQ] . . . We can't replicate that in a virtual world. Instead, I'd encourage our community to use the app to look up the people you want to network with, use our mentor sessions and the networking hour to connect. The people who've typically had the best results even in previous years are those who try to connect with others beforehand—I think what we lose in serendipity, we potentially gain in the strategic ability to connect using the app platform."
There's magic when 280,000 people gather for a creative event, and there's magic when people gather virtually. But SXSW is acknowledging that one cannot be a simple mirror of the other.
SXSW 2021's Online XR Program
Here's the announcement for the virtual program from the organizers:
From fantastical virtual versions of iconic Austin locations like Congress Avenue and the Red River Cultural District to a wide array of SXSW Online 2021 programming, we are excited to introduce SXSW Online XR!

Using the SXSW 2021 look and feel, SXSW Online XR will showcase live panels, meet ups, special events, a selection of 360° videos from the Virtual Cinema program, as well as 2D video feeds of SXSW programming. Austin venues recreated in the space include The Paramount Theatre, the Contemporary Austin, Mohawk, Empire Control Room & Garage, and Cedar Street Courtyard. SXSW worked with world-renowned artists and the social XR events studio VRrOOm to design and produce the festival's virtual edition, which will be hosted on VRChat.

The complete Virtual Cinema Program, including previously-announced Virtual Cinema Competition and Virtual Cinema Spotlight projects, will also be accessible and downloadable via the VRrOOm store online. The VRChat worlds can be experienced on PC, PCVR and Oculus Quest headsets.
Live Sessions
Like Sundance and the Tribeca film festivals, SXSW 2021 will have a strong focus on storytelling and art in an immersive world. One of the many highlights of SXSW 2021 for those working in XR will be the Live Sessions, where artists discuss the creative potential and challenges of immersive media. Here are three sessions to bookmark:
Making of Reeducated: A VR New Yorker Documentary – Reeducated is a first-of-its-kind 3D 360 VR documentary about detention in Xinjiang, China, guided by the overlapping recollections of three men who were imprisoned together at the same facility. Part of a major multimedia project from The New Yorker, the 20-minute immersive film is based on more than a dozen hours of interviews and uses hand-drawn watercolor cel animation and ambisonic sound to visualize an otherwise inaccessible, authoritarian space. Filmmakers Sam Wolson and Ben Mauk discuss the making of this project and the difficulties of reporting on Xinjiang that led them to work with firsthand witness accounts, animation, and VR.
Shared Space: A Conversation About XR Public Art – Join New Frontiers Curator Shari Frilot and XR artist Nancy Baker Cahill to discuss XR art in shared public space. What constitutes public art or even public space in the digital era? How can these sites be activated for thoughtful discourse, inclusion, and access?
Performing for New XR Audiences – A discussion about the future of theatre and performing for new audiences, from the team of Finding Pandora X, SXSW Spotlight program feature and winner of the Lion for "Best VR Immersive User Experience" at the 2020 Venice International Film Festival. With Broadway doors closed through the summer of 2021, this panel offers forward-thinking techniques to creating live theatre in socially connected virtual worlds. Our cast and creative team will share insights into the embodiment of avatars and the differences between performing for a physical audience versus a virtual audience.
The Virtual Cinema Program at SXSW 2021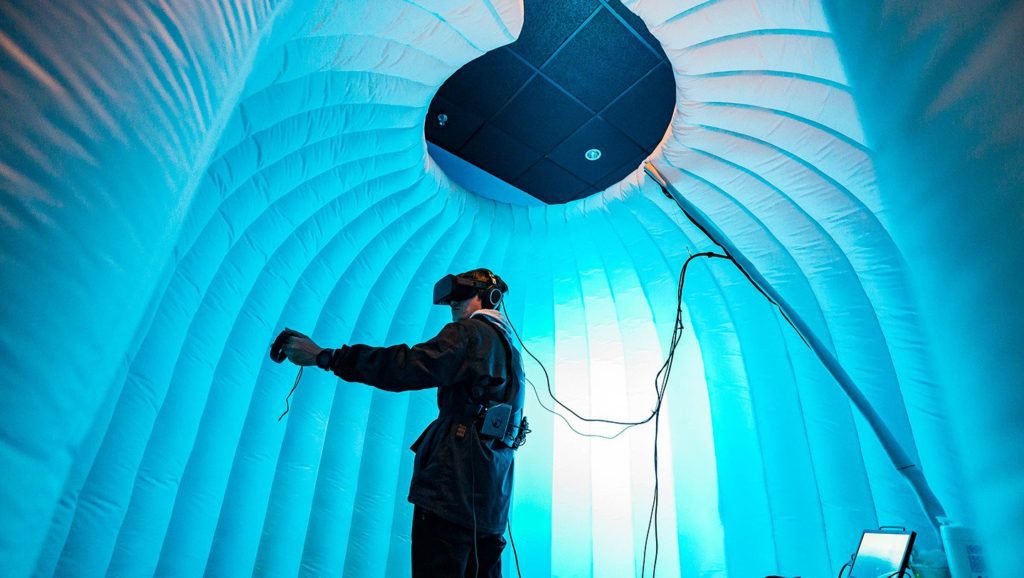 Here are the works in the Virtual Cinema Spotlight at SXSW 2021 – and be sure to check out the full program. There's a good cross-section of XR artists from around the globe – though notably missing is some of the excellent creative work being done in countries in Africa.
4 Feet High VR (Argentina, France)
Directors: Maria Belen Poncio, Rosario Perazolo Masjoan, Damian Turkieh, Screenwriters: Greta Molas, Javier Correa Caceres, Elisa Gagliano, Rosario Perazolo Masjoan, Maria Belen Poncio, Delphine Agut, Ivana Galdeano, Gabriela Vidal, Producers: Ezequiel Lenardon, Marie Blondiaux
Imagine your last year of High School in a wheelchair. Cast List: Marisol Agostina Irigoyen, Florencia Licera, Marcio Ramses, Natalia Di Cienzo, Francisca Spinotti (Texas Premiere)
Finding Pandora X
Director: Kiira Benzing, Screenwriter: Alyssa Landry, Producers: Kiira Benzing, Lara Bucarey, Chris Dawes, Alyssa Landry
With the passing of ages, the Gods of Mount Olympus have faded away until only two remain: Zeus and Hera. Now they are in danger of disappearing if they can't recover the box of hope that Pandora removed. (North American Premiere)
Meet Mortaza (France)
Director: Joséphine Derobe, Screenwriters: Joséphine Derobe, Mortaza Jami, Producers: Oriane Hurard, Quentin Noirfalisse
An immersive experience telling the journey of an Afghan refugee. (U.S. Premiere)
Namoo
Director/Screenwriter: Erick Oh, Producers: Larry Cutler, Eric Darnell, Maureen Fan, Kane Lee
A narrative poem brought to life as an animated VR film, and an ode to a grandfather's passing, this story follows the journey of a budding artist – and his tree of life – from beginning to end. (Texas Premiere)
Odyssey 1.4.9 (France)
Director: François Vautier, Producer: Jeremy Sahel
A breathtaking VR journey into the visual heart of A Space Odyssey. A personal tribute unveiling the secrets of Stanley Kubrick's masterpiece. (U.S. Premiere)
Once Upon a Sea (Canada)
Director: Adi Lavy, Screenwriter: Heidi Miller, Producers: Ina Fichman, Nimrod Shanit
Once Upon a Sea is a stunning, immersive trip to the Dead Sea region, the lowest place on earth – and it is our call to action. If nothing is done, the Dead Sea as we know it will be gone for good. (North American Premiere)
Paper Birds (Argentina)
Directors: German Heller, Federico Carlini, Screenwriter: German Heller, Producers: German Heller, Federico Carlini
Paper Birds is the story of a short-sighted child with an exceptional talent for music. He must find his way through the world of darkness to bring back his sister, taken away by the shadows.
Potato Dreams
Director/Screenwriter: Wes Hurley, Producers: Mischa Jakupcak, Wes Hurley, Mara Auster, Jonathan Caso
Russian mother and son narrate this innovative 360 documentary which traces their nightmarish past in the USSR. (Texas Premiere)
Under the Skin (Brazil, China, Germany, Luxembourg, United States)
Director: João Inada, Screenwriters: Thamyra Thâmara, Andressa Núbia, Jon Thomaz, Rafael Cruz, Raull Santiago, João Inada, Producer: Diogo Dahl
Under the Skin is an interactive VR documentary that brings users to Complexo do Alemão — Rio de Janeiro's most notorious favela complex—during a surprise police operation, meeting residents who face police abuse and structural racism. (North American Premiere)
WebbVR: The James Webb Space Telescope Virtual Experience
Director: Chad Smith
Join the James Webb Space Telescope in orbit beyond the Moon and explore the universe from its perspective. Planetary systems are born, galaxies form, and stars emerge from within colorful nebulas—all before your eyes. 
Check Back Next Week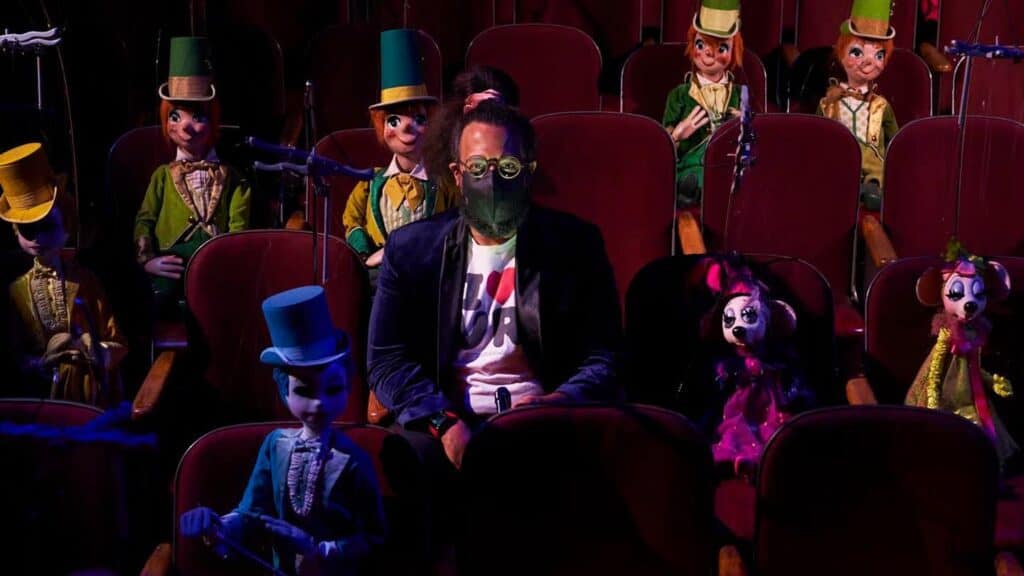 This year will reveal a very different SXSW. Headline music groups will be replaced by younger musicians struggling to break out in a socially isolated society; comedians will be rallying to support comedy clubs devastated by financial losses over the past year. And emerging artists will have a chance to debut new films and XR projects. The best entry point into the Festival is to check out the full program online. Plan your time around the events scheduled for specific times and then add those accessible throughout the event.
We'll be sharing highlights of SXSW 2021 during the festival week, so be sure to check back for the latest XR news and events from a virtual Austin, Texas.
Emory Craig is a writer, speaker, and consultant specializing in virtual reality (VR) and artificial intelligence (AI) with a rich background in art, new media, and higher education. A sought-after speaker at international conferences, he shares his unique insights on innovation and collaborates with universities, nonprofits, businesses, and international organizations to develop transformative initiatives in XR, AI, and digital ethics. Passionate about harnessing the potential of cutting-edge technologies, he explores the ethical ramifications of blending the real with the virtual, sparking meaningful conversations about the future of human experience in an increasingly interconnected world.