We don't know about you, but we've been ready to see 2021 out the door. It's been a challenging year with the resurgence of the pandemic and the growing realization that we may live with COVID-19 in some form or another for the rest of our lives – hopefully, with much lower mortality rates. And XR in 2021 had its share of challenges, weathering a pandemic, the scandals surrounding one of the industry's major players (Facebook/Meta), and ethical concerns over the impact of technology and our (future) life in the Metaverse. So it's no surprise that our most popular articles tracked these developments, and we'll share the highlights here.
As for our predictions for XR in 2022, we'll offer them in the coming weeks. But first, let's take a look at how XR fared in 2021.
Highlights of XR in 2021
Here are the top ten most popular articles on Digital Bodies from the past year. Realistic avatars, AR Glasses, immersive storytelling, Facebook/Meta privacy challenges, and a couple of major XR conferences make the list.
But developments that flew under the radar also made the list. The AWE 2021 conference showcased work by Agora, HTC, Niantic, and 8thWall that are creating the foundations for the Metaverse in the future.
Deeply Realistic Avatars are Coming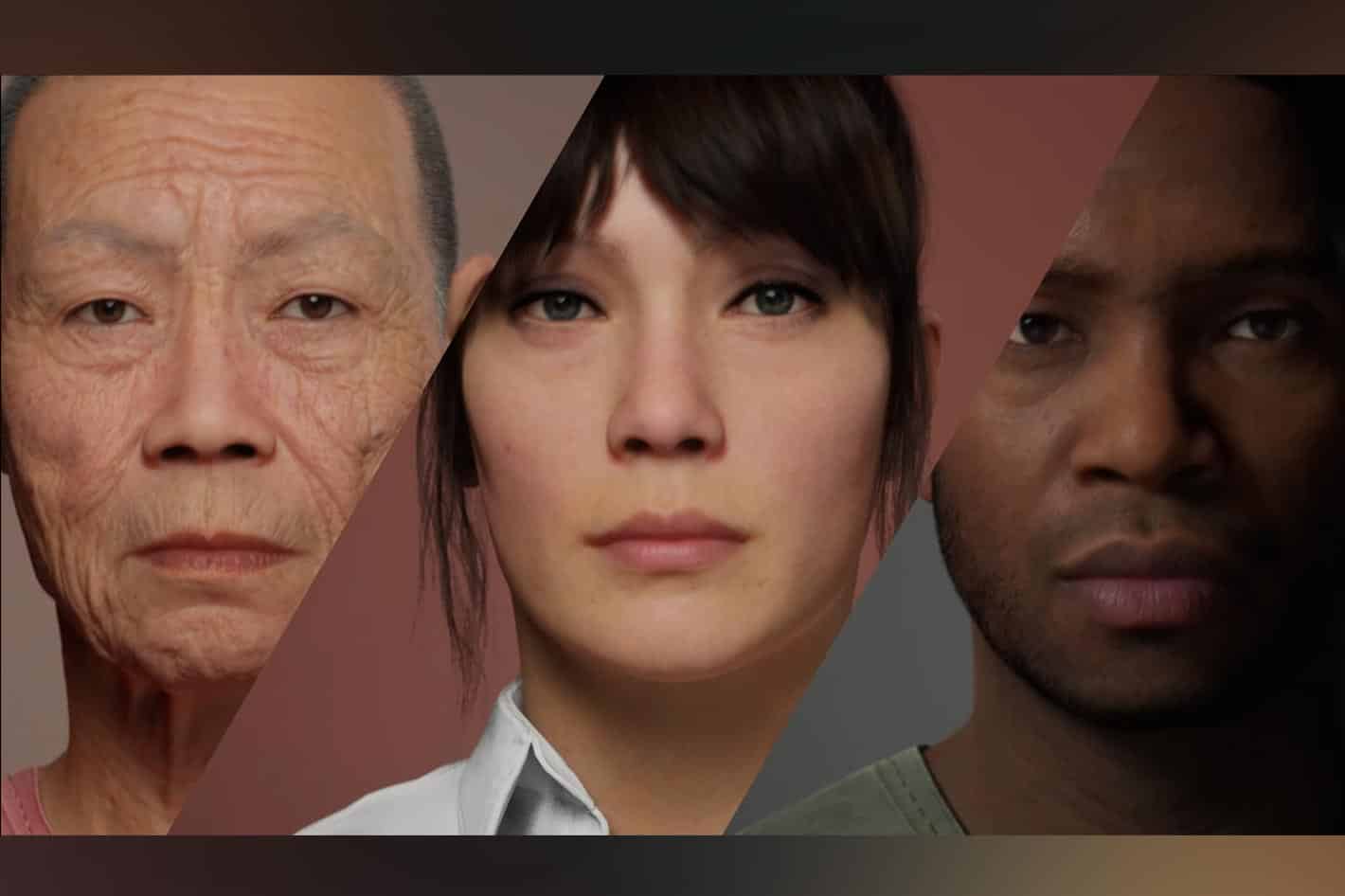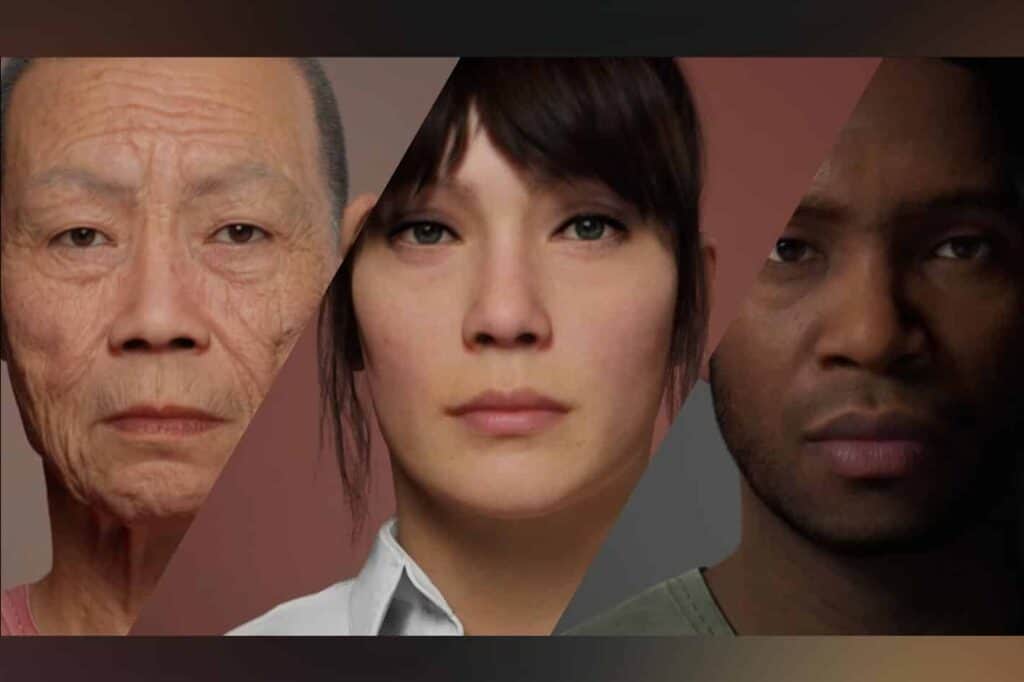 Back in April, Epic Games opened up early access to their MetaHuman Creator for lifelike avatars in video games. While they were not explicitly designed for VR environments, we caught a glimpse of the future. The cartoonish avatars of our current social VR environments are no more the future than the horse and buggy was the future of transportation. It will be a while before we get there – especially given the bandwidth demands of fully-formed avatars in immersive environments. But get there we will, and our readers seemed equally convinced.
MetaHuman Creator – Epic Games Reveals Our Future Avatars
Microsoft's AR Glasses Still Years Away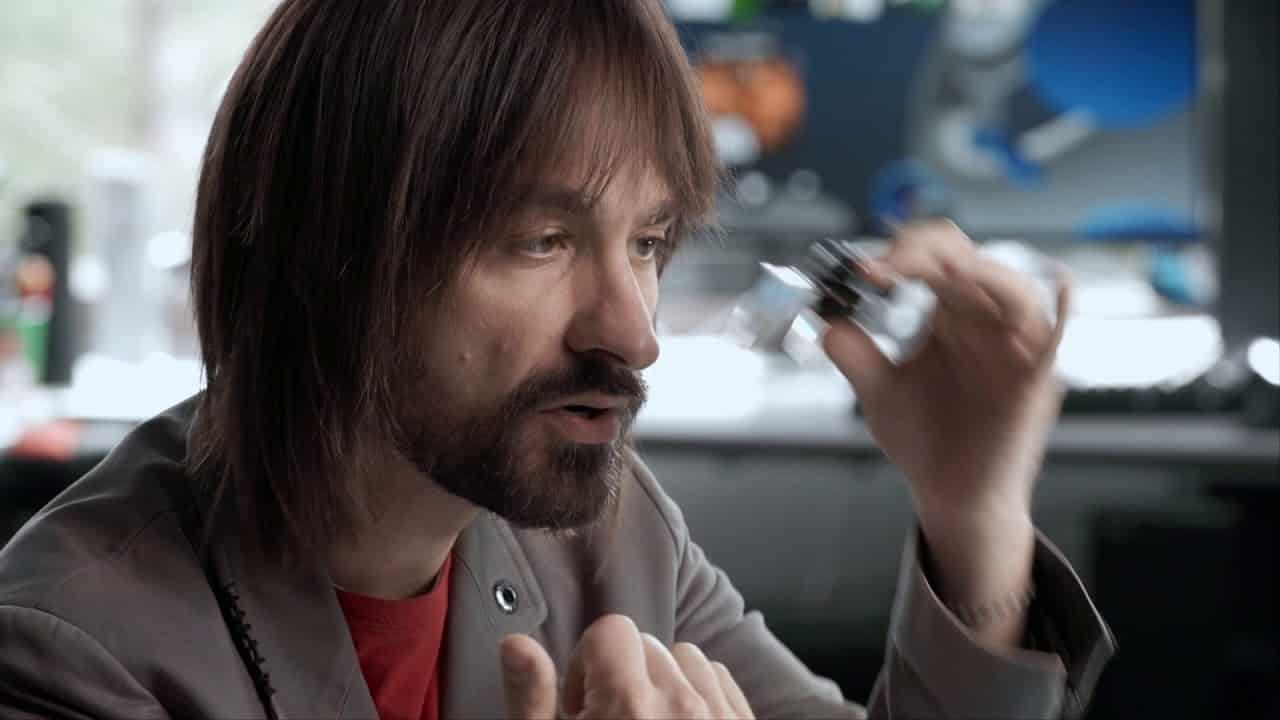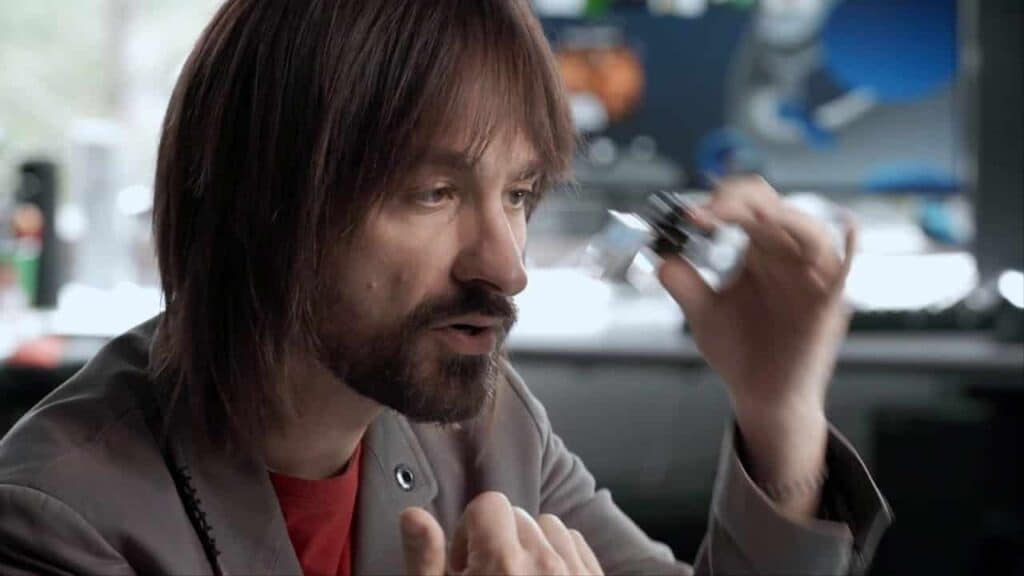 2021 saw Alex KIipman confirm that Microsoft is working on AR glasses. But he cautioned that full-featured smartglasses are still years away. And Facebook/Meta appeared to prove the point with their release of Ray-Ban Stories, which have no AR capabilities. Most of the major players have massive AR projects in the works, with only Lenovo releasing its ThinkReality A3 Glasses this year. But the latter is still more oriented toward enterprise than the consumer market.
Expect to see a lot more AR products on the market in 2022, though Kipman's point is hard to ignore. Comfortable, easy-to-wear AR Glasses are still a few years away.
Microsoft AR Glasses Coming – But They're Years Away
XR's Progress Highlighted at AWE 2021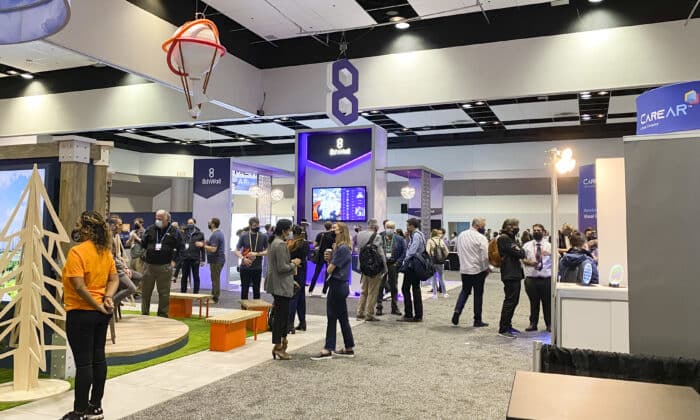 Yes, we finally stepped foot into an in-person conference this year (though Omicron may delay the next one for a while) at AWE 2021 in Santa Clara. And the event revealed just how rapidly XR is developing despite the global pandemic.
Major highlights for us included using HTC's Vive Flow HMD and OVR Technology's remarkable work on integrating scent into immersive experiences. If the pioneering multimedia artist Laurie Anderson said, "VR will never look real until they learn how to put some dirt in it," we'll add that the Metaverse will never be real until we can smell it.
AWE 2021 also had demos of remarkable tech advances that will be the foundation of XR in the future including,
Agora's partnership with HTC on developing an SDK for seamless remote collaboration both in and outside of XR environments.
Niantic's Lightship, an AR Developer Kit (ARDK) that enables occlusion, real-time mapping, precise geolocation, object recognition, and much more on basic smartphones.
8th Wall's new Reality Engine breaks down the barrier between websites, flat screens, and immersive environments.
More here about one of the best XR events of the year: AWE 2021 – New Devices and Experiences Highlight XR's Progress
New AR Glasses on Indiegogo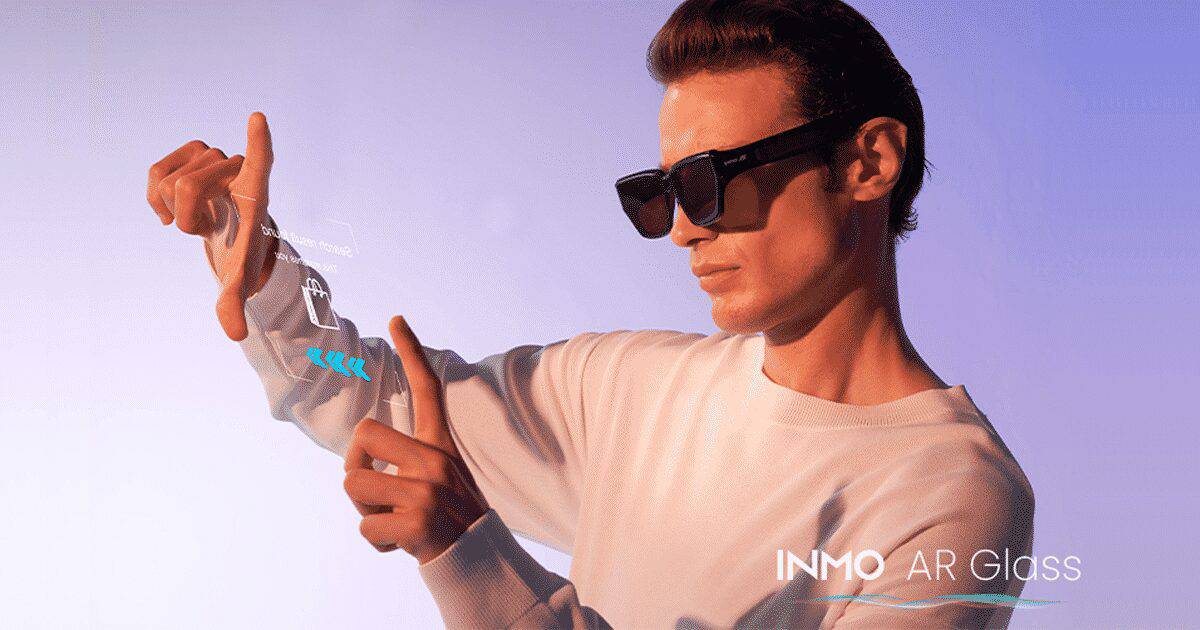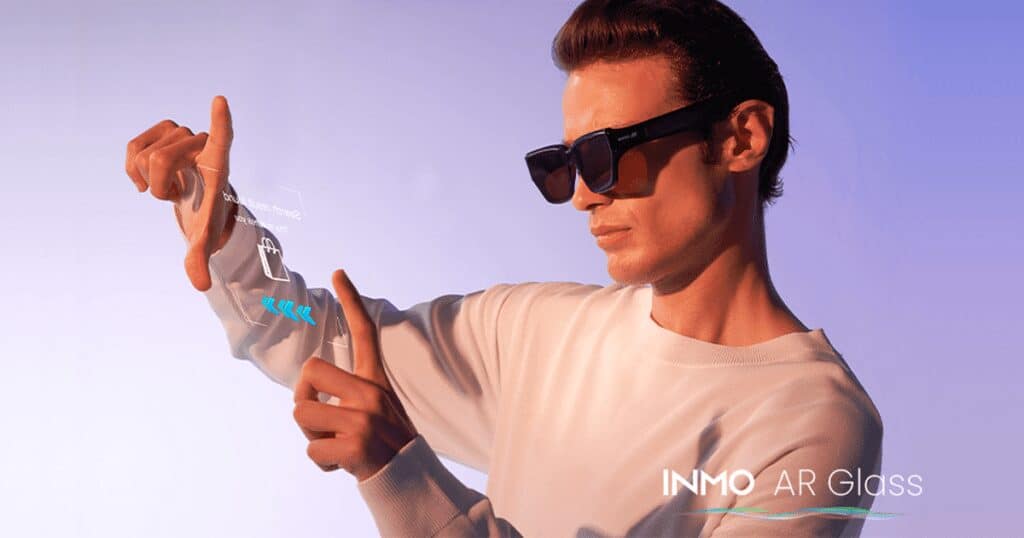 Neither we nor (we assume) our readers saw the INMO AIR glasses as a major technical advance, but they did reveal where augmented reality is headed and how it will profoundly reshape our lives. The Indiegogo project is a mixed bag – fashion-forward glasses that ditch the cyborg look similar to Nreal's glasses. But while their 4-8 hour battery life improves on other models, it's not enough to get you through a day without recharging along the way.
However, we had to laugh at one of the application examples INMO offered as it struck us as one way AR will impact human relationships. You can use it as a teleprompter for those awkward moments on a first date.
And we can already anticipate the inevitable rejoinder: "Take your glasses off; I want to see what you really think of me."
Read more at INMO AIR Offers New AR Glasses on Indiegogo
The Future of AR is Engagement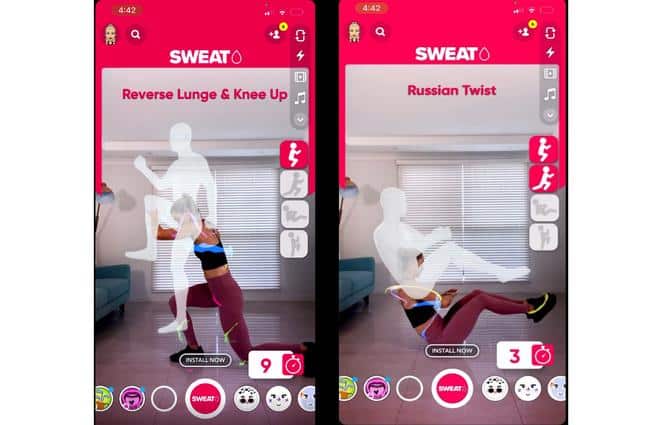 We are always amazed at how Snap continues to innovate in the AR space even if they're not successful with product sales. One of Snap's latest developments is the release of their Fitness Lens, which drove home the lesson that augmented reality will be less about accessing information and more about engaging with others. Did we mention innovation? Snap's Fitness Lens was their first to include full-body tracking, which puts them far ahead of others in the field.
Snapchat Fitness Lens – The Future of AR is About Engagement
SXSW 2021 – Compelling XR Projects and Virtual Cinema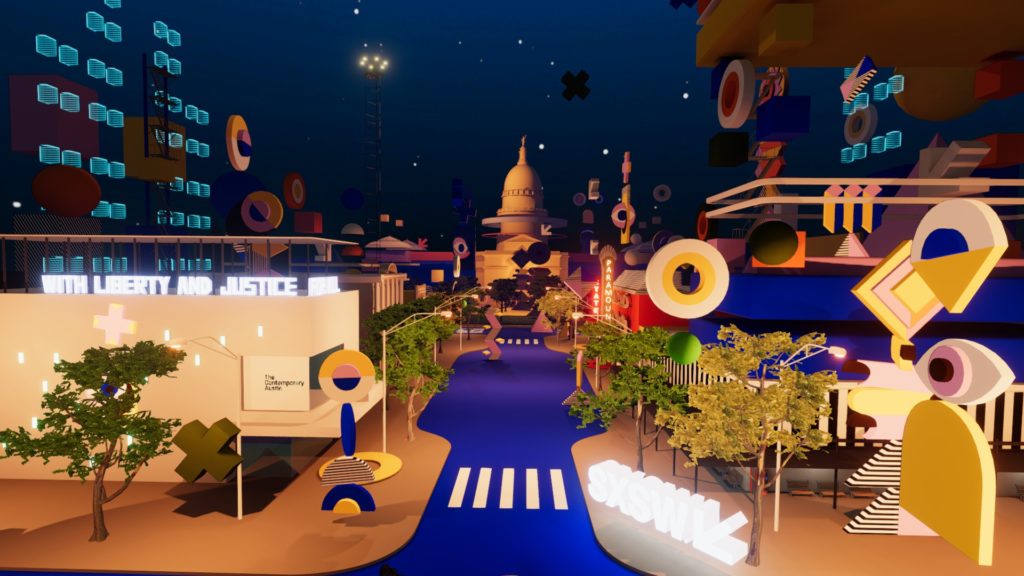 The pandemic derailed our – and everyone else's – plans to be in Austin this past year for SXSW 2021. But their remote event rewarded us with work by developers and artists that continued to push the creative boundaries of XR. If an online event precludes a chance encounter with someone in line at a local BBQ joint, VRrOOm did an excellent job recreating the classic venues of downtown Austin and encouraging conversations among the participants.
We plan to be in Austin in SXSW 2022 – assuming that we don't encounter another variant of COVID-19.
SXSW 2021: A Powerful Lineup of XR Projects and Virtual Cinema
Facebook and Ethical Issues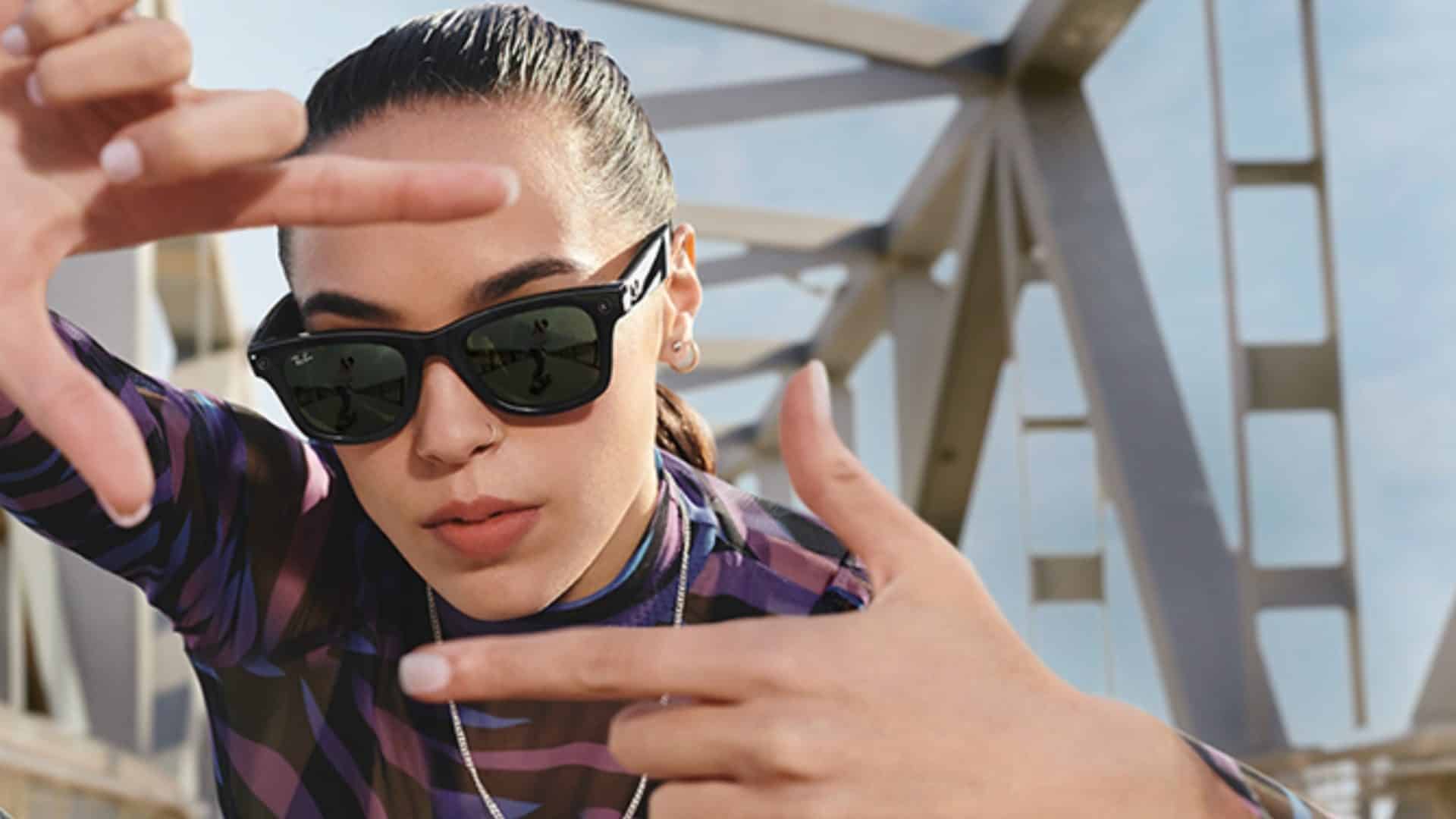 With the release of the Facebook Papers back in October, there's no shortage of ethical issues for a company that found it expedient to change its name midstream. Meta makes the most popular VR headset on the market – the Quest 2 – but the real issues for us and our audience were the growing ethical concerns about how Meta will handle personal privacy in the future.
The Ray-Ban Stories glasses offer only a hint of the growing privacy challenges we face. While the United States does little more than pay lip service to the issues, the EU is already pushing back on Meta's plans for AR and its role in developing the Metaverse.
More about those developments here: Will Facebook's Smart Glasses Face Ethical Issues?
AR Glasses, Haptics, and Privacy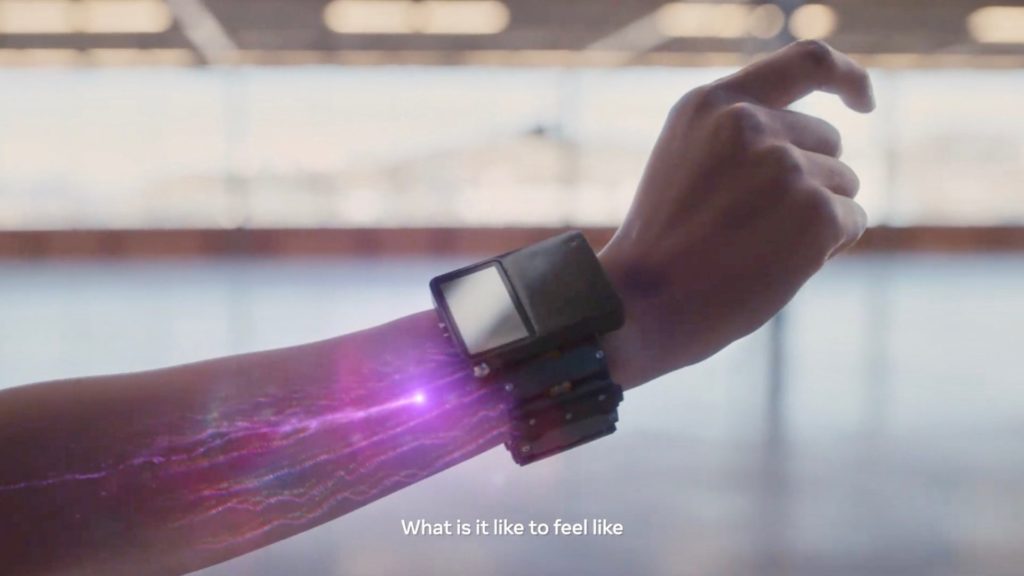 Currently, XR experiences are limited by their focus on the visual and auditory elements of human experience, and it is haptics that will create the full sense of immersion. But haptics also brings the potential for massive data collection and analysis of our physical movements, which could profoundly undermine our privacy.
Meta not only has a dismal track record when it comes to personal privacy in social media, but they're a significant force in the development of XR. Privacy issues in the Metaverse may have come up in 2021, but we expect it to be an even more critical concern this year.
Facebook's Wrist Devices for AR Glasses and Haptics Will Raise Profound Privacy Issues
AI-Driven Avatars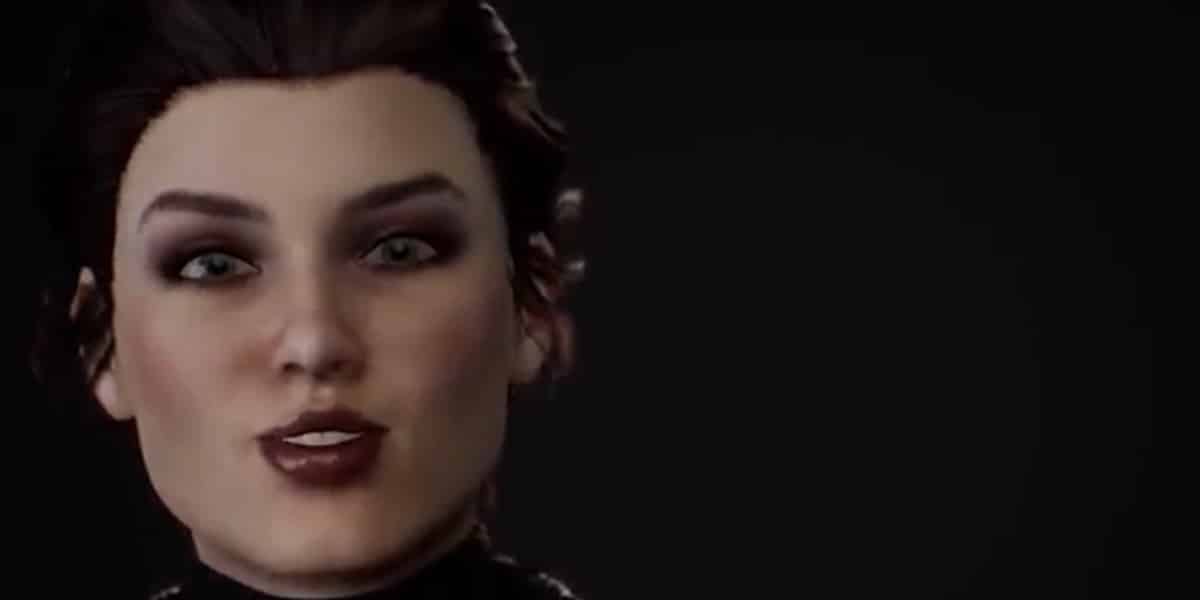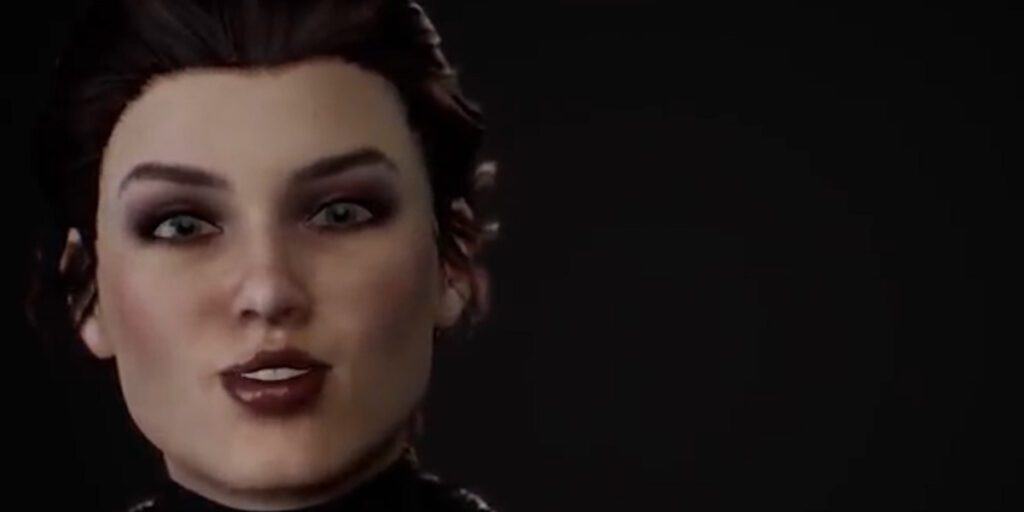 Even since we first encountered Magic Leap's Mica, we've been fascinated and deeply concerned about the coming convergence of AI and XR. Sensorium's AI-driven avatars are virtual beings that you can talk to for hours. The conversations are not entirely realistic, but each virtual being comes with its own backstory and gets uncannily close to being human-like.
The watershed moment will come when we encounter virtual beings that can impact real-life behavior. But brace yourself: Sensorium's avatars bought us another step closer. Sensorium's AI-driven Avatars – Another Step Toward the Metaverse\
CES and XR in 2021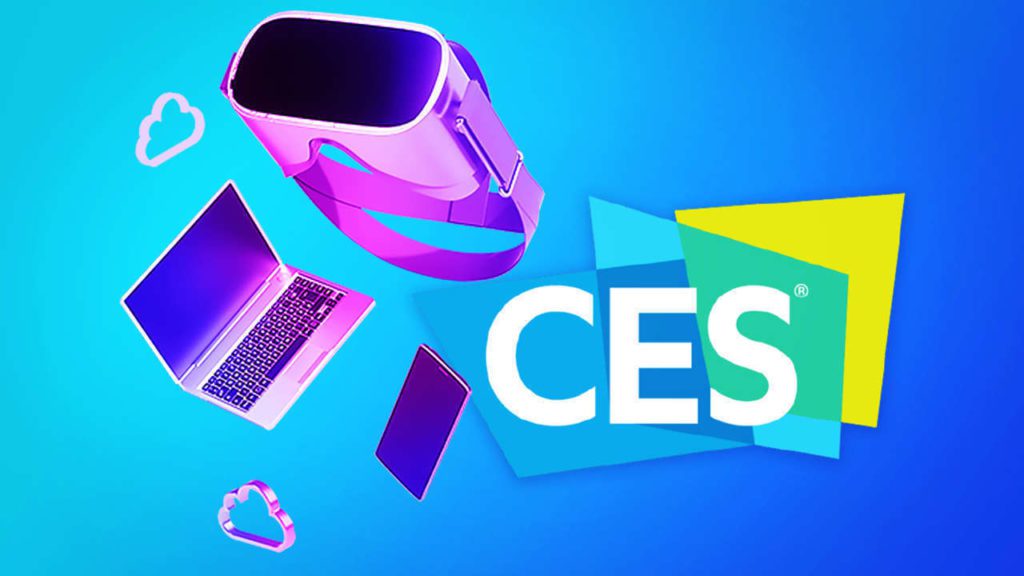 CES 2022 is only a few days away, and it's unclear how many will be there in person with the Omicron variant disrupting travel. Last year's CES was the first fully online conference and while there was a slew of XR news and devices, what intrigued us most was how the tech industry would manage its traditional "We're neutral" stance when it comes to its role in politics and society. CES 2021 happened only a week after the riots at the Capital over the 2020 election. While the industry acknowledged the January 5th events, it failed to grasp how much more would happen this past year.
Will the ethical implications of technology be a focus at CES 2022? We're not placing a bet on this in Vegas.
CES 2021: What to Expect at the First-Ever Virtual Show
Goodbye to an Amazing But Challenging Year
We're happy to slam the door on this year, but the highlights of XR in 2021 reveal that the field continues its rapid evolution. And it will undoubtedly be capped by the sales data on the Quest 2 for the holiday season. XR is still not mainstream, but it is no longer a back current that only the tech-savvy dabble in. And with AR Glasses and new headsets coming, we expect to see even greater advances in 2022. We expect the themes of our top articles – AR, realistic avatars, pushing the boundaries of immersive storytelling, ethical challenges, and in-person conferences – will continue to hold center stage in the year ahead.
Follow us as we track and analyze how XR will change how we live, learn, work, and play. Best wishes for a happy and healthy New Year!
Emory Craig is a writer, speaker, and consultant specializing in virtual reality (VR) and artificial intelligence (AI) with a rich background in art, new media, and higher education. A sought-after speaker at international conferences, he shares his unique insights on innovation and collaborates with universities, nonprofits, businesses, and international organizations to develop transformative initiatives in XR, AI, and digital ethics. Passionate about harnessing the potential of cutting-edge technologies, he explores the ethical ramifications of blending the real with the virtual, sparking meaningful conversations about the future of human experience in an increasingly interconnected world.