Today is Quest Day, Meta's made-up holiday to spark some holiday cheer – the question is for whom. While it's ostensibly for Quest users, it may be more for the company's own benefit – to help counter the string of crises and bad news this year.
So before we get to Quest Day and what to expect, it's useful to explore why Meta needs a made-up holiday. Here's a quick recap of some of the Facebook/Meta crises in 2021:
On January 7th, Facebook made the unprecedented move to suspend the Facebook and Instagram accounts of a President after the Capitol Hill riot on January 6th, 2021, that left five dead and 140 injured.
In the same month, the Bureau of Investigative Journalism uncovered 430 Facebook pages with 45 million followers spreading false COVID-19 or anti-vaccination information.
In February 2021, a Press-Gazette investigation discovered that Facebook was accepting promotional content from Chinese state media outlets spreading disinformation denying the Uyghur genocide.
May saw the Attorney Generals from 44 states push back against Facebook's Instagram for Kids proposal.
In August, the Federal Trade Commission (FTC) re-filed a new antitrust lawsuit against the company.
September saw Facebook's global head of safety, Antigone Davis, trying to deflect Congressional concerns that the company's Instagram platform negatively impacts the mental health of teens.
The same month saw the initial release of the Facebook Papers by a former data engineer, Frances Haugen.
In October, Mark Zuckerberg acknowledged that the company was complying with the Vietnam government censorship demands in one of their fastest-growing markets.
Last week, a hundred Rohingya refugees launched a $150 billion lawsuit alleging that Facebook, now Meta, did not prevent the proliferation of anti-Rohingya hate speech, which resulted in genocide.
If Only the Crises Stopped There
Of course, we'd be remiss to ignore some of the privacy failures. Facebook-owned WhatsApp got a hefty fine for breaching GDPR rules this year. And Meta was forced to end its facial recognition service in November after a massive privacy backlash. That database was cited in the U.S. Federal Trade Commission concerns when it hit Facebook with a $5 billion fine in 2019.
Meta has promised the destruction (one hopes) of the database, which consists of over a billion "faceprints." If you or your friends have posted photos on Facebook, you can pretty much guarantee your faceprint is there.
Whatever you think of HP, HTC, or Lenovo, it's impossible to imagine any of them associated with this ever-expanding laundry list of crises.
So, yes, it's time for a Quest Day. Actually, it's time for Meta to do a lot more. We'll get to that in a minute.
What is Quest Day?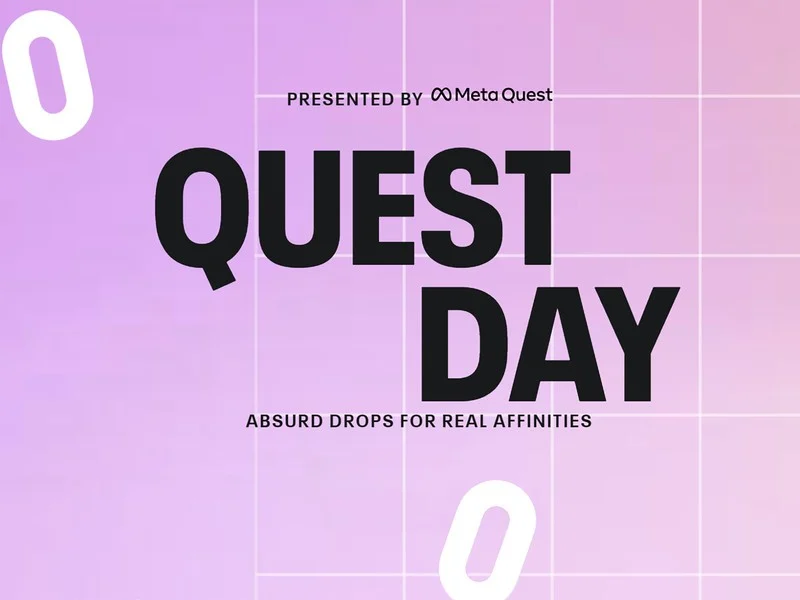 We won't know until today, and you can find out what's going on over at the Quest Day Meta website. You can follow the event on the Oculus Instagram account, though Meta is not saying if it will be available on social media platforms.
There will be free giveaways, but no one knows what they entail.  According to VR Scout,
While it's not clear exactly what Meta has in store, the company promises an entertaining morning filled with 'with drops, inventions, and giveaways".
Unfortunately, if you live outside the United States, you're not eligible for any of the gifts.
Meta Needs More than a PR Stunt
Let's be frank. Quest Day is Meta's effort to shore up its image among VR users at the end of a very bad year. The company makes an excellent standalone VR headset, as the market confirms. The Quest has sold over ten million units, and Meta HMDs dominate SteamVR usage. And while the Ray-Ban Glasses are not what we're looking for in AR Glasses, they're well-designed hardware that's a bridge device for living with ubiquitous immersive experiences in the future.
But Meta can't have it both ways. It has been cavalier if not criminal with personal privacy and a lack of responsibility for its own role in the social/political realm. And yet, they're a significant force for innovation in XR developments. Put those together, and there is serious cause for concern about the role of XR in our future.
We can repurpose an old metaphor from the early days of the Web. When it comes to privacy, social media now feels like the drip coming out of your faucet, while VR produces a firehose of data. That will be even more true once we have HMDs with eye-tracking and wrist bracelets for tracking hand movements and providing haptic feedback. If the billboards and newspaper ads of a previous era never watched you back, VR has the potential to read every physical move you make – and the gaze of your eyes.
Forget monetizing clicks; we can now monetize your intentions.
The Coming Metaverse Ups the Stakes
If Quest Day is a public relations move, the Facebook name change to Meta is much more – a marker of where the company is headed. Meta is heavily leaning into the development of the Metaverse – a virtual universe where all of us will learn, work and play in the future.
And as Meta moves to reinvent itself, even some of its own employees are questioning the ethical consequences. In a November weekly staff Q&A on Facebook's internal communications platform, Workplace, two of the most upvoted questions were the following:
How could we avoid a dystopian reality, where the metaverse is used as an 'opium for the masses?'

How will we meaningfully put safety, integrity, and responsibility first in the Metaverse? We barely are able to cover the real world today. [Recode]
The company most associated with privacy violations and the negative social impact of technology is leading the charge to our virtual future. We don't easily buy into dystopian visions of the metaverse, but the free socks and mystery prizes on Quest Day do little to assuage our concerns.
We'll Pass on Quest Day
Until we see real action to ensure the ethical use of technology, we'll sit this one out. We have no worries that Meta will find an audience for the free XR gifts and toys.
Emory Craig is a writer, speaker, and consultant specializing in virtual reality (VR) and artificial intelligence (AI) with a rich background in art, new media, and higher education. A sought-after speaker at international conferences, he shares his unique insights on innovation and collaborates with universities, nonprofits, businesses, and international organizations to develop transformative initiatives in XR, AI, and digital ethics. Passionate about harnessing the potential of cutting-edge technologies, he explores the ethical ramifications of blending the real with the virtual, sparking meaningful conversations about the future of human experience in an increasingly interconnected world.