Virtual Reality is a hot topic in the movie and gaming industries, and quickly surfacing in education. But what does the broader public think about VR? A recent Greenlight VR Report has some surprising answers. 67% of Americans have never heard of VR or only "know a little" about the current developments. And the UK data parallels those numbers. VR has a long way to go.
We've seen how VR has grown exponentially at CES 2016, the Sundance Film Festival, and gaming conferences. And you can bet it will be a major presence at film and game events in 2016. But for the larger public, most are still trying to figure out what it is.
Public awareness of VR
Here's some data from the Greenlight report: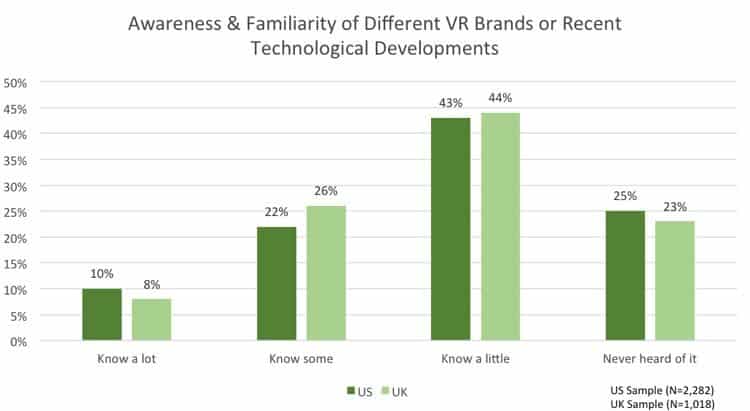 25% of the public remains unaware of VR and another 40% know very little. From our own experience, there are a surprising number of subscribers to the print version of The New York Times who received Google Cardboard as part of the NYT-VR project, and have yet to try it out.
For those who have heard about VR, the report noted parental concerns. There's been an on-and-off debate on possible health issues with virtual reality – just google: health concerns and VR. But parents are also concerned that VR will pull their children away from real-world experiences. We're already having this debate on teens and social media use (see the work of Danah Boyd) – virtual reality will just increase the intensity of the debate over the use of technology in society.
The challenge in getting VR to everyone
At the Sundance New Frontier program, it was clear many people were trying out virtual reality for the first time. That's fine as the program is designed to bring VR creators and the public together.
But here's where it gets challenging in introducing VR to a larger audience. Most of the New Frontier projects had two or three VR headsets at most, severely limiting the number of people who could experience them.
Some of the events, such as Ridley Scott's amazing VR project, The Martian VR Experience, could only do a single person at a time. That might add up to six per hour. Needless to say, reservations for The Martian were snapped up within minutes of the venue opening each day.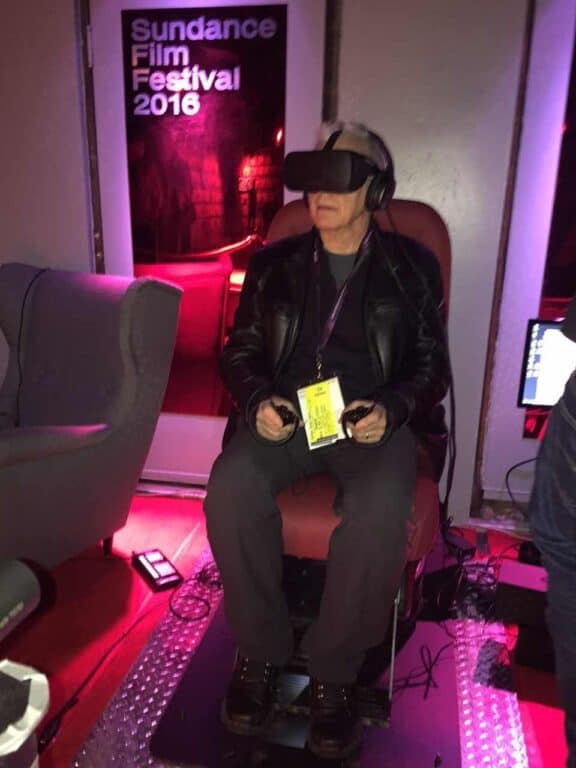 You could add more VR headsets and chairs, but then you need more assistants to help viewers and manage the technical issues. Until people can just walk into a venue and try it out on their own the public awareness of VR will be an obstacle for creators.
Mobile VR expands the audience for virtual reality
Mobile VR experiences through your Smartphone are not nearly as good quality as a HTC Vive or Oculus Rift. But it's enough to get the public started. As people get used to Google Cardboard and other portable VR headsets, public awareness of VR will shift dramatically. In another year, the results of the Greenlight VR report should be very different.
Until then, VR filmmakers, game developers and educators have their work cut out for them. Not only are they exploring the potential of a new medium, they are simultaneously helping their public (or students) learn how to use it. In essence, we are all learners when it comes to virtual reality.
Emory Craig is a writer, speaker, and consultant specializing in virtual reality (VR) and artificial intelligence (AI) with a rich background in art, new media, and higher education. A sought-after speaker at international conferences, he shares his unique insights on innovation and collaborates with universities, nonprofits, businesses, and international organizations to develop transformative initiatives in XR, AI, and digital ethics. Passionate about harnessing the potential of cutting-edge technologies, he explores the ethical ramifications of blending the real with the virtual, sparking meaningful conversations about the future of human experience in an increasingly interconnected world.