Nreal's mixed reality sunglasses are the latest wearable to show up at CES 2019. They claim to solve two of the biggest challenges facing AR Glasses – size and weight. Created by a former Magic Leap employee, they're relatively small and lightweight. And they promise to be far less expensive than Microsoft's HoloLens or the Magic Leap One.
Like Magic Leap's device, The Nreal Light, as it's called, is powered by a separate processor. In this case, it's the latest Snapdragon 845 that runs phones like the Pixel 3 and Samsung's Galaxy Note 9. And like Magic Leap, it takes the same approach in getting the processor out of the glasses and into a separate unit.
Of course, that means you'll have an over the shoulder wire coming from your eyewear, but that's where the technology is at the moment.
Nreal's Mixed Reality sunglasses
The Nreal Light glasses are definitely small. And as Digital Trends points out, they have a lot going for them:
What sets the Nreal Light apart from many of its competitors is the impressive quality of the screen. It's a 1,080 pixel resolution screen, but considering how close it all is to your eyes, movies and other content look stunningly sharp and colorful. Even better is the field of view, which is 52 degrees. A few scenes of movies we watched filled up a large part of the glasses, making them feel more immersive.

We looked at various animations and game demos, and the screen technology in the Nreal Light consistently impressed us with its clarity and detail. It's the highlight of the glasses. There are also speakers built into the end of the arms of the glasses so you can hear what's going on as you watch the screen.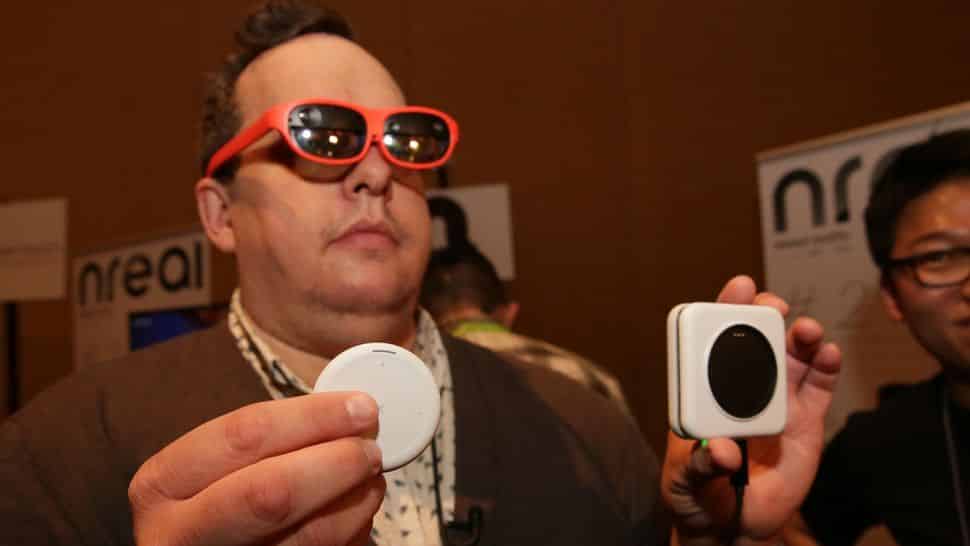 Two cameras and sensors in the front give you a full 6 degrees of freedom. The experience is much more than raw AR images floating in front of your eyes. You can walk around and interact with them.
And speaking of your eyes, Nreal will offer prescription lenses that attach to the frames magnetically.
The processor and puck-like controller can be worn on your body. If there's an early issue with the design, it might be the shape of the controller. Looking more like a large wafer, you can't hold it firmly in your hand. If we ever have these in New York City, they'd all end up falling through the sidewalk subway grates (the City has 39,000 grates – they catch enough cell phones as it is).
Most of the reports at CES 2019 comment on the heat generated by the glasses. They're not overly hot, but it's noticeable enough that it could create issues for long-term wearability. According to CNET, the company is working on this issue.
Short on content
As the video makes clear, there is not much in the way of content for Nreal's mixed reality sunglasses. A couple of game-like experiences is all.
If developers run with it, that will change by the time it gets released. But without even a mock-up of an app/experience store, it feels like the company has a ways to go.
The big question – would you wear them?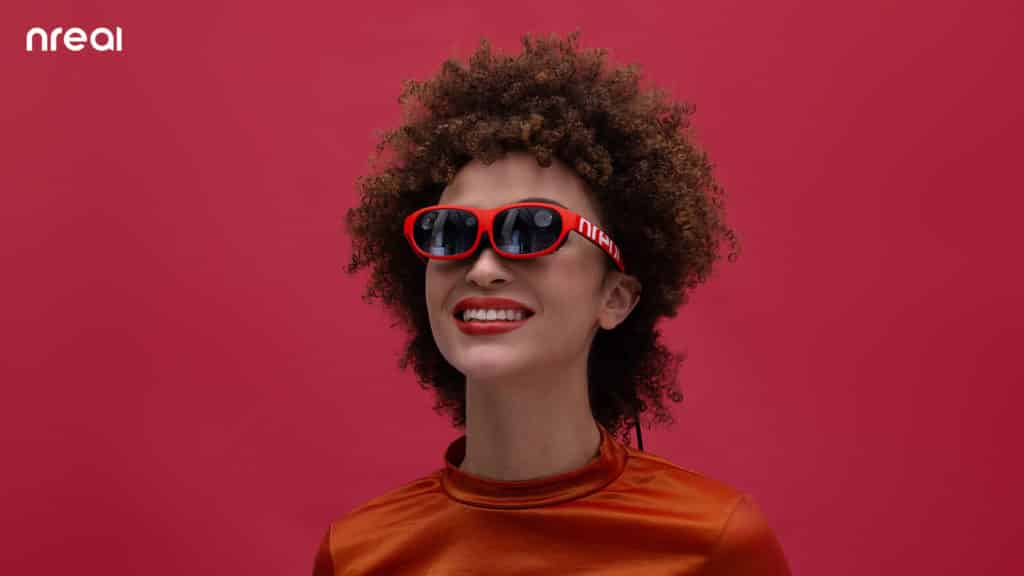 It's always the question with AR and mixed reality glasses – how do they look? The frames are a little on the large side, and of course, they're wired to the processor pack. But still, you could toss these in your bag for a day around town or at the beach.
A little geeky? Yes. But not obviously so.
They're less stylish than Snap's Spectacles, but Snap is a one-trick pony that doesn't do much. And Spectacles confine you to a single app. We don't live our social media lives in a single box.
You'll be much better off with the Vuzix AR Smart Glasses, which not only do a lot more but come closest to looking like a regular pair of glasses. For now, the price appears to be the same for Vuzix and Nreal's Mixed Reality sunglasses.
Nreal's glasses have lots of promise if content arrives, and they work out the heat issue. Seeing these makes you realize – we're getting closer to the day when we'll think nothing of wearing our AR and mixed reality devices on the street.
Both Microsoft and Magic Leap should take note.
Emory Craig is a writer, speaker, and consultant specializing in virtual reality (VR) and artificial intelligence (AI) with a rich background in art, new media, and higher education. A sought-after speaker at international conferences, he shares his unique insights on innovation and collaborates with universities, nonprofits, businesses, and international organizations to develop transformative initiatives in XR, AI, and digital ethics. Passionate about harnessing the potential of cutting-edge technologies, he explores the ethical ramifications of blending the real with the virtual, sparking meaningful conversations about the future of human experience in an increasingly interconnected world.