There's a lot to like in the forthcoming Lynx AR+VR headset, which debuts on Kickstarter for $499 in late September. The French startup announced a $1,500 mixed reality headset last year but is now pivoting to the consumer market.
According to Lynx's website,
Lynx was founded 2 years ago by Stan Larroque and a dedicated team of innovators in electronics, software, optics and hardware. We believe our ecosystem deserves a versatile and open device like Lynx, for all uses from games & entertainment to professional training and education at a very affordable price point.

Virtual Reality as a medium is the best story teller, and Augmented Reality is basically a superpower. Both of these technologies are transforming the way we learn, play, and interact in the real world and all the virtual ones.
That doesn't begin to convey the innovative approach taken in the Lynx AR+VR headset. It's different from anything else we've seen in the rapidly shifting immersive tech market.
Features of the New Lynx AR+VR Headset
At first glance, there's a lot to like in the Lynx headset.
The device is Facebook-free, not tied to any social media platform
It does a full range of AR, Mixed Reality, and VR
The headset opts for a glass display instead of the transparent lenses usually seen in mixed reality devices
If you haven't seen the quick promo video (big on design, short on details), here it is:
The most innovative feature of the Lynx AR+VR headset is the glass display. Unlike other mixed reality devices that use transparent lenses, Lynx uses a display that blocks out your environment and feeds it back in through the onboard cameras. You may have already tried this out if you have used the Oculus Quest pass-through cameras, but they're only in black and white. With Lynx, you have your environment fully rendered on the display along with the virtual elements. That makes for a much larger field of view – 90 degrees, to be precise – and virtual objects that match the reality of the real-world environment.
Clearly, Lynx is targeting the space currently held by Microsoft's HoloLens and Magic Leap (which may have a new headset this fall). But as a standalone device with a true pass-through display, it opens up new possibilities in workforce training, healthcare education, and STEM simulations where precision is essential. Digital objects won't look like vacuous holograms floating in the space in front of you but will have a solidity more in keeping with real-world objects.
Specs for the New Headset
Here are the specs for the Lynx AR+VR headset:
Qualcomm Snapdragon XR2 processor
4-fold catadioptric freeform prism display
Dual 1600×1600 LCD panels running at 90Hz
Positional tracking using both B&W cameras and two visible-light cameras
Two stereo speakers and dual-channel microphones
6DoF tracking with SLAM with world anchors
Hand tracking with two-handed, gesture recognition
128 GB onboard storage
3-hour battery life
The headset comes with Ultra Leap's hand tracking though it will not be sold with controllers. The battery life is a little more than what is offered on the Oculus Quest, and one assumes there will be mods to add a battery pack. You don't want to be constantly charging devices when you're working with the public, students, or doing employee training.
Open Source
We were thrilled to hear that the Lynx AR+VR headset will not be a closed ecosystem. We're willing to pay more to keep our data private and have more opportunities for customization – and we bet others are, too.
In an email to Input back in July, Stan Larroque wrote:
Our SDK will open-source, you'll be able to customize the launcher and experiences to a great level and we also push for OpenXR to maximize cross-compatibility between devices. We need this in the industry.
Even though Lynx will be offering its own apps, they plan on incorporating content from other platforms, including SteamVR. It's exactly the development we want to see in the VR space, though we recognize that $500 puts it beyond the range of many individual users.
Cautious Optimism for the Kickstarter Project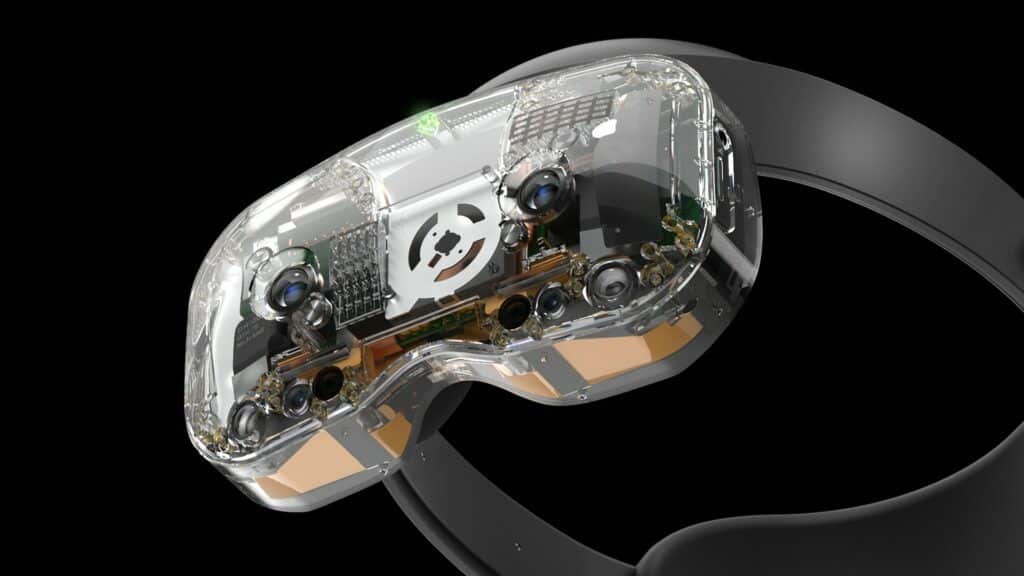 As with UpLoadVR, we'll take a seat on the "cautiously optimistic" side of the table. We still need more information for some of the Lynx AR + VR headset features – especially how it would be used for virtual reality experiences. There is nothing like peripheral light coming through the side of a headset to break the sense of immersion in VR. You don't want to catch a glimpse of your couch or your desk in the office when you're doing virtual reality. Given the current design of the display, there may be a need for a face cover to block out light when using it in VR mode.
Is the public willing to pay more for a Facebook-free AR+VR headset? Even with Lynx subsidizing the cost through the sale of apps, the price point is still $200 more than the Oculus Quest. And then there's the issue of the controllers. Not having them included will dissuade less adventurous users from purchasing the Lynx headset.
Finally, not every campaign on Kickstarter delivers as promised. Lynx has yet to announce the campaign goals though they promise a delivery date of February 2022. At least the people behind it are part of a known company but exercise due diligence if you decide to support the campaign.
Overall, we're definitely fascinated by a combined AR+VR headset that uses a glass display. We'll be monitoring this closely as we learn more about Lynx in the coming weeks. This is an exciting development that could very well be a groundbreaking device for augmented and mixed reality.
Emory Craig is a writer, speaker, and consultant specializing in virtual reality (VR) and artificial intelligence (AI) with a rich background in art, new media, and higher education. A sought-after speaker at international conferences, he shares his unique insights on innovation and collaborates with universities, nonprofits, businesses, and international organizations to develop transformative initiatives in XR, AI, and digital ethics. Passionate about harnessing the potential of cutting-edge technologies, he explores the ethical ramifications of blending the real with the virtual, sparking meaningful conversations about the future of human experience in an increasingly interconnected world.