As you likely know by now, Microsoft announced it is shutting down AltspaceVR. The pioneering platform was one of the first social VR sites that let users meet and interact in a virtual environment. Launched in 2013 and gaining traction in 2015, it was notable for its ease of use, availability on a wide variety of headsets, and the option to use it on flat screens – which alleviated some XR accessibility issues. And it was the home of some incredibly creative moments, where Reggie Watts and others did some of their early virtual performances.
It already survived one near-death experience when it came within hours of closing in July 2017 due to financial difficulties. To everyone's surprise, Microsoft stepped in as the secret savior though it never quite found a home in the enterprise services coming out of Redmond. Still, it survived, and Microsoft pioneered several safeguards that helped alleviate some of the ongoing challenges of harassment in virtual worlds.
AltspaceVR's Lesson for the Metaverse
We doubt anyone is coming to the rescue this time when the service shuts down on March 10, 2023. Users – especially those who built extensive environments in AltspaceVR – will face the arduous task of trying to replicate their work on another platform. The closure is an in-your-face reminder of the challenges facing XR and the creation of virtual environments, especially in developing the Metaverse.
Financing the Infrastructure of the Metaverse
For all the hype surrounding the concept of the Metaverse, no one is doing this out of the benevolence of their heart. The billions Meta is losing is part of their long-term gameplay to shift their reliance away from social media. But so far, no one has come up with a way to monetize social virtual reality experiences and make them profitable. That's in sharp contrast to our social media platforms which have become goldmines of revenue (at the expense of our privacy). You can sell ads in virtual environments, but that's been a technical challenge, and it has drawn resistance from users.
The alternative has been to charge for access which platforms such as Spatial have done. But those access costs – which can run $20 or more per user per month – come in addition to the steep price of our HMDs. Other platforms, such as VictoryVR, charge $20,000 to $40,000 to provide a single class of students with headsets and a virtual environment. The fact that AltspaceVR was free was always a red flag in terms of its future survival.
Interoperability
If monetization isn't enough of a challenge, you have to add in the issue of interoperability. People can hype the Metaverse and roll out "Metaversities" in education, but if you're locked into a specific platform, this isn't the full vision or potential of the Metaverse. Perhaps in the end, we'll end up with a dual ecosystem similar to what we have in our mobile devices – you either opt for an Apple or Android-based virtual world. But at the moment, our proto-metaverses are deeply balkanized and likely to become even more inflexible walled gardens.
In fact, Microsoft's move to kill AltSpaceVR may undermine the industry's efforts on XR interoperability. They also laid off the entire team behind MRTK, their open-source project to accelerate cross-platform MR development. As Tom's Hardware notes,
This decision has been made now, despite MRTK3 (announced last June) being scheduled to ship in February 2023. MRTK was an important support project for developers, targetting platforms such as Microsoft HoloLens 2, Meta Quest, SteamVR, and Lenovo ThinkReality A3, which run on Qualcomm hardware.
It's possible that others in the open-source community can pick up on the work done by the MRTK project, but clearly, we're not moving in the right direction for XR cross-platform compatibility.
What the Future Holds
In closing AltspaceVR, Microsoft is pivoting their focus to their in-house immersive platform, Mesh. From their announcement,
We look forward to what is to come, including our launch of Microsoft Mesh, a new platform for connection and collaboration, starting by enabling workplaces around the world. In the near-term, we are focusing our VR efforts on workplace experiences, learning from and alongside our early customers and partners, and ensuring we deliver a foundation that enables security, trust and compliance. Over time, we hope to extend to consumer experience a well.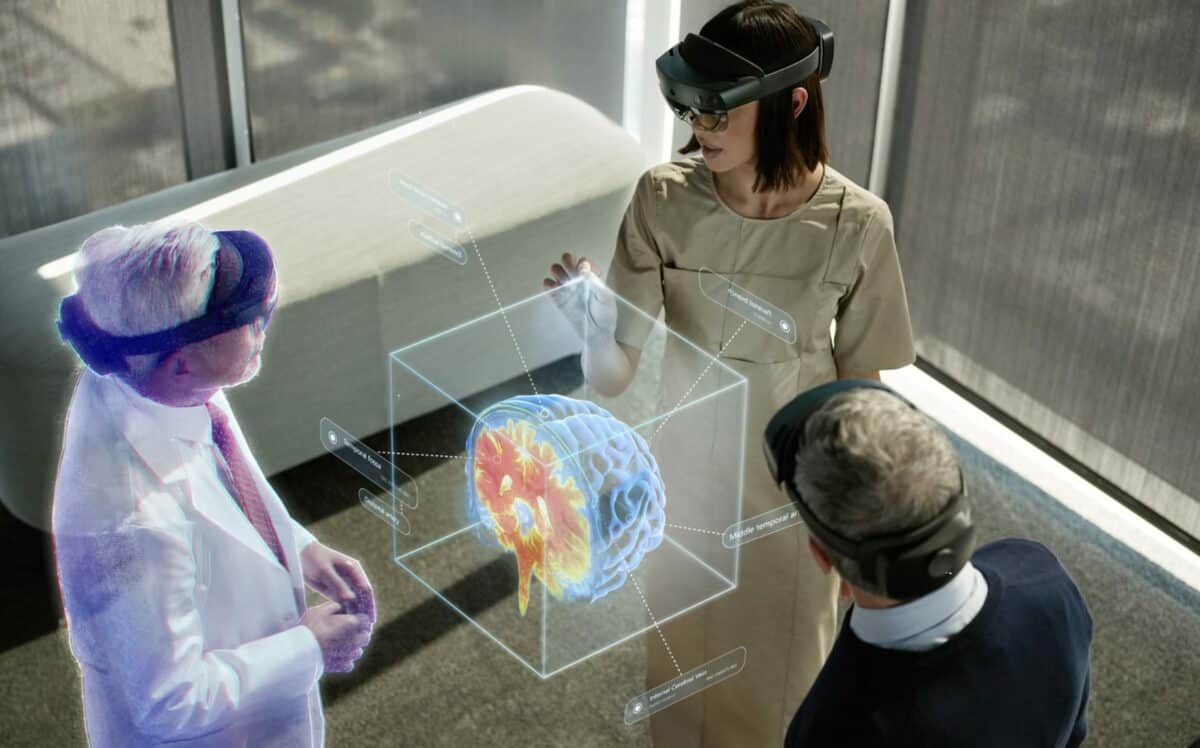 It's clear that the main focus of Microsoft's Mesh platform, which is a platform for mixed reality communication and collaboration, is on the enterprise sector. And in the previews of its visual aspects and other features, it has already leapfrogged far beyond AltspaceVR's cartoonish sensibility. But for now, education and consumer opportunities for using Mesh seem to be on the back burner as Microsoft lays off thousands of employees, including the teams developing their immersive projects. When Microsoft says "over time," that could mean a very long time. 
Goodbye, Old Friend
The closure of AltspaceVR hardly means the end of virtual reality social platforms. VRChat, Spatial, VR gaming platform Rec Room, and others continue to thrive and expand their reach. However, it does close one of the major free options, which will limit the opportunities for schools and universities to experiment in this area.
We'll miss you, AltspaceVR – it was a wild and amazing ride that gave us just a tiny glimpse into how we will learn, work, and play in the future. And for that alone, we'll be sad to see you go.
Emory Craig is a writer, speaker, and consultant specializing in virtual reality (VR) and artificial intelligence (AI) with a rich background in art, new media, and higher education. A sought-after speaker at international conferences, he shares his unique insights on innovation and collaborates with universities, nonprofits, businesses, and international organizations to develop transformative initiatives in XR, AI, and digital ethics. Passionate about harnessing the potential of cutting-edge technologies, he explores the ethical ramifications of blending the real with the virtual, sparking meaningful conversations about the future of human experience in an increasingly interconnected world.