Musician and comedian Reggie Watts tries a unique social VR experiment tonight (Thursday, May 26th), partnering with AltspaceVR for a live virtual performance. [Updated]
Update on Thursday's Performance
[Here's our update on the performance]: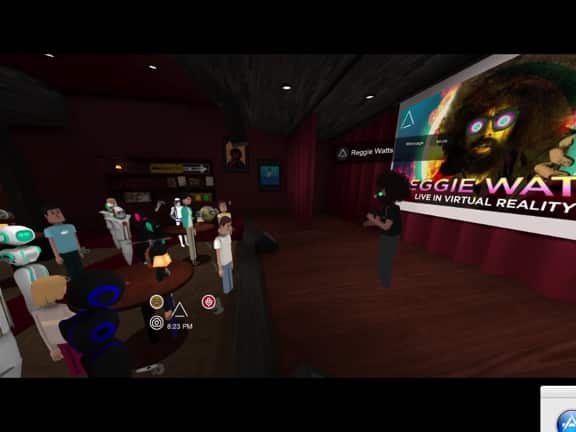 Last night's event was a major success despite some technical glitches at the start. A number of people in the virtual audience were getting black screens inside their VR headsets. And a few had problems during the performance.
To his credit, Watts is the kind of performer who can improvise around these issues. And he's savvy enough with the technology to not get flustered by momentary glitches.
According to AltspaceVR over 1200 people participated. And Reggie Watts delivered, doing an incredible show in virtual reality. This was the first time that this many people gathered remotely in VR. Social VR will make major demands on bandwidth and hardware but credit to all involved for taking the plunge. This is risk-taking entertainment at its best – stepping off the proverbial cliff and building the parachute on the way down.
Best line of the night was Reggie walking out on the virtual stage and saying: "Welcome to Snow Crash" – a reference to Stephenson's 1992 Sci-Fi novel.
If we are headed to the Metaverse with virtual reality, it will definitely be a better place with Reggie there.
[End Update]
Reggie Watts in VR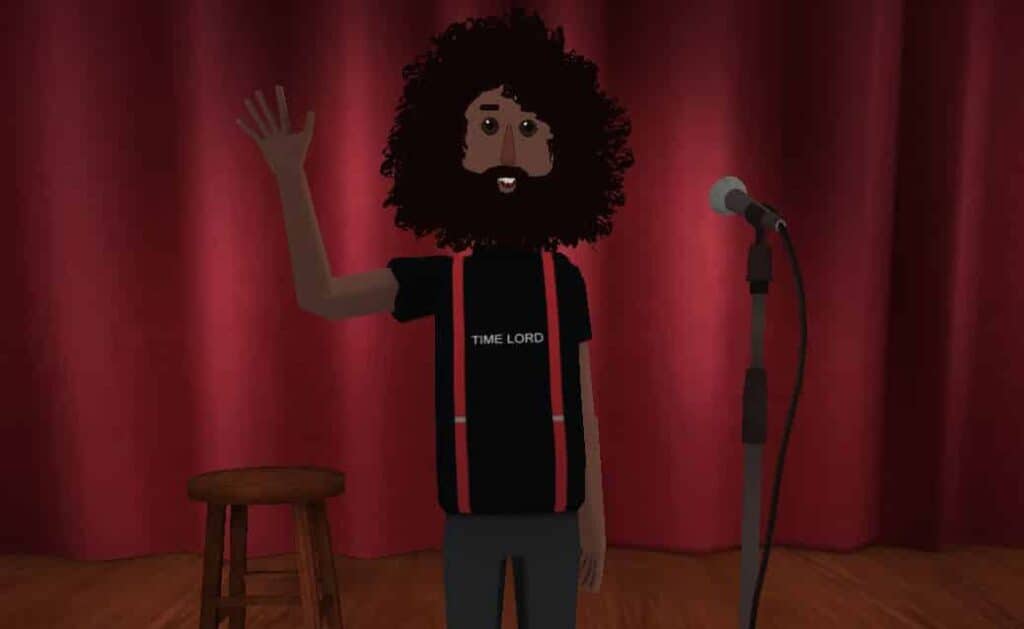 The beatbox artist and band leader for James Corden's The Late Late Show, Watts has already done a virtual reality project, Waves, which premiered at the Sundance Film Festival.
This Thursday evening, he will be in a studio in Los Angeles wearing the HTC Vive headset and a motion tracking rig. And he will appear as an avatar on the AltspaceVR stage.
The performance relies on FrontRow, AltspaceVR's new platform that can put someone in multiple virtual rooms at the same time. If successful, there's fascinating possibilities for entertainment, the workplace and education.
FrontRow
In FrontRow, you're placed in the main room when you enter the event, but the system will mirror Reggie's avatar across multiple rooms. You can watch him with a full audience, in a room with your friends, or watch him by yourself.
As The Verge described it,
Many online social experiences, including group events in AltspaceVR, rely on creating many instances of a single location. What's different about FrontRow is the idea of porting one person's actions across all of them, while small independent groups of viewers watch. Attendees won't be able to interact with Watts at this event, but the system could temporarily make any viewer a "performer," so they'll appear across all rooms while asking a question or making a comment.
AltspaceVR is ahead of the other social VR players in the field. They've been pushing the boundaries with live VR calling and a partnership with the collaboration platform Slack. Their largest competitor, Linden Lab, only recently announced limited access to the Project Sansar platform.
While you won't fully interact with Watts in FrontRow, it may be a breakthrough in bringing live events into virtual reality. Think of it as a live performance with limitless capacity – everyone gets a front row seat with the audience of their choosing. Remind me in a few years of that historical artifact we called a "seating chart".
Thursday's Live Performance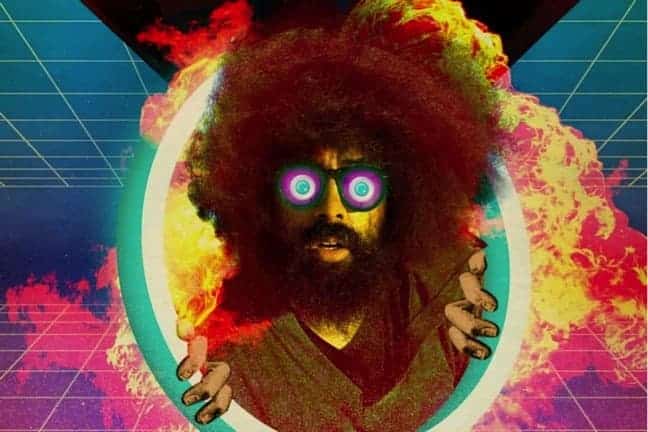 To join Reggie's live performance in VR, you'll need the AltspaceVR app for your headset. There will be a 2D version for your Mac or Windows computer if you do not have a VR headset, but you'll miss the full experience.
Reggie Watts goes live on Thursday, May 26th, at 11:00pm Eastern time. You'll find it on the AltspaceVR portal. Let us know what you think.
Emory Craig is a writer, speaker, and VR consultant with extensive experience in art, new media, and higher education. He speaks at global conferences on innovation, education, and ethical technology in the future. He has published widely and worked with the US Agency for International Development, the United Nations, and the Organization for Economic Co-operation and Development (OECD). Living at the intersection of learning, games, and immersive storytelling, he is fascinated by AI-based avatars, digital twins, and the ethical implications of blurring the boundaries between the real and the virtual.