Despite Apple taking its time to develop AR Glasses, you can now shop in augmented reality through the company's Quick Look platform. The AR platform has been around since 2018 and gives you the option of virtually placing objects in your space. It could be flowers on a table, a chair in a corner – not all that different from what Ikea and other retailers provide through their AR/VR apps.
Up to now, Quick Look has lived by its name. You could only place something in your room – and take a quick look. But the upgrade will allow developers to add a button for purchases or other features. It shows one of the ways Apple is baking AR into its future. From computers to smartphones, music, tablets, wearables, and now augmented reality, Cupertino continues to push the boundaries. In the end, these AR developments will affect a lot more than how you shop.
Shopping in Augmented Reality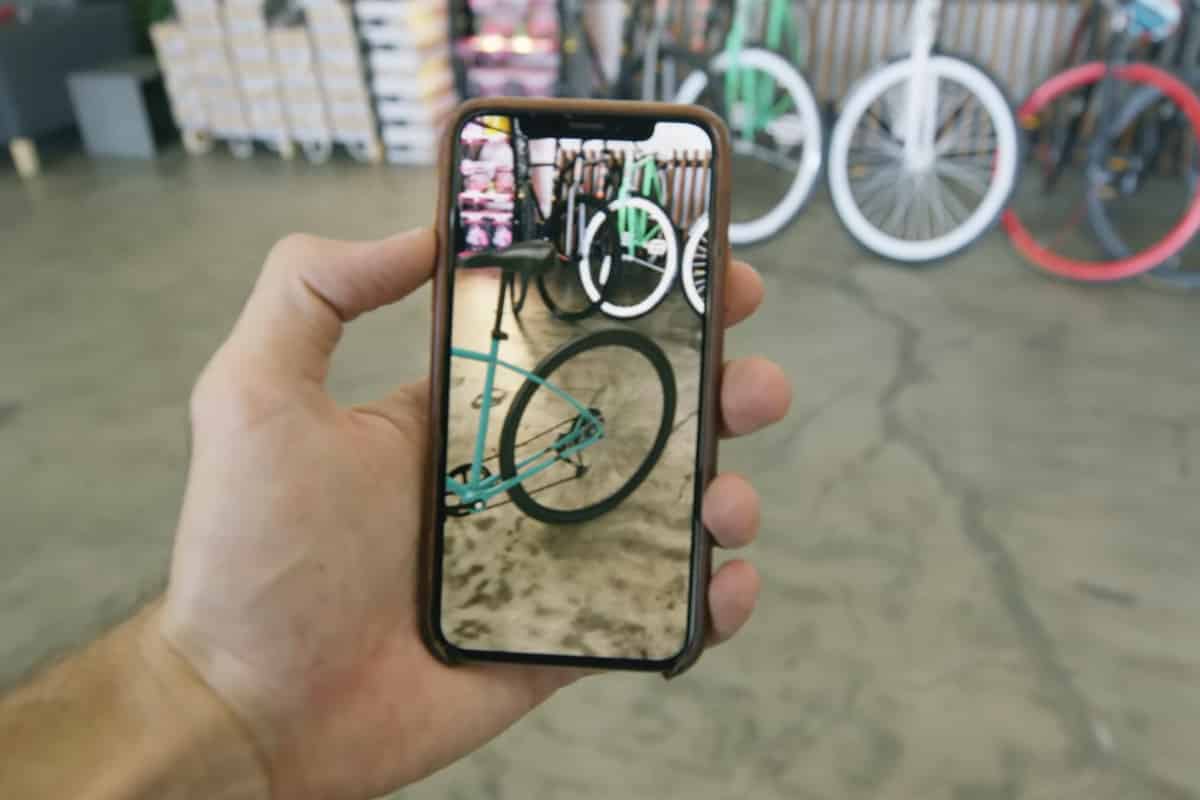 The new feature in Quick is just a prelude for Apple's AR Glasses, which will likely arrive in two years.
Here's the description from Tech Crunch.
Called "Quick Look," it allows for instant/one-tap AR experiences right within the apps the user already has, like Safari, Messages, Mail, etc. The retailer provides the 3D model (as a USDZ, a file format built in collaboration with Pixar), and Apple taps ARKit to render it as it would appear in the real world, handling everything from scaling to lighting and shadows . . .

. . . Apple is expanding upon the concept a bit, allowing developers to bring a customizable button into the mix. It could be a purchase button, triggering an Apple Pay  prompt on the spot. Or it can be wired up to do just about any other single action a retailer might want. It could initiate a customer support chat to let a customer ask about color options — or it could point them to local retailers who have it in stock so they can see it in person.
Of course, integrating this with Apple Pay will make the shopping experience even more seamless (and give Apple yet another source of revenue). And Apple is adding spatial audio support to the platform so you could experiment with a sound system and try it out.
Someday it will seem positively archaic that we had to go to a website to do our online shopping. Amazon's smart enough to reading the proverbial writing on the wall and is already experimenting with its own virtual shopping options.
Expect Apple's development to quickly spread throughout retail. It's already easy enough to add Quick Look to Shopify's e-commerce platform, opening the option to small businesses.
More Than Retail
Amazon is already killing off the in-person shopping experience in many communities. Empty storefronts and retrenchment announcements abound (Macy's the most recent example in the US, closing 20% of its stores). Retailers are trying everything imaginable to turn shopping into an experience. The Adidas flagship store in NYC boasts a running track. The Petco Kitchen has a pet food-oriented food court (you read that right). And in the Eataly marketplaces, you can buy your groceries and kitchenware with a glass of wine in your hand – and sit down to an Italian dinner in the middle of it. The only option at the other end of the spectrum seems to be Nordstrom's "Neighborhood" stores, which are essentially pickup and return centers that carry no inventory. 
As we move into a world where we can shop in augmented reality, what will happen when AR is ubiquitous? Will you go to a museum when you can have the virtual painting on your wall? Will you take classes at a university that doesn't let you sit in for a virtual experience? Will librarians and tutors need to be present at the tap of your eyeglass frames?
Apple's Quick Look option to shop in augmented reality is just the beginning of a sea change in our experience of the world. We instantly connect with others. Our news is instantly available. Soon, we'll expect an entire range of services and activities to be available with the same level of immediacy.
Of course, these AR developments cut both ways. How does immediate gratification impact other aspects of our lives that can't be resolved instantly (political, social issues)? Who controls the data we generate in virtually trying out objects in our homes? As with search history, are options concealed based on one's activities in AR? Will our boundaries of personal space be permanently breached with endless notifications from advertisers?
The latter is the most frightening aspect of Keiichi Matsuda's video, Hyper-Reality. It's not the augmented reality that's striking, but the implosion of our personal space. 
There are no easy answers here. But these debates won't be resolved by standing on the sidelines. So shop in augmented reality now and while it's another Apple innovation, it's just a rudimentary experiment. For everything will change once AR Glasses are ubiquitous.
Emory Craig is a writer, speaker, and consultant specializing in virtual reality (VR) and artificial intelligence (AI) with a rich background in art, new media, and higher education. A sought-after speaker at international conferences, he shares his unique insights on innovation and collaborates with universities, nonprofits, businesses, and international organizations to develop transformative initiatives in XR, AI, and digital ethics. Passionate about harnessing the potential of cutting-edge technologies, he explores the ethical ramifications of blending the real with the virtual, sparking meaningful conversations about the future of human experience in an increasingly interconnected world.