If you need a pair of AR glasses and can't wait for Apple, Google, and others to get to the market, take a look at the Nreal AR Glasses. They launched today in the United States for only $379, a bargain price considering what Apple will eventually charge for their device. Nreal AR glasses have been around for almost a year in Asian markets but are nearly impossible to get in the States. Now it's as easy as an Amazon order so let's look at what you can get for under $500 in an augmented reality wearable.
We can cut to the chase – be prepared to be disappointed.
Nreal AR Glasses
Unfortunately, these are not Nreal's Light AR glasses. The Air model released in the U.S. has been stripped down to the basics, so much so that they are more of a media consumption device than full AR glasses. The Verge sums up the difference.
The Nreal Air glasses are a cheaper alternative to the Nreal Light, which launched for $599 in the US last year. They're smaller and lighter than the Nreal Light — which look like a bulky pair of sunglasses — but come with significantly pared-back capabilities. Most notably, where the Light use outward-facing cameras to track movement in physical space, the Air glasses scrap the cameras and only track a user's rotation. Their field of view is also a little narrower, at 46 degrees instead of 52, and Nreal promises they will consume 50 percent less power than their fuller-featured counterpart.
The low power consumption is a definite plus, but the lack of a camera turns the glasses into a consumption device, not one that creates content. Will they be successful? Ask yourself where social media would be if users could not produce content.
The advantage of the Nreal AR Glasses is that you can stream content on a large virtual screen and maintain a degree of situational awareness – something that can't be done with VR devices. You'll have the equivalent of a 201-inch screen from a distance of six meters or a 130-inch screen from three meters.
In some ways, the Nreal AR glasses are close to HTC's Vive Flow, an innovative wearable released last year. But the Flow is better at blocking out peripheral light and providing you with a semi-immersive VR experience. Nreal is trying for something different, but the immersive aspects fail with a 46-degree field of view and images that are blurry around the edges.
Available for Android and iOS – But With a Catch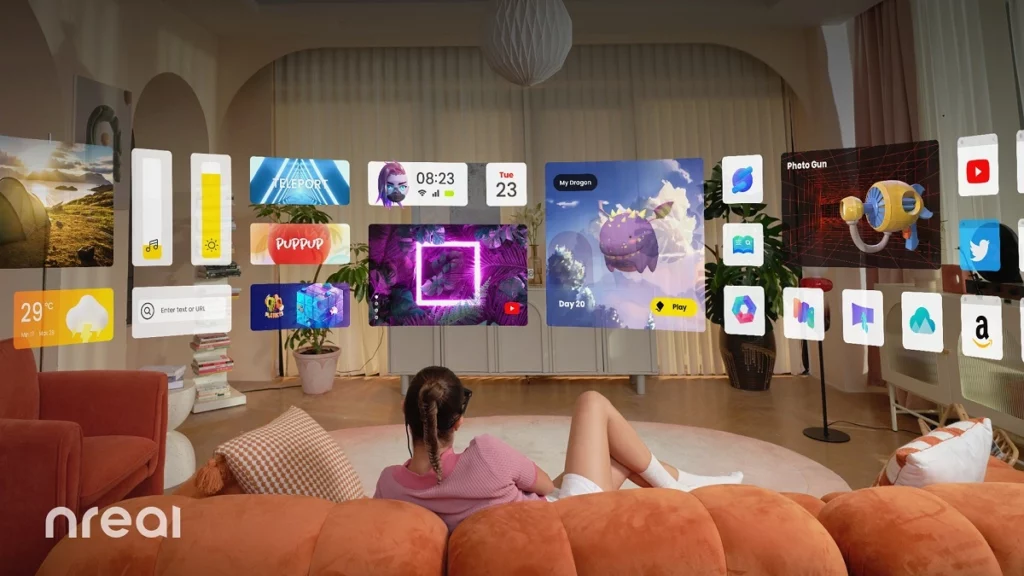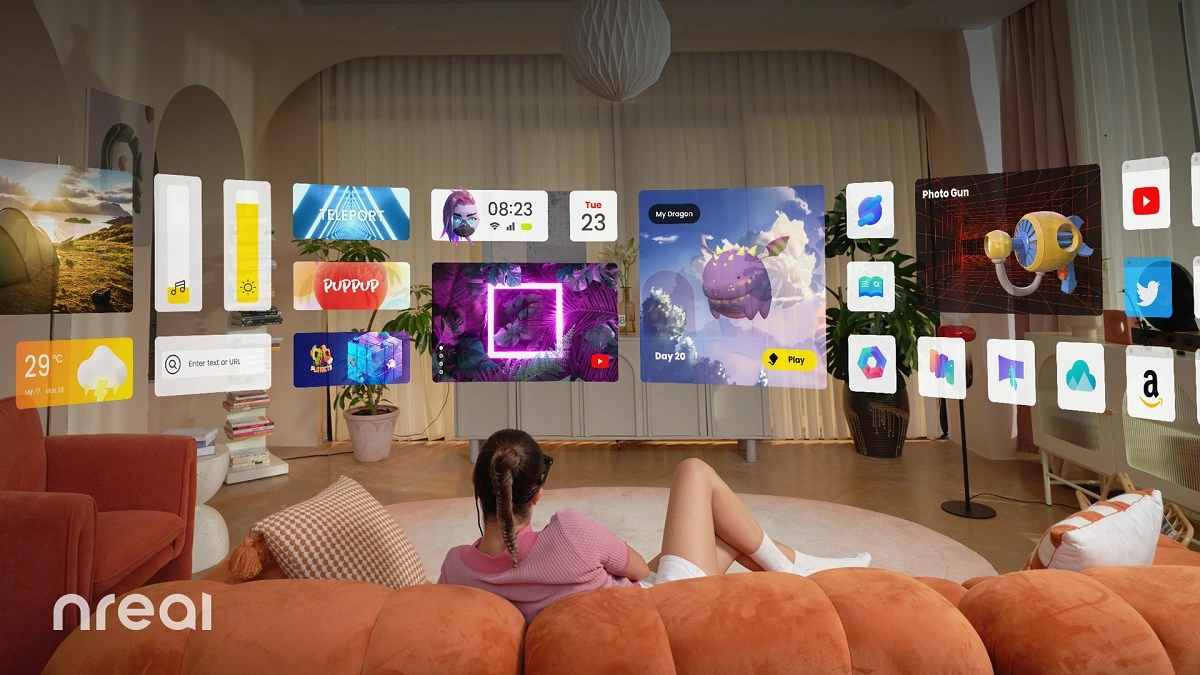 Nreal's AR glasses are not standalone devices, and you'll have to use them with your smartphone. They've upgraded the software, and the glasses are available for both Android and iOS devices. However, iOS devices are still getting the short end of the stick. You won't be able to access Nreal's launch platform, Nebula, so you'll have to mirror the device to stream content from Netflix, Hulu, and other apps onto the glasses. The market here is primarily geared toward Android users.
Our Verdict – Too Little, Too Soon
We know the story well. AR Glasses have been repeatedly delayed due to technical challenges. Nreal has tried to get around the obstacles with an inexpensive but stripped-down version of what AR glasses will do in the future. While the glasses are nicely designed, we don't see much interest in the wearable market for a consumption device. And we doubt that gamers, education, workforce training, or research projects – all of which are driving the immersive tech market, will see anything compelling in the Nreal AR Glasses.
An inexpensive pair of AR Glasses is a desperately needed development, but we doubt that Nreal's glasses will fulfill the groundbreaking promises of augmented reality.
Emory Craig is a writer, speaker, and consultant specializing in virtual reality (VR) and artificial intelligence (AI) with a rich background in art, new media, and higher education. A sought-after speaker at international conferences, he shares his unique insights on innovation and collaborates with universities, nonprofits, businesses, and international organizations to develop transformative initiatives in XR, AI, and digital ethics. Passionate about harnessing the potential of cutting-edge technologies, he explores the ethical ramifications of blending the real with the virtual, sparking meaningful conversations about the future of human experience in an increasingly interconnected world.