After yesterday's leaked images and tantalizing hints, HTC has finally revealed its new VR headset – the Vive Flow. Here's the trailer if you missed the event:
Features of the Vive Flow
There is a lot to like in HTC's innovative design for a VR headset:
The snap-on face cushion. This could be the future design for devices that incorporate both AR and VR. All-in-one devices will have to provide ways of blocking out peripheral light for virtual reality experiences.
Adjustable diopter lenses. Clearly marked settings for each lens will make customization easy for users. This is one of those "Why hasn't someone else thought of this before?" kind of features.
Lightweight and portable. The Vive Flow weighs just 189 grams, a world apart from the 500 grams of the Quest 2. It's still heavier than sunglasses but a breakthrough in weight for a VR headset. Even better, it's the first one to fold up into a reasonably small carrying case, much like Snap's AR Glasses.
No straps. Remarkably, for a VR headset, there are no over-the-head fabric or plastic straps – it simply rests on your ears like a pair of glasses. People with a lot of hair will no longer be struggling to position a headset properly. If you've ever done a public VR demo, you know exactly what we mean.
We'll make a prediction here: all of these features will be standard on VR headsets in the future. In that respect, the Vive Flow stakes out new ground in innovative HMD design.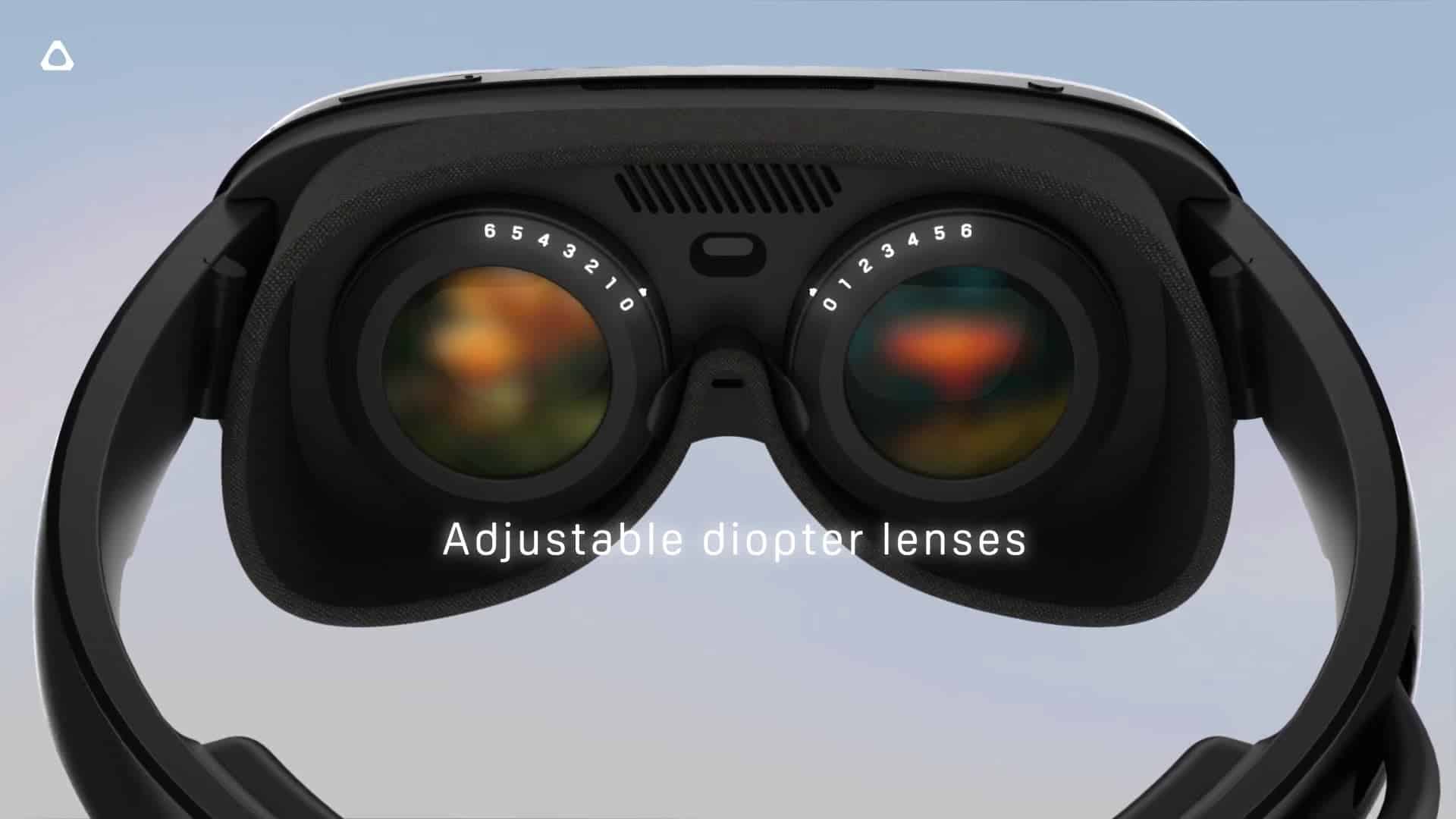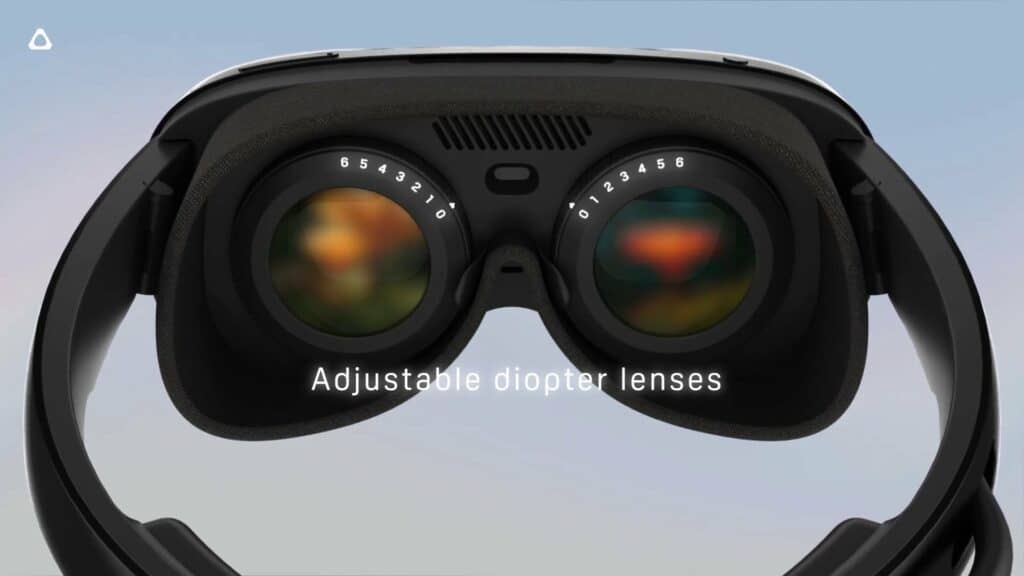 It's Not a Quest or an Oculus Go
The Vive Flow is no Oculus Quest killer as it's not a standalone HMD. On the other hand, it's more than the original Oculus Go as it has six degrees of freedom (6DoF) experiences. You're tethered, but it's to a phone in your pocket, not a PC. Maybe we can call it a "semi-standalone" device?
By piggybacking the HMD off your phone, HTC could radically rethink the design and shrink down the weight and size. But the reliance on a smartphone becomes the main issue with usability. And with Apple predictably not on board, it has to be an Android phone.
The phone serves as a 3DoF controller for the headset. Let's be honest, our phones are incredibly well-designed but they're not meant to serve as VR hand controllers. As you can see from the trailer, it often requires two hands to use it as a controller – which is awkward at best. Even more, your phone isn't positionally tracked and hovers in space in front of you.
HTC promises hand-tracking for the Vive Flow at some point in the future, and the two front-facing onboard cameras will allow for 6DoF positional tracking. For us, hand-tracking seems absolutely essential as a future enhancement.
Content is also an issue. Developers are focused on the Quest series or PC-based VR. Now there will be the option of a third ecosystem. It's unclear how many developers will jump into creating phone-based VR content.
Is There a Market for the Vive Flow?
The Vive Flow doesn't come cheap at $499. Given that it relies on a smartphone, we would have liked to see it at $199. That would have opened up a vast market and addressed access issues for VR in a significant way.
The design makes it incredibly useful for public multi-user VR settings – film festivals, NGOs, workforce training, and schools and universities. Content management is simplified as users download it themselves. Since you wear it like a pair of glasses, there won't be those awkward moments of adjusting the headset to each user.
Whether or not people will purchase it for home use is another story. The major advantage is comfort, and the Vive Flow is the first headset that you could actually wear all day – or for an evening sitting on your sofa.
As David Heaney put it in UpLoadVR,
Many will be making direct comparisons to Quest 2, but I actually don't think they directly compete. If you want to play VR games you'd be a fool to pick Flow, but if the reason you want a headset is to have a personal cinema screen it simply blows Quest 2 out of the water. Flow's real competition is transparent media glasses like Nreal Air, though that device category hasn't made it to most western markets yet.
The Verge sums up the VR Flow as "VR for people who don't like VR." The real question is: are people who don't like VR willing to spend $499 for a VR entertainment device.
If you're interested, pre-orders for the Vive Flow go live today, and early purchasers will get the $49 protective carrying case for free and some additional content.
HTC's Absurd Marketing Blunder
[Update: 10/15/2021] You would think a new headset warrants a serious marketing push – if you invest money in product development why would you skip on the promotional campaign? Releasing wearable technology sort of assumes you would show people actually wearing it. But it turns out that HTC photoshopped the PR images for the Vive Flow. Companies have done this before, but HTC went a step further and used common images from ShutterStock to photoshop the headset on their faces. Here is one of the before/after images and, if you're curious, you can see the rest in The Verge.

Needless to say, it doesn't inspire much confidence when a company isn't willing to at least pay for their own models to show off their wearable technology.
What's Next?
We may be almost halfway through October, but the month is just getting started as far as tech and VR industry events are concerned. We still have Varjo's Launch Event on October 21st – the company currently makes one of the most advanced VR/Mixed Reality headsets and is doing groundbreaking work with Volvo and other companies. They promise a new product launch that will ". . . raise virtual reality to a whole new playing field."
And the Facebook Connect conference – online again this year – will open on October 28th. Rumors are flying about an Oculus Quest Pro headset, eye-tracking, and other developments that could be released this fall or in spring 2022.
Are you going with the flow? Let us know as we'll be following the developments closely.
Emory Craig is a writer, speaker, and consultant specializing in virtual reality (VR) and artificial intelligence (AI) with a rich background in art, new media, and higher education. A sought-after speaker at international conferences, he shares his unique insights on innovation and collaborates with universities, nonprofits, businesses, and international organizations to develop transformative initiatives in XR, AI, and digital ethics. Passionate about harnessing the potential of cutting-edge technologies, he explores the ethical ramifications of blending the real with the virtual, sparking meaningful conversations about the future of human experience in an increasingly interconnected world.