For the first time, Meta (formerly Facebook) finally broke out the finances for its AR/VR unit, Meta Reality Labs. Meta's $10 billion loss on its AR/VR work came with a mountain of bad news overall. The company won the distinction of suffering the largest single-day wipeout in corporate history in the stock market, losing $220 billion in value. Given the company's track record on privacy and ethics in social media, we aren't shedding any tears.
The intriguing element in Meta's $10 billion loss on AR/VR is what it means for the future development of XR. Many in the XR industry always assumed the Quest was being sold at a loss. However, it turns out that Meta is losing billions more in its efforts to bring the much talked-about Metaverse to fruition. The real question underlying the financial report is the business model for VR and the Metaverse.
Meta's $10 Billion Loss on AR/VR
Until now, sales of the Quest – and anything Meta has produced in XR – have been based on speculation. But with the financial details in the current report, we now know Meta doubled its XR-related revenue to $2.3 billion, which is roughly what it paid to purchase the Oculus start-up back in 2014.
But Meta Reality Labs, the unit behind the XR work, is bleeding money:
Q1 2021 Reality Labs Loss From Operations: $1.8 billion
Q2 2021 Reality Labs Loss From Operations: $2.4 billion
Q3 2021 Reality Labs Loss From Operations: $2.6 billion
Q4 2021 Reality Labs Loss From Operations: $3.3 billion
To put that in perspective, the XR initiatives are costing Meta about $27 million a day. And Zuckerberg promises to continue this into the foreseeable future.
Are Meta's Future Investments at Risk?
The real question for the development of XR is whether or not Meta can continue its level of investment. All of the major tech companies have seen their stocks plummet in 2022.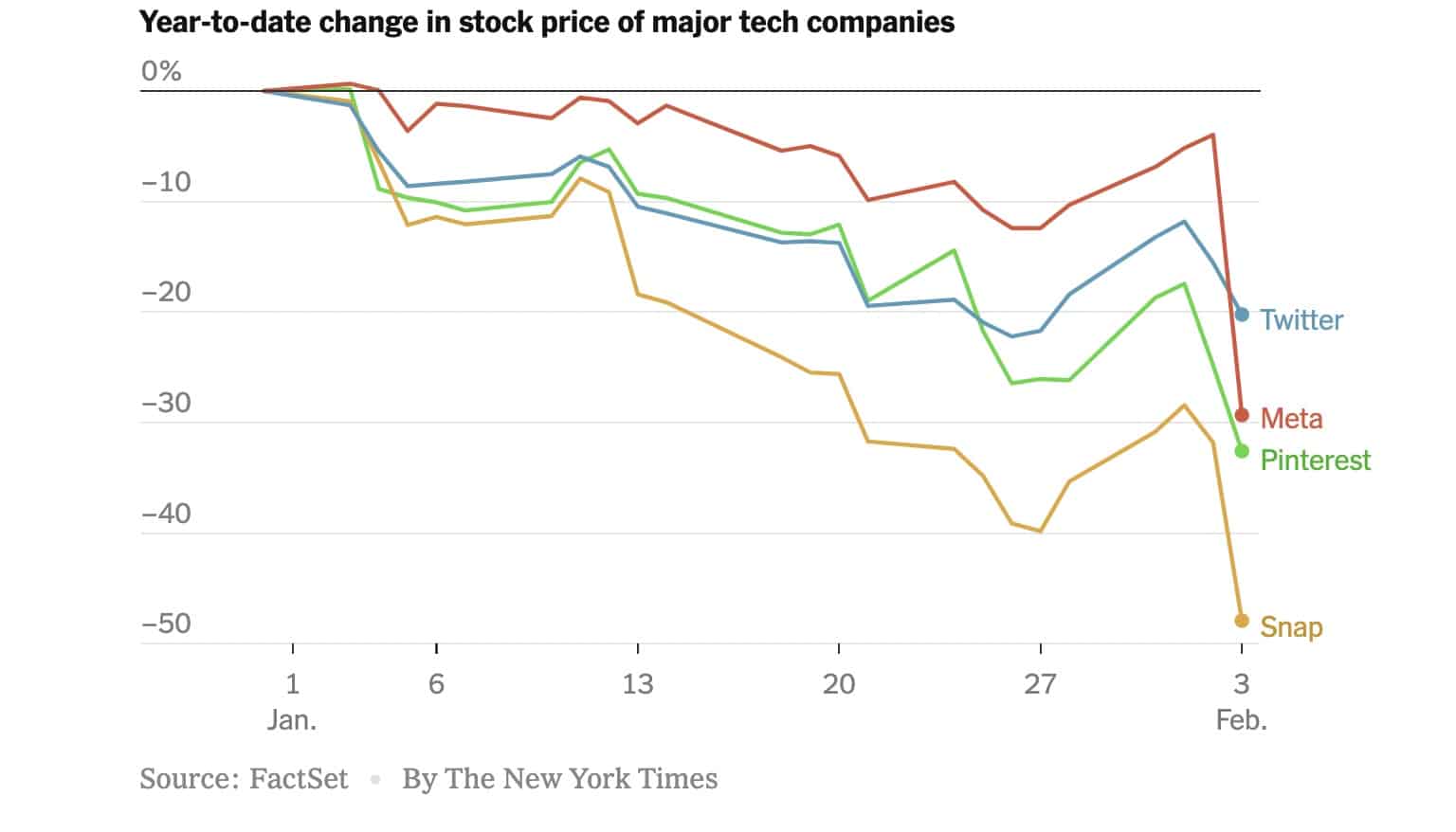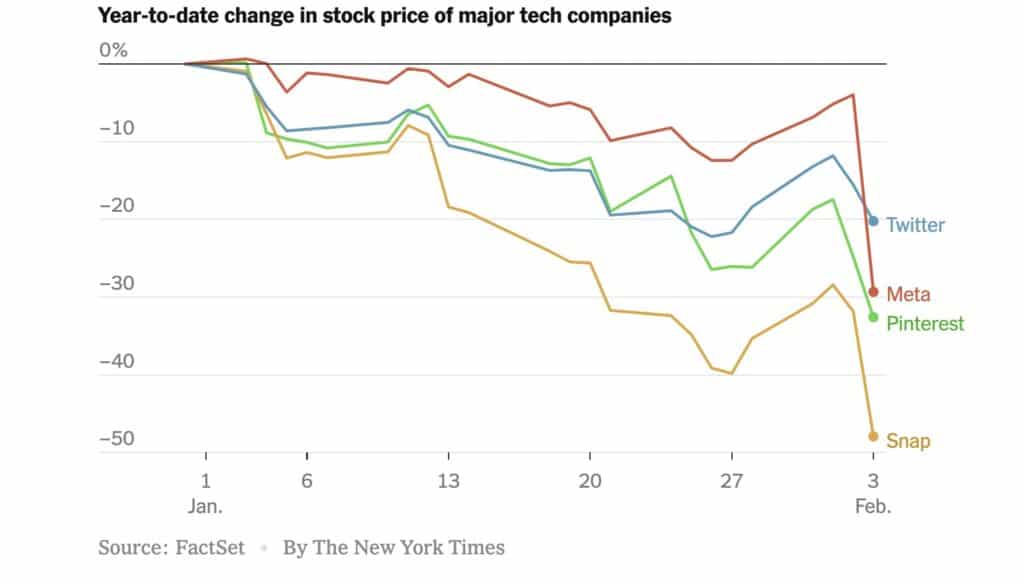 Underlying Meta's disastrous fourth-quarter earnings report has been the rapid growth of TikTok and the changes in Apple's iOS that make it harder to track user behavior. After all, Meta is heart an advertising platform, and its ability to track user preferences is the key to its success. The company's overall profit in 2021 was $39.3 billion, a comfortable 35% increase over 2020. That can easily cover Meta's $10 billion loss on AR/VR – for now. But what happens if profits don't continue their mind-boggling increase? If Meta's user-base continues to shrink? And most critical of all, if the company loses access to the firehose of personal data that funds its success.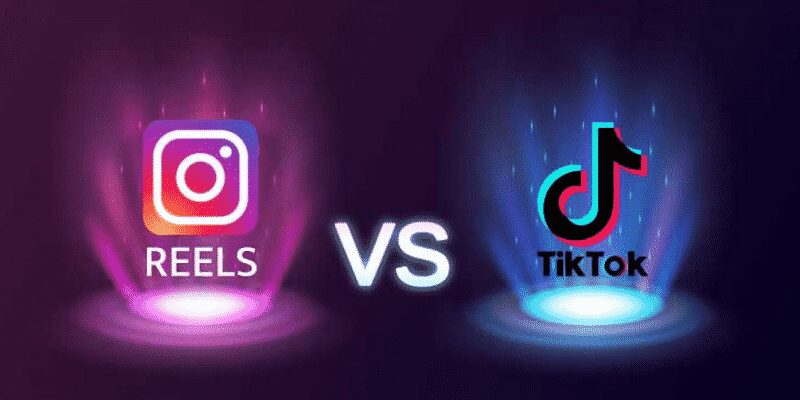 The Meta – TikTok Battle Impacts XR
From the rumors we heard about the latest all hands meeting at Meta, Zuckerberg said the company's primary focus needs to shift to Instagram Reels – its less than stellar response to TikTok. But the two platforms aren't all that different from each other. The real issue for Meta is that its short video platform is not attracting creators that produce engaging content. And the dismal Q4 financial result revealed another bit of bad news for Meta. For the first time in Facebook's history, its daily active user numbers are declining – at the rate of a million a day.
If Meta is unable to trounce (or buy) TikTok as they've done with every other competitive threat, revenues will decline, and the investments in XR R&D will have to be curtailed.
Apple and Others Play the Long Game
As Apple has always known, you don't have to be first in a market to leave the most significant mark. Its XR headset – or AR Glasses – will be released in 2023 at the latest. And Google is upping its game along with a host of other companies seeking to grab a slice of the AR market.
So if Meta is forced to the sidelines on XR, the impact would only be short-term. As a low-cost, easy-to-use HMD, the Quest has been a boon for VR. But Meta doesn't have a lock on that solution. It would be ironic if we reach the promised land of the Metaverse only to see that Facebook/Meta followed the trajectory of Netscape and the web.
The Business Model for the Metaverse
In some respects, Meta's $10 billion loss on XR is good news. While it's largely due to R&D expenses, It reveals that the company has yet to figure out how to monetize user behavior in virtual environments. It took only five years for the original Facebook to turn a profit in 2009. It bought Oculus in 2014, and nearly eight years later, VR is a massive financial drain.
The New York Times noted a telling comment in Mark Zuckerberg's call with investors: 
Although our direction is clear, it seems that our path ahead is not quite perfectly defined.
The immediate challenge for Meta is TikTok, but the deeper issue is the business model for the Metaverse. Selling VR headsets and taking a cut from your App Store won't be enough to fund a ubiquitous virtual world. The obvious solution (for Meta) is advertising, but that could send future users fleeing into the arms of its competitors. It's one thing to encounter ads on every screen on the web and your social media platforms – as infuriating as that is. It's altogether different when it becomes the fabric of your lived experience in a virtual world. Tracking the movements of our eyes and hands would result in the tattered remnants of our personal privacy vanishing entirely. 
We've all heard the fervor dreams of NFT proponents and the salivating noises of ad agencies. But realistic proposals on how to fund the infrastructure of the coming Metaverse are in short supply. Until we see something concrete, we're fine with watching the Metaverse hype dial down a couple of notches. We surely don't want to see a single company dominating our virtual lives in the future. 
Take a deep breath – the Metaverse will eventually arrive. But despite its early work in popularizing consumer VR, Meta's ultimate role remains an open question.
Emory Craig is a writer, speaker, and consultant specializing in virtual reality (VR) and artificial intelligence (AI) with a rich background in art, new media, and higher education. A sought-after speaker at international conferences, he shares his unique insights on innovation and collaborates with universities, nonprofits, businesses, and international organizations to develop transformative initiatives in XR, AI, and digital ethics. Passionate about harnessing the potential of cutting-edge technologies, he explores the ethical ramifications of blending the real with the virtual, sparking meaningful conversations about the future of human experience in an increasingly interconnected world.