As society shudders to a halt with the Coronavirus, the artist KAWS AR art sculptures may be the safest way to experience groundbreaking art this month. Virtual Reality may be challenged in delivering on the promise of remote work, but augmented reality opens up our access to art. There's no need to go to a museum or acquire hardware outside of your phone and an app. We can even keep our social distance, which seems to be a major challenge in some urban areas this week. And we can still find something thought-provoking besides the ever-worsening news of case-numbers and fatalities.
With remote work, closed schools, and the collapse of the travel industry, augmented reality may become an essential way of enriching our daily lives. That also holds for virtual reality, but AR-capable smartphones far outnumber VR headsets at the moment.
Moreover, the pandemic has been devastating for museums and galleries. Most have shut their doors, and few remaining open have sharply limited the number of visitors. Just as educational organizations have embraced online learning in a time of crisis (no more endless discussions, they're just doing it), art may be pushed into using augmented reality.
How quickly our lives and the world can change.
The AR art sculpture exhibition is also ground-breaking in offering a new distribution and acquisition model outside the museum and gallery space – the gatekeepers in providing – and limiting – access. As we've seen in so many other areas when a sector of human activity moves from the physical to the digital, social connecting, sharing, and commerce burst forth. Seeing this might be cause for concern if you're a museum or gallery director, but you undoubtedly have bigger things to worry about this week.
Nevertheless, the current economic model of the art world (nearly lethal to most artists) is waiting to implode.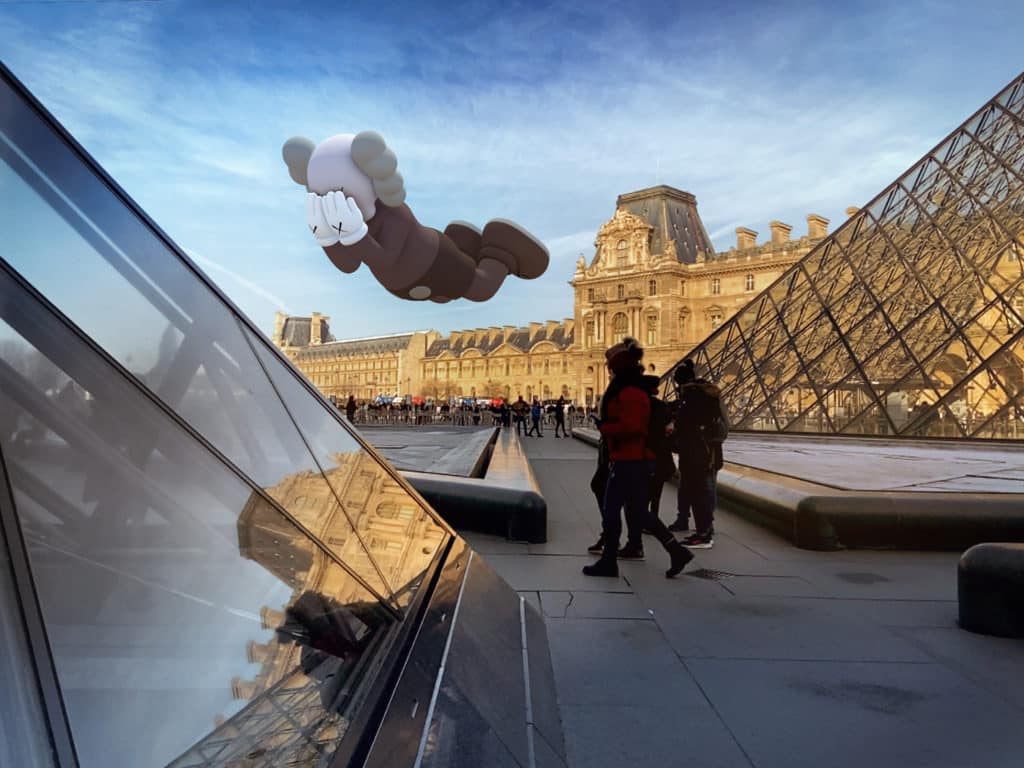 The Artist KAWS AR Art Sculptures
KAWS is a street artist and designer whose real name is Brian Donnelly. Born in Jersey City, NJ, he worked as a freelance artist at Disney and made a name for himself subverting consumer images with graffiti art. Shades of Keith Haring but we're in the 2020s, not the 1980s. KAWS's work spans a broad range from museum exhibitions to consumer products.
The new public exhibition runs from March 12 through March 26 in cities around the world, including New York, Qatar, and Tokyo. You just need the artist's app (free to download) to view the works.
Acute Art, the innovative platform used by KAWS, describes the exhibition.
Invisible to the naked eye, the augmented reality art comes to life in your phone's camera to reveal beautifully crafted sculptures that interact seamlessly and playfully with the world around them. The experience takes art out of the gallery, onto the streets, and into people's hands – challenging conventions about what constitutes a suitable canvas for an artist's vision. In the process, it offers anyone anywhere the opportunity to enjoy art and interact with it on a uniquely personal level. The photos and videos that you capture and share add an extra dimension to the experience, making the platform a truly collaborative one.
We've seen several public AR art projects, including last summer's massive AR art exhibition in Boston and the fascinating COORDINATES project by Nancy Baker Cahill. While the former was a curated event, Cahill's work is self-organized. Augmented Reality gives artists the freedom to use the world as their own exhibition space.
Charlie Fink may have said that AR will paint the world with data, and commerce is no doubt salivating at the prospect. But its artists and visionaries who will make our public spaces entertaining, beautiful, insightful, and critical.
We need that far more than we need ads floating in front of our faces as we commute to work.
With readily available Smartglasses in another five years, AR art will be everywhere in our lives. Museums will find themselves deeply challenged – facing the same crisis that has battered libraries and news organizations. How do you get someone to pay for access to what's already available in the public sphere? There are potential solutions here, but like education, the art world is slow to take up thinking about its future.
Similar to what happened in the news industry – art will expand in multiple directions. It will be more immediate and timely – and open to anyone. And without curatorial oversight, there will much more that is of questionable value. This is why Nancy Baker Cahill's work is intriguing – it's artist organized but with curatorial direction. The artist as both producer and curator.
Location of KAWS AR Art Sculptures
KAWS AR art sculptures are easily accessible if you're in the right area. Here are the current locations:
Doha (Mia Park – Museum of Islamic Art),

Qatar

Hong Kong (Observation Wheel),

Hong Kong

London (Millennium Bridge), UK

Melbourne (National Gallery of Victoria), Australia

New York (Brooklyn Museum), US

New York (Times Square), US

Paris (the Louvre Pyramid), France

Sao Paulo (Ibirapuera Park), Brazil

Seoul (Dongdaemun Design Plaza), Korea

Taipei (National Chiang Kai-shek Memorial Hall), Taiwan

Tanzania (Serengeti National Park)

Tokyo (Shibuya Crossing), Japan
If you're elsewhere, you have the option of purchasing one of the "open editions" of the AR art sculptures to place wherever you like. They're much smaller than the ones at the public exhibition sites, but they offer moments of creativity since you are able to control their position.
A New Art Distribution and Acquisition Model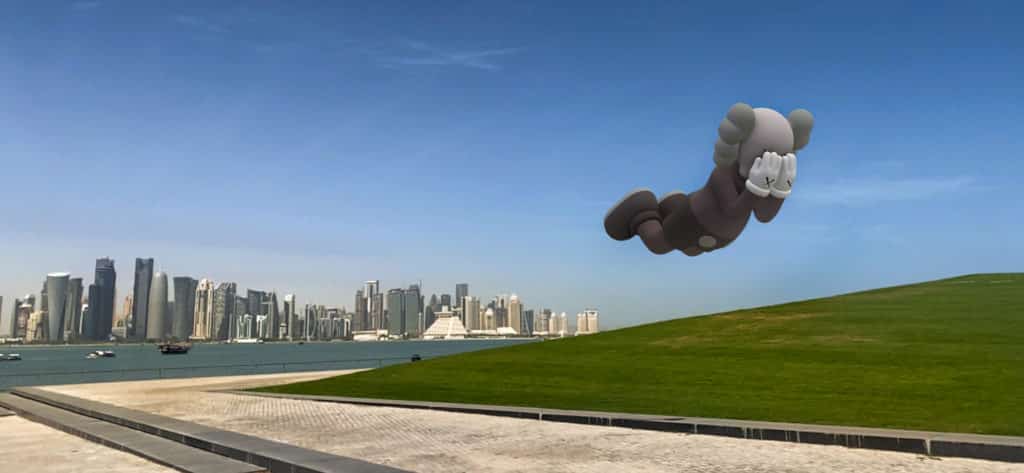 The exhibition's new model for distributing KAWS work takes aim at the gallery and auction house monopoly. ArtNet News describes two models for accessing his AR art sculptures:
KAWS is offering a variety of ways to buy a piece of the project. The first is an edition, called "COMPANION (EXPANDED)," of 25 nearly six-foot-tall AR sculptures that will be available to buy together for $10,000 on the Acute Art website. Collectors will be able to place the sculptures wherever they want using the app, and can choose whether to keep them private or make them publicly visible to others who use the app.
Up to now, the only option collectors had was to donate an artwork to a museum. The physical work of art presents an either/or choice. It's either in someone's private space or its on public display. The digital artwork can be simultaneously public and private, available for anyone to enjoy.
The second modality is for people who want an element of creativity in interacting with KAWS's work but don't want (or can't afford) one of the 25 limited edition virtual sculptures.
The second collectable element, called "AT THIS TIME (EXPANDED)," presents an alternative model for commercializing this kind of artwork. It is an open edition of 1.5-foot-tall AR sculptures that are available in three colors and can be bought on the app for a period of seven or 30 days at a time. These will be priced at $6.99 for one sculpture for seven days or $29.99 for all three sculptures for 30 days.
The chief executive of Acute Art, Jacob de Geer, points out that the artworks can be resold with a "push of a button." The buyer and seller equally split a 30% commission that is tacked on to the price.
Art Everywhere, Even the Serengeti plains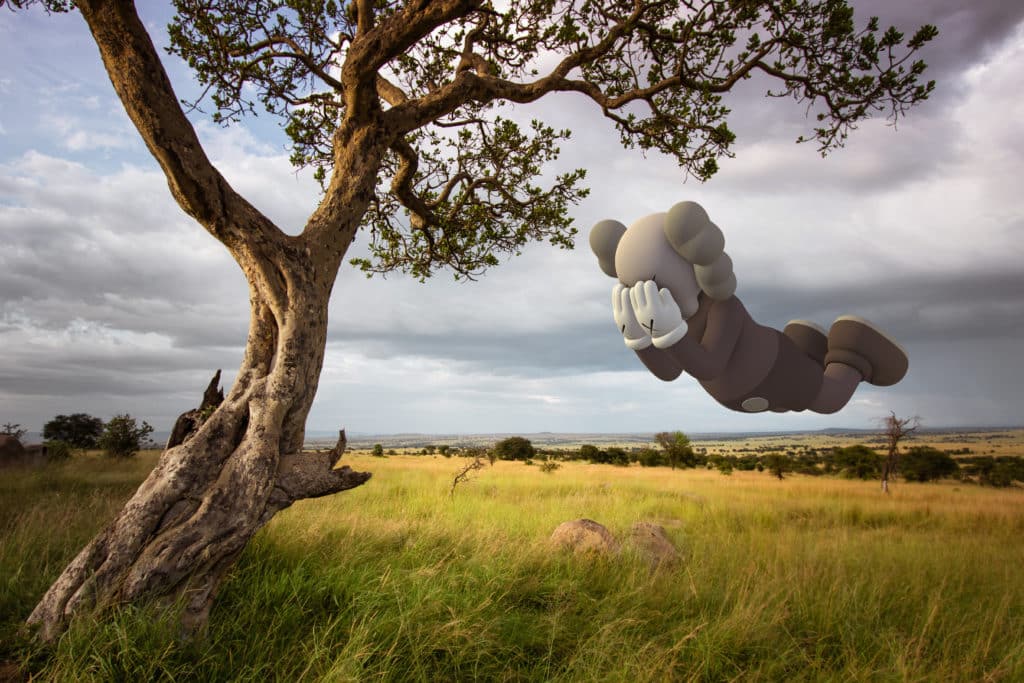 In his statement, KAWS said the following of AR art.
I have been creating objects and exhibiting works in public spaces throughout my career, and this allows me to expand on that in a whole new arena. The possibilities of locations and scale are endless, and I'm excited to start a new dialogue in this medium.
Right now, the environments of our lived experience are like empty museums and gallery spaces waiting to be filled. How quickly virtual and AR art takes off will depend on how augmented reality advances and the creativity of our artists.
One thing we do know. In a month that feels consumed by a pandemic, KAWS AR art sculptures offer a fascinating vision for the future of art.
Emory Craig is a writer, speaker, and consultant specializing in virtual reality (VR) and artificial intelligence (AI) with a rich background in art, new media, and higher education. A sought-after speaker at international conferences, he shares his unique insights on innovation and collaborates with universities, nonprofits, businesses, and international organizations to develop transformative initiatives in XR, AI, and digital ethics. Passionate about harnessing the potential of cutting-edge technologies, he explores the ethical ramifications of blending the real with the virtual, sparking meaningful conversations about the future of human experience in an increasingly interconnected world.