We now have the details on Google VR. It is no longer the mystery Google dangled before us in its Daydream announcement this spring. The Google Pixel event offered new hardware, Pixel phones and a major focus on AI (keep an eye on the latter).
For virtual reality, there is a new fabric covered VR headset, Daydream View, an innovative hand controller, and wireless connectivity to Daydream Smartphones. It is a remarkable development that will transform mobile VR.
Here is Google's one minute promo video.
https://www.youtube.com/watch?v=rLLAA4ENIP4
Google VR features
We will have much more in the coming weeks, but here is a quick rundown:
The VR headset, Daydream View, breaks free of the hard plastic paradigm. It is made out of fabric and soft plastic. And yes, you can wear it with your glasses. In other words, it is designed to be as comfortable as possible.
Daydream ready phones will work with the headset wirelessly. Nothing to connect. Just drop the phone in the headset and go. They just ate Samsung's lunch with the Gear VR's limited options.
The small hand controller is durable, full-featured and easy to use. When you are done, it fits into a slot in the headset.
Google has a laser like focus on content. They are working with Netflix, Hulu, The New York Times and others to bring immersive experiences to everyone. And everything on YouTube and Google Street View will be available on the Daydream View headset. Even standard YouTube videos will have a cinematic-like display. As the The Verge put it, it is like having a "personal movie theater."
Our initial reaction
Three points stand out for us – price, the hand controller, and content.
Google Daydream is exactly what virtual reality needs now. The price point of Daydream View undercuts every other device, except for the cheap plastic headsets and Google's own Cardboard. Samsung's Gear VR will take a hit at $99 (though they are already giving it away for free with new phones). The high-end VR market with the $600+ headsets and $1,000+ computers will become more of a niche area. Outside of hardcore gamers and organizations that need deeply realistic VR experiences, the investment will be hard to justify. That is especially true in our current environment of multiple emerging VR platforms – Intel's Project Alloy is a case in point.
Everyone in VR development should do a teardown of Google's hand controller. It is an incredibly innovative device that can be used for motion tracking, navigation and game play. And with a SDK VR Developer kit on its way, developers will find novel uses for it. Given its small footprint and intuitive design, it will likely become a model for VR hand controllers down the road.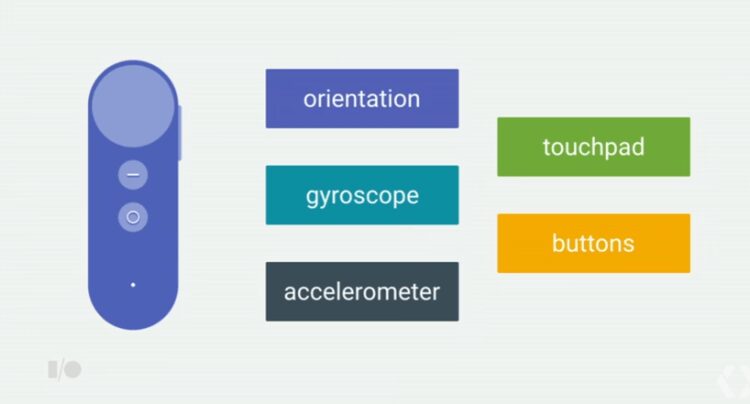 Finally, Google confronts the content challenge with a major advantage. Two of its platforms – YouTube and Street View – are practically ubiquitous and can incorporate 360 videos or images. Now they will be part of the Daydream ecosystem. And they are working with major media providers (Netflix and Hulu) and other organizations to provide VR content ranging from TV and films to museum experiences.
A year from now, we'll look back and laugh at the idea that there was little content available for virtual reality.
The future
If there is an underlying theme in the Google VR project it's simplicity. We've always thought the majority of the market will flock to Mobile VR. It's like streaming music – lower quality but accessible everywhere and easy to use. The days of going to a virtual reality event and having an assistant help you adjust a VR headset are over. You will just put on Daydream View and dive into the immersive experience. Google VR blows open the space for filmmakers, organizations and educators as the technology gets out of the way.
Last week we saw Apple say that the future is AR for everyone. Today, we saw Google throw its weight behind VR for everyone. Two intensely competing strategies, but there is room for both. In the end, they will make immersive experiences part of our everyday lives.
As Tim Cook said, we will soon wonder "how we ever lived without it."
Emory Craig is a writer, speaker, and consultant specializing in virtual reality (VR) and artificial intelligence (AI) with a rich background in art, new media, and higher education. A sought-after speaker at international conferences, he shares his unique insights on innovation and collaborates with universities, nonprofits, businesses, and international organizations to develop transformative initiatives in XR, AI, and digital ethics. Passionate about harnessing the potential of cutting-edge technologies, he explores the ethical ramifications of blending the real with the virtual, sparking meaningful conversations about the future of human experience in an increasingly interconnected world.