Ekto One VR Boots is a fascinating attempt to resolve the difficult challenge of simulating walking in VR. They promise "fully immersive natural movement" through a pair of wearable robotic boots. It's a solution that comes at a considerable cost in size and complexity.  You won't find a lot of information on the Ekto site, but you can sign-up for more information. From the looks of the boots, we're not sure we'd ever buy a pair. But there is potential here – quite a lot, actually – for high-end immersive experiences that might be developed for industrial applications. 
Ekto One VR Boots
So let's step back (sorry for the terrible pun) and take a look at the Ekto One boots. Here's a quick video of someone walking through one of the incredibly detailed scenes in Half-Life: Alyx.
The shoes are designed with rotating pads, wheels, and brakes to keep you from moving when you want to remain in one place (virtual and physically). UpLoadVR describes the design,
The shoes are comprised of a carbon-fiber design Ekto says is lightweight, and use HTC's Vive Tracker pucks to track movement in VR. On the bottom of the device are two rotating plates that can twist to the direction the user is walking in. Once they put their foot on the ground, a set of wheels pull your leg back while you walk forwards, supposedly giving the sensation of walking, but keeping you in one spot. Brakes are employed when standing still to make sure you don't slip over as if on a pair of skates.
We have no information on the weight, though given that you are only sliding your feet on the floor, that may not be an issue.
There are several other solutions to supporting movement in VR, including the Omni by Virtuix (which is widely used in location-based VR) and the more recent Kickstarter project, Kat Walk C, designed for the home market. But both of these devices tie you to a frame (somewhat uncomfortably) and take up physical space, which can be an issue in urban apartments and small VR labs. Shoes are an effective way to solve the problem, which may be why Google patented motorized shoes for seated VR experiences some years back (though Google doesn't appear to have pursued this further).
The other option that would follow the overall paradigm of the digital revolution is to replace movement in VR devices with software. That's what the fascinating Tea for God experience does though it raises its own set of (impossible?) challenges when you want to walk through a wide-open expansive space instead of a virtual maze.
A Prototype for the Future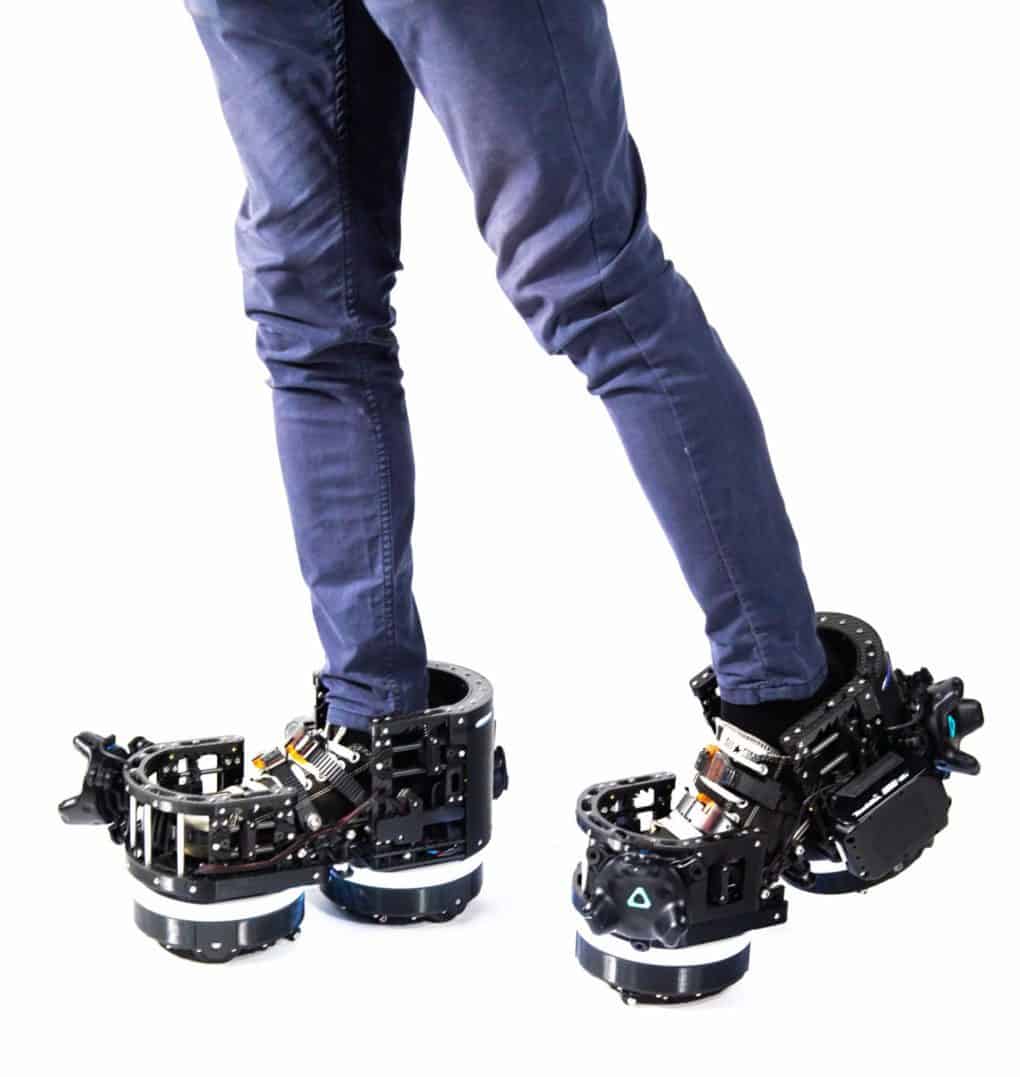 We're not convinced that bulky robotic-looking Ekto One VR Boots will see much use outside of specific applications such as nuclear reactors and chemical plant simulations. But they definitely seem like they could provide the free-roam, room scale experience that we want virtual reality to deliver.
On a more fascinating level, they seem entirely on target for where VR is headed in the future. Our computers once took up entire rooms; our mobile phones were the size of shoeboxes. Digital hardware continues to shrink in physical scale, a dynamic that will continue until we can insert devices in our brains. And that's a whole other story, and not as easy as Elon Musk likes to make it out to be (on either the technical or ethical side).
We already have haptic feedback shoes that look like regular footwear. Someday, we will develop shoes that will have you virtually walking while remaining in one place.
Let's just hope it will represent something more than just a bad metaphor for our future.
Emory Craig is a writer, speaker, and consultant specializing in virtual reality (VR) and artificial intelligence (AI) with a rich background in art, new media, and higher education. A sought-after speaker at international conferences, he shares his unique insights on innovation and collaborates with universities, nonprofits, businesses, and international organizations to develop transformative initiatives in XR, AI, and digital ethics. Passionate about harnessing the potential of cutting-edge technologies, he explores the ethical ramifications of blending the real with the virtual, sparking meaningful conversations about the future of human experience in an increasingly interconnected world.