We're deeply intrigued by haptic developments like Droplabs' haptic shoes since VR primarily focuses on visual and audio inputs. Human experience is about so much more than what we see and hear – it's about what we touch, smell, and feel in our bodies. In that respect, all of our current XR developments will seem severely limited in the not-too-distant future.
We've chronicled many of the efforts to expand haptic input from Feelreal's aborted sensory mask to advanced research in silicon patches that might someday serve as our digital skins. Most of the current devices are designed as vests or gloves – the quickest approach to getting physical input to your body. Droplabs' haptic shoes go a different route, providing haptic feedback through the soles of your feet.
Droplabs' Haptic Shoes
Essentially, these are shoes with the haptic equivalent of miniature subwoofers in them. It's still limited to audio input, but it definitely expands your experience of sound. Droplabs EP 01 Model replaces an earlier – and more expensive version. According to Droplabs specs, the model offers,
Compatible with all Bluetooth headphones using – Class 1 Bluetooth® 4.2
Compatible with iPhone (iOS 11 and later) and Android phones (Android 6 and later)
Up to 6 hours of battery life
Optional Low-Latency cable for gaming and music recording applications
Safe-detach Magnetic Charge Connectors
Water-Resistant 
They come with a one-year warranty and will cost you $299. Pair the shoes with an app on your phone (or a game controller), and you'll be walking around your home feeling your music – or movies. The latter experience may be the most interesting as you'll feel a movie soundtrack. And with our current lockdown lives due to COVID-19, they could actually become a way to connect with others through Zoom or other video-conferencing platforms. At least we could begin to feel what others are feeling instead of guessing from the rectangular video boxes of their faces.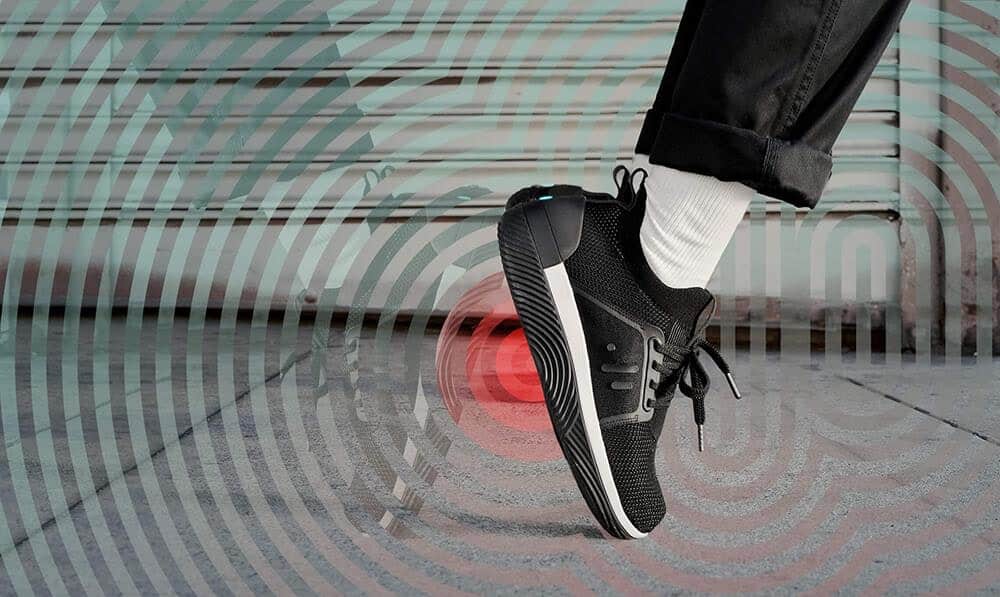 An Idea Born from a Studio Floor
DropLabs' CEO, Susan Paley, used to head Beats By Dre and met the original inventor of the footwear Brock Seiler in New York in 2015. Seiler got the idea back in 2008 after standing in a spot in Montana Studios where he could feel the bass on the floor. Paley raised the capital and gathered a team of engineers to make the product what it is today.
We love that Droplabs is a female-led company and is partnering with the deaf and hard of hearing (HOH) community. They recognize that haptic feedback is not simply a technology to support virtual reality, but a way of expanding access for people with disabilities. As Antoine Hunter, deaf activist, dancer, and founder and artistic director of Urban Jazz Dance Company said,
I'm a teacher. Before I had to stay in one place to try to connect to the music and now I can help students while moving all over the room. That's my passion, to teach and help people. . . With DropLabs, now I can go anywhere. I can go on the train to feel the music, I can go to the gym to feel the music.
Droplabs refined the shoes through workshops with the Bay Area International Deaf Dance Festival. Every tech company should have this kind of commitment to enhancing lives.
Using the Shoes
Adam Savage has a lengthy review (21 minutes) of Droplabs haptic shoes, covering nearly every aspect of their use. As he notes, the shoes are heavier since they have to incorporate the electronics but not overly so. And Droplabs' app is well-designed, even allowing you to compensate for latency so that the feedback is in sync with your audio stream. The company provides excellent support and the shoes come with a 30-day risk-free return policy.
But it's the design that intrigues us the most: No one would ever know you're wearing a technology device on your feet.
Haptic Shoes in VR
As for using the shoes in virtual reality, you're only getting passive haptics as it's limited to the audio input. That could be game-changing for VR experiences like Beat Saber, where sound plays a significant role. And it's easy to set up as the shoes come with a low-latency gaming cable that can be plugged into the headphone jack on your VR HMD. The opportunities for eSports and immersive gaming are massive and there's no need for developer buy-in since the device is drawing from an existing audio feed.
But the input is limited to audio. You're not going to have a sensation of walking over different types of surfaces, which would fundamentally enhance a sense of immersion in a wide range of virtual experiences.  For a completely different approach, take a look at the Cybershoes project which doesn't provide audio or tactile feedback, but a sense of moving through VR experiences. 
There's also the issue of user sizing. Remember the early demos of the Magic Leap One? They had to bring a box of corrective lenses to compensate for peoples' eyesight. A public VR demo or immersive art project requiring haptic shoes would involve bringing boxes of them and fitting users to the correct size. An adjustable vest is a much easier approach – with much greater benefits. And if you're looking to add haptic audio feedback, the Kickstarter project from Feelbelt offers a solution that gets around most of the sizing issues.
Aside from these challenges, Droplabs haptic shoes are footwear for the future. And they're a window into our future – a world where immersive experiences become part of our everyday lives. A decade from now, when AR and mixed reality glasses have replaced our phones, we'll expect haptic feedback in our clothing and our shoes. Given their work with researchers in haptics and neuroscience at Emory University and the University of Pittsburgh, Droplabs is positioning itself to be at the forefront of these developments.
If you pick up a pair of Droplabs' EP 01's, just be careful if you wear them while flying. Droplabs claims they'll get through airport security checkpoints – and we believe them – but I can't imagine trying to explain to a New York TSA agent what they just saw in the scanner.
Emory Craig is a writer, speaker, and consultant specializing in virtual reality (VR) and artificial intelligence (AI) with a rich background in art, new media, and higher education. A sought-after speaker at international conferences, he shares his unique insights on innovation and collaborates with universities, nonprofits, businesses, and international organizations to develop transformative initiatives in XR, AI, and digital ethics. Passionate about harnessing the potential of cutting-edge technologies, he explores the ethical ramifications of blending the real with the virtual, sparking meaningful conversations about the future of human experience in an increasingly interconnected world.