Facebook Connect arrives this week – the rebooted Oculus Connect 7 conference that reflects the social media giant rebranding its work in virtual reality. We'll be streaming it live here if we can, and there's always the stream on Facebook. The conference is definitely a tech/developer event, but the announcements will impact how we use VR in education, the arts, and workforce training.
Here's the quick version of our predictions for Facebook's event on Wednesday:
A new Oculus Quest headset
Facebook Horizon opens to the public this month
Oculus Link becomes a wireless connection for local PCs
A major expansion of Facebook's Live Maps
Additional news about AR glasses (but no design images)
Facebook's virtual audio research amps up and will impact, VR, AR, and video conferencing
A New Oculus Quest
_________________________
UPDATE 23:32 EDT, 09/14/2020:
We just got confirmation of a new Oculus Quest or what Facebook will call the Oculus Quest 2 with blueprints and videos that were found on the web. While we don't have the price, we know it will use Qualcomm's Snapdragon XR2 chipset which was designed for VR, have "an almost 4K display," a 256GB option, updated controllers, and work with the Oculus Link. Check out the video below:
Much of what we predicted about the new Quest is in the video. Smaller and lighter? Absolutely. Longer battery life? Probably. End of some of the features in the current Quest? Possibly.
_________________________
That last point remains a concern and the video does not show an IPD button on the bottom of the headset. As Tom's hardware noted,
Currently, the Oculus Quest features an interpupillary distance slider that can be used to change the distance between lenses. That can help bring the unit's picture into better focus for those with eyes that are closer or further apart than average users'. It's a feature that ended up being stripped from the Oculus Rift S that, if removed, might stir up some controversy among Quest 2 adopters.
Interpupillary distance is more important than most users realize as it can bring the display into better focus, and we still see it as an accessibility issue. But it was likely dropped from the new Oculus Quest 2 to bring the weight and size down.
Facebook Connect Other Developments
As for what else will be revealed at Facebook Connect, here's what we expect to see.
Facebook Horizon: Social VR
Despite Facebook's role in developing the consumer VR revolution, its DNA lays in social media (and advertising). The acquisition of Oculus VR back in 2014 was not an effort to branch out into new technology but a recognition of where the digital revolution was headed – immersive experiences. That means VR will be increasingly integrated into Facebook, and we've already seen the (controversial) moves to combine Oculus and Facebook e accounts. It's possible that Facebook Connect will include a surprise announcement opening the new social VR Horizon platform to the public.
Seeing as this closed beta has been going on for almost a month, now would be the perfect time to launch the new social features and lobby location. Imagine wandering the lobby and using the various theaters to jump in and out of conferences, Q&As, product demos, and various other live events. (VRScout)
There may even be the opportunity to try it out after the Wednesday event – but not during it. They won't want to lose their Facebook Connect audience.
Cut the Cable: A Wireless Oculus Link
Facebook has been tight-lipped about what will be announced but John Carmack has said there are hints in his 2019 OC6 presentation. Like all of his lengthy talks, Carmack covered a lot last year but one development stood out – a wireless Oculus Link PC connection. This wouldn't get you VR experiences from the cloud (for that, the technology would have to be redesigned) but having a wireless connection to SteamVR at home, and in public VR labs and film festivals would be a major development. Simply put, the Oculus Quest needs this.
More AR News but no Device
Expect to hear a lot more about Facebook's upcoming AR glasses, but there will no details on the design or release date. We may see them by next year's Facebook Connect, but even that could be too soon if Apple delays its AR glasses until 2022.
Facebook is Mapping your Physical Environment
We will get more details on Facebook's Live Maps, its project to map the entire world and create deeply immersive social spaces.
[Live Maps] . . .will produce "multi-layer representations of the world" using crowdsourced data, traditional maps, and footage captured through phones and augmented reality glasses. The video shows familiar potential uses — like getting notifications projected in thin air, identifying objects with labels, or even projecting a holographic avatar to hang out with real people. It's not totally clear how (or if) Facebook would protect privacy while collecting all of this data. (The Verge)
Facebook has said nothing about the privacy implications, but if you think some people share too much now, just wait until we have the option – and Facebook's encouragement – to map the physical spaces of our personal lives. Of course, there's incredible potential here for learning spaces in education and workforce training – and for new forms of virtual collaboration to counter the isolation of our quarantined lives. As always, Facebook's tech developments are never one-sided.
The Future is Virtual Audio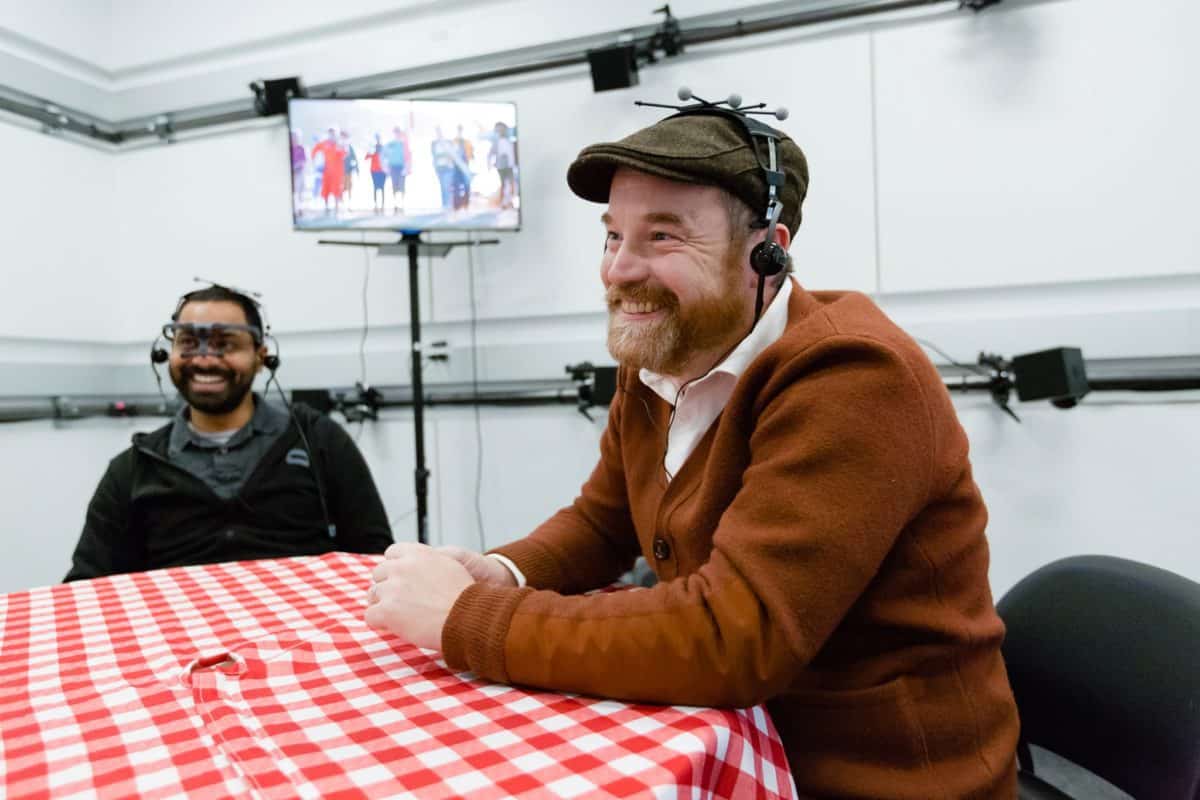 Facebook has spent years working on virtual audio which will be essential for AR glasses. You can read more about their work to enhance audio presence and give us perceptual superpowers for AR devices or get a quick overview of the research in this video.
Enhanced audio has applications in VR, AR, and perhaps even in our video conferencing platforms. With the pandemic pushing so much of our work and educational experiences into the home, we expect Facebook to highlight their rapidly expanding efforts here.
See You at Connect – Virtually
We'll see you online Wednesday at Facebook Connect and will live stream if possible. The conference begins at 10:00 am PDT, and most of it will consist of prerecorded presentations. John Carmack's annual stream-of-consciousness technical talk will be live, and he's already dropping tantalizing hints that his 2019 talk at OC6 foreshadowed what he will say this week.
We'll see what's behind the AR/VR curtain on Wednesday.
Emory Craig is a writer, speaker, and consultant specializing in virtual reality (VR) and artificial intelligence (AI) with a rich background in art, new media, and higher education. A sought-after speaker at international conferences, he shares his unique insights on innovation and collaborates with universities, nonprofits, businesses, and international organizations to develop transformative initiatives in XR, AI, and digital ethics. Passionate about harnessing the potential of cutting-edge technologies, he explores the ethical ramifications of blending the real with the virtual, sparking meaningful conversations about the future of human experience in an increasingly interconnected world.