With every major live event being canceled due to the Covid-19 pandemic, it's no surprise that we have a virtual Burning Man festival this year. Last year's gathering of 80,000 from over 25 countries will be replaced by virtual reality and other digital experiences this week. If you go, you'll be burning from home this year, and not dealing with the sand and heat in the Black Rock desert. But it also means missing the physicality of the experience and scenes such as these 33 surreal photos from last year. Burning Man was never just about watching an event, but participating in it – being part of the experience –  interacting with art installations, riding about in strange contraptions, and hanging out with fellow Burners.
How to translate these complex layers of experience into an online event leveraging virtual reality will be the challenge. And it's one that VR has faced ever since the pandemic hit. We have a range of social VR platforms, but our immersive tech is still based almost entirely on visual and audio input. Inexpensive haptic feedback devices largely remain at the experimental stage. There's nothing virtual that will let you feel the dry wind on your face unless you already live in the desert and step outside wearing your Oculus Quest (probably not advisable). The one haptic device that could have provided the smell and heat of the desert – the FeelReal Mask Kickstarter project – died due to its use of vaping technology (which meant FDA approval).
It's no surprise that $20 million in Burning Man tickets were refunded. Most every live event has faced the same challenge and found themselves refunding tickets (or transferring them to next year as is the case with SXSW 2020), or charging far less for the virtual substitute.
So we may not be where we'd like to be in VR, but now is the time to experiment. Like the Wright Brothers at Kitty Hawk, you have to make this thing fly. Even our failures help us learn and will shape the trajectory of VR going forward. Even more, our current live events need immersive experiences to move beyond video conferencing platforms and engage home-bound audiences. And there are advantages in the online format as events can now draw on a global audience.
So let's take a look at how the Burning Man will recreate a highly idiosyncratic Festival in the Black Rock desert this week.
The Virtual Burning Man Multiverse
Here's the trailer for Burning Man 2020:
Kim Cook, Director of Creative Initiatives for the Burning Man Project, talks about how this year's Burning Man festival is an opportunity to push some of the current boundaries of our technologies.
We've all now familiarized ourselves with Zoom, GoToMeeting, Skype or Google Hangouts, but that doesn't mean that we've all had a satisfactory experience of engagement and interactivity. (Forbes)
Ironically, every year's Festival has a theme, and the one for 2020 couldn't have been more appropriate – "The Multiverse." Burning Man has always made use of technology, from live-streaming of the Festival to virtual archives of the artwork (most of which does not survive beyond the event). This year's Festival will use everything from online games to Zoom and Social VR.
At the center of the Festival will be the Black Rock City VR (BRCvr) experience.
You don't necessarily need a VR headset to experience BRCvr, but it does help. Guests create avatars to represent them in dust-free, virtual space. Avatars "arrive" at the gate and have free rein from there, to explore, congregate or just wander. The group has talked about hosting virtual tours for first-timers but no decisions on that yet. The universe's press release states it "magically embraces the spirit, culture, and principles of the real-world event in an interactive VR-first expression that cultivates conversation, connection, and community." (San Francisco Chronicle)
What to Expect in the Virtual Burning Man Multiverse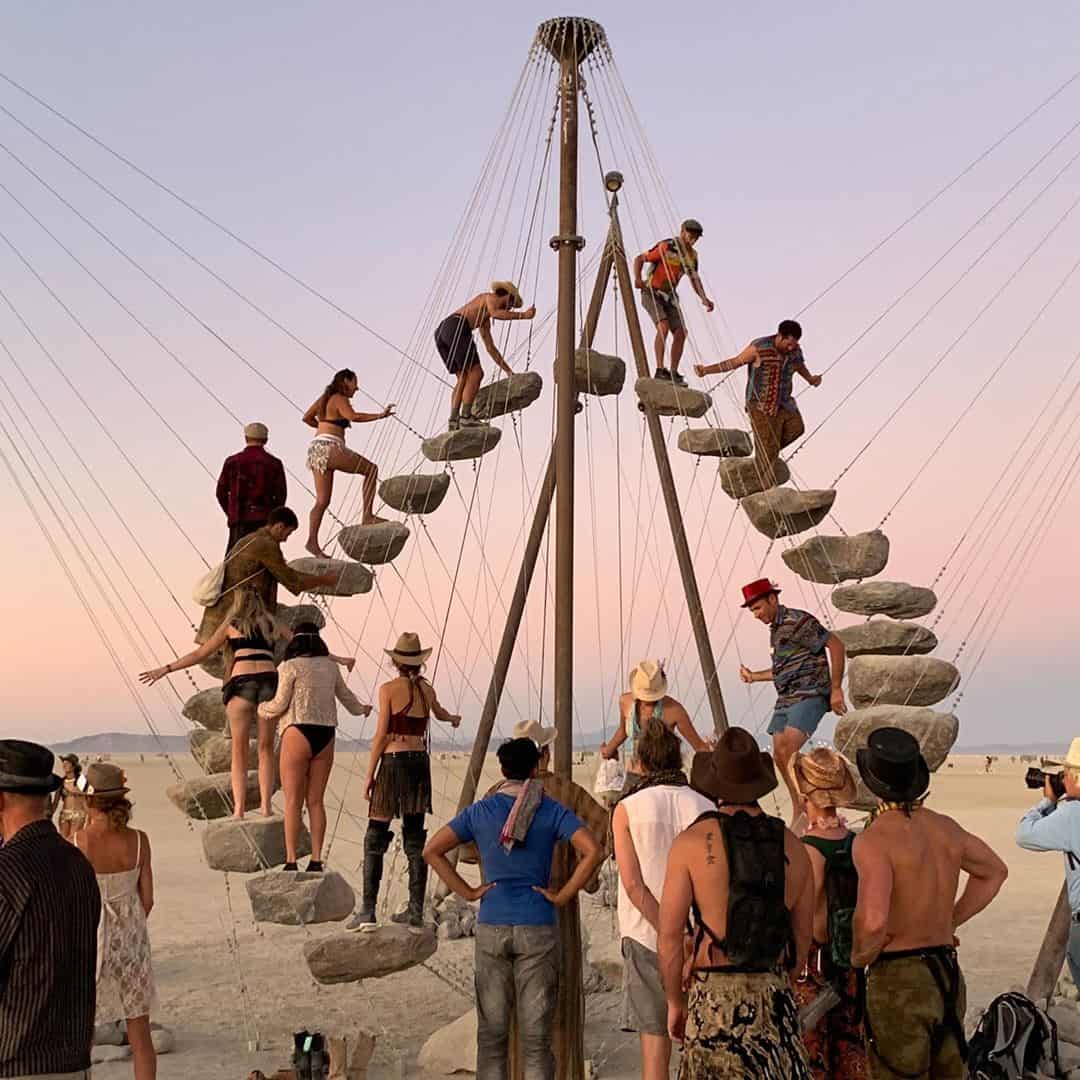 In addition to the BRCvr area, there are five other universes supporting the festival experience this year:
Multiverse, a virtual-reality experience with a photorealistic Black Rock City filled with 2020 Honoraria art installments, sound stages, and hundreds of theme camps. It will virtually recreate the full seven square miles of BRC with the correct Nevada time.
The Bridge Experience, an XR universe that brings together three worlds – a water world, a green world, and a desert world.
BURN2, a community built on the "Second Life" computer game.
Build-A-Burn, an interactive online art project that only requires a web browser and a webcam.
MysticVerse, a virtual building experience from Cyberius Rex and Simeone Scaramozzino of Camp Mystic.
You'll be able to select whatever areas you want to go from the Kindling portal. And there will be something for everyone, whatever level of technology you might have.
Can the Virtual Replicate the Experience?
The organizers know well that they are venturing into the great unknown. That's always the case when you have to rapidly transition the format of an event and simultaneously push the limits of the technology. There will be moments of failure, serendipity, and success.
Not every online virtual event has gone well this year. The Tribeca Film Festival, iLRN (the Immersive Learning Network), and SIGGRAPH 2020 used different platforms and organized well-designed festivals and conferences that generated tremendous interaction and energy among the participants. Other events, such as Jean-Michel Jarre's Live Concert in June didn't live up to their expectations. As with any event, the technology can only do so much – much depends on what the participants put into it. In that respect, the virtual Burning Man event has a headstart with tens of thousands of dedicated participants (many of whom return every year).
Getting to Burning Man
It's easy to get to the Festival this year – no long trips to a very remote part of the American West. Just sign in at the portal – Kindling (you'll need to create a Burning Man account if you don't have one) and join the celebration. Most of the experiences are free with a few requiring donations or a fee. If you like, you can even download a blueprint for a two-foot-tall Burning Man or create your very own burnable effigy (just be careful if you do light it up).
And please contribute your ideas on the Kindle a Project site. One of the delightful features of the experience has always been the crowdsourcing element of the Festival. As part of the community, you can create your own event as long as you follow their guidelines – worth reading as a model for encouraging audience participation.
Will we see you there this year? Andrew Bender's article in Forbes sums up our feelings about a virtual Burning Man festival:
My favorite thought about the 2020 experience comes from Stuart Mangrum, host of the Burning Man Live podcast: "If social distancing is the answer to the pandemic, Burning Man might just be the answer to social distancing."
Virtual Burning Man runs from August 30-September 6th. Let us know what you think of the event if you join in – and please be careful not to burn your house down if you participate in the burn.
See you at the virtual Black Rock City.
Emory Craig is a writer, speaker, and consultant specializing in virtual reality (VR) and artificial intelligence (AI) with a rich background in art, new media, and higher education. A sought-after speaker at international conferences, he shares his unique insights on innovation and collaborates with universities, nonprofits, businesses, and international organizations to develop transformative initiatives in XR, AI, and digital ethics. Passionate about harnessing the potential of cutting-edge technologies, he explores the ethical ramifications of blending the real with the virtual, sparking meaningful conversations about the future of human experience in an increasingly interconnected world.