AltSpaceVR and NBC are teaming up to bring you the Presidential Debate in VR tonight. It's a chance to see where we are in the rough terrain of multi-user virtual environments. We are deeply intrigued by the developments at AltSpaceVR, which is the virtual reality platform used for the event. With state-of-the-art technology, they brought us Reggie Watts' fascinating live performance and other events.
This is bleeding-edge tech so be prepared for a possible glitch or two. But it is worth checking out – AltSpaceVR may be paving the way for our social VR future.
Note: this post has been updated to reflect last night's VR experience.
Presidential Debate in VR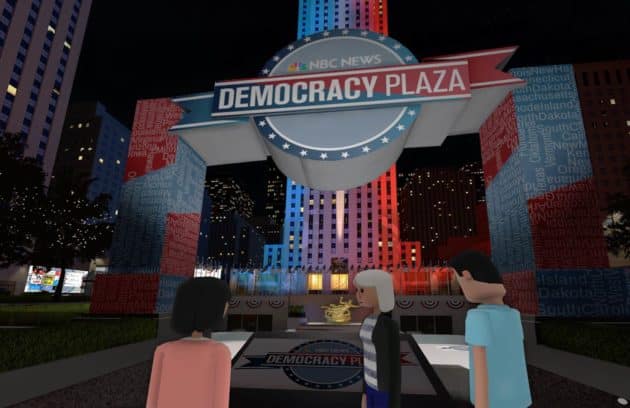 To watch the debate in VR, you will need an Oculus Rift, HTC Vive or a Samsung Gear VR headset. And you will have to download the app. Once you are setup, you'll appear in NBC's virtual (and somewhat surreal) Democracy Plaza as an avatar.
Though be prepared for what you are going to see. As Techcrunch put it:
Three words: virtual Al Roker.
We leave it to you to decide whether that is a draw or something to pass on for your flat screen TV. Personally, we would have preferred Reggie Watts. A beatbox commentary would go better with the fireworks in the debate. But if you are truly curious, here is Al Roker on the Today show in VR.
One of the more intriguing features of AltSpaceVR is that you have multiple formats for viewing. You can watch the event with everyone, create your own debate watching party with your friends, or watch it privately on your own.
Update on Presidential Debate in VR 
Here's a quick video from Kotaku on the September 26th debate in virtual reality. From their perspective it was a bust:
We are not sure how many joined the virtual environment but it seemed to be far less than other events hosted by AltSpaceVR.
Here's our reaction: The candidates were still on a flat screen (if virtual). Talking heads in a virtual reality environment. About the only thing that seemed like virtual reality were the avatars fluttering and floating around you. It is actually harder to watch that way – especially if one of the avatars in front of you has propellers on his head. Speaking of which . . . 
The avatars make the environment feel very Second Life. About the only difference is that you are not able to look away in VR as the environment envelops you. But there is the strange feeling of unreality which goes against so much of what is compelling in VR. It is so breathtakingly real when you are clinging to the side of a mountain or virtually experiencing solitary confinement. Here, it is just Second Life without the flat screen.
We know the avatars will become more realistic. We have already seen something like the Real Virtuality experience at Sundance. But we're not there yet.
In some ways, last night's presidential debate in VR made you think back to CNN and NextVR's first effort to use virtual reality for a debate. They were roundly criticized, but their 360 video actually was a better experience. It was awkward, but you felt like you were immersed in the event. And that feeling of immersion is key.
We are still impressed by AltSpaceVR's platform. But we clearly have a ways to go.
Emory Craig is a writer, speaker, and consultant specializing in virtual reality (VR) and artificial intelligence (AI) with a rich background in art, new media, and higher education. A sought-after speaker at international conferences, he shares his unique insights on innovation and collaborates with universities, nonprofits, businesses, and international organizations to develop transformative initiatives in XR, AI, and digital ethics. Passionate about harnessing the potential of cutting-edge technologies, he explores the ethical ramifications of blending the real with the virtual, sparking meaningful conversations about the future of human experience in an increasingly interconnected world.