The release of the UN VR app is a striking development. But let me tell you a story to put it in context.
A decade ago I was sitting at Columbia's School of International and Public Affairs (SIPA) heavily engaged in discussions about Human Rights and international development. I went to SIPA for its Human Rights Program. In my application essay, I had pitched the creation of a game-like social network where people could both connect to powerful ideas and disconnect from their often harsh realities. I envisioned people having the opportunity to experience freedom, human rights, education in peace and more. Empowered to take the stand for themselves.
But when I entered SIPA in fall 2004, I found only 3 of us that shared an interest in leveraging the power of the web and emerging tech in international development. It was not even enough to form a student club. For students and faculty, technology was an odd pairing with Human Rights. They focused on physical needs and the lack of resources in these communities, and strategized how to deliver more aid. For me, using technology was ultimately about personal empowerment just as I have done throughout my life. Boldly, I had put it on my first ever Columbia Business card, puzzling peers, professors and future employers alike.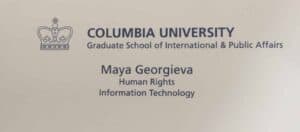 I was perceived as a geeky girl, an outlier, showing up with my first shiny Apple iPod and a Canon digital pen that awkwardly produced notes for me. But in truth, I was far from being geeky having just come from a Liberal Arts college with courses spanning everything from History and Political Science to Communication Arts. It was the crowd in international development that had little interest in using technology.
Fast forward twelve years and things have changed dramatically. SIPA now offers courses on leveraging emerging technology and media advocacy. And this week the United Nations launched their UN VR App to give people the opportunity to share their stories.  Now, any of us can travel to remote locations to meet people and experience their stories in a deeply personal way. In 360 video, we stand with them in their homes and they look directly into our eyes.

In an interview, Gabo Arora, United Nations creative director and UNVR Lab founder said:
People want to actually know who it is that they'll actually be helping, what is their story and how they can have an actual relationship with them, ….. I think that's where VR has been really terrific, because it bridges the gap that I think otherwise numbers and statistics make just guilt-tripping. This is the first time they can actually feel like they can actually go into that person's space. They can sit with them, they can understand.
The UN VR App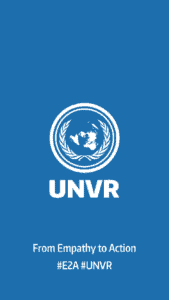 T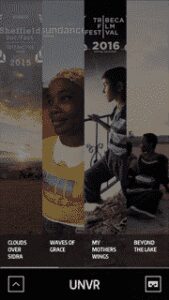 he UN VR app was announced at the Toronto International Film Festival in September. The app works with Google cardboard and can be used with a Smartphone for a 360 degree view.  Here is the description of the app:
UNVR uses the power of immersive storytelling to create positive social change. We shed light on the lives of everyday people struggling to survive today's gravest humanitarian crises. Because we believe that immersive storytelling leads to empathy – and empathy leads to action
The initial purpose of the UN VR app is to show decision makers what it feels to be in the middle of the crisis. To give policymaker an opportunity to experience a day in the life of people living in conflict zones, to enable them to see different perspectives that can lead to lasting peace building efforts.
The notion of VR being an "empathy machine" has provoked a long discussion among journalists and filmmakers on ethics. The experiences in VR can provide visceral and sometimes overwhelming emotions. Some have called for the creation of an empathy rating similar to the ratings we have for movies. We may see something emerge in the next few years as more content becomes available for VR. For projects like UNVR most important questions remain. Will being exposed to these experiences help people relate to the stories of others? Will it mobilize them to help and even change their behavior?
A Call for Action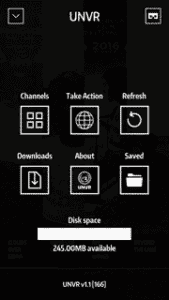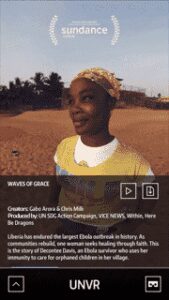 Previously the UN VR films, which have been a collaboration with Chris Milk, were available through the Within app. What differentiates the UN VR app is that there is a call for action option linked to each story as a way to drive support for humanitarian causes. The link takes you to a project site where you can take action. You can donate funds or time, help refugees get jobs, housing, or provide other assistance.
Everyone who has watched Clouds Over Sidra or Waves of Change has experienced the emotional urge to connect and do something. With the new UN VR app, viewers can even host viewing events to spread awareness. It's a great way to educate and mobilize people to help for a cause. The VR app can hopefully bring a wider awareness on humanitarian issues among a younger generation. This can not only lead to driving a higher level response to humanitarian crisis but also give students new perspectives to appreciate and get involved in their own communities.
At the UN, Gabo Arora overcame initial skepticism to set up a lab for creating VR films and experiences. As he notes in an interview at the Tribeca Film Festival last spring,
At the UN, a lot isn't seen as cutting-edge or on the forefront with technology or storytelling, and I was always pushing for that to change. Especially with younger audiences—they have a bullshit detector for what isn't authentic. Virtual reality lends itself to authenticity because it's a lot harder not to be real in that medium. You're so exposed and things are out of your control. You can really build empathy on these tough issues. [My Mother's Wing] is pushing the hypothesis to the extreme.
People, New Medium and Storytelling in a Global Humanitarian Crisis
The representation of people in distress in photos and documentaries  has long been a debate in the international community, especially when it comes to raising funds. Today, whether it is children or adults international organizations make a very conscious decision on what images and films are released to the public. For most, it is important to respect the dignity of people. At the same time, growing number of TV networks and channels use far more graphic footage in the evening news. And smartphones have turned people on the street into photojournalists. They take graphic images and videos which spread across the globe in seconds on social media.
Pioneer filmmakers have been asking what kind of ethics should be used in telling stories through virtual reality. In an interview at the Tribeca Film Festival last spring, Gabo Arora shared some of the challenges of filming My Mother's Wing, which was shot in Palestine in partnership with the United Nations. Melinda Gills writes:
Arora found himself in some "horribly awkward situations" while asking the mother to reenact past events. At one point, he requested that she mourn her children at their graves in front of his camera. Some bystanders angrily scolded him, saying, "Her children are martyrs," and, "She's not a puppet." "It makes you question your role as an outsider," says Arora. "Thank God I'm from New York, and I'm a hustler and will get things done. I'm from the school of Errol Morris and Werner Herzog. I think people who understand film know that none of this is possible without crafting."
Sometimes, shooting virtual reality can be as simple as setting up a camera and getting you and your production crew out of the way. But other times, you find yourself having to craft the experience, to ask the participants to share their stories.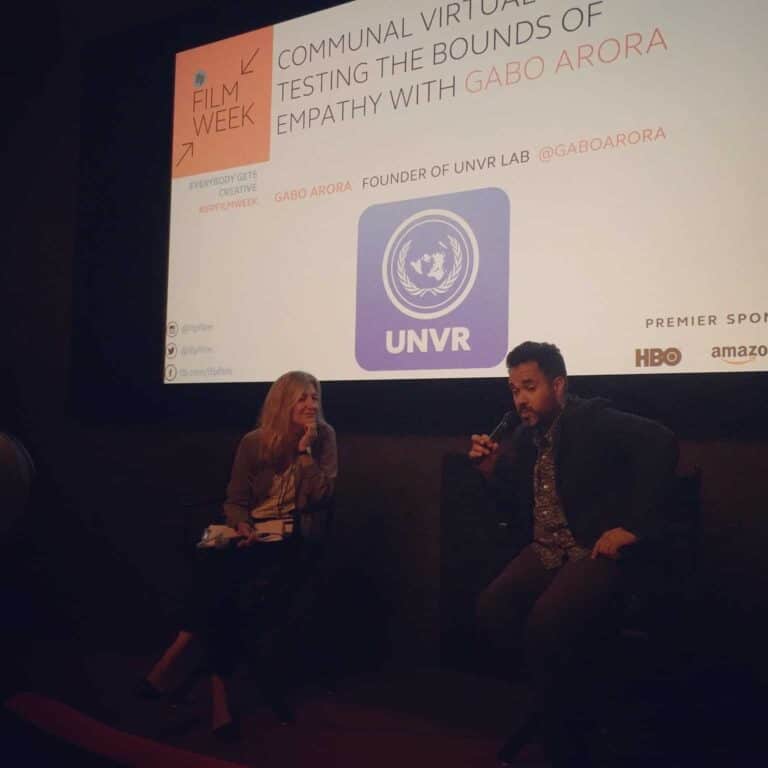 Democratization of Experiences
Today, the UN virtual reality app lets us bear witness to stories that otherwise would be turned into faceless numbers or snippets on the nightly news. Often the stream of events shocks us but provide little way for engagement. At the UN, Gabo Arora is already thinking of empowering communities to create and share their own stories. Launching a new partnership with Samsung and Oculus, the UN plans to distribute 360-degree camera gear to more than 100 countries so filmmakers can tell their own stories. Being able to create and share your story in VR is empowering.
As immersive media continue to develop, in the not too distant future, social VR will give people across the world ways to make these experiences social and interactive. With Social VR, instead of just walking the streets and passively listening to a story, people will be able to converse with each other. Think about the potential for a younger generation to meet peers around the world. This could extend the work already done by many organizations to encourage a global mindset in our students.

The UN and the international community is making important steps in the ways we not only tell global stories but the way we experience them. As a technology, VR can put the focus on people but it alone does not solve conflicts or bring a crisis to an end. International development will continue to need funds to lead humanitarian efforts across the world. But instead of bureaucrats in suits retelling stories, VR can help us meet people in the actual context of their lives. It remains to be seen if the exposure to VR stories and connecting people virtually can grow empathy and true understanding of others.
I left SIPA a decade ago but often think of the students there today. I hope that Gabo Arora gets to visit and talk about the UN VR app to students this fall. It is important that along with security, finance, human rights, and public health, students engage in a discussion on cutting edge digital tools that are playing a greater role in all of our lives and equip us with new ways to tackle and solve world problems.
https://www.youtube.com/watch?v=rYnoIcYIB0k
Maya Georgieva is an EdTech and XR strategist, futurist and speaker with more than 15 years of experience in higher education and global education policy. Her most recent work focuses on innovation, VR/AR and Immersive storytelling, design and digital strategy. Maya actively writes and speaks on the topics of innovation, immersive storytelling and the future of education and consults organizations and startups in this space.