Chances are, if you have used any kind of VR headset (even Google Cardboard), you've tried a VR roller coaster. And chances are, it was okay but you weren't blown away. Samsung definitely raised the bar at CES 2016 with a VR roller coaster ride using moveable, vibrating chairs. But now comes a VR roller coaster space ride from Alton Towers called Galactica. Galactica is unique in that it includes 2,770 feet of real track. Not only are you immersed in a virtual reality environment, you'll be speeding along in the real world. Even upside down.
The Galactica VR Roller Coaster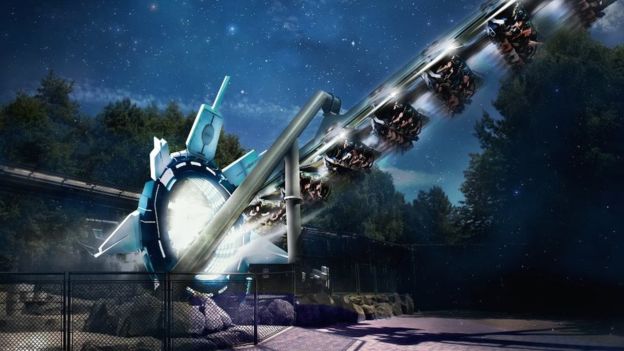 We did say space ride, right?
Galactica not only straps you into an immersive VR experience, it will subject you to forces of up to 3.5Gs as you zoom past stars and galaxies. In case you're wondering, that's more than the astronauts deal with on liftoff. You'll be laying down during the ride as sitting up may be too much. The twists and turns of the track will correlate to what you see through the VR headset.
The ride is under construction by Alton Towers, an adventure park based in Staffordshire, UK. After years of planning – and the recent advances in VR – Galactica will open this April. It helps that they are repurposing an already built roller coaster, The Air.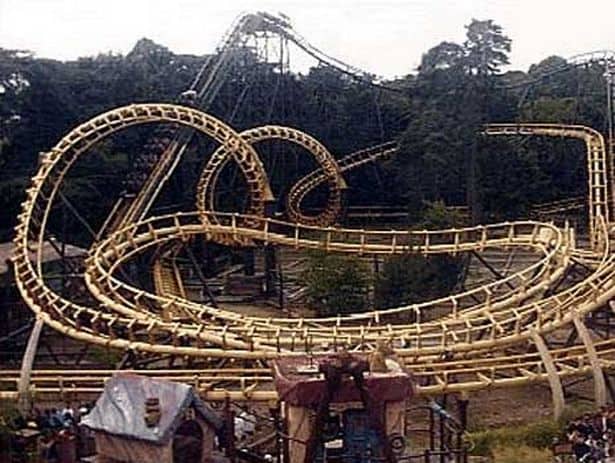 Theme park rides and VR
Two thoughts. First, people may not exactly line up for the reborn Air – even with a virtual reality enhancement. One of Alton Towers roller coasters crashed last summer, seriously injuring sixteen people. And The Air ran into problems of it own last year when it left riders hanging upside down for 20 minutes. That may be the one time when a VR headset is really essential (break glass, wear VR headset until emergency rescue arrives).
Second, virtual reality experiences have an intensely physical dynamic. However, so do roller coasters. Combine the two together, and your vision of the experience may range from utterly captivating to people throwing up during the ride. For anyone worried about motion sickness in VR, a roller coast adds a whole new twist – literally. You can be sure other theme parks will be closely watching riders' reports.
Can VR be just an add-on?
If virtual reality is an innovative transformation of traditional media, we may need equally innovative rides to go with it. You may not want to "bolt on" VR to an existing theme park ride any more than you would just add VR to traditional cinema. Or add it to a traditional classroom without rethinking the structure of the learning environment. Roller coasters are a simple test case. Cinema and education will be much more complex VR integrations.
There's a short video from Alton Towers introducing the ride, but it's largely images of space and rockets – you won't get a good sense of what a VR roller coaster ride is like. But I'm sure we'll hear come this summer.
Emory Craig is a writer, speaker, and consultant specializing in virtual reality (VR) and artificial intelligence (AI) with a rich background in art, new media, and higher education. A sought-after speaker at international conferences, he shares his unique insights on innovation and collaborates with universities, nonprofits, businesses, and international organizations to develop transformative initiatives in XR, AI, and digital ethics. Passionate about harnessing the potential of cutting-edge technologies, he explores the ethical ramifications of blending the real with the virtual, sparking meaningful conversations about the future of human experience in an increasingly interconnected world.