SenseGlove's haptic gloves claim to make "the digital feel real," and while we haven't tried them yet, they're a step closer to making haptic feedback part of our VR experiences. Coming out of the virtual CES 2021 conference this week, their new Nova model will find a ready home in workforce training and research labs – which will be about the only ones who can swallow the $5,000 price tag.
Here's their introduction to Nova.
We've had a chance to try their original developer's kit, which was very effective in generating haptic feedback. However, they always made you feel uncomfortable with the design of the units. Even in a VR experience, there was this nagging sense that you might get the device caught in something in the real world.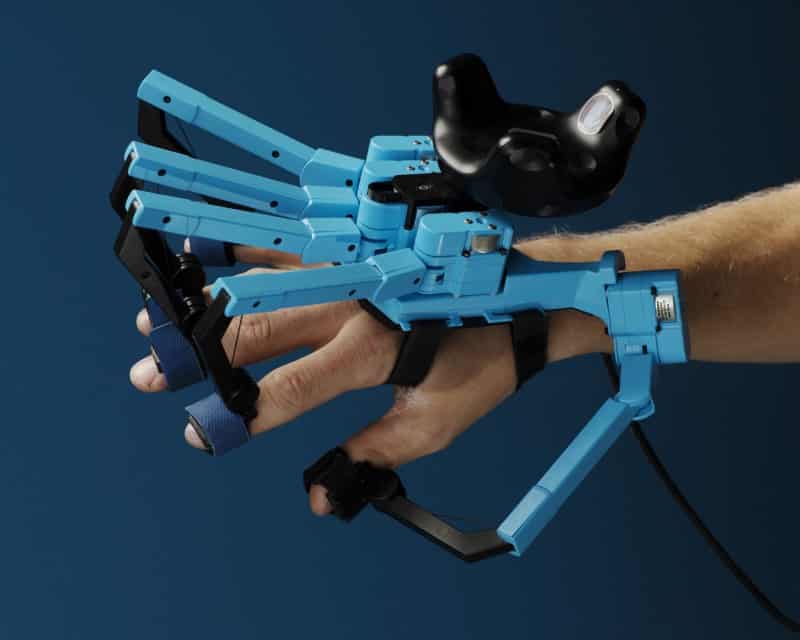 SenseGlove's Haptic Gloves Nova Model
The new Nova model is still far from the haptic gloves we'd like to see, but a huge improvement. You can put them on in less than five seconds, and the specs are good:
Force feedback:
4 proprietary passive force feedback modules delivering a maximum force of 20N.
Haptic feedback:
2 LRA haptic motors of max 1.8G peak located in the fingertip of the thumb and index finger.
1 VCA haptic actuator with a sensitivity range of 45-250Hz, for impact simulation of 4.3G located in the palm hub of the SenseGlove.
Motion Capturing
9-axis absolute orientation sensor in the wrist.
5 Dof Sensor-based finger tracking
Optional: fusion with proprietary vision algorithms in the SenseGlove SDK to enhance the accuracy of the finger tracking within the field of view of the HMD.
According to Gijs den Butter, CEO of SenseGlove,
Unlike research applications, VR training projects are all about quick implementation. We created SenseGlove Nova — a new glove using stretchable, easy-to-put-on material — specifically for VR training, based on direct customer feedback. The ability to experience digital worlds through intuitive real-world behaviors coupled with a low $5,000 USD price make the SenseGlove Nova the most accessible device for the future of work and a new sense in VR training.
The haptic gloves model themselves on the human tendon muscle system.
By applying resistance through its magnetic friction brakes, SenseGlove emulates the feeling of object density and size. The SenseGlove Nova incorporates four brakes dedicated to each finger from thumb to ring finger. Each brake delivers up to 20N of force, which is equivalent to the weight of a 2 kg brick on each finger and makes for unparalleled force feedback. The different amounts of force, transferred to the fingertips through mechanical wires, allows SenseGlove to enhance training simulations with a wide variety of virtual objects, from robust engines to fragile light bulbs.
The equivalent of a 2kg brick on each finger is remarkable and would transform the sense of immersion in our VR experiences. The range of feedback will make the price worthwhile for industrial applications.
When we look back on the development of haptic gloves, you see how far we've come from the Haptx VR Gloves. SenseGlove's haptic gloves are much closer to the Plexus VR Gloves, announced in 2018, but still appear not to be available.
The Nova model of SenseGlove's haptic gloves is now available for pre-order at $5,000, with shipment promised for March 2021. If your organization can spring for 10 or more sets of gloves, there's a substantial discount that gets them down to $3,500 per set.
We're still waiting for haptic gloves no larger than a pair of winter gloves and a price of under $200. Obviously, we'll be waiting a while longer. But it's clear that our haptic feedback Ready Player One future is not that far over the horizon.
Emory Craig is a writer, speaker, and VR consultant with extensive experience in art, new media, and higher education. He speaks at global conferences on innovation, education, and ethical technology in the future. He has published widely and worked with the US Agency for International Development, the United Nations, and the Organization for Economic Co-operation and Development (OECD). Living at the intersection of learning, games, and immersive storytelling, he is fascinated by AI-based avatars, digital twins, and the ethical implications of blurring the boundaries between the real and the virtual.