VR hygiene will be a major issue once the Coronavirus begins to recede. The global pandemic will eventually run its course, and education and arts organizations, entertainment venues, and other gathering places will reopen. None of us have an exact date, and a second wave of COVID-19 would throw every plan into disarray. But VR labs will return, and we'll have to plan for new ways to share immersive experiences in a world that will still require social distancing measures.
VR Hygiene Recommendations from Hologate
In some ways, the challenges faced by VR labs in K-12 and higher education are nothing compared to location-based VR businesses. The Void, Dreamscape Immersive, Hologate, and others run on a model of multiuser VR in tight quarters – ideal for a virus that thrives on close human contact. Of these, Hologate runs the largest network of VR sites, reaching their five millionth customer late last year. They recently published a comprehensive guide to their VR hygiene and cleaning standards. With over 300 VR arcades and locations around the globe, their business will live or die on public confidence in their operations.
In addition to their recommendations, they draw upon the work of the IAAPA, The Global Association for the Attractions Industry. The organization published a 36-page Reopening Guidance document on May 1, which covers nearly every type of ride, attraction, or exhibit. While its scope goes far beyond the challenges of using virtual reality in education and public settings, it's also worth reading.
Standard Cleaning and Ultraviolet C Light
Like other location-based VR operations, Hologate has to consider far more than just the use of VR headsets. Their equipment includes haptic vests, along with straps and handholds for rides. They're further challenged by a distributed ownership network, with on-site employees not being directly under their supervision.
Here's their chart for their Standard Method of cleaning: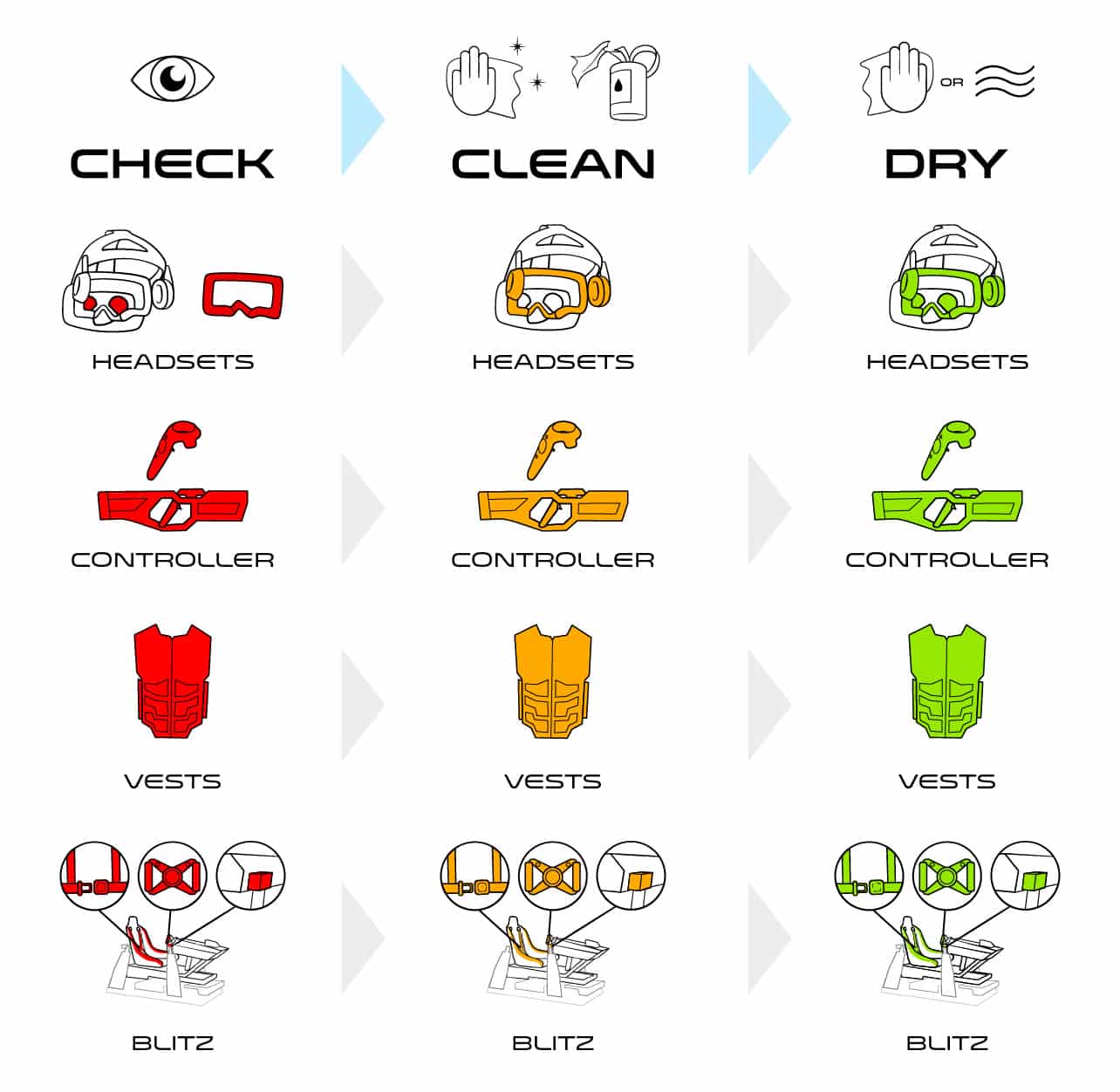 As an additional VR hygiene step, Hologate is recommending medical-grade Ultraviolet C light sanitization from Cleanbox, the California company that offers an innovative way to sanitize VR headsets.
Hologate's Specific Recommendations
As Hologate reminds us, the world has changed and location-based VR will no longer operate as it did before COVID-19. Perception is everything, and visible public actions will be the key to restoring customer confidence.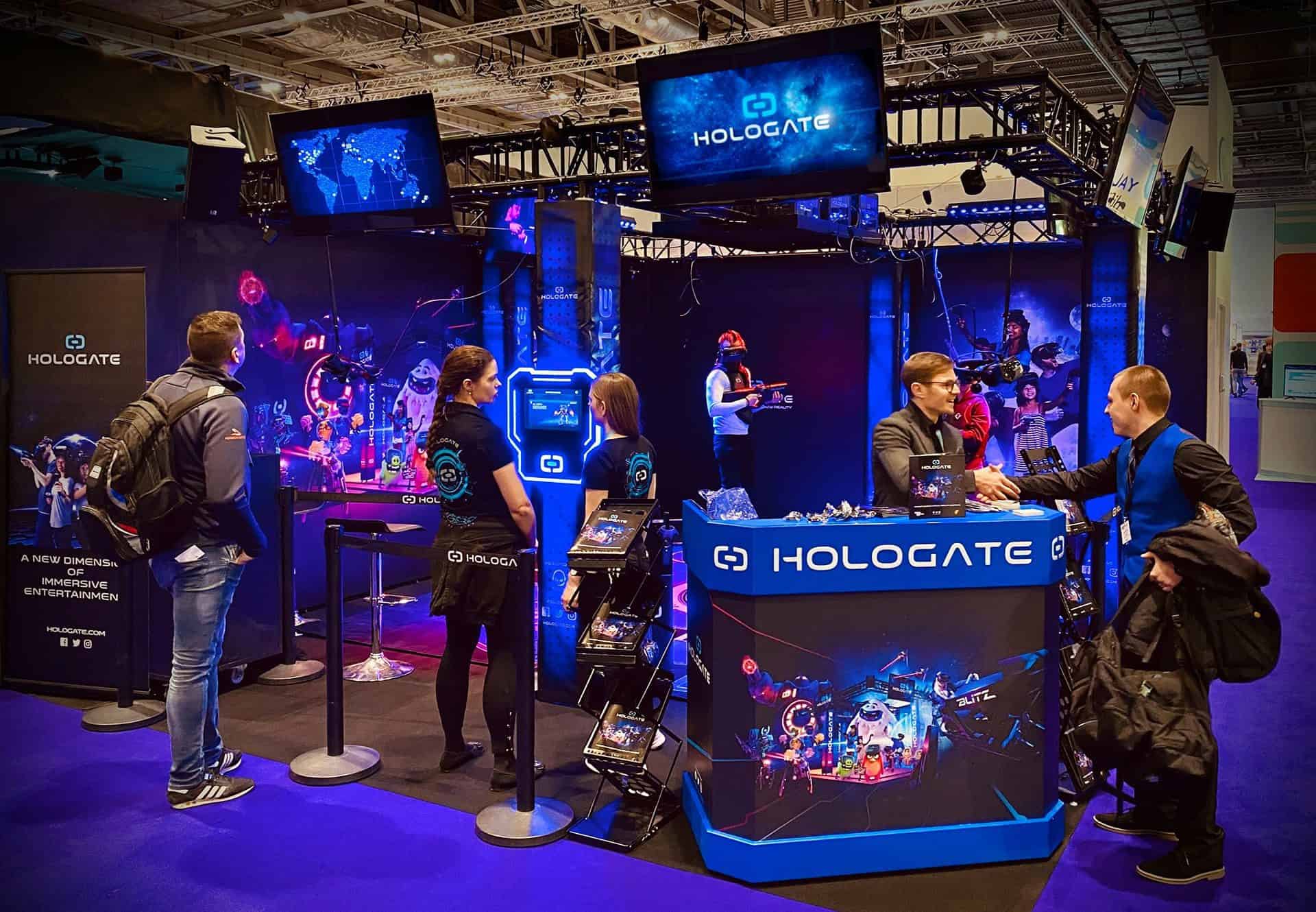 Here's the summary of their guidelines for VR hygiene:
We suggest two very effective cleaning methods for virtual reality headsets and accessories. Our Standard method (visual check, wet clean, dry wipe) and our Advanced method (UVC light system).
We have formed a partnership with Cleanbox, a leading manufacturer of premium, eco-friendly, UVC – Ultraviolet C, medical-grade cleaning equipment for the decontamination of virtual reality headsets.
Having an ample supply of sanitizing wipes should be on your checklist and a priority for your location.
Having a supply of disposal VR mask covers is recommended for players that might be hesitant to put a headset directly on their face. Especially for players wearing heavy makeup. This option should not replace the Standard or Advanced cleaning methods.
And lastly, you will need to make sure that your staff understands that constantly cleaning and disinfecting is now one of their top priorities, and it will be everyone's responsibility. Staff should be highly visible when disinfecting, and staff should be assigned to a daily cleaning schedule, throughout every hour on the hour, place customer anti-bacterial dispenser and/or disinfectant wipe stations throughout your facility so that they are visible and conveniently accessed. Be sure to take photos and video of your team in action to post to social media channels.
Keep in mind to slow down and adjust your throughput expectations for your team and customers.
Whether or not schools and higher education opens in the fall remains an open question at this date. But students will eventually return to classrooms and campuses. And as they do, those of us working in the XR area need to be thinking through the challenges of VR hygiene and cleaning standards.
Hologate has been a leader in VR entertainment and is striving to do the same for VR hygiene. As they've shown this week, a good first step is to push the discussion into the public domain so that users know we have their health and safety as our top priority.
Emory Craig is a writer, speaker, and consultant specializing in virtual reality (VR) and artificial intelligence (AI) with a rich background in art, new media, and higher education. A sought-after speaker at international conferences, he shares his unique insights on innovation and collaborates with universities, nonprofits, businesses, and international organizations to develop transformative initiatives in XR, AI, and digital ethics. Passionate about harnessing the potential of cutting-edge technologies, he explores the ethical ramifications of blending the real with the virtual, sparking meaningful conversations about the future of human experience in an increasingly interconnected world.