The official unveiling of the IMAX VR arcade – or VR Center – could not have come at a better time. Last week's announcement that 200 Oculus pop-up stores were closing at Best Buy caught the VR community by surprise. With less than stellar sales of high-end VR headsets, the question becomes how do you get virtual reality into the hands of the public?
Enter the IMAX VR Arcade
One possible solution is the VR arcade, a space where – like the Internet cafes of a earlier era – you rent the equipment. Both IMAX and The VOID are taking this approach, and others are in development. The VOID is already open in Utah with limited ticket sales and in New York City with the Ghostbusters: Dimension experience at Madame Tussaud's Wax Museum in Times Square. I've done the latter and it's a remarkable 15 minute immersive experience (more on that later).
The press got an exclusive look at the new IMAX VR arcade earlier this week in Los Angeles. With major investments in over 1,100 screens and theaters, the company has a lot to lose as virtual reality increases in popularity. Some of their centers will be standalone facilities while others will be tied to theaters where they have already installed IMAX screens. The idea is that you'll go see a movie and then spend some time playing around with virtual reality.
Here's the short video of LA facility:
Essentially, you'll buy a ticket just as you would for a movie. The cost runs about a dollar a minute and the VR experiences last anywhere from five to fifteen minutes. There's a menu of the available experiences ranging from beginner to VR junkie. More experiences are coming through a partnership with content creators Ubisoft and Skydance.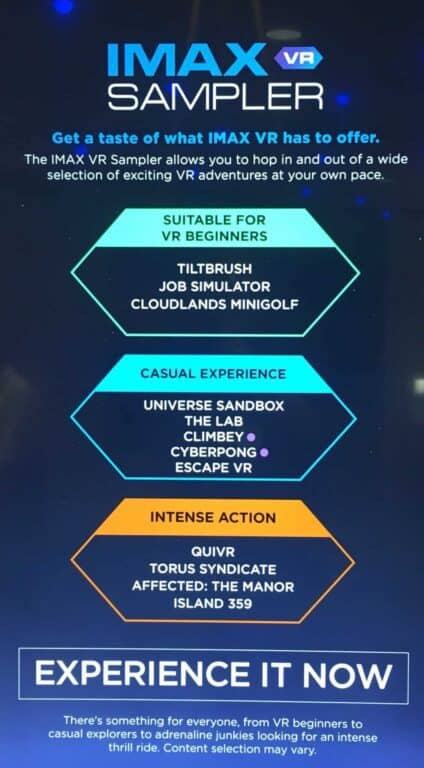 We see little chance of this replacing the classic movie experience, but it's definitely in the future for theme parks. The only challenge for the latter is the limited capacity – which is why their initial VR experiments are focusing on roller coasters. You get the virtual experience, but they won't have to push you out the exit.
The IMAX VR experience
According to UpLoadVR,
IMAX is making clear it is providing a premium experience partnering with the HTC Vive for a series of room-scale pods complemented by Subpac haptic vests and a D-Box motion chair. Powerful PCs are stored out of sight overhead with wires running down on "balancers" meant to manage the wires and keep them out of the way while moving freely around the room.
It remains to be seen if the VR arcade approach catches on in the United States where the tech cafe culture has all but disappeared. In China, South Korea and other countries, the culture is alive and well. VR arcades make sense in areas where homes and apartments lack open space.
But even in the U.S., few would be able to afford the setup at home that the IMAX VR Centers can provide. It's not just the space: the $1,500 computer, the haptic vest, vibrating chair and new content experiences are all selling points.
Not surprisingly, IMAX is looking at the global market:
IMAX has signed agreements to open an additional five IMAX VR centres in the coming months, including a pilot Centre in the UK with ODEON & UCI Cinema. The Company is also currently in conversations to open additional pilot centres in Japan, the Middle East and Western Europe. These pilot locations will test several factors including the overall customer experience, pricing models and the types of content featured. If successful, the intent is to roll out the concept globally to select multiplexes as well as to commercial locations such as shopping centers and tourist destinations.
And IMAX has some interesting related developments underway. They're working with Google to develop a "cinema-grade VR camera" that would capture 3D content in 360°. While we still think mobile VR will continue to lead the way, there's a lot of promise in the high-end VR arcade as a new form of entertainment.
That is, until we all have room-scale VR in our eyeglasses.
Emory Craig is a writer, speaker, and consultant specializing in virtual reality (VR) and artificial intelligence (AI) with a rich background in art, new media, and higher education. A sought-after speaker at international conferences, he shares his unique insights on innovation and collaborates with universities, nonprofits, businesses, and international organizations to develop transformative initiatives in XR, AI, and digital ethics. Passionate about harnessing the potential of cutting-edge technologies, he explores the ethical ramifications of blending the real with the virtual, sparking meaningful conversations about the future of human experience in an increasingly interconnected world.