If you thought we had finally settled down from the last round of negative news about Magic Leap, a leaked photo released Saturday only adds fuel to the fire. The headlines said it all:
Magic Leap CEO defends his AR company on Twitter after photo leak" – Mashable

This Is Reportedly the Magic Leap Prototype and It Has a Long Way to Go" – Gizmodo

Magic Leap's "headset" revealed for the first time, and it ain't pretty." – MS PowerUser
You could pass this off as the tech press hungry for a story – but don't. For years, Magic Leap has promised to shrink AR down to a true wearable, not a HoloLens style device with a visor. The latter is a well-designed product, but its current form factor will mean it stays in labs, medical education and some work environments. You're not wearing it around town.
Magic Leap seemed to promise more. But if the leaked photo is to be believed in our age of fake news, Magic Leap is light years behind Microsoft's HoloLens. Indeed, the folks at Redmond are already teasing a second-gen version of HoloLens. Business Insider first published the leaked image: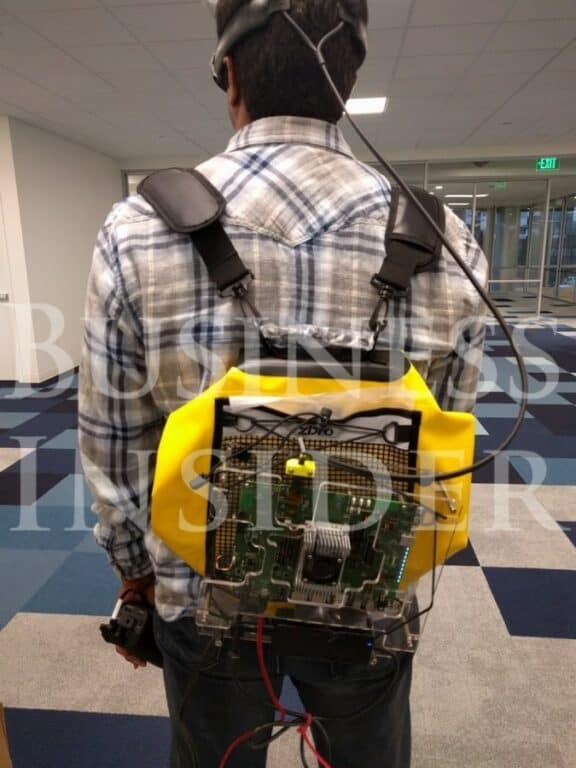 We know what you're thinking. It looks like a cool student project born of a hackathon. He just needs some VC money to shrink the device down. Problem is, Magic Leap has had the money – to the tune of $1.4 billion.
Magic Leap News – can it get worse?
As you might image, CEO Rony Abovitz rushed to the company's defense, tweeting that the image portrayed a testing device:
The photo you are all excited about is NOT what you think it is," he wrote. "The photo shows an @magicleap R&D test rig where we collect room/space data for our machine vision/machine learning work.
Fair enough. Most tech companies start out with something way to large – especially in the Wearables area. And R&D devices don't always look anything like the consumer models. We're willing to cut you all the slack you need. But at some point we need a surprise that's not just more negative news.
A counter example? When Snap was working on Spectacles, more than once the press captured some blurry photos of CEO Evan Spiegel wearing what appeared to be the company's rumored new AR glasses. Even a company as secretive as Apple has had a iPhone prototype end up in public (it's a good story if you haven't read it – secret tech prototypes and beer don't go together). It just seems that the Magic Leap news is always negative – the videos doctored, the prototypes too large.
Smoke and Mirrors? The Board may soon know
Time to pull a rabbit out of the hat? As we said at the turn of the year, we're still hoping to see a working demo in 2017. According to Business Insider, there's supposed to be a Board meeting next week.
Ahead of a board meeting planned for next week, Magic Leap's "whole engineering group is scrambling" to produce a working prototype of Magic Leap's glasses — a prototype the company has been calling the "PEQ" — a person familiar with Magic Leap's development process told Business Insider.

The prototype will be presented to board members, and sources say the meeting is being viewed as a milestone in the product's development — a chance to prove that Magic Leap can shrink its technology to fit inside the smaller form factor that will be released to the public. They say the demo is currently in "decent" shape.
So the test may be – will the backers stand behind it? Or will they throw in the towel this year? We'll know a lot more by December. And the answers are not just about whether a massively funded startup failed to produce a innovative device. It's much more about the shape and future of augmented reality.
Emory Craig is a writer, speaker, and consultant specializing in virtual reality (VR) and artificial intelligence (AI) with a rich background in art, new media, and higher education. A sought-after speaker at international conferences, he shares his unique insights on innovation and collaborates with universities, nonprofits, businesses, and international organizations to develop transformative initiatives in XR, AI, and digital ethics. Passionate about harnessing the potential of cutting-edge technologies, he explores the ethical ramifications of blending the real with the virtual, sparking meaningful conversations about the future of human experience in an increasingly interconnected world.