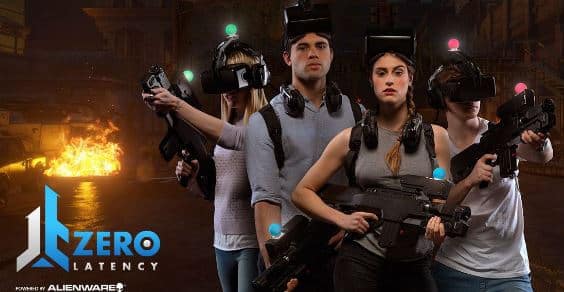 A Virtual Reality gaming center has opened in Melbourne, Australia. According to TNW:
A new 'free-roam' gaming center in Melbourne, Australia called Zero Latency has opened to the public, designed to offer a genuinely immersive virtual reality experience in a large space. Its players testify that it's like literally being in a video game. The center — tested in advance of its public opening by CNET — inhabits a 4,300-square-foot warehouse containing 129 PlayStation Eye cameras. The game consists of a one-hour experience for four or six players. Online sales began in early August, and CNET reports that within a week, hundreds had signed up for $88 (Australian) or $65 (US) per person.
Here's how the center describes the experience:
Imagine a game that doesn't feel like a game. Where your body is the controller. And your mind believes it's real. The digital and real world meshed seamlessly together, to transport you inside the virtual like never before. When you move, the game moves with you. Pure immersive mayhem with the freedom to get up and go.
More Virtual Reality centers to come
Zero Latency got its start through a crowdfunding campaign on Pozible in 2014. The Void will open shortly in Salt Lake City – and more VR entertainment centers are on the drawing boards.
$65 for an hour of gameplay?
Obviously, this needs to be a mind-blowing experience. Otherwise, these VR centers will disappear as quickly as the Internet cafes of the 90's.
They have one major advantage – you get to experience VR in a large 400 square meter warehouse space instead of sitting at your desk or tripping over the furniture in your living room. It's much more physical as you're not tethered to a computer (actually you still are, but you carry it in a backpack while you play).
On the other hand, you know someone will soon do the Netflix version of VR which would kill the business model. Stream it to your phone and do VR gameplay outdoors, anywhere. And as we know from what happened in the music business, convenience easily trumps quality.
Education Possibilities
But take out the profit motive and you could see these facilities being developed in schools and universities. There's huge potential here for developing innovative learning experiences, from traditional gameplay to the virtual experience virtual of cultural sites or moments in history.
If that happened, our classrooms would never be the same.
Emory Craig is a writer, speaker, and VR consultant with extensive experience in art, new media, and higher education. He speaks at global conferences on innovation, education, and ethical technology in the future. He has published widely and worked with the US Agency for International Development, the United Nations, and the Organization for Economic Co-operation and Development (OECD). Living at the intersection of learning, games, and immersive storytelling, he is fascinated by AI-based avatars, digital twins, and the ethical implications of blurring the boundaries between the real and the virtual.