We finally got the details on the new Vive Pro VR headset. You can preorder now for $800 with shipping on April 5th. The current Vive headset will get a price cut to $499, putting it closer to Oculus Rift. However, we expect HTC to eventually match the Oculus price at $400 by the end of the year.
If you already own a Vive, you're in luck as the Vive Pro VR headset will work with your current base stations and hand controllers. A new 4 unit base station system – SteamVR 2.0 – is on its way that will expand the size of your free-roaming space from a miserly 133 sq ft to 1,075 sq ft or 99.87 square meters (m²). Add in the wireless adapter – which now seems essential – and you're free to roam.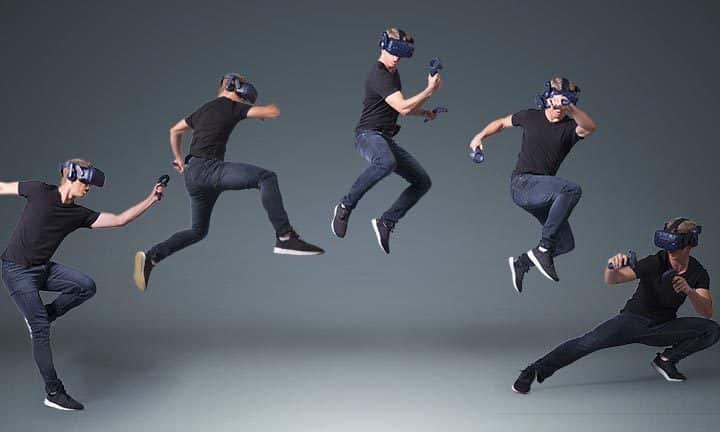 Living in New York City, that kind of space would put me in my neighbor's apartment down the street (if it wasn't for the decidedly non-virtual brick walls).  
That little matter of a PC for your VR
Of course, HTC Vive seems almost old school with the new self-contained VR headsets coming to market. Powered by external graphics cards, the experience will be better but it adds significantly to the cost.
The recommended PC specs remain the same but with the upgraded displays, we wouldn't recommend anything less than an AMD Radeon RX 480 or Nvidia GeForce GTX 1060 card. As for the CPU, the minimum recommended is an AMD FX-8350 or an Intel Core i5-4590 but we'd stick to a Core i7. As with the original model, the Vive Pro will need the usual DisplayPort 1.2, a USB 3.0 Type-C port, and Bluetooth.
[UPDATE 3/28/2018: We did say go with a GTX 1070 card, right? Turns out that HTC justed upped the recommended specs and now lists the 1060 as the minimum. From UpLoadVR: "HTC yesterday changed its original PC recommended specs . . . the Nvidia GeForce GTX 1060 graphics card originally listed has been switched around for the more powerful 1070." You'll also need a DisplayPort 1.2 instead of HDMI.]
Improvements in the HTC Vive Pro VR headset
Here's a description of the enhancements from VentureBeat,
The Vive Pro comes with dual organic light-emitting diode (OLED) displays, making for a crisper image resolution of 2880 by 1600 pixels. That's a 78 percent increase in resolution over the current Vive. In addition to upgraded visuals, it also has high-performance headphones with a built-in amplifier and noise cancellation. All of that adds to realism, and HTC believes that will make VR experiences and games more immersive.
It would be nice to have a wider FOV – we confess, we've been spoiled by the Pimax 200° FOV which makes everything else feel like a pair of binoculars. But the Vive's 78% increase in screen resolution is a welcome upgrade. Anything to lessen the screen-door effect.
There are few other important upgrades to note. The strap is redesigned to better balance the unit on your head and there is an adjustment knob if you wear glasses. The latter will be particularly important when the device serves multiple users in a public setting. Noise reducing earphones
We're not fans of the single head strap approach no matter how comfortable HTC claims it is. The Dell Visor, Lenovo Mirage and a number of other headsets now use a circular ring that fits over your head. Doing workshops, we've often found that the single strap interferes with women who have tied their hair back (wake up guys, 50% of the population has more hair than you do). The ring on your head approach which Microsoft debuted in their HoloLens is generally much more comfortable.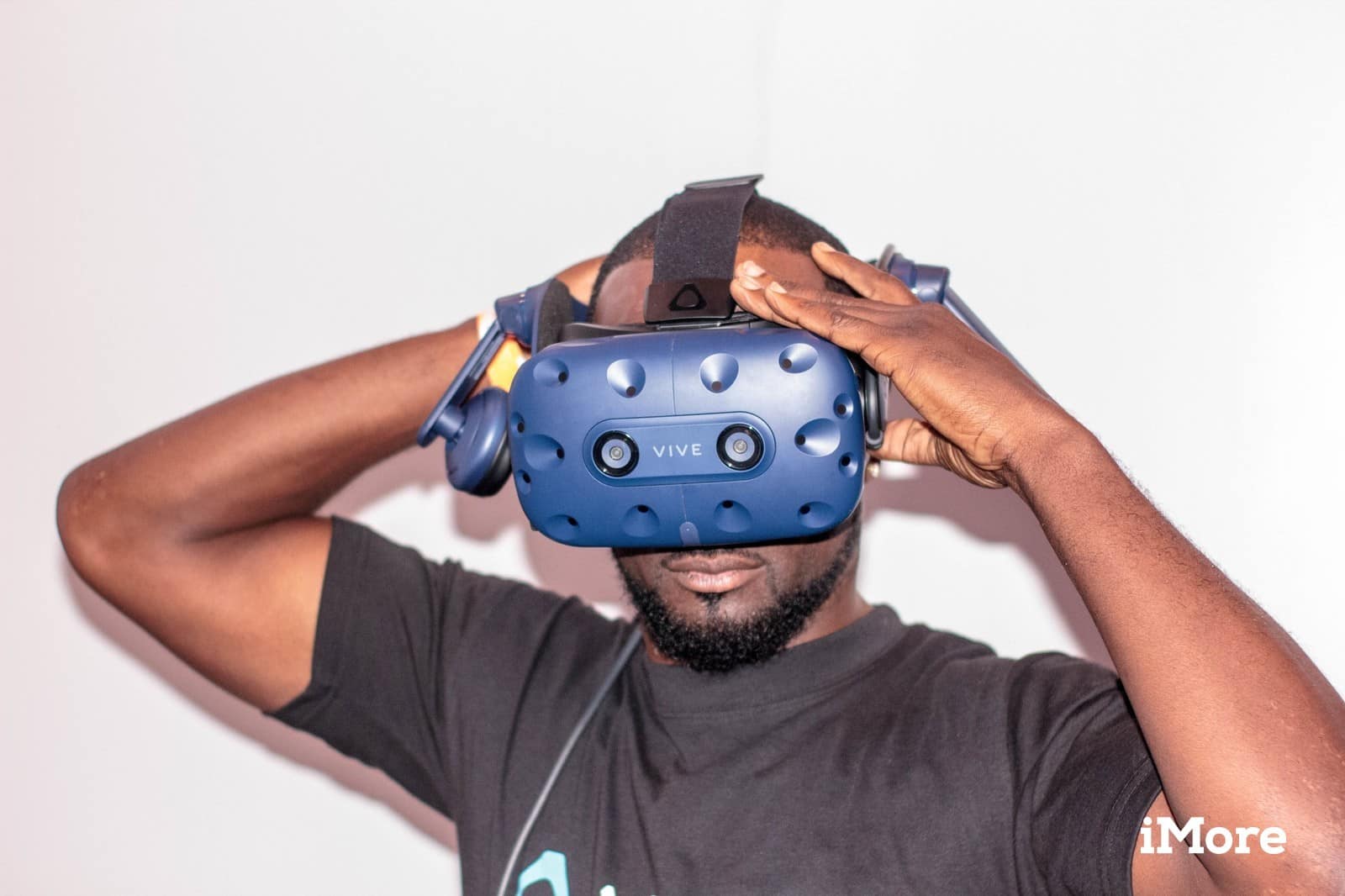 Is it worth upgrading?
You could say the HTC Vive Pro VR headset is version 1.5 instead of version 2. You'll pay more for this than the original setup which included the base stations. Wireless also comes at an extra cost. The complete package will probably cost a $1,000. That HTC throws in a free six months VivePort subscription is little incentive given the lack of AAA Games and high-end experiences that can live up to the screen resolution.
On the other, the new version is taking us out of the realm of tech-demo hardware. It's a mature device and if you have the original base stations and controller, the new Vive Pro will keep you at the forefront of VR developments.
Well, at least through the end of this year.
The real question is whether you want to go with one of the new standalone headsets. The Lenovo Mirage is coming and Samsung's HMD Odyssey was released in November for a far more palatable $400. We're not counting on Oculus Go (coming in May) being much in the way of a competitor, but the more full-featured Santa Cruz will be. However, we're not expecting to see Santa Cruz until next spring.
We've come a long way from the days Google Cardboard and Palmer Luckey's duct-taped unit, waiting for the first Vive and Rift units to be released. It's nice to finally have some choices.
We'll have an update for you once our Vive Pro arrives.
Emory Craig is a writer, speaker, and consultant specializing in virtual reality (VR) and artificial intelligence (AI) with a rich background in art, new media, and higher education. A sought-after speaker at international conferences, he shares his unique insights on innovation and collaborates with universities, nonprofits, businesses, and international organizations to develop transformative initiatives in XR, AI, and digital ethics. Passionate about harnessing the potential of cutting-edge technologies, he explores the ethical ramifications of blending the real with the virtual, sparking meaningful conversations about the future of human experience in an increasingly interconnected world.