The NY Times app offers a fascinating experience of David Bowie's costumes in AR. For The Times, it's a step into a new form of storytelling, bringing parts of the "David Bowie is Someone Else" exhibit at the Brooklyn Museum into your home or office (the acclaimed show is closing out its five-year tour at the museum).
For those of us used to tripping over office furniture while wearing an HTC Vive (this is NYC, space is tight), we now find ourselves tripping over stuff to maneuver around the rock icon's costumes in AR.

If you don't have access to the augmented reality app on your phone, the New York Times article on the web is not a bad substitute. Some creative webpage design at least gives you a 3D experience of his incredible outfits. But do the AR experience on your phone if at all possible.
The Times experiments in VR and AR
The New York Times embraced the immersive technology revolution from its modern beginnings, sending out 1.3 million Google Cardboards in November 2015 with The Displaced, a story of three children whose lives have been disrupted by war. (Side note: the term "disrupt" can have a far more sinister meaning once you get outside the myopia of Silicon Valley). They've had a successful run with the Daily360 series (producing 435 videos in 424 days) proving that there was a place for short-form 360 videos in contemporary journalism.
With Apple's release of ARKit, The Times began experimenting with AR on iOS devices. Their first project on February 5th was an augmented reality experience that lets you get close to four athletes from the 2018 Winter Olympics. But as good as the AR experience was, it was limited to iOS devices.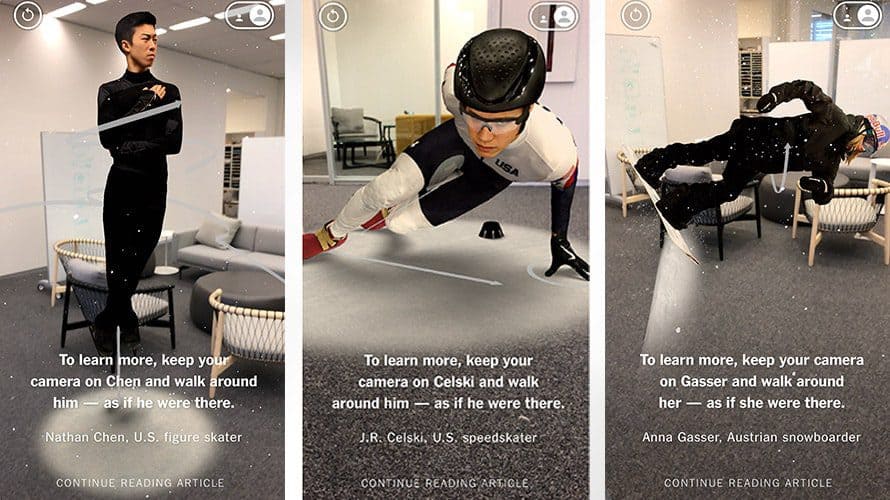 Now that Google has launched ARCore (Tango just couldn't get off the ground fast enough) The Times has expanded the app to the Android ecosystem. Power up the app and you find yourself maneuvering around life-size AR costumes born of Bowie's fascinating penchant for reinventing himself.
It's an innovative development that shows the ability of AR to be its own storytelling platform. There's nothing like seeing Bowie's "Tokyo Pop" outfit standing on your living room floor.
As The Times' director of immersive platform storytelling, Graham Roberts, told John Banazzo in The Observer,
. . . AR creates a bridge between the digital and physical worlds. As such, readers can now get a more visceral sense of scale and physicality by walking up to a person or object and examining it from different angles.
As Roberts observed,
We've gotten so used to visual journalism shrunk down to the small screen. It's nice to be maximizing it again.
Right now, the objects and characters are essentially static. But it won't be long they'll be talking and moving around in our space. A number of projects are working toward this, including the incredibly creative group behind Wolves in the Walls.
It makes you wonder how stories that were done in VR and 360 video would translate into an augmented reality platform. Would the young refugee girl in Clouds Over Sidra tell a more powerful story if she was sitting in a chair across from me? Or is it more compelling for me to stand next to her inside the Jordanian refugee camp? Others are asking the same questions and some – such as the International Committee of the Red Cross Enter The Room experience – are opting for augmented reality.
It's an amazing moment when we begin to see multiple avenues to creative storytelling with immersive technology. David Bowie was always impossible to ignore – the same goes for experiencing his costumes in AR.
Emory Craig is a writer, speaker, and consultant specializing in virtual reality (VR) and artificial intelligence (AI) with a rich background in art, new media, and higher education. A sought-after speaker at international conferences, he shares his unique insights on innovation and collaborates with universities, nonprofits, businesses, and international organizations to develop transformative initiatives in XR, AI, and digital ethics. Passionate about harnessing the potential of cutting-edge technologies, he explores the ethical ramifications of blending the real with the virtual, sparking meaningful conversations about the future of human experience in an increasingly interconnected world.