You can take AR VR market predictions for what they're worth. It's not exactly flailing away at a pinata, but your crystal ball is cloudy at best. The rapidly changing immersive tech landscape wouldn't have it any other way. Still, it's always worth reading IDC's most recent predictions, especially for what it says about mobile VR. If they're right, the days of smartphone-based mobile VR may be numbered. The market will be dominated by standalone headsets and high-end units.
We think they got this right, but they're also missing something critical in their analysis. More on that in a minute.
Here's the IDC data in a nutshell – after a weak 2017 for VR headsets, we're on track for a 52.5% compounded annual growth rate through 2022.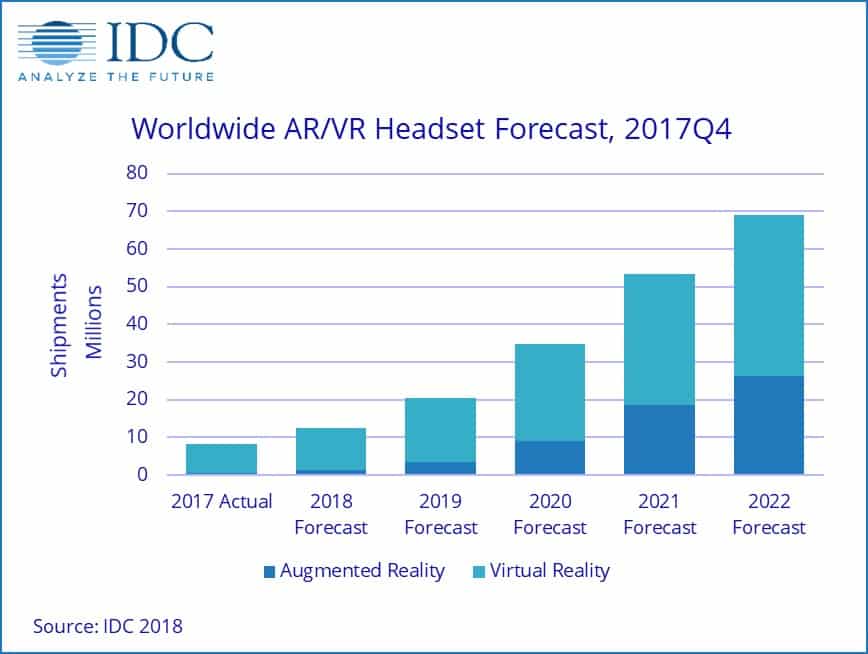 While they see augmented reality taking a significant share of the AR VR market, it isn't close to the 80% that others have predicted for 2022. Obviously, the AR side largely depends on what Apple does – the interest is there, but it's not clear when the technology matches their goal of producing AR eyeglasses. Magic Leap should (conditional tense intended) be out the door by the end of this year but the price will keep them from being a major factor in the augmented and mixed reality sector.
According to IDC, mobile VR headsets – what they refer to as "screenless" VR (a term we're not all that comfortable with) – will be replaced by standalone VR HMDs.
The worldwide AR/VR headset market retreated in 2017 primarily due to a decline in shipments of screenless VR viewers. Previous champions of this form factor stopped bundling these headsets with smartphones and consumers have shown little interest in purchasing such headsets separately. While the screenless VR category is waning, Lenovo's successful fourth quarter launch of the Star Wars: Jedi Challenges (Lenovo Mirage AR headset)—a screenless viewer for AR—showed the form factor may still have legs if paired with the right content. Other new product launches during the quarter included the first Windows Mixed Reality VR tethered headsets with entries from Acer, ASUS, Dell, Fujitsu, HP, Lenovo, and Samsung.
Breaking down the AR VR Market data
Breaking the data down into 2018 versus 2022, IDC comes up with the following: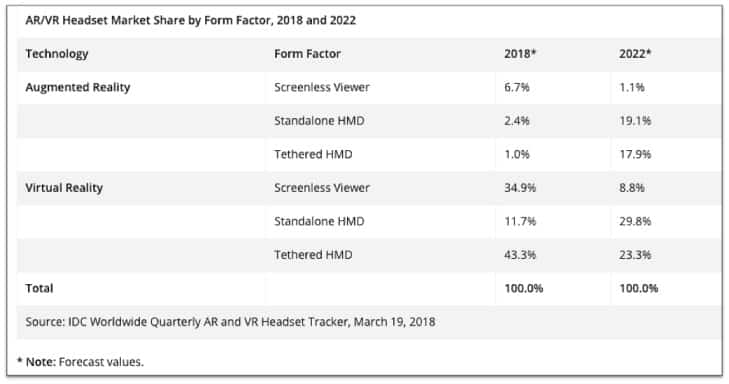 Screenless VR (Mobile VR) is predicted to plunge from its current 34% of the market to less than 10%. Tethered VR will decline by 50% but will continue to hold a significant share of the market (almost a third).
Despite the delays in getting Oculus Go out the door (May 2018 is the latest date), standalone VR is bound to take off. The question is whether or not Facebook can be successful with the low-end Oculus Go model for $199 or if people are willing to pay $400 for the Lenovo Mirage – or Oculus' own entry into this area with the full-featured Santa Cruz HMD this fall. Either way, it will make life a lot easier for schools and higher ed to roll out VR. Self-contained HMD's alleviate the smartphone compatibility issues and the sometimes ungodly setup challenges that high-end units like Rift and Vive can have.
But shouldn't VR be portable?
Short answer – yes.
We know AR will be portable – its huge potential lays in using it during your commute, at work, school, shopping – anywhere. But it's hard to imagine that VR will be limited to standalone headsets and tethered units – and confined to our offices, classrooms, or living rooms.
Few people (outside of students on a campus) are going to carry a Lenovo Mirage or Oculus Go with them. Our current mobile VR using Smartphones with Google Daydream or Gear VR is more portable but still not enough.
In the end, what IDC misses in their analysis are crossover HMDs that can do both AR and VR. People will want to have their virtual reality anywhere, anytime. In the end, AR, VR, MR will blend into a single visual spectrum and we expect to see that by 2022.
Okay, our crystal ball may be cloudy – but check back with us in five years. We'll happily own up to our failed predictions but we're sticking by this one for now.
Emory Craig is a writer, speaker, and consultant specializing in virtual reality (VR) and artificial intelligence (AI) with a rich background in art, new media, and higher education. A sought-after speaker at international conferences, he shares his unique insights on innovation and collaborates with universities, nonprofits, businesses, and international organizations to develop transformative initiatives in XR, AI, and digital ethics. Passionate about harnessing the potential of cutting-edge technologies, he explores the ethical ramifications of blending the real with the virtual, sparking meaningful conversations about the future of human experience in an increasingly interconnected world.