Circling back around to sports in VR – this time for the NCAA March Madness. Will Virtual Reality work for the basketball tournament? After last year's successful rollout at the Final Four, Intel and Turner Sports think so. At least it's got a better shot than using immersive tech for the Winter Olympics, which was underwhelming at best.
If we learned one thing at Pyeongchang, downhill skiing and VR are definitely not suited for each other. You should stick with the traditional flat screen and cameras that follow the skiers. Otherwise, you're just watching snow. You're better off viewing the Sierra Club and RYOT's Act in Paris (narrated by Jared Leto) which, if depressing, will at least give you a quick lesson on the Arctic and the impact of global warming.
What did work as a sports in VR event at the Winter Olympics was Curling. Not our favorite activity, but the court is smaller, the movement slower and you feel as if you're part of the experience.
There's a lesson here: VR / 360 video is not about viewing but experiencing something. If you're thinking about a viewer, you shouldn't be shooting it in virtual reality in the first place.
Sports in VR at March Madness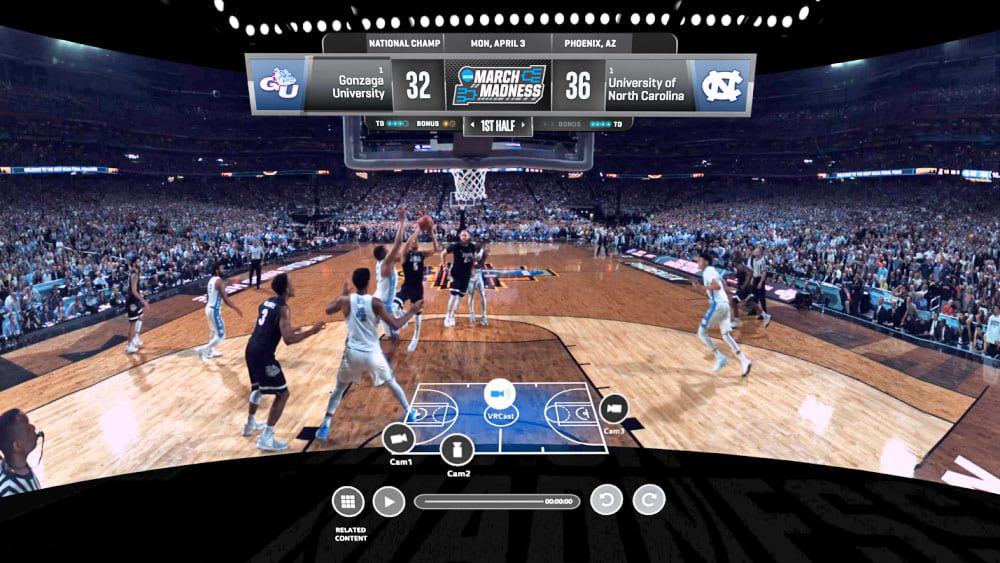 Back to March Madness in VR. Basketball courts are smaller and if fast-paced, the flow of activity is fairly predictable. To a degree, VR should work here especially when it can put you in one of those coveted courtside seats.
It still may not be the best immersive tech for the sport – Magic Leap and the NBA want to pull you in the game with mixed reality (MR). As a format, MR has much more flexibility: set a miniature court on your coffee table, turn it around for another angle, pull up a player to have them standing next to you in your living room (yes, Shaq, I'm looking at you, even if retired). This is where it gets fascinating, though the cost of Magic Leap's headset may put it up there with the price of that courtside seat.
But let's hold that last thought since we may some news from Magic Leap this week. Then again, maybe not after the disappearing video from last week. The saga continues.
The one sticking point with sports in VR March Madness event is that you'll have to pay for the immersive experience. A "VR Ticket" will cost you $2.99 for a single game. Or you can buy a "VR Tournament Pass" which gives you 21 games in VR for $19.99.
You'll need a Google Daydream or Samsung Gear VR headset to experience the event in Virtual Reality. A step-by-step guide and the details on the technology is available at the Intel site.
As with the Olympics and last year's NCAA VR arrangement, there's some serious infrastructure supporting the event. From last year's Final Four description,
Intel's 360 replay technology will capture game footage by equipping the University of Phoenix* stadium with 28 5K ultra-high definition cameras coupled with Intel-based servers capable of processing up to 1 terabyte of data per 15 to 30 second clip.
Here's the short promo video for the 2018 event.
https://youtu.be/f-Bj5zX88_Y
If you opt for the virtual courtside seat, let us know what you think.
Emory Craig is a writer, speaker, and consultant specializing in virtual reality (VR) and artificial intelligence (AI) with a rich background in art, new media, and higher education. A sought-after speaker at international conferences, he shares his unique insights on innovation and collaborates with universities, nonprofits, businesses, and international organizations to develop transformative initiatives in XR, AI, and digital ethics. Passionate about harnessing the potential of cutting-edge technologies, he explores the ethical ramifications of blending the real with the virtual, sparking meaningful conversations about the future of human experience in an increasingly interconnected world.