The Pico Neo 3 is the latest VR headset to arrive, with a release date of May 10th. We don't have many details outside of the following:
It appears to be a six degrees of freedom (6DoF) headset, with a tracking camera at each corner of the device.
It includes controllers that look very similar to the Oculus Touch controllers used with the Quest.
The likely release date is Q3 2021.
While this is tantalizing but fairly vague information, the development raises fascinating issues for the future of XR in our current geopolitical situation. Much as we'd like to think emerging technologies are immune from the challenges of political and cultural borders, it's much more complicated than you think.
Banned VR headsets? They're already here.
Pico Neo 3
Pico's Neo 3 builds on an excellent line of headsets.
Neo 2 and Neo 2 Eye are Pico's top-of-the-line 6DoF (six degrees of freedom) headsets. They feature 4K resolution, enterprise functionality, a counterbalanced design for extended wear, spatial stereo speakers and an all-PU facial interface for hygiene. (VR World Tech)
One of the features we like most about the Neo 2 is the counterbalanced design – putting the battery on the back of the headset gets the weight off your face, making extended immersive experiences much more comfortable. And we've always liked Pico's implementation of electromagnetic controller tracking, which means that (unlike optical tracking) the headset connects to the controllers even if they're behind your head (it appears that optical tracking is used in the Neo 3). While the Neo 2 clocked in at a higher price ($699 USD) than the Quest, you got a slightly higher resolution and Tobii eye-tracking if you went with the more expensive $899 USD version.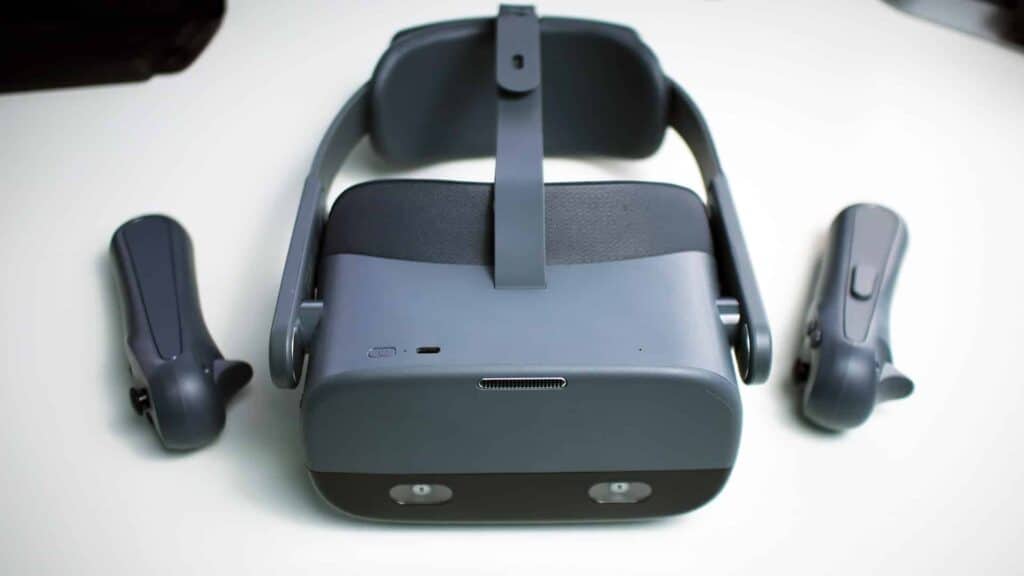 XR and Global Politics
Where the Pico Neo 3 development gets interesting is in the global political arena. The Neo 2 headsets have been available in the U.S. since August 2020, but Facebook's wildly popular Oculus Quest 2 is banned in China. RoadtoVR blithely comments that this leads to ". . . an interesting state of affairs" but it's much more than that. It's leading to the initial steps in the development of two separate XR ecosystems with Pico recently announcing its own VR app store.
In late March, the company announced its was opening its own publishing division, called Pico Studios. The company says it will be partnering with global developers to bring its 6DOF VR apps and games to consumers in Asia. The company has already stocked its Pico Store with around 400 apps, which include a number of fan favorites localized for Chinese consumption such as Superhot VR, Apex Construct, Angry Birds VR: Isle of Pigs, and Racket: Nx. (Road2VR)
That presents a challenge for developers and anyone working with XR in the global community – especially corporations and educational organizations with employees/students in China. You can't use the Quest in China, and while we expect the Pico Neo 3 to have universal availability, the number of apps in the Pico Store is far behind the 1,000 plus apps you can use on Facebook's headset. That latter number is expanding rapidly with the recent opening of the Oculus App Lab, an easier route for developers to get their work to Quest users. Given the current political tensions between the U.S. and China, it's not likely that this situation will improve. In fact, it is easier to imagine the opposite – that a bit of negative news about the Pico Neo 3 would lead to it being banned in the U.S. and Europe.
If you're like us, you are thinking ahead and wondering if Apple's forthcoming XR device will be banned in China. We doubt it if only because Apple will not demand a tie-in to a social media account.
Competition . . . Anyone?
You might think that Pico would see a unique opportunity to offer a standalone headset option that doesn't have the controversial Quest requirement for a social media account.  Pico aimed the Neo 2 at the business market and we expect they'll do the same with the Neo 3. More recently, they partnered with Lenovo to offer an alternative in the educational sector with Lenovo's Mirage VR S3 3DoF headset. But the consumer XR market is entirely different. With only 2,200 employees and 443 million in annual revenue, Pico would be facing off against Facebook's 58,600 employees and $86 billion in revenue. It's the proverbial mouse standing next to the elephant story (and sorry, it's an urban legend that the latter are afraid of mice).
Here's the only stat you need to know on this issue: almost one-fifth of Facebook's employees – 10,000 – are now working on XR projects, including the upcoming Quest 3 and Project Aria, the company's AR glasses. Competition would benefit everyone working in XR, but don't expect Pico to go up against Zuckerberg's team in Menlo Park, California.
Only Apple has the deep pockets to pull that off. And even then, Apple is content with grabbing the middle and upper tiers of any market – they don't need or want it all, which still leaves the largest segment to Facebook.
We'll keep you posted as we learn more about the Pico Neo 3. It's always exciting to see a new headset arrive, even if it highlights the growing competitive and geopolitical challenges that XR will face in the future.
Emory Craig is a writer, speaker, and consultant specializing in virtual reality (VR) and artificial intelligence (AI) with a rich background in art, new media, and higher education. A sought-after speaker at international conferences, he shares his unique insights on innovation and collaborates with universities, nonprofits, businesses, and international organizations to develop transformative initiatives in XR, AI, and digital ethics. Passionate about harnessing the potential of cutting-edge technologies, he explores the ethical ramifications of blending the real with the virtual, sparking meaningful conversations about the future of human experience in an increasingly interconnected world.