Few health organizations are as remarkable as the St. Jude Children's Research Hospital, so it's no surprise to see their VR memorials for child cancer patients. In the past 50 years, they've helped improve the childhood cancer survival rate from 20% to 80%. And as for the families – none are charged for their services.
St Jude's would be the first to say that the real heroes are the children and parents who pass through their doors. And now they've created a virtual Hall of Heroes to honor them. These 60-foot tall interactive statues embody the hopes and dreams of these young lives.
As the hospital reminds us,
Heroism in battle is traditionally celebrated with a statue. Every day, the staff at St. Jude Children's Research Hospital witness extraordinary bravery from kids battling cancer and other life-threatening diseases. But these inspiring kids have never been celebrated with statues.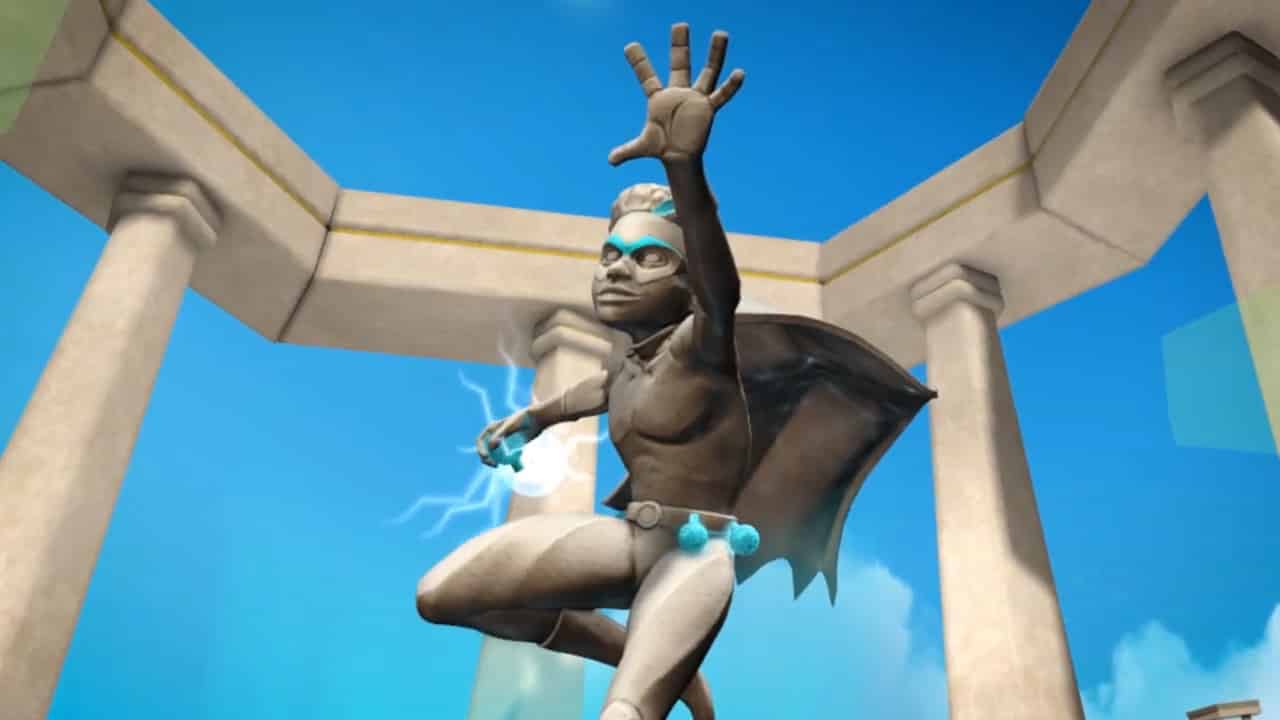 The St. Jude Hall of Heroes changes that with stylized superhero statues and the stories of twelve child cancer patients. The project is narrated by actor Patrick Warburton (Family Guy, Agents of S.H.I.E.L.D.) with the stories told by the children and their families. And it's VR that brings it all to life.
Now, thanks to virtual reality, we've done what isn't possible in the real world.
We've seen other creative uses of immersive tech for patient care, including the AR activity book for hospitalized children, but this is one of the most moving.
The VR Memorials at St Jude's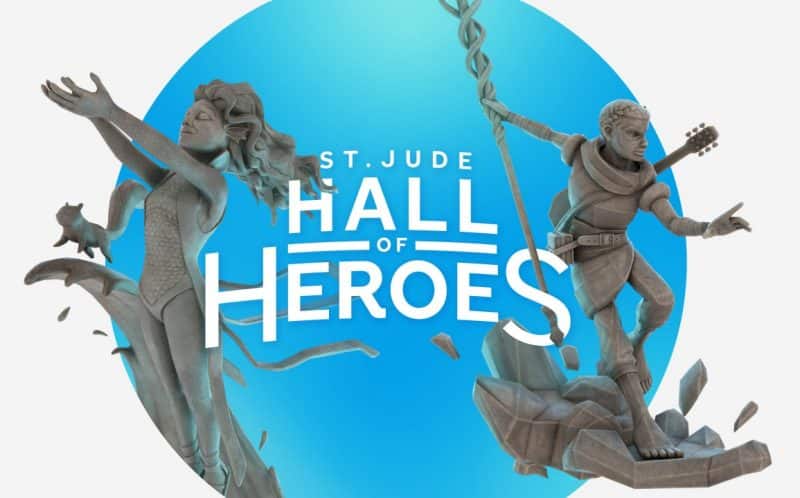 Kyle Melnick describes the experience in VRScout as "nothing short of inspirational."
Available now via Facebook as a 360 video and December 6th on Oculus Quest as an interactive demo, Hall of Heroes takes users across a variety of colorful floating islands, each of which featuring 60-foot statues of real-life St. Judes patients. Users can walk directly up to the towering figures to hear more about each of their battles as well as learn more about their personal lives and interests straight from the patients and their families. Partnering with 3D artists, the team designed individual statues for each child relating to their respective battles with cancer.
While 360 video is compelling, it will be the release on the Oculus Quest that will make these stories so engaging. It will first appear on Quest demo units at select Best Buy locations on December 6th and the Oculus platform early next year. The VR experience pairs with a Facebook and Instagram AR lens that lets you position the epic statues in other locations. Use the #hallofheroes tag and they'll know where you placed it.
Sharing Stories, Building Worlds
The project came together through the efforts of Facebook, BBDO New York, and the immersive developer Flight School. As the Oculus blog notes, St. Jude uses VR in a variety of ways.
St. Jude also leverages the immersive power of VR to share its No More Chemo parties, where doctors, nurses, and staff send patients home from their final chemotherapy treatment with balloons, confetti, and a singalong. It's a moment caregivers cherish and that could previously only be experienced by those in the room. Now, VR breaks down those barriers to let donors and supporters join the celebration from afar.
Eric Oldrin, Director of Emerging Platforms at Facebook, highlights the creative potential.
We've only just begun to explore the creative potential of VR – to share stories, to build worlds, and connect people. St Jude Hall of Heroes does all three in a celebration of bravery that we hope inspires people to support their cause – but also to continue this uncharted journey of creativity through virtual reality.
Check out the VR experience and support the work of St. Jude. The project coincides with their 16th annual "Thanks and Giving" campaign to raise funds during the holidays for treatment and research. Giving Tuesday is over, but every day is an opportunity to help those in need.
And keep a box of tissues near your Oculus Quest. This is VR that draws from the well of our emotions and connects us with others.
Emory Craig is a writer, speaker, and consultant specializing in virtual reality (VR) and artificial intelligence (AI) with a rich background in art, new media, and higher education. A sought-after speaker at international conferences, he shares his unique insights on innovation and collaborates with universities, nonprofits, businesses, and international organizations to develop transformative initiatives in XR, AI, and digital ethics. Passionate about harnessing the potential of cutting-edge technologies, he explores the ethical ramifications of blending the real with the virtual, sparking meaningful conversations about the future of human experience in an increasingly interconnected world.