Ready for some alien animal husbandry? That's the promise of a new AR game for Magic Leap. The Mixed Reality experience, Strangelets, is the last release from Insomniac Games, which was recently acquired by Sony. It leverages the power of the Magic Leap One to embed the digital world into your real-life environment. It follows up on the immersive story in Seedling, which was released at L.E.A.P. Con last year.
According to Magic Leap's blog,
In Strangelets, players are challenged with alien animal husbandry as they continue to confront the effects of "The Schmelling Incident," a catastrophic cosmic event that served as the catalyst for Seedling's story. In this game, players discover that the incident has caused alien creatures from across the galaxy to become trapped in pockets between dimensions.
Rumors are swirling around the future of Magic Leap, but it's promising to see new Mixed Reality experiences arriving. At least they're not shutting down this week.
As for the future of Insomniac Games' work in VR and AR, that's another story. Their popular Oculus VR title, Stormland, was announced before the acquisition but released after it. Given Sony's investment in Playstation VR, we're not likely to see anything more from Insomniac for Oculus. As for Magic Leap, they're not a competitor, so we may see more MR experiences.
AR Game for Magic Leap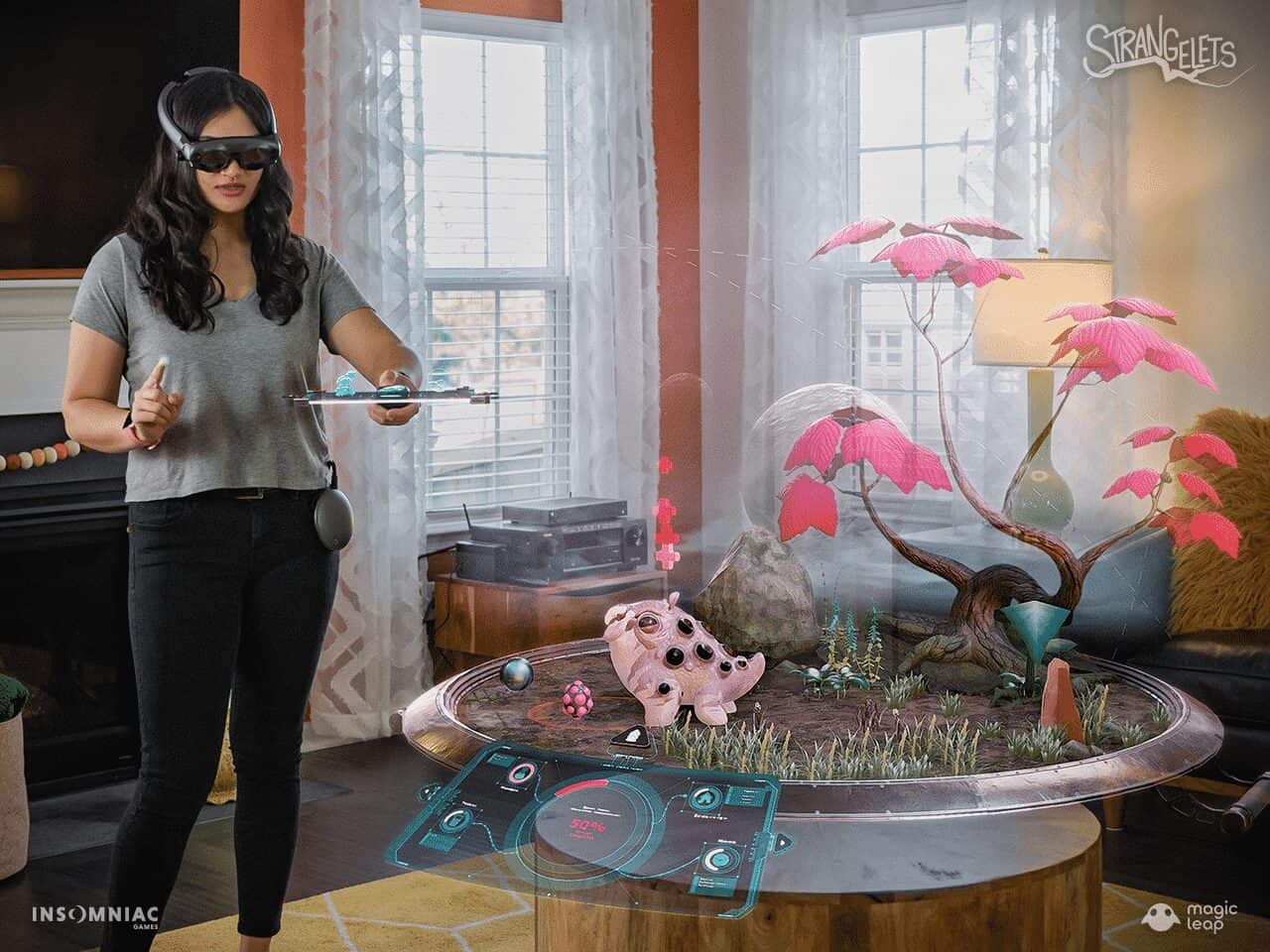 In the Strangelets experience, you'll search your home with a mysterious companion for what Magic Leap calls dimensional rifts. When you discover a breach, you can reach inside to rescue alien creatures and care for them. Most fascinating, the experience incorporates data from your real environment, including time and weather. And objects in your home incorporate energy that the aliens need.
This is no sit-on-the-couch game or 360 video experience. According to Magic Leap,
It's a one-of-a-kind experience that encourages physical movement through multiple rooms, transforming players' familiar spaces into a playground of discovery and surprise.
Here's Magic Leap's preview video.
The Future of Immersive Storytelling
Augmented and virtual reality will bring immersive stories into our homes and everyday environments. While compelling experiences such as Wolves in the Walls are doing this in VR, Mixed Reality sits at the intersection of the real and the virtual. This is the transformative leap of spatial computing when stories are no longer conveyed through digital media. Instead, they become integrated with our everyday experience of the world.
We have an abiding passion for books, and good ones have always been deeply immersive. But someday, immersive storytelling will make picking up a book seem as antiquated as reaching for a leather or parchment scroll. Magic Leap is taking us one step closer to that future.
Emory Craig is a writer, speaker, and consultant specializing in virtual reality (VR) and artificial intelligence (AI) with a rich background in art, new media, and higher education. A sought-after speaker at international conferences, he shares his unique insights on innovation and collaborates with universities, nonprofits, businesses, and international organizations to develop transformative initiatives in XR, AI, and digital ethics. Passionate about harnessing the potential of cutting-edge technologies, he explores the ethical ramifications of blending the real with the virtual, sparking meaningful conversations about the future of human experience in an increasingly interconnected world.