Sam Altman has been fired as CEO of OpenAI, sending shockwaves through the AI community. Whether you saw him as a herald of a bright future, the villain upending the last vestiges of a world grounded in reality, or just another disruptive tech CEO, he has been the public face of Generative AI for the past year. There are others in the field with far more significant accomplishments, but Sam was the person most closely associated with the AI revolution.
Details are still emerging, with Sam Altman tweeting that he "will have more to say about what's next later." OpenAI's chief technology officer, Mira Murati, will now serve as interim CEO while the company searches for a replacement. Murati, a veteran of Tesla, joined OpenAI in 2018 and has been deeply involved in the company's work, overseeing the rollouts of DALL-E and ChatGPT.
Sam Altman's Sudden Departure
The announcement of Altman's departure was sudden, with Reuters noting that,
The announcement blindsided many employees who discovered the abrupt management shuffle from an internal announcement and the company's public facing blog.
Kara Swisher added tonight (Friday, November 17th) what she had heard in terms of the suddenness of the action.
Several sources told me Board told Sam Altman 30 mins in advance, Greg Brockman 5 mins in advance about the move. Brockman is chair of the board, so not sure how that worked. Microsoft also was told just before, and employees not told in advance.
The company itself would only say,
Mr. Altman's departure follows a deliberative review process by the board, which concluded that he was not consistently candid in his communications with the board, hindering its ability to exercise its responsibilities. The board no longer has confidence in his ability to continue leading OpenAI.
Greg Brockman and Others Resign
But it didn't end there. We learned that Greg Brockman, the company's president, who was first said to be stepping aside from the board, announced he was quitting. He wrote in a message to the OpenAI team,
[W]e've been through some tough & great times together, accomplishing so much despite all the reasons it should have been impossible, but based on today's news, I quit.
And we just heard today (Saturday) that additional researchers are resigning from OpenAI. According to The Information, the resignations included the following.
Jakub Pachocki, the company's director of research; Aleksander Madry, head of a team evaluating potential risks from AI, and Szymon Sidor . . .The departures are a sign of immense disappointment among some employees after the Altman ouster and underscore long-simmering divisions at the ChatGPT creator about AI 'safety' practices.
An Attempt to Bring Altman Back
Enough news? No, there's even more as this story-for-the-history-books unfolds. On Saturday, November 18th, The Verge reported that Sam Altman was in talks with OpenAI's board to return to the company. Scroll down for that breaking development.
Latest Update: A Failed Reconciliation
And now as of Sunday night (November 19th), it appears that talks have broken down and Altman and Brockman will not be returning to OpenAI. According to The Information, distraught employees were seen leaving OpenAI headquarters Sunday night as the company announced that,
Emmett Shear, co-founder of Amazon-owned video streaming site Twitch, will take over as interim CEO.
If this holds, we are likely to see a mass exodus of researchers and staff as they go to Sam Altman and Greg Brockman's new AI company which we expect to see announced in the coming days.
Sam Altman's Departure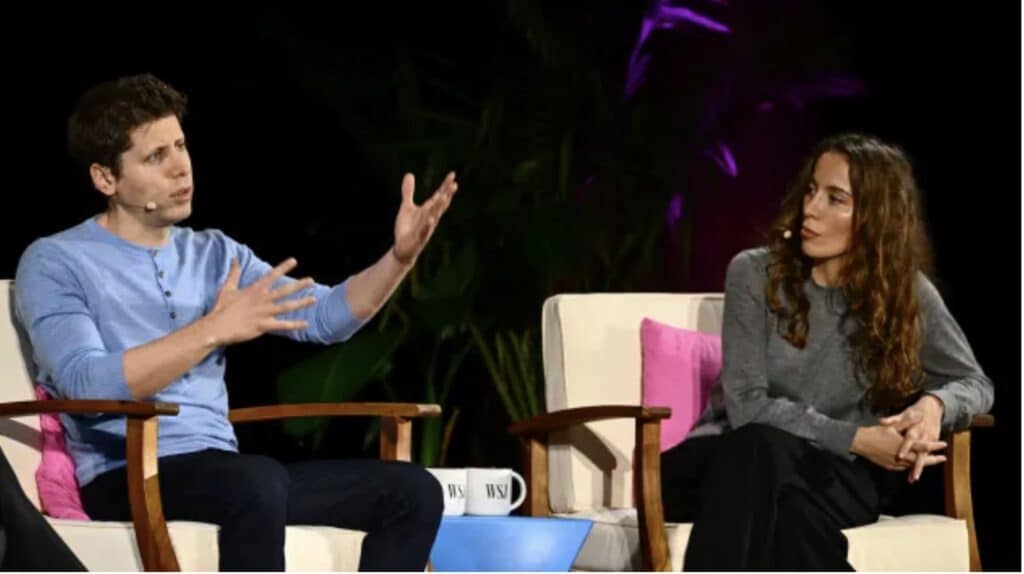 Sam Altman's quick departure was stunning. Why would the most well-known startup (with a valuation of up to $90 billion) in the tech industry suddenly cut ties with its CEO on a Friday afternoon of a week when he was representing the company at public events?
By all accounts, the recent DevDay conference event was a resounding success, and Sam Altman just spoke at Thursday's Asia-Pacific Economic Cooperation conference. There were delays in rolling out the new features of ChatGPT announced at DevDay, but that has nothing to do with his sudden departure.
From what we know so far, the event has nothing to do with the usual reasons for a CEO's sudden departure – financial mismanagement or harassment of another employee.
OpenAI's Mission and Unusual Board Structure
One point to keep in mind with Sam Altman's exit is that OpenAI is not structured like a traditional tech company in Silicon Valley. As CNBC noted, "OpenAI says the board of its 501(c)(3) is the 'overall governing body for all OpenAI activities.'" OpenAI has a complex nonprofit/capped profit structure where the nonprofit board members are not investors but control the for-profit company.
There are only a few other examples of this, such as the Hershey Trust, which controls Hershey Entertainment & Resorts, and a controlling interest in The Hershey Company, the well-known candy maker.
OpenAI's mission is to develop and bring Artificial General Intelligence (AGI) safely to humanity. It appears that OpenAI's board felt that the for-profit side of the company had come into an irreconcilable conflict with the mission. But it remains a mystery as to why Altman took the fall as he's taken a balanced approach to product development and the need for AI regulation.
The Impact on Generative AI
How will Sam Altman's termination impact OpenAI and the development of Generative AI? What will Microsoft do – the largest investor in OpenAI – as they were equally blindsided by the developments? Sam Altman, Greg Brockman, and others leaving the company could quickly create a new AI startup, splintering the developments in the field and possibly sidelining Microsoft's investment.
OpenAI's move will also stall the ongoing discussions on developing AI regulations. Sam Altman has been simultaneously a champion of AI and a voice of caution as we rush into this new era. In his recent testimony before Congress, he asked,
Is [AI] gonna be like the printing press that diffused knowledge, power, and learning widely across the landscape that empowered ordinary, everyday individuals that led to greater flourishing, that led above all to greater liberty? . . . Or is it gonna be more like the atom bomb – huge technological breakthrough, but the consequences (severe, terrible) continue to haunt us to this day?
The U.S. Congress is not a tech-savvy group and is more comfortable when they can repeatedly call upon the same CEOs (as they have done with Mark Zuckerberg at Meta).
Could Sam Altman Return to OpenAI?
If this story isn't large enough as it is, The Verge reported on Saturday (Nov. 18th) that Altman and the board were now in talks about a possible return. Obviously, that won't happen without some significant changes in OpenAI's governance structure but it could be that they are scared others will leave and Altman and Brockman will have ready access to funding to quickly get a new AI venture off the ground.
Here's the report from The Verge,
The OpenAI board is in discussions with Sam Altman to return to the company as its CEO, according to multiple people familiar with the matter. One of them said Altman, who was suddenly fired by the board on Friday with no notice, is "ambivalent" about coming back and would want significant governance changes.

Altman holding talks with the company just a day after he was ousted indicates that OpenAI is in a state of free-fall without him. Hours after he was axed, Greg Brockman, OpenAI's president and former board chairman, resigned, and the two have been talking to friends and investors about starting another company. A string of senior researchers also resigned on Friday, and people close to OpenAI say more departures are in the works.
With the year's hottest AI tech startup in freefall, it's likely they are having second thoughts about firing Altman on Friday afternoon.
The Larger Picture
This will go down as the Silicon Valley coup of the decade – if not more. From what we know so far, it appears that Sam Altman was pushed out due to internal disagreements over AI and its impact on society. The debates over AI among creatives, on university campuses, and in corporate boardrooms are also sowing divisions within OpenAI. Whether or not the organization survives the upheaval triggered by firing Altman remains to be seen.
As this is a developing story, we'll keep you posted as we learn more.
Update November 18th, 11:45 AM ET: Added more details about researchers resigning from OpenAI and the impact of the event on Generative AI developments.
Update November 18th, 9:34 PM ET: Added new information about a possible return of Sam Altman to OpenAI.
Update November 20th, 12:57 AM ET: Added the latest developments that the talks have broken down and Sam Altman will not be returning to OpenAI. 
Emory Craig is a writer, speaker, and consultant specializing in virtual reality (VR) and artificial intelligence (AI) with a rich background in art, new media, and higher education. A sought-after speaker at international conferences, he shares his unique insights on innovation and collaborates with universities, nonprofits, businesses, and international organizations to develop transformative initiatives in XR, AI, and digital ethics. Passionate about harnessing the potential of cutting-edge technologies, he explores the ethical ramifications of blending the real with the virtual, sparking meaningful conversations about the future of human experience in an increasingly interconnected world.