We have no official confirmation on the incredibly popular Roblox platform coming to the Meta's Quest 2 headset, but it seems likely from yesterday's tweet from Roblox:
Get ready to experience the ✨ metaverse ✨ in a new, immersive way.#Roblox is officially coming to another device soon… can anyone guess what it is? 🥽👀 pic.twitter.com/QhKLo3mHZY

— Bloxy News (@Bloxy_News) June 15, 2022
Currently, you can access Roblox through PCVR, which already makes it available on the Quest if you have a wired or wireless connection to a PC (instructions here). But getting Roblox on the standalone Quest will open it up to a broader audience in virtual reality and bring us a small step closer to the metaverse. It has a heavy youth-centric user base – the largest age group on the platform is 16-year-olds, who make up two-thirds of its users.
With the rapidly growing interest from educators especially in K12, Roblox may be an early test case of the use of virtual world platforms in learning. But there are issues here, which – no surprise – spill over to the broader issues of educational institutions using metaverse-like platforms.
The Staggering Popularity of Roblox
Roblox has seen massive growth over the past five years: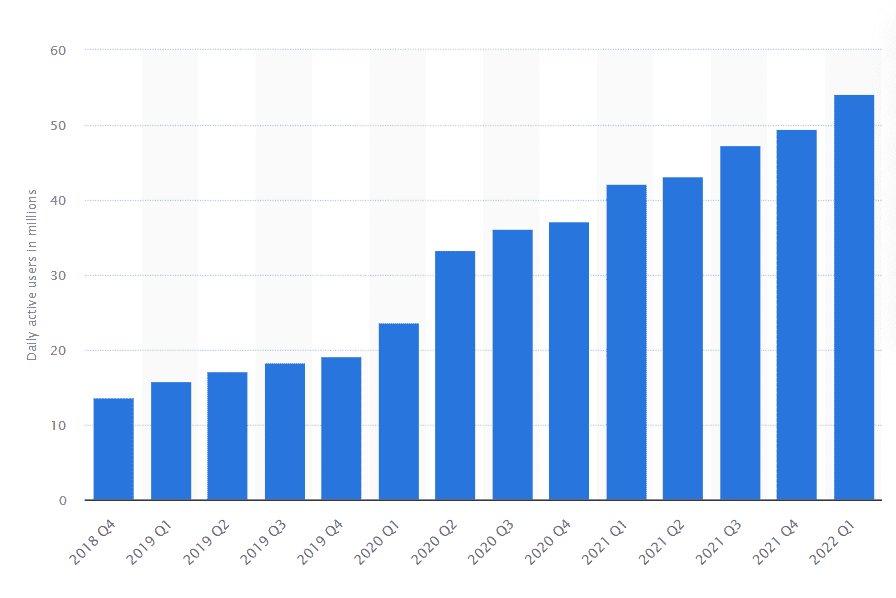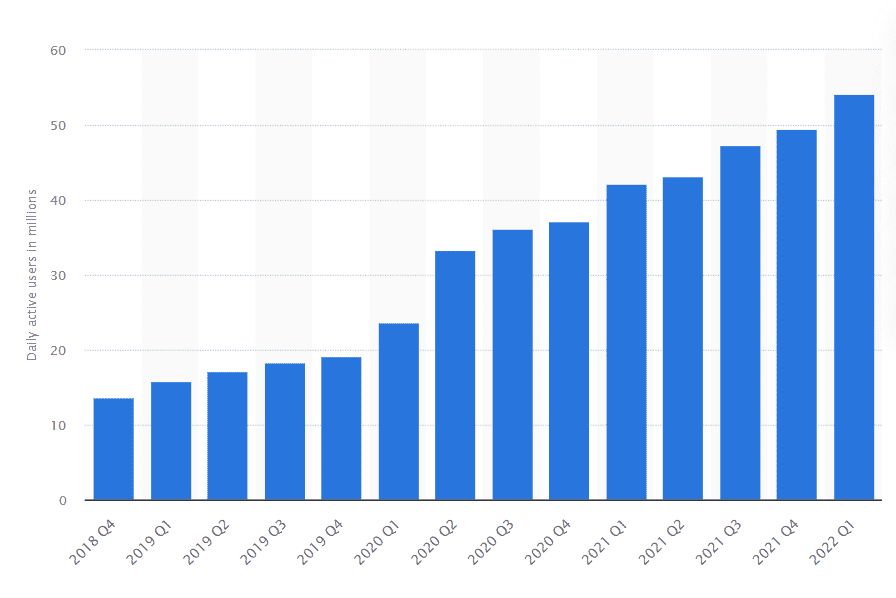 The platform is old as far as virtual worlds go – almost as old as Second Life, beginning in 2004. Today, it's billed as a forerunner of the coming metaverse – an online creation platform and storefront where users can access and play games created by others. There are plenty of other virtual worlds available, but Roblox only hosts games created by users and developers. The games – from simulations to multiplayer experiences – are free and supported by in-app purchases.
Here's where Roblox gets interesting: with its combination of a gaming hub and social community, it now has 32.6 million daily active users and a staggering 30.6 billion hours of engagement. Imagine the problems we could solve if that energy was directed elsewhere, but that's another story.
Looking at these numbers makes you wonder why Meta would ever allow Roblox on the Quest in the first place. It far surpasses the popularity of Meta's own virtual world platform, Horizon Worlds. Maybe it's more surprising that Meta hasn't tried to acquire it (yet).
Roblox, VR, and Education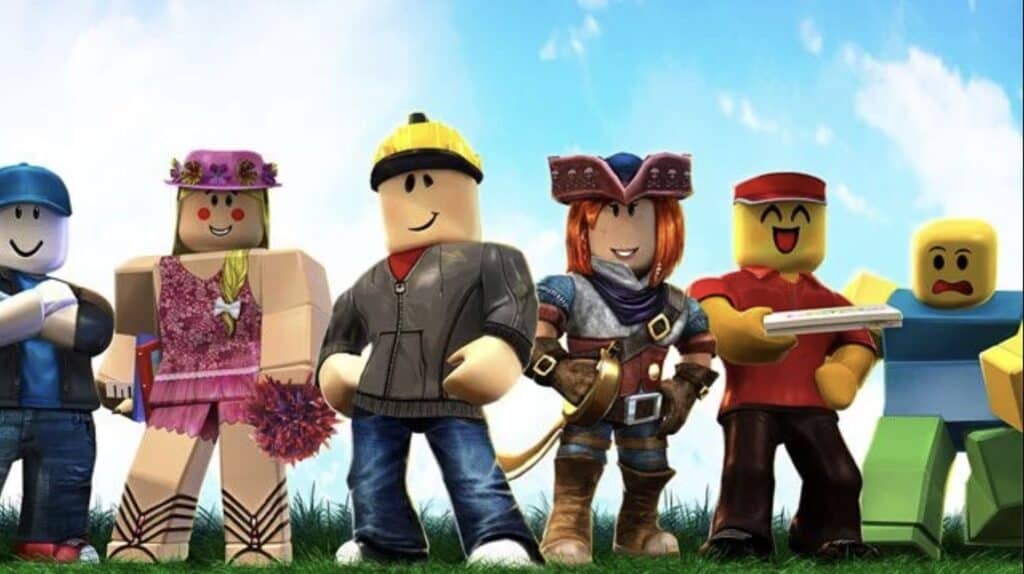 Of course, most young adults still don't have a VR headset, but that will change in the next few years with Meta's plans to roll out multiple devices and drive down the cost. The potential here as HMDs become less expensive is tremendous. Kids are already congregating on a platform where they feel comfortable. The company behind it has lined up over 300 educational partners and is committed to teaching youth how to code. And finally, the platform is open and easy to use. Students and K12 teachers can become creators, freed from the usual obstacles and poor design used by our current EdTech platforms.
Just writing that sentence feels like a breath of fresh air. Add the most popular VR headset into the mix, and it seems like an unbeatable combination.
But not so fast.
Roblox as the Future of Education
With the company's debut on the New York Stock Exchange last year, more than a few in the tech press breathlessly announced that Roblox was the "future of education." It's a theme Roblox itself has pushed, and Fast Company helpfully sums up the vision.
Unlike Take-Two and EA, Roblox is not just a gaming company. It is a virtual playground for nearly 200 million monthly users, with two-thirds of those users being of school-going age. Such a congregation of children on any one platform has been unheard of—Roblox hosts more students every month than all school-going children in the U.S., U.K., and Canada combined.

With this level of scale, direct access, and market power, Roblox is now in prime position to disrupt the multi-trillion-dollar education market, which has so far been incredibly resistant to change.
Fast Company continues,
While it is true that children's education is a primarily a societal endeavor, it can be made more effective by having the right economic incentives in place for both teachers and students. In the case of teachers, they can choose to sell their teaching content and level designs on the Roblox market place in return for cash. On the flip side, students can also choose to take the skills they learn in Roblox and generate income on the platform as digital entrepreneurs.
For the moment, we'll leave aside the subtheme that every human activity is improved when it's commercialized. Education in both K12 and Higher Ed is in desperate need of innovation. But this is precisely where we need to be careful as we begin to embrace metaverse-like platforms. There is the promise of innovation, and then there's the reality of the virtual world platforms themselves.
Security Nightmares
There is real money to be made in Roblox – along with real children. That means there are also real adults in Roblox scheming to empty their pockets, making the platform fertile ground for scammers.
In 2021, researchers at Cyber News discovered that the Roblox app
. . . exposed user data via four separate avenues: through misconfigurations in the Roblox Android manifest file, inadequate hashing algorithms, susceptibility to the Janus vulnerability and hardcoded API keys.
While
Roblox
denied the issue – but still removed the code in question –
Tech Radar
noted the appalling security score of the company's Android app.
Together, these issues supposedly earned the Roblox Android app a remarkably low 10/100 score as per the Mobile Security Framework, a common test used to assess the security performance of mobile apps.
Last December, the YouTube channel People Make Games raised new allegations that children in Roblox were being swindled out of sometimes large amounts of money and work. Hackers, or "beamers" as they are called in the Roblox community, get access to users' accounts through legitimate-looking pages and steal currency or valuable items to sell on the black market.
Security concerns surfaced again in March 2022 when Avanan researchers discovered ". . . a Trojan file that was hidden within a legitimate scripting engine that's used for a cheat code in Roblox."
Roblox often denies that the issues raised are genuine security threats though it usually responds to investigators. But its track record is mixed at best and that's a problem in itself.
As PCGamer put it,
The digital frontier is a risky place for everyone, but it's not reasonable to expect children to effectively navigate those risks unaided and unprotected, especially when the amounts of money involved are bound to continue to attract predators.
Someone's Making Money Here – Just Not You
Since the games are free, Roblox needs a source of revenue, which it gets from selling and redeeming Robux, its in-game currency. All user-created content, including microtransactions for digital assets and game passes, are processed through the currency.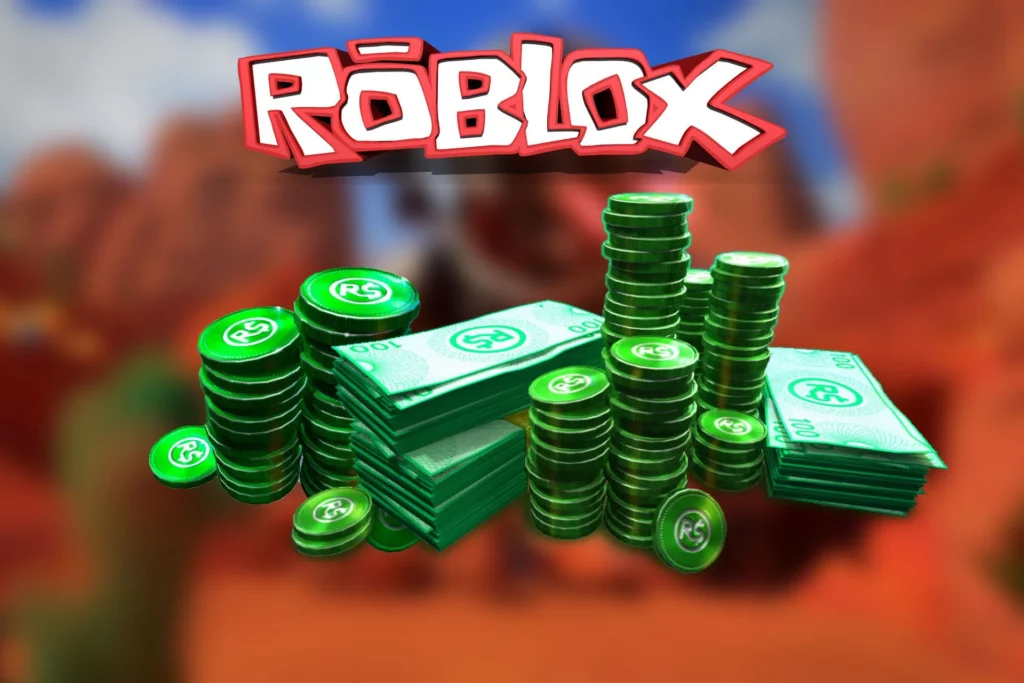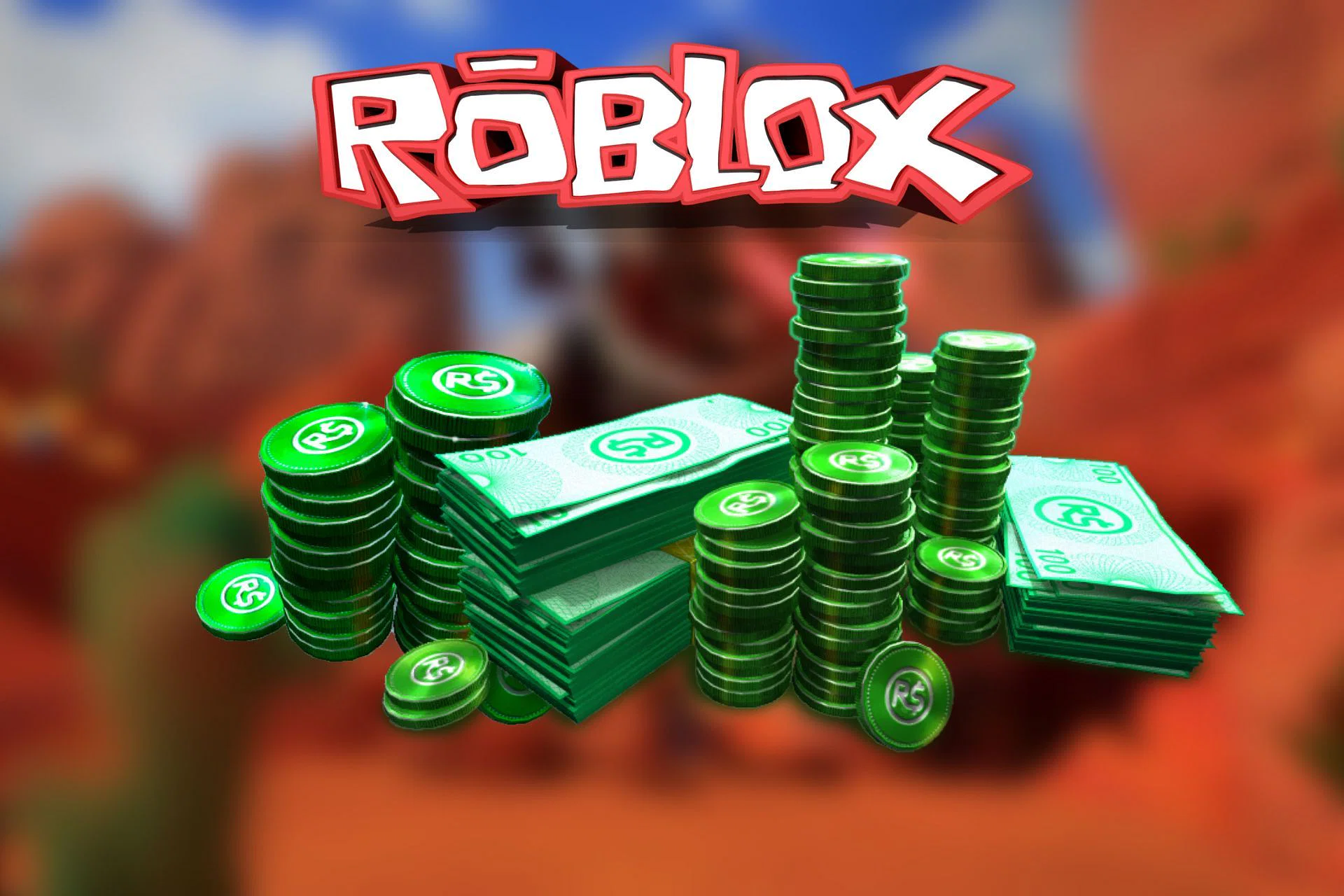 Robux is set at .8 to a dollar. However, the redemption rate from Robux back to USD is US$0.0035 per 1 Robux. In other words, spending a little more than $50 USD gets you about 4,500 Robux – which sounds rich. Cashing in those 4K plus Robux nets you about $15.75 – roughly about two lattes in NYC these days (tip not included). 
It's an excellent deal for Roblox but not so good from an end-user standpoint, despite the stories of people "making millions" on the platform. 
As Vice sarcastically noted, the exchange rate for Robux is far better than the Russian Ruble. But Rubles aside, the financial model should concern K12 educators and others looking to immerse their students in virtual world experiences.
In effect, the company is taking a 68% cut on the financial transactions on the platform (when a user cashes out). As with all things metaverse, some users have made significant money here. But the vast bulk of it is going to the providers of the platforms and services, not the users.
As a point of contrast, the other widely used platform in K12 education, Minecraft, also makes money off its users. But while Microsoft doesn't break out all the details, they claim that their content creators keep over 50% of their sales. Unlike Roblox, Minecraft offers monthly subscription options, lessening the need to take a massive cut of user-generated content.
Education and the Metaverse
We hear enough discussions about EDU3, which – as with Web3 – seems to be based on a heady mix of hard-to-articulate potential and unrestrained hype. No one knows where Web3 developments are going but we are on the cusp of a profound transformation of our digital lives. In some respects, our situation is parallel to playing music in the early days of the web. MP3 files were difficult to download and even more difficult to play. Today, we access our digital music by simply uttering the words "Hey Siri" or "Okay Google."
And if the structure and use of the web change, so will its impact on learning and our educational institutions.
Roblox coming to the most popular VR headset on the market may be an early test case for the future of learning. But the current hype surrounding these platforms ignores the financial models and the security issues. There is tremendous potential here, but the metaverse-like platforms must do more than monetize student and faculty creativity for their own profit.
Emory Craig is a writer, speaker, and consultant specializing in virtual reality (VR) and artificial intelligence (AI) with a rich background in art, new media, and higher education. A sought-after speaker at international conferences, he shares his unique insights on innovation and collaborates with universities, nonprofits, businesses, and international organizations to develop transformative initiatives in XR, AI, and digital ethics. Passionate about harnessing the potential of cutting-edge technologies, he explores the ethical ramifications of blending the real with the virtual, sparking meaningful conversations about the future of human experience in an increasingly interconnected world.