There was much more to follow after a jammed-packed Day One at AWE 2022. The sessions on Day Two and Three were excellent – especially those covering the design of immersive experiences and the ethical challenges we'll face in the future – but the highlights of AWE 2022 were the tech demos on the exhibition floor. We remember years past when AR and mixed reality glasses were relegated to the back of the exhibition space. Now XR devices are front and center as the technology leapfrogs into our lives.
Highlights of AWE 2022 – The Varjo Aero VR Headset
Varjo has always amazed us with state-of-the-art XR devices that approximate human-eye resolution. Reaching 64 pixels per degree at the center of the screen, the image is the equivalent of 20/20 vision in the human eye. That level of clarity is why Varjo has made inroads in enterprise applications – you can easily read labels and see small instruments on a dashboard with the headset.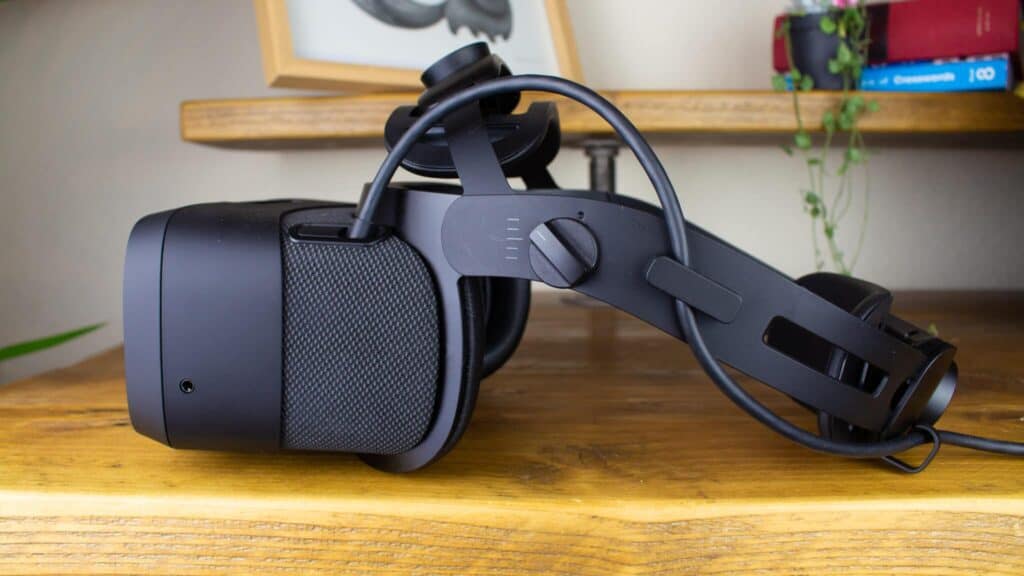 Of course, this doesn't come cheap, and their top-of-the-line XR-3 will cost you a cool $5,000 plus an annual maintenance fee. What's been missing is a consumer model, which the Aero now fills, and it was one of the highlights of AWE.
Here are the specs:
Dual mini-LED displays with 35 ppd peak fidelity, 150 nits of brightness, and a 115° field of view for stunning edge-to-edge clarity.
Crystal-clear, variable resolution, aspheric lenses offering a massive step-up in visual fidelity over consumer-grade Fresnel optics.
Automatic IPD adjustment and ultra-fast, built-in eye-tracking at 200 Hz for a tailored, optimal experience for every user, every time.
Premium lightweight comfort with a 3-point precision fit headband, active cooling, and optimized ergonomics for long-duration usage.
No annual software subscription but full access to Varjo Base software updates, including a high-definition virtual desktop with Varjo Workspace.
At $1,990, the Aero is still far beyond the reach of most consumers, but it's a significant step toward the resolution and features that all consumer VR headsets will have in the future. Workforce training and education enter a whole new realm when you're no longer straining to read text in immersive environments.
Highlights of AWE 2022: The New Magic AR Glasses

Magic Leap has come back from a near-death experience after over-promising and under-delivering (I'm putting this gently) with the original Magic Leap One. Perhaps the second time around will be a charm. We had the opportunity to try the Magic Leap 2 device (ML2), and it is, well, simply amazing. Sadly, the company has given up on the creative and storytelling side of XR and gone all-in on enterprise applications. While the device is not perfect, it provides a jaw-dropping experience.
Magic Leap has yet to release the full specs, but it's a major improvement over the first-gen device:
The field of view (FoV) increases from 50 degrees to 70 degrees diagonal
The new device has two eye-tracking cameras per eye as opposed to one
A switch to optical tracking improves controller accuracy
3D audio positions sound sources and can even direct users to sounds and conversations outside the field of view
The device has shrunk down to 248 grams — about 8.7 ounces — compared to the original unit weighing in at 316 grams
And most remarkably, the ML2 offers Dynamic Dimming, which makes the digital content stand out by dimming users' surrounding vision to near-darkness.
A minute more on that last feature which was one of the conference's highlights. Dynamic Dimming made the hologram content incredibly vivid, even in the brightly lit exhibition hall. It's a feature that all XR headsets should include, and while Magic Leap isn't saying anything, it could lead to a single device that does AR, Mixed Reality, and VR.
We'll venture a prediction here: while Magic Leap's future may be uncertain, Dynamic Dimming is here to stay.
Other Highlights
There were many more highlights of AWE 2022. First, we should note Amy Jupiter's insightful session, "IRL Experience Design (Disney) vs Virtual World Experience," – one of the best of our many years at AWE. The conference also saw the launch of the XR Guild, which hopes to design ethical principles for the Metaverse. We saw old friends, including OVR Technology's amazing work on incorporating scents in immersive experiences. We also demoed bhaptic's new TactGlove for the consumer market and a solution for haptic feedback from Weart that lets you feel forces, textures, and temperatures.
Hope to see you next year at AWE 2023!
Emory Craig is a writer, speaker, and consultant specializing in virtual reality (VR) and artificial intelligence (AI) with a rich background in art, new media, and higher education. A sought-after speaker at international conferences, he shares his unique insights on innovation and collaborates with universities, nonprofits, businesses, and international organizations to develop transformative initiatives in XR, AI, and digital ethics. Passionate about harnessing the potential of cutting-edge technologies, he explores the ethical ramifications of blending the real with the virtual, sparking meaningful conversations about the future of human experience in an increasingly interconnected world.