It seems like we were just at AWE – and indeed, we were – since AWE 2021 took place just last November due to the pandemic. Six months may not seem like much time, but it's lightyears for new developments in augmented reality and XR in general. There was an announcement of a $100,000 XR prize to fight climate change, lots of talk on the possibilities of the metaverse, and a remarkable live demonstration of XR tech in real-time – "The Metaverse in My Carry-on Bag." 
Here is a recap of Day One, and we'll follow up with more news on the conference in Santa Clara, CA.
AWE 2022 on the Promise of Our Digital Future
There was a lot to digest on the opening day of AWE 2022 – highlights included:
Qualcomm's Hugo Swart announcing the global release of the company's Snapdragon Spaces XR Developer Platform;
Unity's John Riccitiello offering his own definition of the 'Metaverse';
AWE's Co-Founder Ori Inbar announcing a $100,000 XR Prize that challenges the XR industry to join the fight against climate change and come up with solutions;
Snap announcing its first AR Lensathon with a Global Overall First Place prize of $50,000;
NASA's Marco Tempest amazing demonstration of the magic of AR in real-time.
A $100,000 XR Climate Change Challenge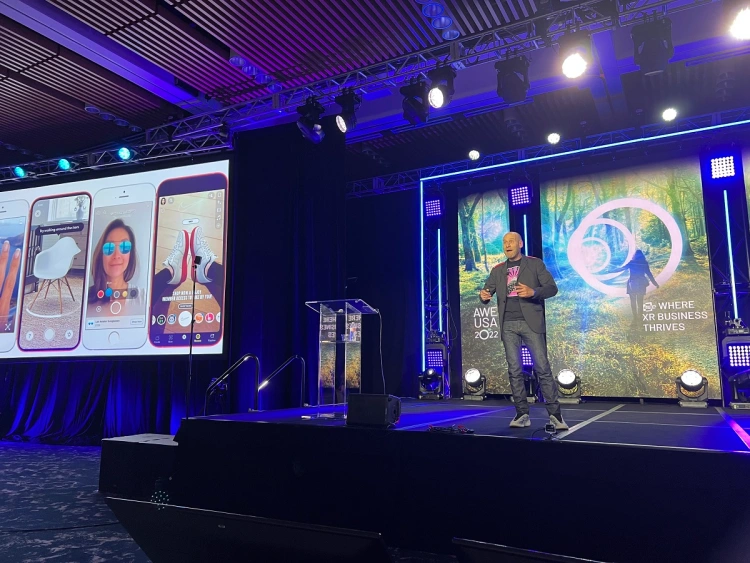 Ori Inbar, AWE's Co-Founder, announced an XR Climate Change Challenge in the opening talk on the AWE stage. As Inbar noted, 
The last two decades have demonstrated all-too-conclusively how climate change is in the process of dramatically reshaping everything from global terrain to water shortages and threatening humanity," said Inbar. "We believe in the power of AR and VR to simulate and visualize the invisible, which can help change people's behavior and simultaneously have a positive impact on climate change.
The competition is open to any XR solution, and the winner will be chosen based on how impactful the app is. Jokingly, Ori Inbar said the prize would be in "real cash," alluding to the cryptocurrency markets' recent turmoil.
And thank you, Ori, for never once using the word "metaverse" in your opening talk.
A Definition (of Sorts) of the Metaverse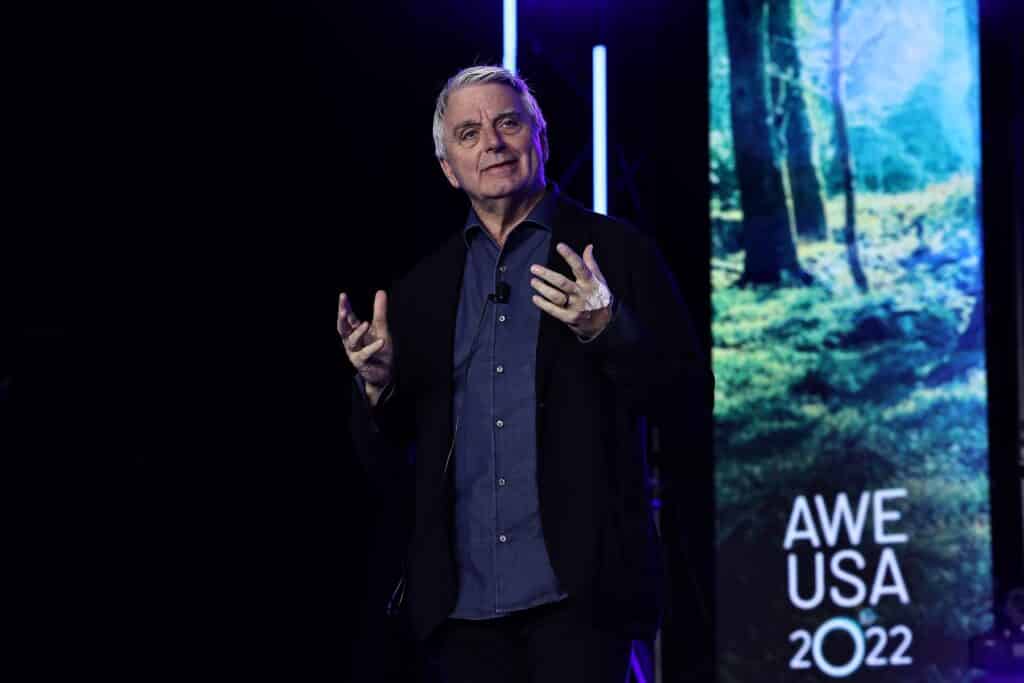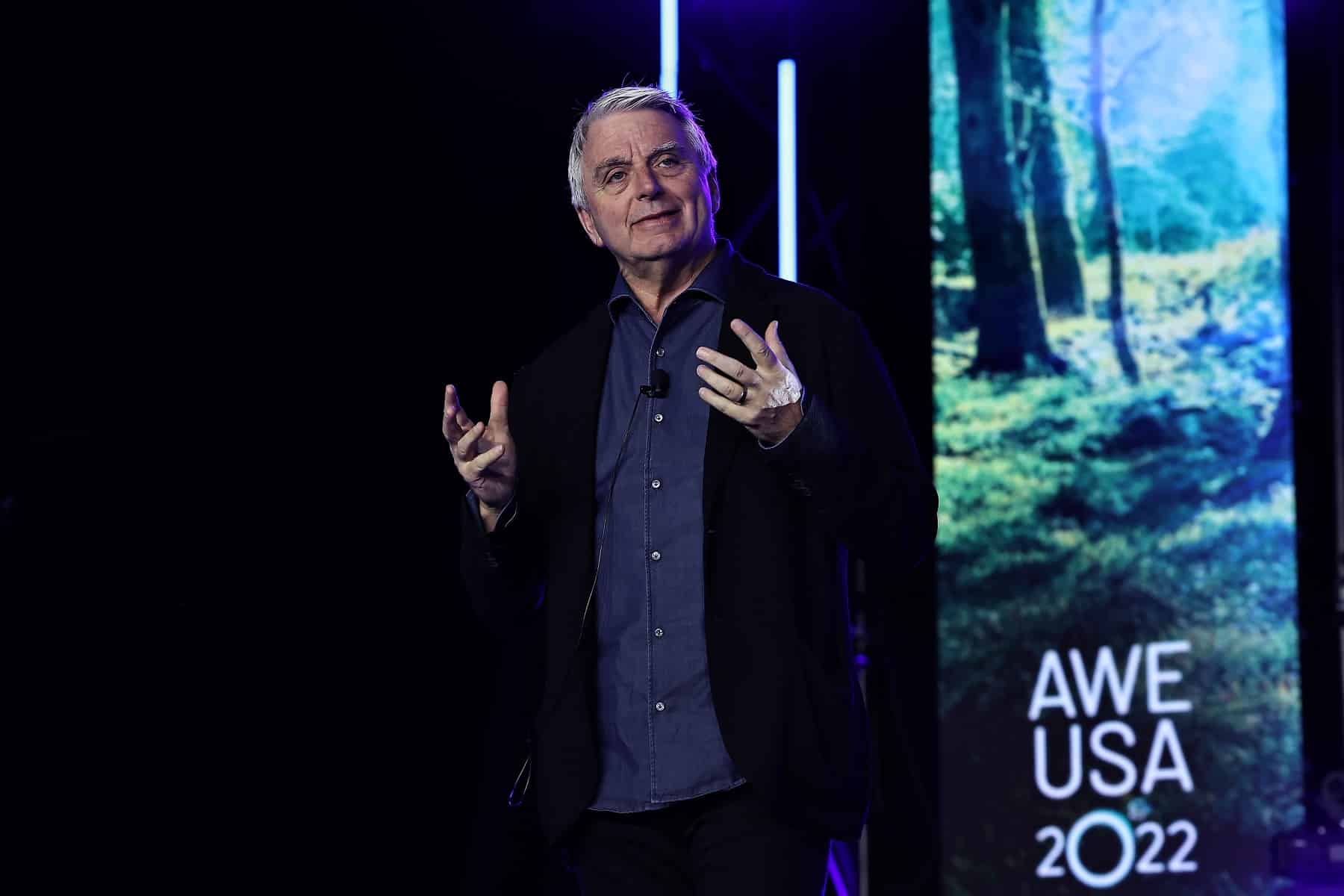 Unity CEO John Riccitiello jumped into the "What is the metaverse?" battle to offer his own definition of the over-hyped, yet-to-be-realized concept. According to Riccitiello, the metaverse will be,
. . . always real-time, mostly 3D, mostly interactive, mostly social, and mostly persistent.
It's hard to see the metaverse as anything other than real-time, interactive, social, and persistent. But we were left wanting much more, even if we are exhausted by the endless hype we've heard over the past two years. Maybe it was just the overuse of the word "mostly." A keynote needs to be inspirational if anything, and this was about as inspiring as if Martin Luther King had said, "I mostly have a dream."
John Riccitiello's talk was titled "Getting Beyond the Fiction and Seeing the Reality in the Metaverse," and it was refreshing to hear a skeptical perspective on the endless promises. In an earlier interview with The Information, Mathew Olson noted Riccitiello's realism is premised on the infrastructure we need to build for the metaverse and what people want from it – and what they are willing to pay for.
Of the related technologies and terms attached to the idea of the metaverse, Riccitiello seems most skeptical toward the "Ready Player One"-esque notion that personalized avatars and interoperability—or at least the ability to carry digital property across experiences—will be must-haves. He already sees the industry moving toward more shared technical standards for processes like rendering 3D images and managing digital wallets, but doubts that enough people will find the more fantastical version worth the effort it would require.
That's likely true unless users are willing to accept deeply invasive advertising, which would generate billions in revenue (as it does in social media). That would raise its own ethical swamp. But we have serious issues with the idea of a metaverse that is only "mostly persistent." If it's not fully persistent, the promises of shared experiences in a virtual world disintegrate.
A Most Amazing Live Demo
Finally, the highlight of the first day at AWE 2022 was the utterly amazing live demo of AR and XR technologies by Marco Tempest. As the Creative Technologist at NASA's Jet Propulsion Laboratory, Tempest wowed the audience with ". . . ultraportable real-time virtual production techniques, storytelling, gestural sensing, and swarm robotics to give us a glimpse of a delightful augmented future right now." Titled "The Metaverse in My Carry-on Bag," it was a breathtaking view of the future where AR technology is portable, easy to use, and a platform for human communication and creativity. 
The video of his keynote isn't available yet, but he posted a short clip of a rehearsal for it in his parking lot last week.
Final dress rehearsal in my parking lot for my main stage #metaverse presentation at #AWE2022! Join me on June 1st at 2:25pm. #virtualproduction #extendedreality #magic https://t.co/ZYUTlOcHfI pic.twitter.com/uAub7FW6i8

— Marco Tempest (@virtualmagician) May 29, 2022
More to Come at AWE 2022
There was much more on Day One – including some much-needed discussions on the ethical challenges raised by the metaverse. Stay with us as we dive into the next two days at AWE 2022 and the exhibition hall (which opens on June 2nd).
As always, AWE is the XR conference that delivers on its promise, living up to its core objective of ". . . enabling people across the globe to learn, connect and grow within the XR industry."
Emory Craig is a writer, speaker, and consultant specializing in virtual reality (VR) and artificial intelligence (AI) with a rich background in art, new media, and higher education. A sought-after speaker at international conferences, he shares his unique insights on innovation and collaborates with universities, nonprofits, businesses, and international organizations to develop transformative initiatives in XR, AI, and digital ethics. Passionate about harnessing the potential of cutting-edge technologies, he explores the ethical ramifications of blending the real with the virtual, sparking meaningful conversations about the future of human experience in an increasingly interconnected world.