Recent news that the VR headset market is growing comes as no surprise. We've always thought price was a major barrier to the use of virtual reality. It's one thing to spend $400-$700 on a headset; another thing altogether to add the cost of a computer to power it.
This is why the best-selling HMD last year (over five million units) was Samsung's Gear VR headset. If you have the phone, another $100 gets you access to basic VR. You're only getting 3 degrees of freedom, but at least it's basic VR.
VR headset market hits new milestone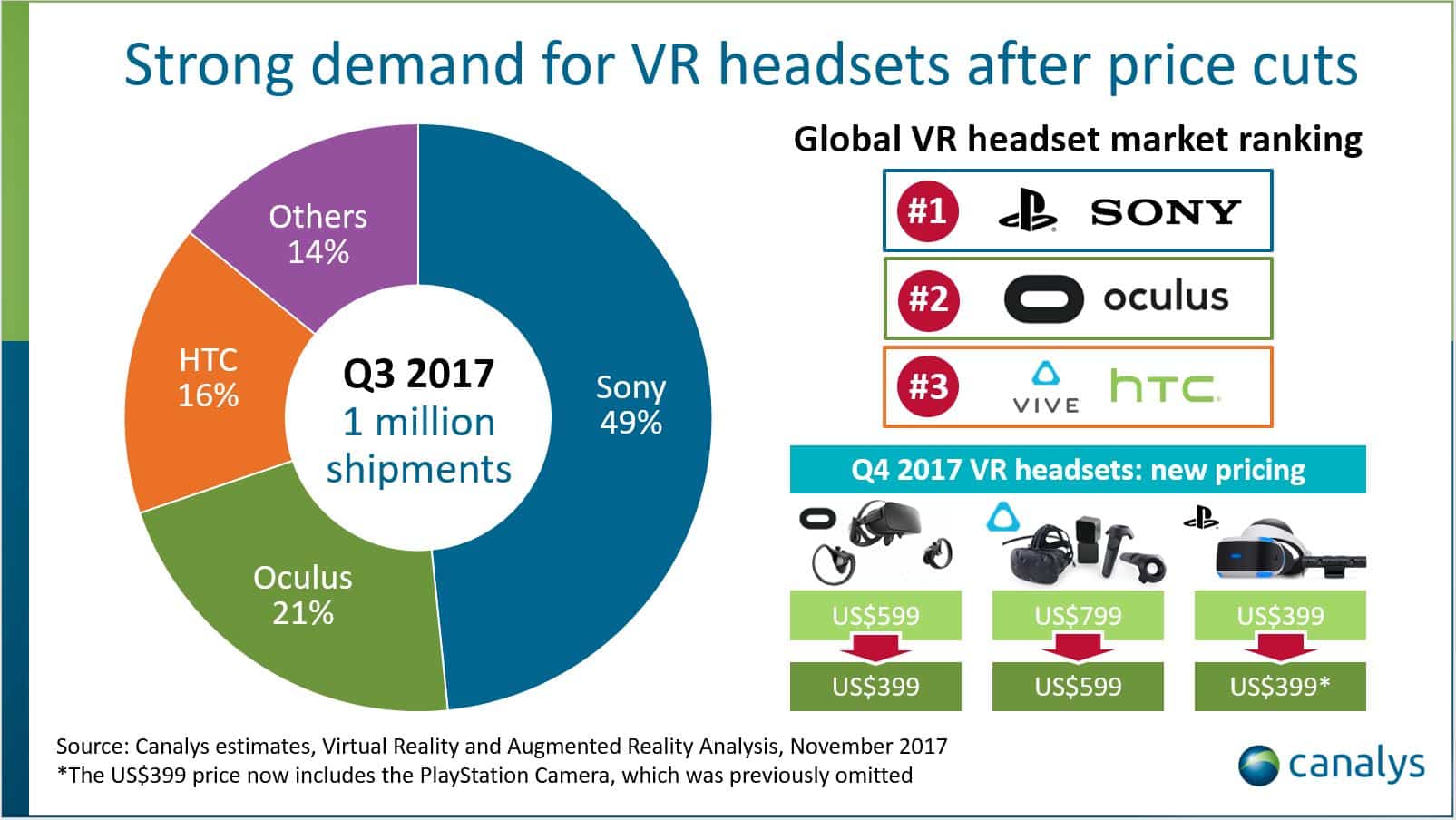 The recent price cuts have made a huge difference. According to a new report by the market research firm Canalys, high-end HMDs finally sold more than a million units in Q3 2017.
Virtual reality headset shipments are showing no signs of slowing, as the quarterly total exceeded 1 million units for the first time in Q3 2017. Sony took the lead, shipping more than 490,000 PlayStation VR (PS VR) sets in Q3. It was followed by Oculus, which shipped 210,000 of its Rift headsets. HTC took third place, shipping 160,000 Vive VR units. Collectively, Sony, Oculus and HTC made up 86% of the total market in Q3 2017.
The Oculus Rift bundle is now permanently reduced to $399. HTC Vive remains at the high end at $599, but it's bundled with VR experiences and a trial subscription to Viveport.
Setting up that VR Lab
All of this is good news, though not for educational or nonprofit organizations. Agreements for discount pricing are reached but it's been on a case-by-case basis, and usually as a demonstration project for the hardware. A discussion on Reddit last year offered little hope as Oculus Rift was probably being sold at cost. With the recent price cut, Rift could be selling below cost.
HTC Vive announced that it would target classrooms and arcades back in March 2017 with a Vive Group Edition Bundle. But it's a small discount, doesn't include the hand controllers, and is only available in China.
The only sure discounts now are in the computers you need to purchase. Most institutions can find savings here and prices are falling with the high-end laptops that come with Nvidia 1060 graphics cards.
Do the new Microsoft Mixed Reality headsets help?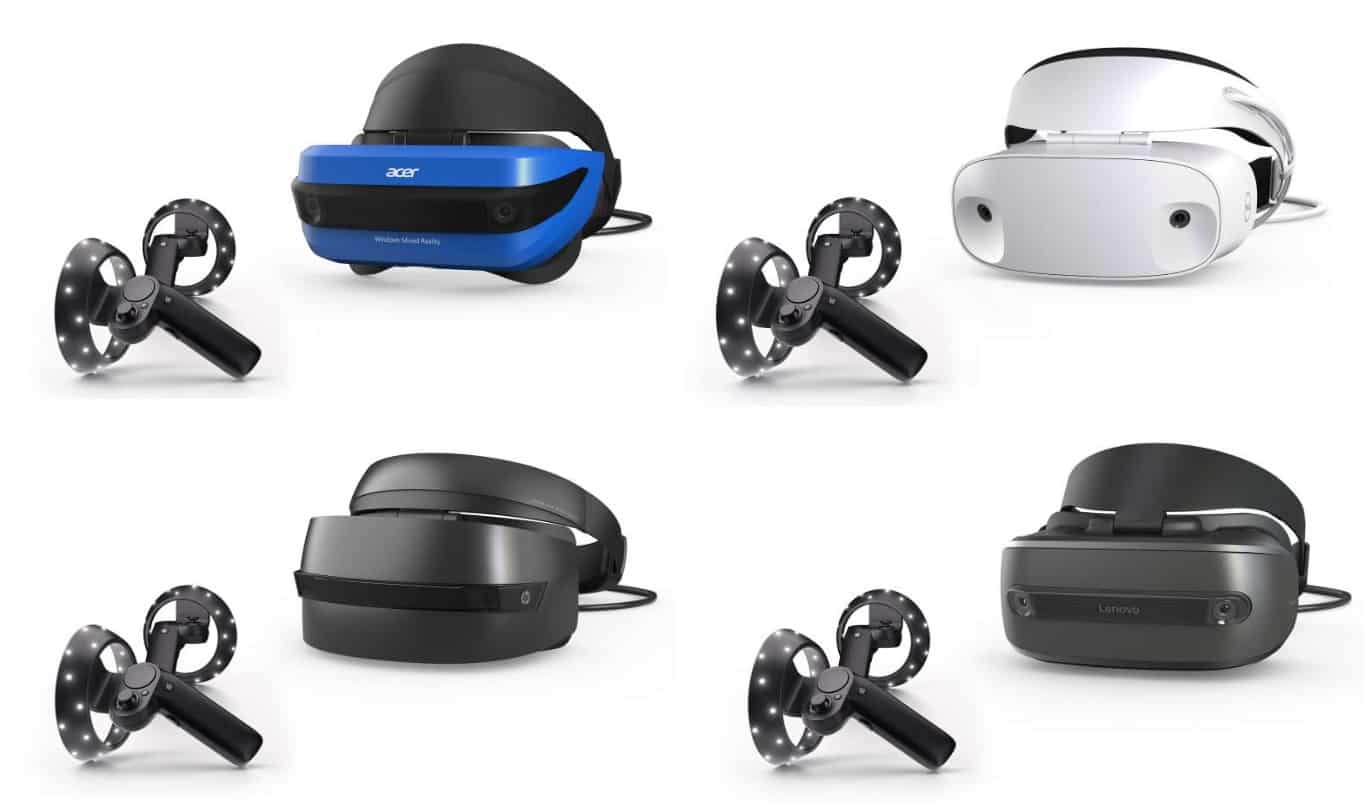 What was predicted to shift the market in education was the new Microsoft Mixed Reality headsets. These $350-$500 VR HMDs were promised to work with standard desktops and laptops. However, the final minimum specs left them requiring something close to a gaming machine. Purchasing enough of these units for a lab or classroom isn't going to save you much – if anything – over the current discounted Oculus cost.
Standalone headsets will be the game-changer
The VR headset market growth is good to see, but the real change will come with Oculus Go in early 2017 and Santa Cruz later next year. HTC and others will also have standalone headsets coming out.
With $200 for Oculus Go and possibly triple that for Santa Cruz, you'll still save over a $1,000 without having to purchase a computer. What we're seeing in Q3 of 2017 is just the beginning of a market that will explode in 2018.
Emory Craig is a writer, speaker, and consultant specializing in virtual reality (VR) and artificial intelligence (AI) with a rich background in art, new media, and higher education. A sought-after speaker at international conferences, he shares his unique insights on innovation and collaborates with universities, nonprofits, businesses, and international organizations to develop transformative initiatives in XR, AI, and digital ethics. Passionate about harnessing the potential of cutting-edge technologies, he explores the ethical ramifications of blending the real with the virtual, sparking meaningful conversations about the future of human experience in an increasingly interconnected world.