The Pimax VR headset Kickstarter campaign wrapped up with a staggering amount of funding. In the end, 5,946 backers pledged $4,236,618. To put this in perspective, Oculus raised a little over $2.4 million. 
No other VR project on Kickstarter has come close.
As we wrote in a prior article, the headset has a lot going for it with a 200-degree viewing angle and a 16 million pixel display. It's billed as 8K, but the dual lenses are actually 4K each. So don't expect perfect visual clarity – it's the FOV that takes your breath away.
Their success on Kickstarter means that a number of the stretch goals were achieved. Some were what you'd expect with this kind of project. But others are intriguing – including the wireless and eye-tracking features.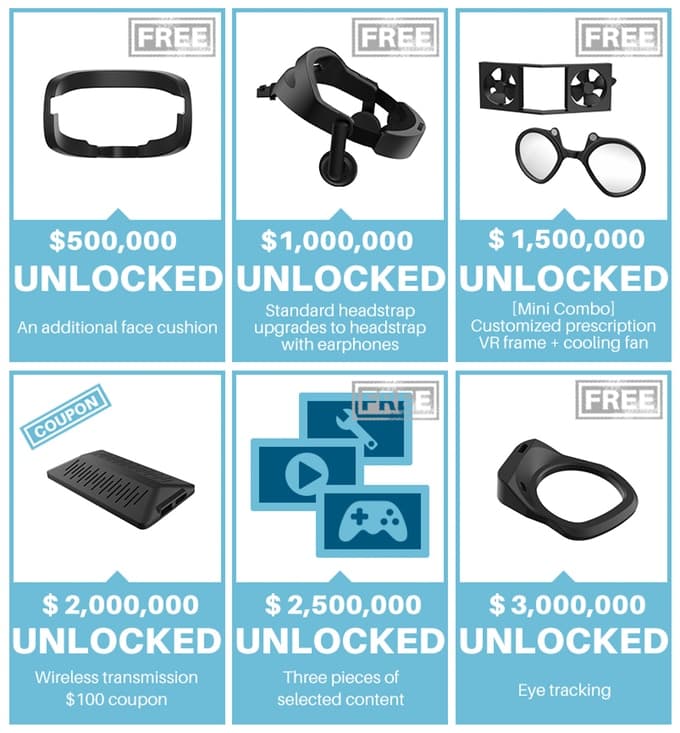 The entire project raises interesting questions about the future of VR HMDs. Are we going the way that Facebook is headed with a low-end, standalone headset like Oculus Go? Or are we willing to pay for superior virtual experience? Is there a market for both?
Our Pimax VR headset demo at NYVR
We tried out the Pimax VR at the NYVR Expo before heading down to the EDUCAUSE conference in Philadelphia. Like everyone else who has tried it, we were seriously impressed. You don't know what to expect as you put on the HMD, but the minute you're there, you realize just how different the Pimax HMD is.
We did the theBlu Experience from Wevr – a passive underwater VR experience that's one of our favorites. And it shows off the Pimax VR headset at its best. The lightweight headset is easy to wear so you barely notice it. And with the 200 FOV and 6 times the resolution of current VR headsets, you feel like you are underwater.
Even when you shift your eyes, you feel like there is more to see. It's much more natural – like the way we function in the physical world. We tend to first move our eyes not our heads. The narrow FOV of Oculus Rift and HTC Vive forces you to move your head more than you would naturally. It's one of the reasons why we get tired quickly in VR.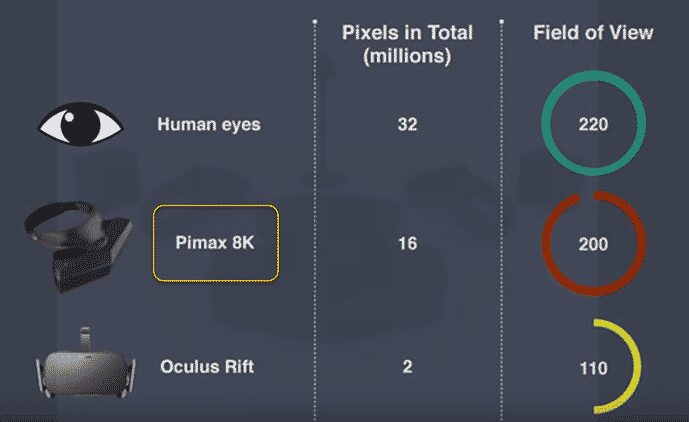 Everyone loves this HMD
As you can see from the reviews, we're not alone in our assessment.
As soon as I put on the headset, I was amazed by the lack of black border within my vision. For the first time ever, I finally felt like I wasn't looking into a VR headset!

As expected, I could not see any sub-pixels thanks to the insanely high display resolution, nor did I notice any ghosting." Engadget  2017.10.12

…Booting up theBlu, a passive VR experience that plunges you into the depths of the ocean, I could really appreciate that added range on the 8K headset; visually it felt a lot more natural…I'd done this experience on the HTC Vive before, but here I felt even more like I was down there with the sea life, not looking at it through a pair of ski goggles. Not having that periphery blocked made a lot of difference, and going back to using the Vive afterwards definitely felt like a step back… it's the 8K that really raises the bar for VR. Wareable 2017.10.09
Two predictions
We can't resist a couple of predictions with the Pimax VR headset. $4.2 million on Kickstarter makes you take notice.
First the obvious one. Meeting deadlines on Kickstarter is hard enough for most projects. But the promised January 2018 delivery date is simply not going to happen. As Lucas Matney reveals in his interview with Pimax CEO Nordic Ren, they're going to need additional time and funding.
And thus, our second prediction. The need for outside investors will result in an acquisition just as happened with Oculus. It would be the logical step for a company looking to jumpstart a move into virtual reality.
Is Pimax a game-changer?
This is an exciting development in VR. As Facebook turns Oculus toward the broader consumer market, Pimax sees open space in the high-end segment. And Pimax is promising an open system that will work with other hardware. Whether or not the nearly 6,000 backers are joined by others in the business, arts and education communities remains to be seen.
It's too early to say this is a game-changer, but it's VR like you've never seen it before. The retail price is not yet determined but will definitely be high. Probably over $1,000. But don't worry. At the moment, the VR community's expectations are much, much higher.
Emory Craig is a writer, speaker, and consultant specializing in virtual reality (VR) and artificial intelligence (AI) with a rich background in art, new media, and higher education. A sought-after speaker at international conferences, he shares his unique insights on innovation and collaborates with universities, nonprofits, businesses, and international organizations to develop transformative initiatives in XR, AI, and digital ethics. Passionate about harnessing the potential of cutting-edge technologies, he explores the ethical ramifications of blending the real with the virtual, sparking meaningful conversations about the future of human experience in an increasingly interconnected world.