If you've been sitting on the sidelines of VR due to the cost, the current Oculus Rift sale may be just what you need to take the plunge. The price has dropped to $399 for the next six weeks in the "Summer of Rift" sale and includes the full package of Rift and the Touch controllers.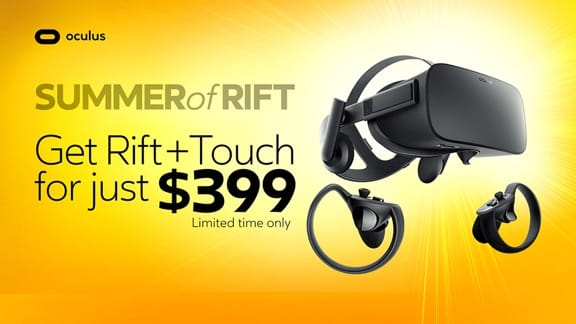 Of course, you'll still need a good computer to run it, but those prices have also been falling for the past year. Lower minimum requirements and the declining cost of an approved PC means that you can get one for $650. As The Verge noted:
But where the old standard required at least an Nvidia GTX 970 or equivalent graphics card and a recent Intel Core i5 processor, the floor is now set at a GTX 960 card and an i3 processor. (You need 8GB of memory for either.)
Total price for the complete setup is almost down to a $1,000. Last year it was closer to $2,000. For many educational institutions and nonprofits, the original price was hard to swallow.
There's also the psychological barrier of getting close to the $300 range. If you look at Google's and Microsoft's forthcoming headset, everyone is shooting for a $300 price point.
What the Oculus Rift sale means
However, the larger question remains – what's going on behind the scenes? Are Oculus sales drying up? Is it just the advent of summer when a real beach seems more enticing than a virtual one? Does this mark a shift from the sale of devices to focusing on content? Probably not since content remains such a revenue challenge.
One possible issue is that Vive is outselling Rift – by almost 50% in Q1. And both headsets do not come close to the sales for PSVR, which is also $399: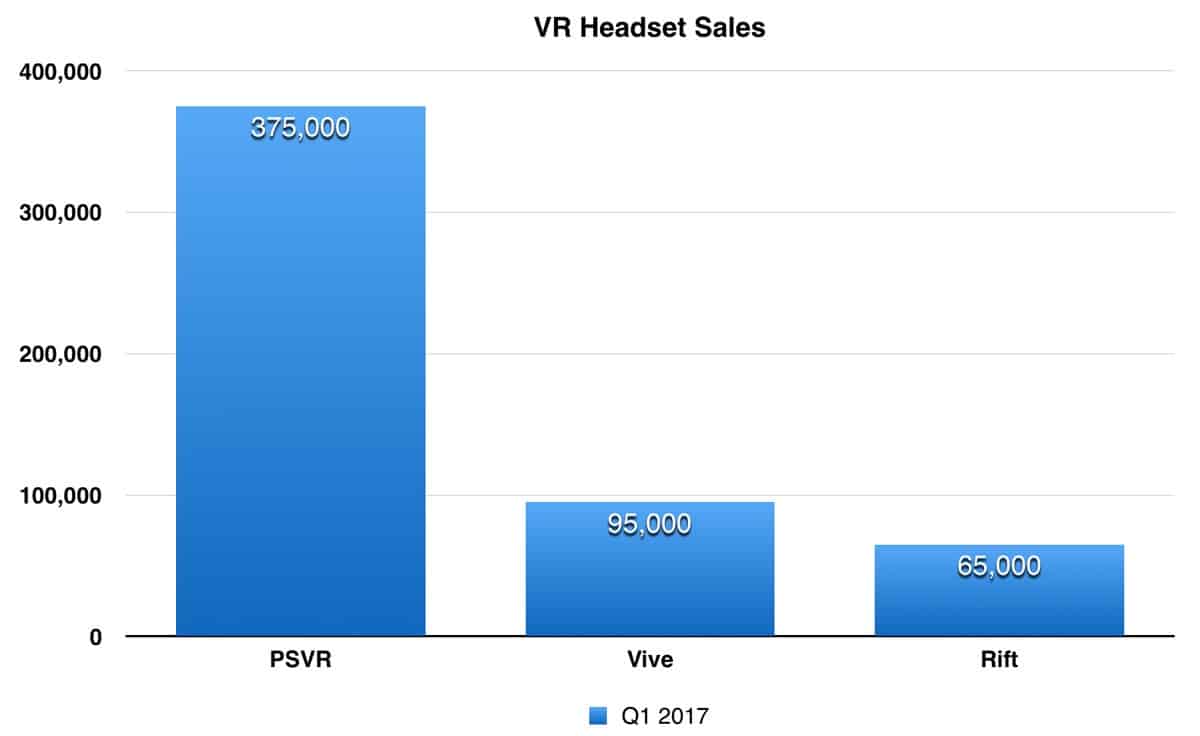 Of course, it could be that Oculus (or rather, Facebook) sees the handwriting on the wall – at least this is what we think is happening. Mid-range HMD's will hit the market in the coming six months and as self-contained units (or running off our current desktops) with excellent graphics, sales of Rift could collapse. Sell them now while you can.
This is the cheapest we've ever seen high-end VR so now may be the time. At least until the next price cut – and new models – come along.
Emory Craig is a writer, speaker, and consultant specializing in virtual reality (VR) and artificial intelligence (AI) with a rich background in art, new media, and higher education. A sought-after speaker at international conferences, he shares his unique insights on innovation and collaborates with universities, nonprofits, businesses, and international organizations to develop transformative initiatives in XR, AI, and digital ethics. Passionate about harnessing the potential of cutting-edge technologies, he explores the ethical ramifications of blending the real with the virtual, sparking meaningful conversations about the future of human experience in an increasingly interconnected world.