If you're near Los Angeles and interested in VR storytelling, get yourself over to the Los Angeles County Museum of Art. LACMA has an amazing VR experience from the Mexican film director Alejandro G. Iñárritu. Titled, CARNE y ARENA (Virtually present, Physically invisible), it's a virtual reality installation that explores the human condition of immigrants and refugees crossing the border into the U.S.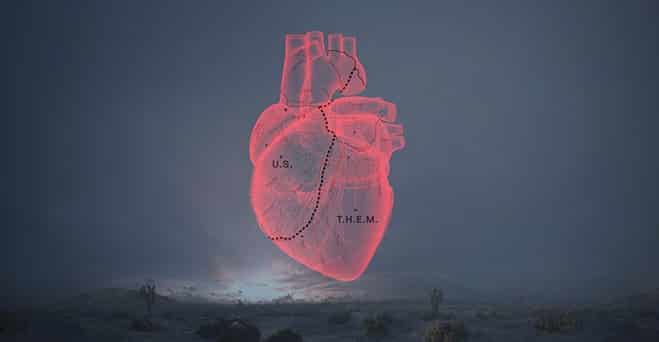 Iñárritu notes,
During the past four years in which this project has been growing in my mind, I had the privilege of meeting and interviewing many Mexican and Central American refugees. Their life stories haunted me, so I invited some of them to collaborate with me in the project . . . My intention was to experiment with VR technology to explore the human condition in an attempt to break the dictatorship of the frame, within which things are just observed, and claim the space to allow the visitor to go through a direct experience walking in the immigrants' feet, under their skin, and into their hearts.
It's an incredible virtual experience that brings up the challenges of VR storytelling.
VR Storytelling
We love the phrase, "break the dictatorship of the frame." But that "dictatorship" is also what supports narrative structure. You tell a story by guiding the viewers through it, letting them develop their own interpretation through the framework you provide.
And this is the challenge for film directors and storytellers in VR. How do you create a narrative structure when the viewer can wander off in any direction? One way is to rely on lighting and sound – techniques that have long been used in game design.
But Alejandro Iñárritu takes another approach. He creates a physical setting for the experience, placing you in a room that conveys elements of the narrative. Instead of simply providing a VR headset and software, you find yourself surrounded by artifacts from a border crossing. There's the dirt, empty shoes, holding cells and chilled air (that evokes both the desert night and the cells), all elements of the immigrant experience. And you'll get a literal (and not just virtual) feel for it by having to remove your own shoes and socks.
This is a large three-room installation, one that you won't find in a curtained off section of a VR festival or deployed through an app in a "VR theater" (whatever that may be). It's more at home in an art museum or – as it was in its debut at the Cannes Film Festival – in an airplane hangar.
Crossing the border in VR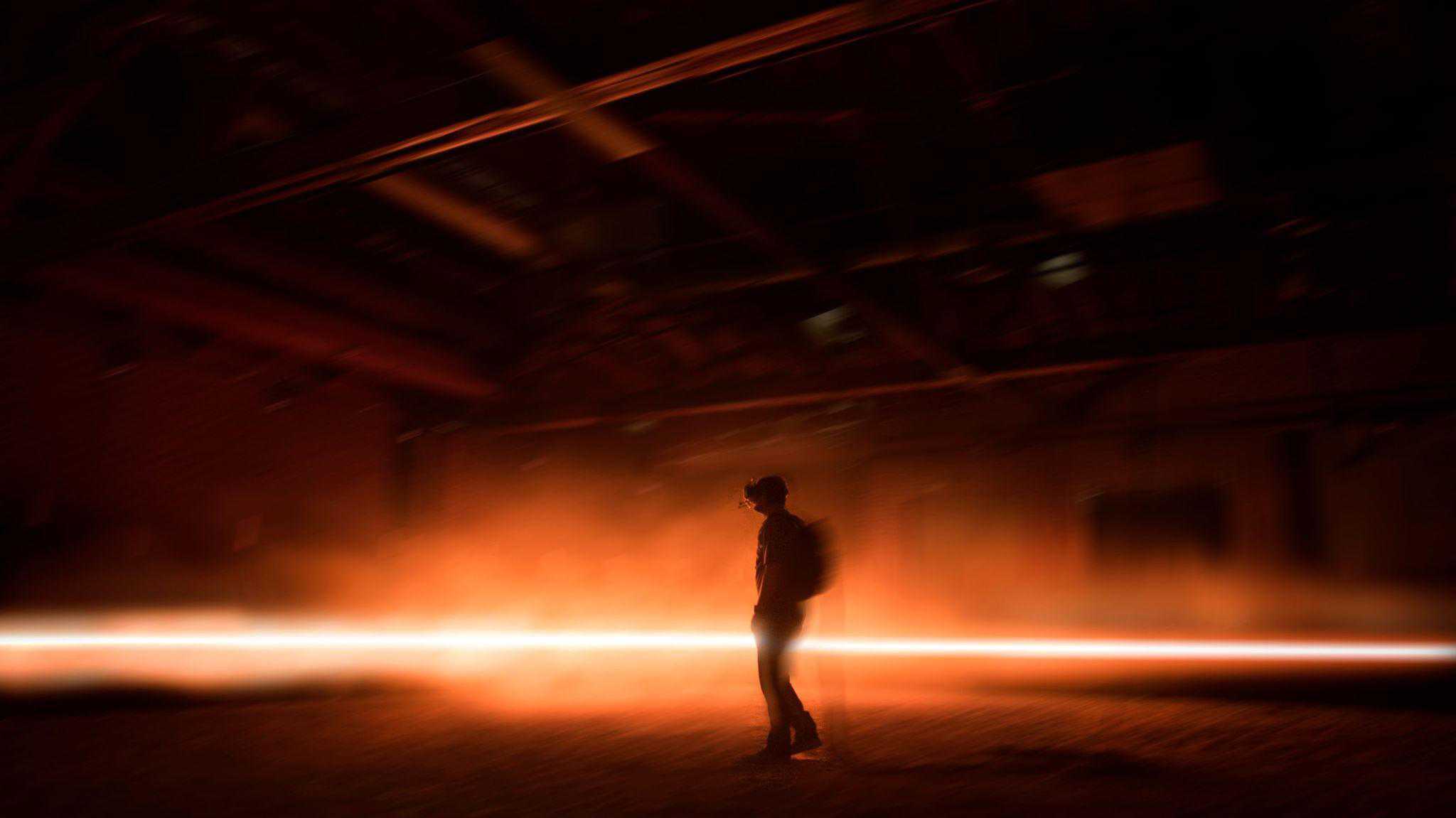 Here's Carolina Miranda's description from the LA Times, "Inside Alejandro Iñárritu's VR border drama at LACMA: What you will see and why you might cry."
The installation begins with the shoe-strewn cell — intended to resemble the short-term holding cells used by the Border Patrol, some of which have been known to be kept at frigid temperatures, thereby earning the Spanish nickname hieleras (iceboxes).

From there, the visitor proceeds — alone and barefoot — into a large room covered in earth. One side is lined by a steel barricade once employed on the U.S.-Mexico border. Here, you don a set of virtual reality goggles for a nearly seven-minute experience that places you deep in the desert as a group of sunburned and weary migrants, all rendered digitally, stumble across. Among them: a small boy and a mother clutching an infant.
The New York Times continues with the description of the experience,
In the gloaming you can make out an old woman who has broken her ankle, moaning in Spanish for help; a people-smuggler, or coyote, complains in English that they're slowing down. You can walk through the sand to get close to them, since your headset is equipped with a motion detector. But soon a helicopter appears overhead, its spotlight bearing down on you, and border agents with guns and dogs are ordering you in two languages to put your hands up. With a rifle in your face, you instinctively throw your hands in the air.
As Variety notes, that gun to your head has echoes of the famous scene from Edwin S. Porter's early film "The Great Train Robbery."
The leader of the film's outlaw gang, Bronco Billy Anderson, points a gun right at the camera — at the audience — and shoots. People who first saw that thought a gun was actually being fired at them, and so they scrambled to get out of the way.
And you'll instinctively duck your head as you suddenly find yourself in the position of an immigrant. You are no longer the observer, but a lead actor in the story, considering your options as a border agent confronts you in the night.
After the virtual experience, you exit through a hallway of video screens. Carolina Miranda notes that the videos bring you even closer to the first-hand experiences of immigrants and border patrol agents.
. . . [The] video portraits were shot by Academy Award-winning cinematographer Emmanuel Lubezki — who worked with Iñárritu on "Birdman" and "The Revenant." Plus, each is embedded deep into the wall, at eye-level, requiring you to get up close and make eye contact with the person whose story is being recounted.
"Carne y Arena"
"Carne y Arena" is a ground-breaking example of VR storytelling. VR is not the goal – the story is – and the narrative is told through multiple forms of media. The physical setting, the seven-minutes of immersive technology, and the use of traditional media at once provide structure and the freedom to explore a complex experience fraught with political and cultural implications that we cannot seem to resolve. As Miranda notes,
The story of a difficult crossing is one of our foundational myths as a nation.
Alejandro G. Iñárritu's work may become a foundational work in the way we tell stories through virtual reality. Fittingly,"Carne y Arena" will be available on both sides of our (possibly) soon to be walled off border, at LACMA in Los Angeles and at the Tlatelolco museum in Mexico City.
See it if you can.
Emory Craig is a writer, speaker, and consultant specializing in virtual reality (VR) and artificial intelligence (AI) with a rich background in art, new media, and higher education. A sought-after speaker at international conferences, he shares his unique insights on innovation and collaborates with universities, nonprofits, businesses, and international organizations to develop transformative initiatives in XR, AI, and digital ethics. Passionate about harnessing the potential of cutting-edge technologies, he explores the ethical ramifications of blending the real with the virtual, sparking meaningful conversations about the future of human experience in an increasingly interconnected world.