Our Oculus Quest 2's arrived (yes, we bought more than one), and we've been running them through our favorite VR experiences. Is it the best standalone VR headset you can buy? The short answer is yes, but you'll face a few challenges, especially if it's going to have multiple users in an education or VR exhibition setting.
We'd love to agree with Prabhu Parthasarathy, a product manager for Facebook's Oculus, on his view that the Quest 2 no longer has the compromises found in the original HMD. 
Everything felt to us like we were compromising on this or that, but now we can say we have this hybrid experience. [The New York Times]
This time the compromises are less about the hardware and more about the design and Facebook's long-range plans for VR. Still, the Quest 2 is a significant step up from the original and incorporates most of the features we were hoping for back in July. It's faster, lighter, and cheaper, all good things when it comes to virtual reality.
So read on for our review of Facebook's second all-in-one VR solution.
Under the Plastic – The tech Specs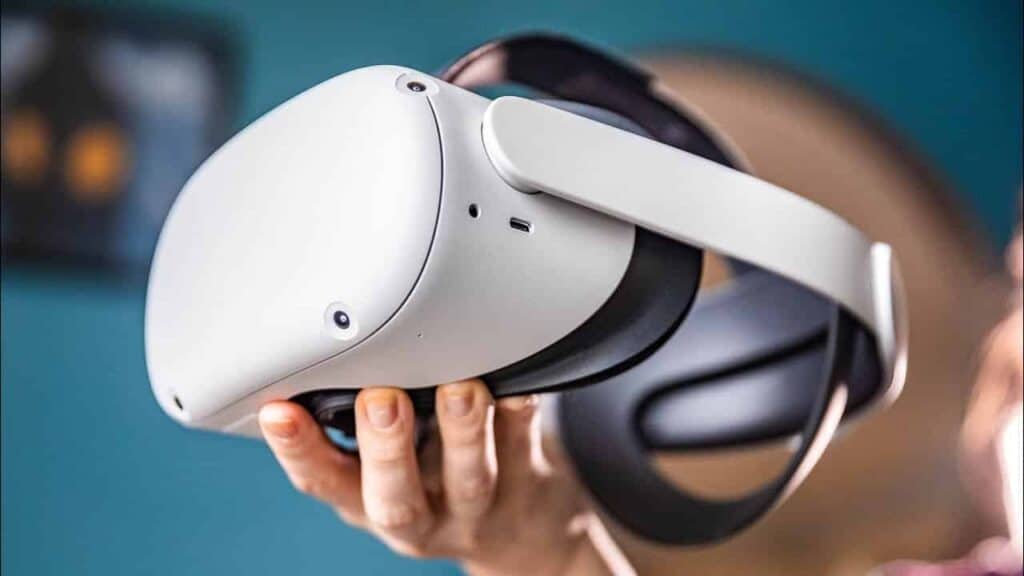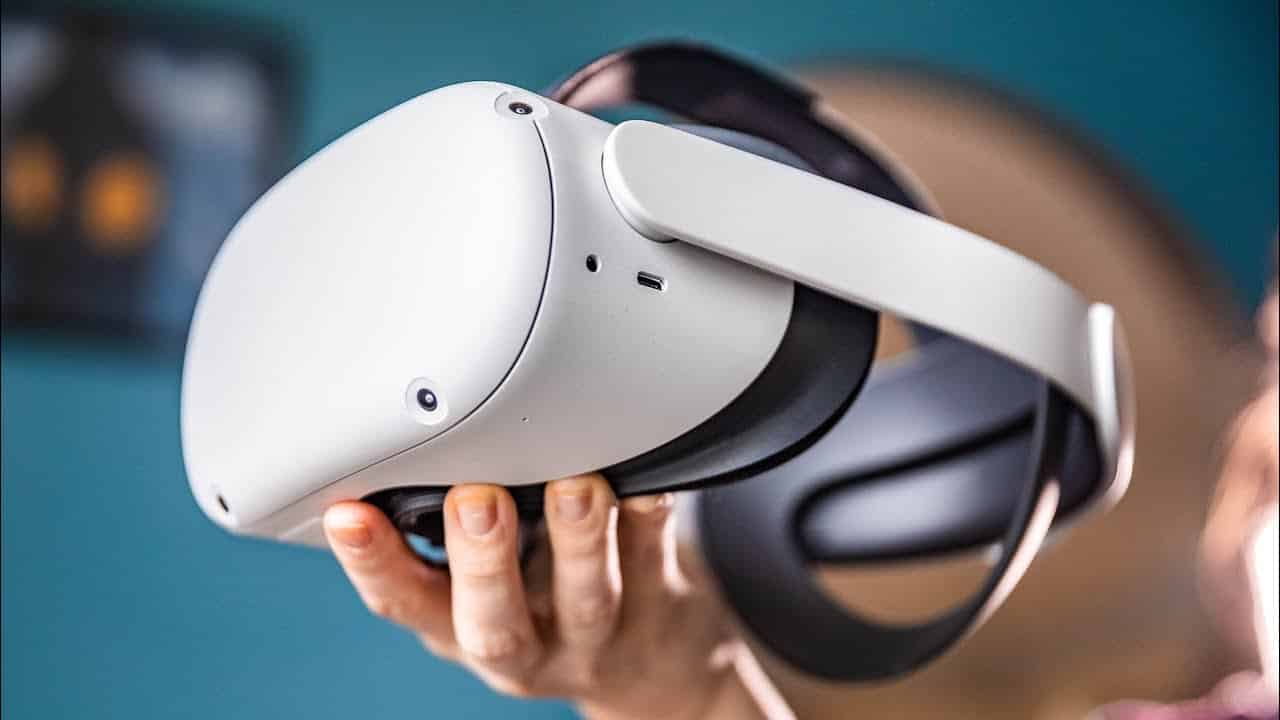 This part may or may not be important to you – you can skip to the next section if not. But let's unpack what's inside as that shapes your overall experience in VR.
Here's a comparison of the Quest 2 and the original Quest official specs. We've color-coded what we like (green) and what we see as compromises (red):
| | | |
| --- | --- | --- |
| | Quest 2 | Quest |
| Resolution (per-eye) | 1,832 × 1,920 (LCD) | |
| Refresh Rate | 90Hz | 72Hz |
| Processor | Snapdragon XR2 | |
| RAM | 6GB | 4GB |
| Battery Life | 2 hours plus (additional battery available) | 2–3 hours |
| Controller Battery Life | 4x over the original claimed | 30 hours / 20 hours with haptic feedback |
| Field of View | Equal | Equal |
| Headset Weight | 503g | 571g |
| Storage | 64GB or 256GB | 64GB or 128GB |
| Controller Weight | 151g | 129g |
| IPD Adjustment | 58mm, 63mm, 68mm | 58–72mm |
| Strap | Soft (rigid can be purchased separately) | Rigid |
| Side Strap Adjustments  | In the back | On the sides |
Oculus Quest 2 Review
Looking through the above specs, the Quest 2 is significantly more powerful and lighter than the first version. And some of the tradeoffs can be resolved by purchasing accessories. Le's start with the upsides and then take a look at the challenges.
Major Improvements
The most striking upgrade in the specs is in the display resolution and the processor. The new LCD display comes in at 1,832 × 1,920, a nice step up from the 1440 x 1600 of the first version. You notice the sharpness of the display the moment you put the HMD on – even the Oculus logo is clearer. The screendoor effect of individual pixels has (almost entirely) disappeared. LCD displays do not have the deep blacks of OLED, but the pixels won't smear like they do in the latter. It's a worthwhile tradeoff in this case as the images are crystal clear. And you'll immediately see the difference in the VR experiences if you've been using the first-gen headset.
Reading those numbers, you have to marvel at how rapidly Virtual reality is advancing – it wasn't that long ago that we were mesmerized by the 1080 x 1200 resolution of the Oculus Rift CV1 and HTC Vive. Still not convinced about the speed of change? Only seventeen months ago, we were reviewing the first Oculus Quest as a new era in VR.
I tried the new headset out with David Attenborough's Micro Monsters project on the insect world, which is designed to take advantage of the Quest 2's display resolution. The graphics are breathtaking, creating the visceral kind of experience that VR should be in this instance. You'll be both fascinated and repulsed as Attenborough guides you through this alien world with visual experiences that will remain ingrained in your memory. This is why we love VR, and you can expect more experiences like this as developers leverage the new headset's display capabilities.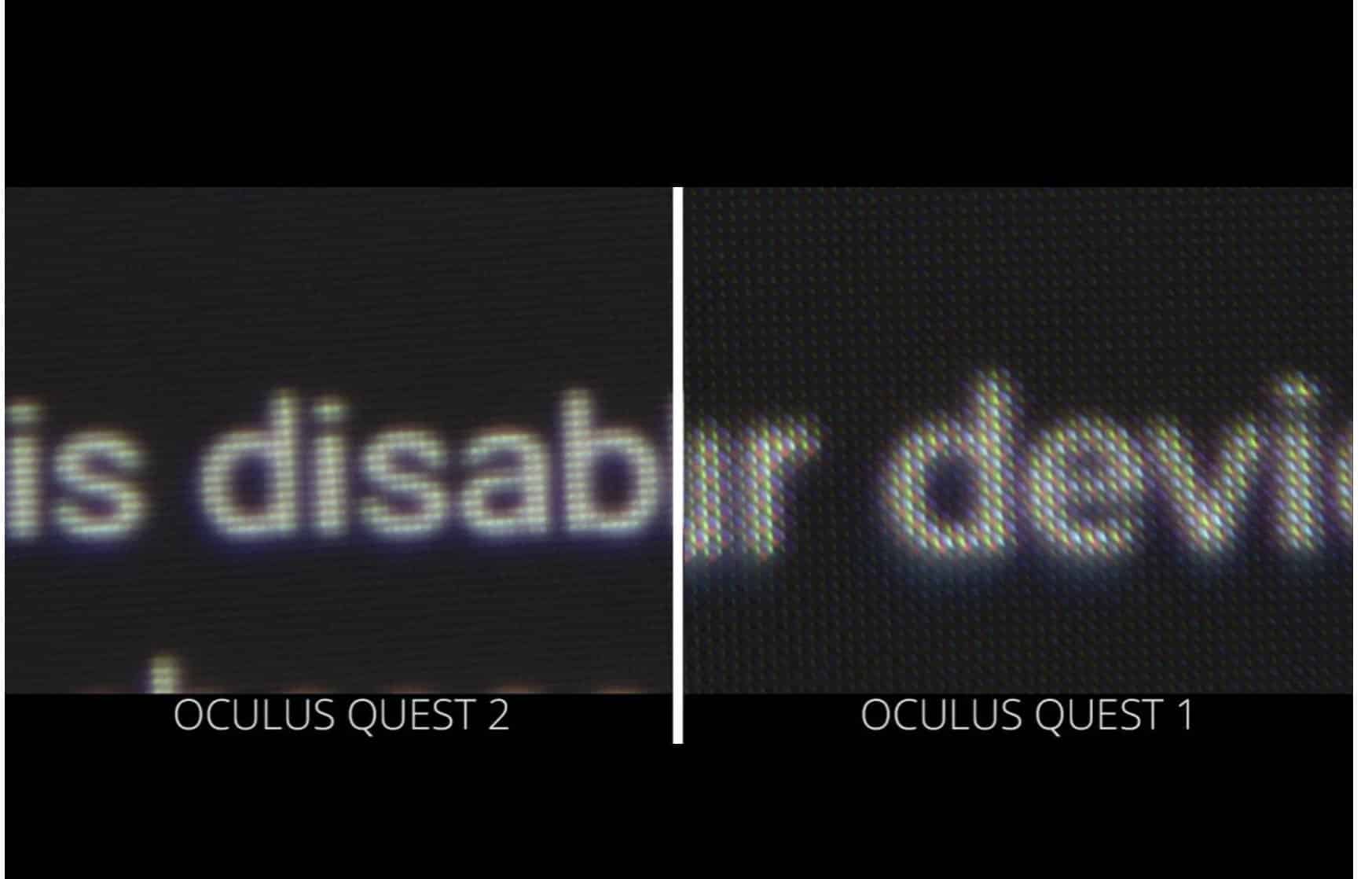 The new Snapdragon XR2 chip is also a major change since the first-gen unit came with an already outdated Snapdragon 835. As RoadtoVR notes,
One of the most exciting but as of yet untapped bits of hardware in Quest 2 is the processor. While the original Quest launched with a dated (even at the time) Snapdragon 835, Oculus effectively picked the highest-end processor they could for Quest 2, the Snapdragon XR2. Not only is it significantly more powerful, it's also a made-for-VR chip which includes some additional features that make it even better for use in a VR headset.
For now, most of your VR experiences will be running at 72Hz. We're not expecting current VR apps in the Oculus Store to be upgraded to take advantage of the 90Hz, but you'll see it in some of the new VR experiences. Given that it will drain the battery faster, it remains to be seen how widely 90Hz gets used. This might be a stepping-stone for a 90Hz display that becomes the standard in a future version of the Quest.
The Problematic Features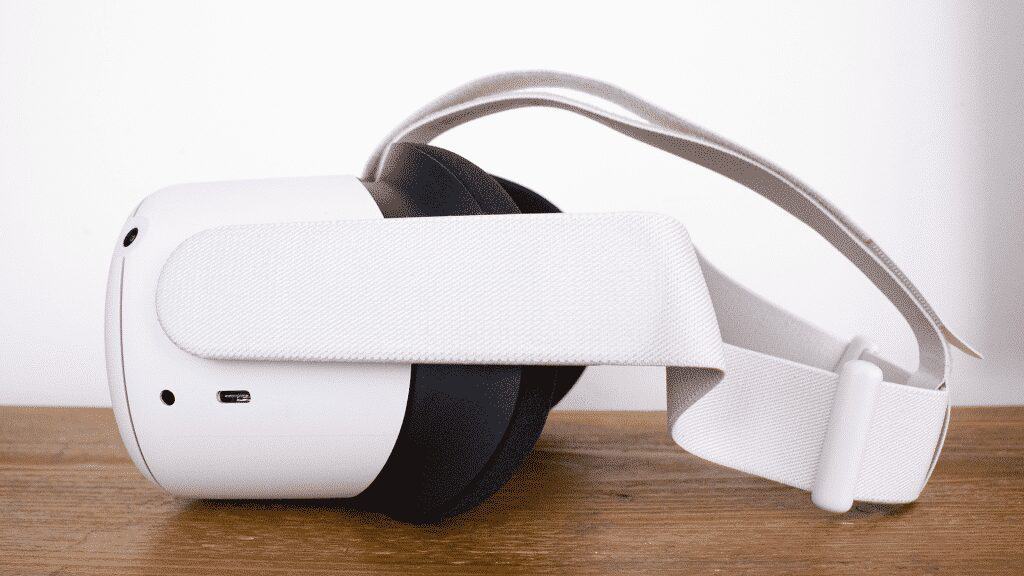 Now let's take a look at the trade-offs in the Quest 2. These are especially apparent if you plan on using it for public VR events and in education/nonprofit settings. We've done enough of these to know the pain points well.
Sizing Adjustment: Inexplicably, the strap adjustments are now near the back of your head instead of the sides as in the Quest 1. That means to adjust the size, you pretty much have to take the HMD off. With the velcro straps on the original version, you could make sizing adjustments while it was on your head. It won't be much of an issue for an HMD with a single user as you'll simply set it and forget it. But in public settings with a line of impatient people waiting, sizing needs to become easier, not harder. You can get an "Elite Stap" that's like the halo strap of the Quest 1, but it's an accessory and doesn't come with the basic headset.
As Joe Parlock said in Forbes, it feels like you're fitting a bra to your head:
By far the biggest downgrade, though, has been the replacement of the halo head strap with a godawful elasticated thing that's an endless source of frustration. By far the worst thing about the headset's design, it's more like a bra that requires you to pull on multiple elastic bits to tighten and loosen the headset.
IPD Adjustment: The IPD adjustment has gone from a slider (positioned on the shell of the headset) that ranged from 58–72mm to only three settings in the Quest 2. The IPD setting helps compensate for the distance between your pupils, which varies significantly between people. With the redesigned IPD setting, you have three choices, or you're out of luck and will have to live with a slightly blurry display. Even worse, if you are using the Quest 2 in public settings like film festivals, museums, or university labs, to make an adjustment you have to take the headset off and move the lenses inside the foam cavity with your hands. It's a fingerprint nightmare – and not something we want to see people doing in an era of COVID-19.
Battery Life: We've yet to complete our own tests on battery life, and Facebook claims 2-3 hours for both the original and new versions of the headset. But according to Ars Technica's review in September, a Quest 2 display test only lasted 131 minutes compared to 175 minutes for Quest 1. So they're both 2-3 hours, but if these results hold, the new model is a lot closer to two hours while the original is almost three. The add-on "Elite Battery Strap" doubles the life of the Quest 2, which is something that those of you purchasing the headsets for public use should seriously consider.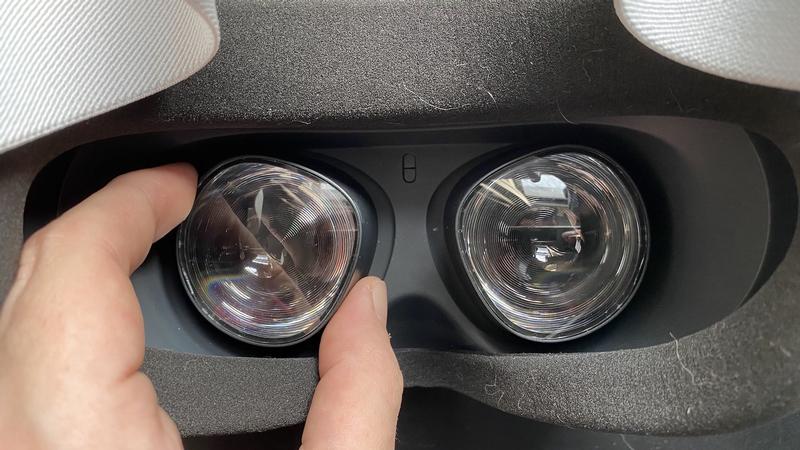 With some of these issues, you feel like Facebook forgot that VR headsets are often multiuser devices. Yes, millions will be sold to individuals who use them for gaming and immersive experiences. But virtual reality will mature through mass adoption of multiuser headsets in workforce training and educational organizations. And while the new strap design makes the device more comfortable on your forehead, Facebook made the Oculus Quest more frustrating to set up when the headsets are shared.
There are some other minor points to raise, but they're not serious issues. The new Touch Controllers are heavier but not so much to cause a problem. And the redesigned foam lining makes the interior cavity of the HMD smaller. When I take off the Quest 2, my moderately sized eyeglasses stay inside the headset. They never got caught in the first-gen version.
The Real Compromise With The Quest 2
The major issue with the Oculus Quest 2 is that this is the first VR headset to come with an obligatory social media account requirement. The stakes are even higher if you enter a Facebook VR social space like Venues or Horizons. Every action and everything you say is recorded, and Facebook's invisible moderators could be watching you – and ban you without an explanation.
You can try to avoid all of this by creating a burner account and link it to a fake profile, but that goes against Facebook's terms of service. You could easily lose access to your account and everything you've purchased in the Oculus Store. This issue is even more challenging in an educational or workplace setting if you have to force students or employees to have Facebook accounts.
As Sam Machkovech wrote in Ars Technica,
Facebook is both incredibly firm and incredibly arbitrary about leveraging the "real name" policy in its ToS. This service has waited to wipe hundreds of thousands of fake accounts, created by governments and political campaigns for illegitimate purposes, until after a PR nightmare emerges. The same service can flag the slightest weirdness in your attempts to connect real Oculus Store purchases with a [fake] account.
While Facebook assures us that it will work out a fair implementation of these policies, the Oculus Subreddit already has several reports of users being inexplicably banned shortly after creating their accounts. And their new headsets are now essentially $300 paperweights. While Facebook will likely resolve the initial problems, their overall track record on privacy is a far more serious issue. I don't want to hear of another Cambridge Analytica crisis where the data this time includes my physical movements and speech inside my own home.
In one way, the Digital Revolution is an incredible movement of individual freedom, of undermining traditional gatekeepers and media forms. In another way, it's creating a new panopticon that will be in the hands of private enterprise instead of the government. Virtual reality can be on either – or both – sides of this development and the dichotomy is fully embodied in the Quest 2.
You Should Get The New Oculus Quest 2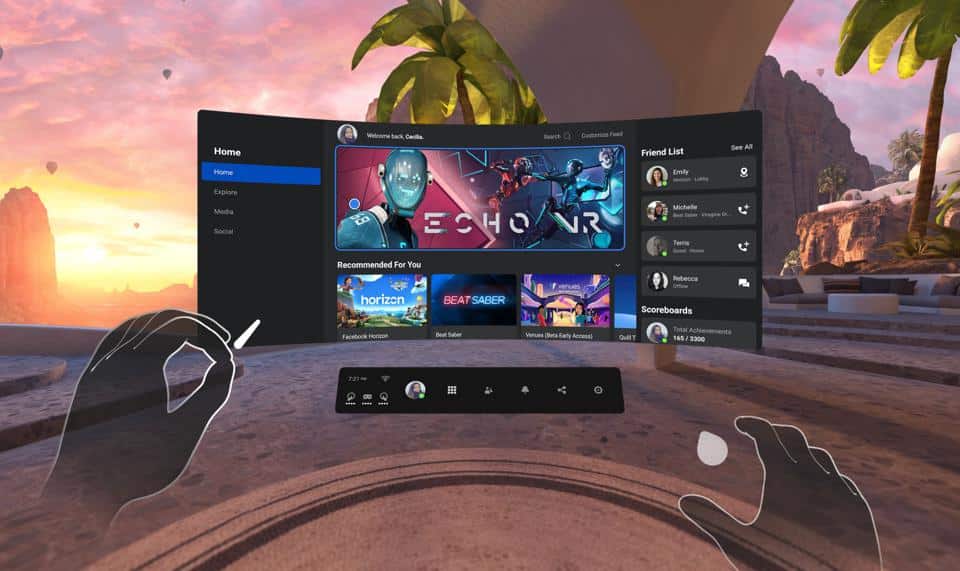 Assuming you can tolerate the Facebook account requirement – which you can avoid until 2022 if you already have an Oculus account – you should get the new Oculus Quest 2. It's a worthy upgrade to an already solid and widely popular standalone HMD. It's easy to set up, easy to use, and the least expensive entry point into full virtual reality.
It's great to see the price come down to a remarkable $299 – though we wait for the day when the $99 HMD arrives. If you are purchasing units for use in public VR venues like university labs, museums, or film festivals, you should include the add-on accessories. The $130 Elite Strap with a built-in battery and a carrying case will up your per headset cost by 40% but it will save you far more in the headaches that will come in sharing it among multiple users. 
Initially, you'll have the same content included with the first-gen headset, though that will change as developers begin to design for the higher resolution display. And while Facebook continues to market the Quest as a gaming device, you'll need the new headset as they roll out the Infinite Office feature announced at the Connect 2020 conference. The upgraded processor and better resolution will be essential in handling the merging of the real and virtual worlds that the Infinite Office platform promises. This is what will make the Quest 2 a game-changing device and for that, we're willing to swallow the tradeoffs for now.
We'll follow up with more details as we put the Quest 2 through its paces. Let us know what you think in the comment section below or on our social media sites.
Emory Craig is a writer, speaker, and consultant specializing in virtual reality (VR) and artificial intelligence (AI) with a rich background in art, new media, and higher education. A sought-after speaker at international conferences, he shares his unique insights on innovation and collaborates with universities, nonprofits, businesses, and international organizations to develop transformative initiatives in XR, AI, and digital ethics. Passionate about harnessing the potential of cutting-edge technologies, he explores the ethical ramifications of blending the real with the virtual, sparking meaningful conversations about the future of human experience in an increasingly interconnected world.