A newly invented skin patch could bring virtual touch to our VR experiences. Up to now, virtual reality has mostly been confined to visual and audio sensations. Adding haptics through virtual touch would open new opportunities in physical therapy, healthcare, learning, and entertainment. And as we know, every tech development brings new challenges. We'd be navigating a much more complicated space once our digital connectedness includes (virtual) physical contact.
We've seen several haptic solutions over the past few years, and they are (for the most part) incredibly inventive. There are solutions for wearable skin, a sensation of weight, and the full-body suits (which myopically only seem to fit developers). But they all fall short when it comes to the size and bulk of the technology. Most feel like experiments, waiting for further miniaturization of the technology. Fun stuff to try, lots of possibilities, but not something to use every day unless you're a serious gamer or running a VR research lab.
Virtual Touch Through a Silicon Patch
The breakthrough device comes from a team of researchers at Northwestern University and elsewhere. It consists of a soft silicon wireless patch that could be used in a variety of digital communication media, from VR to screen-based devices. The article, "Skin-integrated wireless haptic interfaces for virtual and augmented reality," was published this week in Nature.
Here's a quick summary from Scientific American.
The new patch is a type of haptic device, a technology that remotely conveys tactile signals. A common example is video game controllers that vibrate when the player's avatar takes a hit. Some researchers think more advanced, wearable versions of such interfaces will become a vital part of making virtual and augmented reality experiences feel like they are actually happening. "If you take a look at what exists today in VR and AR, it consists primarily of auditory and visual channels as the main basis for the sensory experience," says John A. Rogers, a physical chemist and material scientist at Northwestern University, whose team helped develop the new haptic patch. "But we think that the skin itself—the sense of touch—could qualitatively add to your experience that you could achieve with VR, beyond anything that's possible with audio and video.
Miniature Actuators, Minimal Power
The virtual touch device works through an array of vibrating disks, only a few millimeters thick. They're embedded in sheets of silicon and positioned next to your skin. Remarkably, the actuators don't need an attached power source. Their energy requirements are so minimal that they can run off of near-field communication, drawing small amounts of power wirelessly.
Of course, that limits what they can do. You won't be able to simulate weight or pain. But just being able to have the sensation of touch without a bundle of wires opens new possibilities.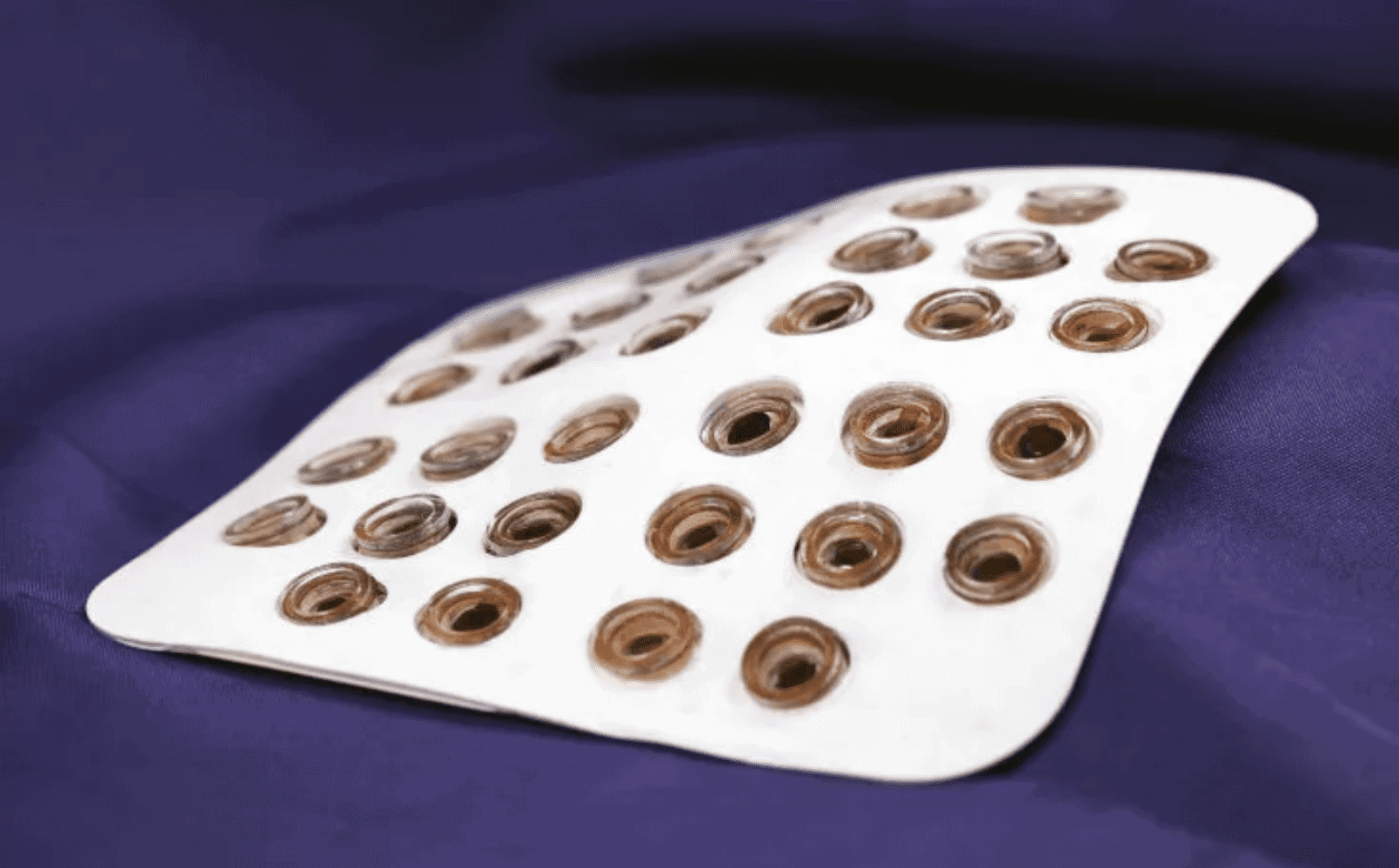 Scientific American continues,
. . . The resulting product looks like a lightweight, soft patch of fabric-like material that can flex and twist like a wet suit, maintaining direct contact with the wearer's skin as their body moves. It consists of thin layers of electronics sandwiched between protective silicone sheets. One layer contains the near-field communication technology that powers the device. This can activate another layer: an array of actuators, each of which can be activated individually and tuned to different vibration frequencies to convey a stronger or weaker sensation. This stack of electronics, slightly thinner than a mouse pad, culminates in a tacky surface that sticks to the skin.
Using Existing Technologies in New Ways
John Rodgers, a physical chemist and material scientist at Northwestern University, notes that the technology for virtual touch already exists. To a degree, there's not a lot here that's new. It's the way the team combined them that achieves a breakthrough in haptics.
The miniaturized actuators; the wireless control strategies; the thin, flexible, soft construction; the soft, gentle interface with the skin; the battery-free operation—this is a collection of technology features that we don't think have been reported in the past. . . . When you put them all together, you end up with a completely different type of platform that I think will serve as a really powerful starting point for what could ultimately be a full-body suit where you have maybe 1,000 actuators and they're all controlled simultaneously, with a form factor that people are actually going to want to use.
Obviously, there are challenges ahead. No one wants to wear a full-body version of the device like a silicon suit. But as this gets refined, we get closer to a Ready, Player, One type of world where a thin suit transports us to a virtual world that engages all our senses.
Physical Rehabilitation
There are just so many possibilities here for a haptic device offering virtual touch. One immediate application is in physical rehabilitation. Researchers at Northwestern have demonstrated how an amputee could guide a robotic arm and "feel" the object they were picking up.
In the video below, U.S. Army veteran Garrett Anderson, outreach coordinator at the University of Illinois' Chez Veterans Center, lost his lower right arm at war and uses a prosthetic limb. By using the silicon patch placed on his upper right arm, he had a sensation of feeling in the fingertips of his prosthetic hand.
Social Media, Virtual Touch, and Ethics
Besides the medical and related uses, virtual touch opens a new realm in gaming and immersive storytelling. You can imagine a time in the future when stories will not only be measured by their emotional impact but the degree of their virtual physical impact. And complicated issues will arise. If the touch of a virtual character crosses a line, is the creator of the story or the developers at fault? Will stories be rated by the degree of virtual touch and contact they include?
New forms of haptics will expand into our multilayered connections through social media. Leaving aside the apparent ways the porn industry will leverage this, it will offer new ways for couples and families to connect. The researchers provide an example of a child virtually touching her grandmother's arm through a monitor. Military personnel stationed overseas would remain much more connected to their loved ones back home. Caregivers could more work remotely. The possibilities are endless.
How would haptic skin patches transform our behavior? You wouldn't find yourself getting text notifications so much as virtual taps on your shoulder. That could become incredibly annoying. Just as most Social VR platforms offer some form of bubble to limit interaction, we'd have to do the same once virtual touch is part of our daily lives.
Touch, Skin, and VR in the Future
Could touch be the future of VR? The feature that finally brings it into the mainstream? We are visual creatures, but our skin is our largest organ. As John Rodgers put it,
Currently, we're just using our eyes and our ears as the basis for those (virtual reality) experiences. The community has been comparatively slow to exploit the body's largest organ: the skin. Our sense of touch provides the most profound, deepest, emotional connection between people.
Maybe it's time to quit focusing on screen resolution and pixels per inch. We're deeply connected to our environments through our skin. To echo an old tagline, the future of VR could mean that we reach out and touch someone.
Emory Craig is a writer, speaker, and consultant specializing in virtual reality (VR) and artificial intelligence (AI) with a rich background in art, new media, and higher education. A sought-after speaker at international conferences, he shares his unique insights on innovation and collaborates with universities, nonprofits, businesses, and international organizations to develop transformative initiatives in XR, AI, and digital ethics. Passionate about harnessing the potential of cutting-edge technologies, he explores the ethical ramifications of blending the real with the virtual, sparking meaningful conversations about the future of human experience in an increasingly interconnected world.