Let's be honest: we need a simple VR headset. Something like the Oculus Quest, but a device that anyone can pick up and use without assistance. For all the talk about the disruptive qualities of virtual reality, it's nothing unless the technology gets used.
Enter the Eden Snacker, a handheld HMD that's like a virtual reality viewer, but more. It's not designed for education so much as stores or museums. In other words, organizations where people may have no VR experience, want to do something once and then leave. It overcomes a range of issues from how to use the controllers to HMDs that mess up one's hair. This is virtual reality without cables, headband, controllers, or a PC.
In other words, as simple as you can get.
Once our VR headsets shrink down to the size of glasses or implement brain-computer interfaces, these won't be issues. But small form factor VR is 5-10 years away. HCI probably more. The Eden Snacker might be the perfect interim solution. Hardcore VR enthusiasts won't touch something like this – we get it. But as vital as the gaming and tech communities are for the development of VR, success is ultimately in the hands of the public.
It's a VR HMD designed like opera glasses – including a handgrip. That may sound completely bizarre, but this may be precisely what VR needs. Or at least what stores need to engage their customers through immersive experiences.
And we won't discount the potential in the learning environment. It may be an ideal solution for museums and nonprofits where you have a steady stream of new visitors.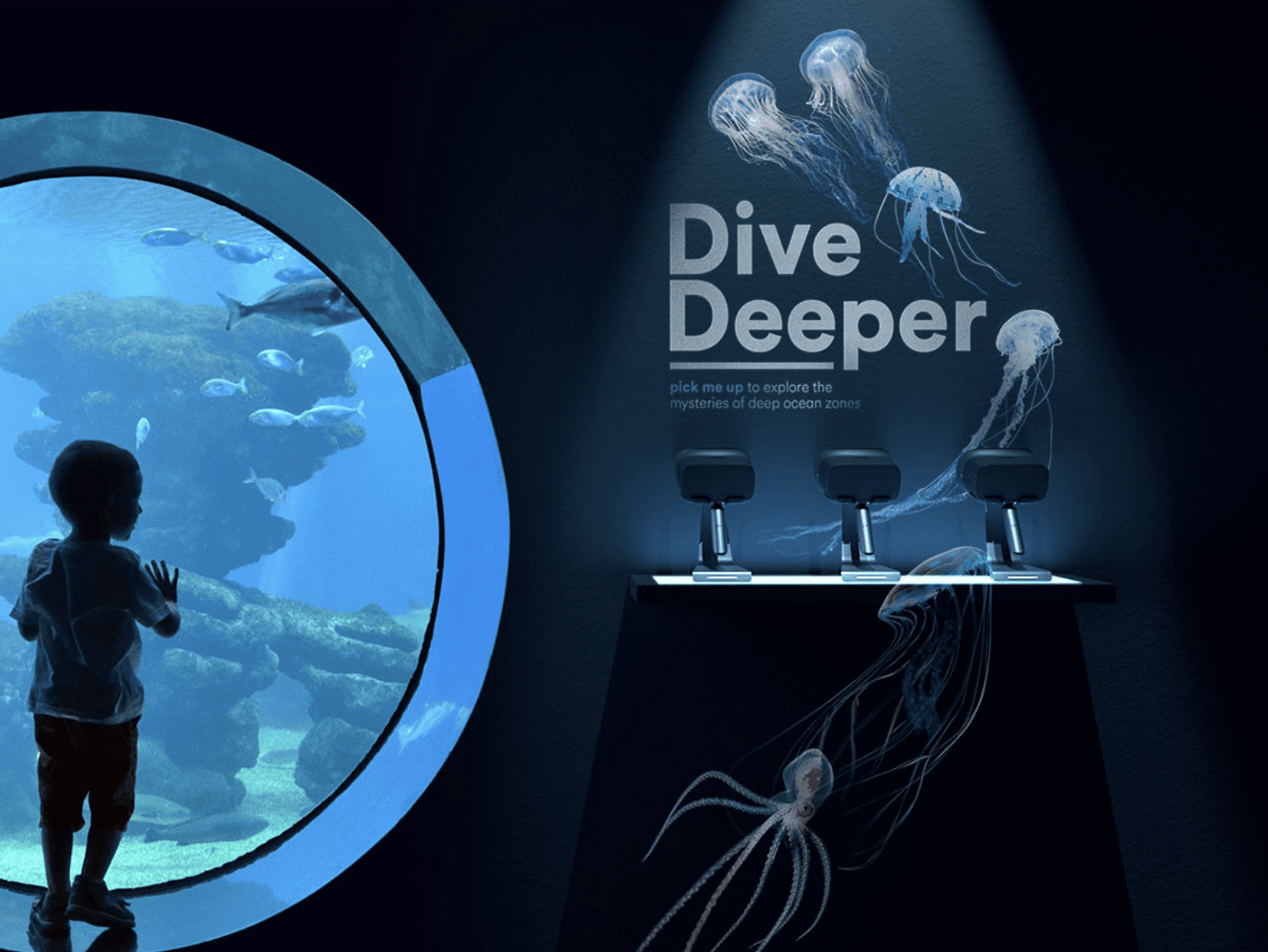 A Disruptively Simple VR Headset
Here's the description from RoadtoVR:
The Snacker isn't meant for the sort of games you might normally think of when VR comes to mind like Beat Saber (2018) or Job Simulator (2016). It doesn't have controllers, and only features 3DOF head tracking; what it does have is a decidedly more approachable opera glasses-style design that lets you hold the headset with one hand so you can press it to your face without needing a headstrap, which could otherwise ward off some users.

In short, it's the sort of headset that's designed for quick jumps into casual VR content like 360 video and photos which ideally finds a home in places like shops, museums, expos—basically anywhere you might want to give the public a more immersive viewpoint but aren't looking for the whole megillah of a 6DOF platform like Oculus Rift or HTC Vive.
This simple VR headset was recently introduced at VR Days Europe in Amsterdam. It's close to the Oculus Go but at once more powerful and more accessible. You hold up to your face when you want an immersive experience. Simply move it away when you're done.
Even better from the perspective of organizations with minimal tech resources, it's easy to update remotely. And inductive charging means not having to worry about headsets with drained batteries. The online platform, Golem.de, has the technical details.
Eden did not completely develop the snacker himself, it is based on the Chinese Skyworth S1 with Exynos 8895 and 4 GB of RAM. This uses two LC panels with 3,840 x 2,160 pixels at 72 Hz and a horizontal field of view of 105 degrees. New are the handle and a function for inductive charging of the 3,500 mAh battery via the supplied station, in which a 4G / 5G modem sits. So the Snacker can be updated by remote maintenance. The device has 60 GB of internal flash memory, a 256 GB SD card is included. (Google Translation)
That 4G / 5G modem makes it even easier to set up. And the stand is designed to be used with different models of VR headsets in the future. It's an all-in-one package that simply needs to be plugged in.
VR for the People – and Business
The promo video from Eden Labs gives you the full range of options. This is not just a headset, but a VR platform and content solution. You can even connect it to a live stream from a 360 camera and transport people to a different location.
Folding in a platform with analytics makes this perfect for commercial applications. Stores and small businesses could leverage it to engage potential customers and visitors. But we also see artists finding creative uses for the Snacker. Artworks could plunge you into the physicality of the real world and then transport you to the virtual. It would push the two sides of mixed reality to their extremes. You'd have the agency to jump back and forth between the two.
As a simple VR headset, the Eden Snacker follows a path that begins with the Oculus Quest, removing the barriers for the broader public. And it good to see an HMD coming from somewhere other than Silicon Valley. Eden Labs is a South African powerhouse in immersive technologies with an expanding package of fascinating content and interface projects. The Snacker headset will be out in early 2020, and we'll be eager to see how businesses and creators leverage its potential.
Emory Craig is a writer, speaker, and consultant specializing in virtual reality (VR) and artificial intelligence (AI) with a rich background in art, new media, and higher education. A sought-after speaker at international conferences, he shares his unique insights on innovation and collaborates with universities, nonprofits, businesses, and international organizations to develop transformative initiatives in XR, AI, and digital ethics. Passionate about harnessing the potential of cutting-edge technologies, he explores the ethical ramifications of blending the real with the virtual, sparking meaningful conversations about the future of human experience in an increasingly interconnected world.